There's no such thing as a born salesperson. Great sales reps make it look easy, but superior performance usually indicates that a salesperson has taken the time to hone their skills and is constantly iterating to better help prospects.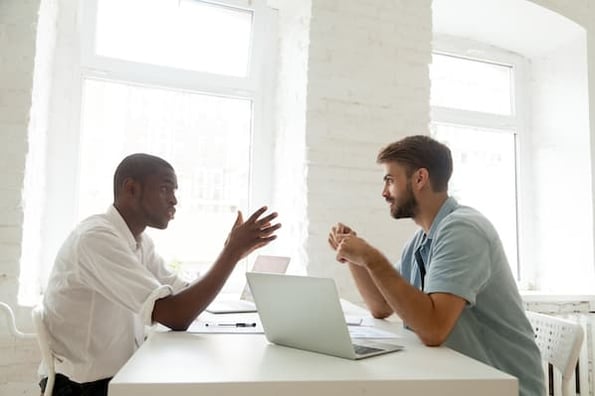 Whether you're new to the field or looking to simply improve your skills, read on to discover expert advice on becoming a sales rep and how to be a good one.
How to Become a Sales Rep
The great thing about a sales career is that you can start as a green pea and grow into a top-tier performer. Of course, virtually no one begins a career in sales with all of the required skills — but everyone has to start somewhere.
As sales is a fast-paced field, it can be intimidating to figure out where to start or even how to start. Not to fear, though — we asked seasoned salespeople for their best tips on how to become a sales rep and compiled their advice below.
1. Figure out your life goals and determine if a sales career can help you get there.
Jill Fratianne, a Partner Channel Manager at HubSpot, recalls her first realization of what she wanted to do with her life: "I remember when I graduated music school I didn't know squat about anything, I just knew after my last concert on stage at Symphony Center in Chicago that I wanted to be one of the donors looking down at someone like me that sponsored my full scholarship."
Fifteen years later, after a hearty sales career that helped her perfect her craft, Fratianne is helping renovate an opera house and coming full circle on her post-music-school goals.
2. Read sales books.
Reading books is an especially valuable tip for aspiring sales professionals. There are many sales books available on a wide range of topics, from developing an entrepreneurial mindset and the psychological and behavioral aspects that affect sales success. Pick what best suits your needs, and read on to learn from experienced professionals about how to grow your skills and leverage the ones you already have.
If you're unsure where to start, To Sell Is Human by Daniel Pink and Inbound Selling by Brian Signorelli are high-quality options.
3. Get inbound sales certified.
Kyle Jepson, Senior Professor for HubSpot Academy, says, "The Inbound Sales Certification is designed specifically for new sales reps. It gives actionable tips and strategies that salespeople can implement on their next call or in their next meeting, regardless of what industry they're in.
There are other sales training programs that are worth considering that range from entirely online, on-site, or a hybrid model, so you can best incorporate your new course into your schedule.
4. Take introductory courses.
If you're hoping for a more traditional sales training program, take introductory sales courses at a local university or community college. Many educational institutions offer business classes in sales development, and you can learn from experienced professionals to begin growing your skills.
5. Sell for a non-profit organization.
Selling for a non-profit organization allows you to test your networking and connection abilities, problem-solving, and closing skills in a low-stress environment while still obtaining on-the-job sales experience.
You'll gain an overall understanding of what you do well and what needs to be improved upon, helping you become more focused on your development.
6. Follow the HubSpot Sales Blog.
Following the HubSpot Sales Blog will help you become familiar with cadence, terms, and sales subject matter. Reading about vocabulary, processes, and knowledge can prepare you for your first sales role, especially when you leverage tips from experienced salespeople and the expert insight they contribute to different pieces.
7. Talk with reps in your network to understand how sales jobs work.
Working in sales is different from virtually any other profession. You have to constantly learn new skills while chasing monthly quotas and targets, which can be stressful. Talk with sales reps in your network to understand how their positions work so you can get a sense of general day-to-day and the skills you should focus on developing to be successful.
If you've taken sales programs or university courses, talk to the teachers to see if they have specific advice for you or areas you should focus on developing based on their experience instructing you. This can also be helpful for networking, as you can let them know that you're open to and interested in future opportunities.
Once you've gained experience in sales and you're interested in moving up, independent sales may be on your radar. Read on to discover how to become an independent sales rep and how it's different from regular sales positions.
How to Become an Independent Sales Rep
As the title suggests, an independent sales rep works for a company but is independently in charge of their operations (marketing, customer service, bookkeeping, etc.) and how they conduct business. Independent reps sometimes contract for multiple companies at once.
One of the most critical factors to becoming an independent sales rep is having sales experience, preferably in-house. It will be challenging to succeed in the role if you don't understand how the sales process works, so developing the background is essential before embarking on a more independent journey.
In addition, having in-house sales experience before going off on your own helps you develop a network of contacts and relationships that can help you when you're working independently, whether it be by introducing you to potential clients or becoming clients of yours themselves.
It's also important to be a self-starter; that you're comfortable working for yourself and able to work for yourself. This means that you don't struggle if there isn't anyone standing over your shoulder monitoring your progress because you can monitor your own progress and get your work done. It's important to note, though, that you still have to report back to the business you work for; they're just likely not monitoring your everyday progress.
Whether you're an in-house or independent rep, you likely want to be good at your job. Below we'll discuss this.
How to Be a Good Sales Rep
Identify your goals.
Recognize that sales is a process.
Identify business pains.
Measure every step.
Sell to the right people.
Embrace team selling.
Conduct call reviews.
Shadow your peers.
Find a mentor.
Ask the right questions.
Build a personal development plan.
Start a film club.
1. Start with your goals.
If you're learning to sell, start from the end and work backward. Knowing your goals and measuring your performance against them (more on that later) is the most important place to start.
How many customers do you or your company need, and in what time frame? How many leads do you need to close that many customers? How many connections do you need to generate that many opportunities? And so on. Multiply your customer goal by the average sale price of your company's product to get the amount of revenue you should be aiming for.
Make sure you set personal sales goals as well. You can always tell when a salesperson is in the top 2% of their organization. They command attention, work at their craft, provide a consistent experience, and execute. These behaviors and actions typically precede results.
Aim to be in the top 2% of your organization. Of course, it won't happen tomorrow, and it won't be easy, but always strive for the top.
2. Recognize that sales is a process.
Sales is not an art. Sales is a science and a technology.
Pete Caputa, CEO of Databox and former VP of Sales at HubSpot, and Harvard Business School professor and former HubSpot CRO Mark Roberge are some of the most successful sales executives I know. They're scientists, and they excel at making the classic sales process scalable. If you're not looking at sales as a process, you're missing the boat.
Sales is changing rapidly, but some things will always be the same. To get customers, you'll have to establish their needs and interest in your product, address inertia in their business, and determine a timeline to sell.
The way your company moves through the funnel, however, will be unique. If you treat every sales process the same, you could easily miss something. Understand that every business has its own playbook for a reason. So before you ever get on the phone with a prospect, sit with your managers to thoroughly understand your company's process.
This will include learning how to position your product, gaining strategies for speaking with prospects, understanding your key value propositions, and discovering what your ideal customer looks like, just to name a few factors of any successful sales process.
3. Identify business pains.
You must be able to identify your prospects' business pain and distinguish it from their run-of-the-mill business problems. If a step of their process is a slight annoyance, who cares?
Pain isn't getting a cut on your arm — pain is your leg falling off. A true business pain is discussed every day in the executive office and the boardroom. Someone has probably set aside a budget to solve it. If it's a critical factor to their business' success, you've discovered a real business pain.
As a sales rep, you need to build trust with your prospects. Buyers need confidence that you understand their problem and have the resources to solve it. But your relationship doesn't end after the sale — you are ethically required to live up to your promise. Prepare your prospects for the transition to your product and give them all the help they need, and you'll have a happy customer on your hands.
4. Measure every step.
Anything worth doing is worth measuring, and anything that can be measured can be improved.
Remember when you set your goals? Be fanatical about measuring your performance against them. At the rate you're selling today, will you hit your numbers by the end of the month? Are your closing strategies converting prospects to customers? If not, change something up.
Don't wait until it's too late to reach your numbers this month. If you measure everything you do, you'll be able to solve problems as they arise.
In this day and age, there are boatloads of coaching resources. A simple Google search for an area in which you're struggling will return a huge amount of material that can help you. Your managers will be more than happy to help you as well, especially if you're asking for assistance before it's too late.
5. Sell to the right people.
This principle is at the heart of the inbound sales methodology.
In the early days of my career, I spent a lot of time reaching out to people who didn't want to talk to me. But for the last seven years, I've spent more time connecting with people who want to hear what I have to say.
That's the power of inbound marketing. By creating or curating high-quality and helpful content and letting prospects come to you, you'll save time and increase your probability of closing sales.
6. Embrace team selling.
When you're starting out in sales, you want to make a name for yourself. Many reps think the fastest way to do this is by blowing away the competition by themselves.
That approach can be isolating — and you miss out on a lot. Modern reps, no matter their experience level, should embrace team selling.
For example, if you're unsuccessfully trying to speak with the CEO of a large company, ask a sales leader if they can get you in the door by leveraging their seniority and making that first call.
I do this all the time for reps. Since I've been selling for 30 years, I have connections and clout a new rep simply hasn't built yet. All I ask is that the rep does the research and puts together a one-pager for me prior to the call.
Use the expertise on your team to close more deals. You'll learn valuable skills along the way, and you'll blow your quota out of the water.
7. Conduct call reviews.
Your team manager probably already conducts regularly scheduled call reviews, but sometimes that's not enough.
Identify salespeople within your organization who excel at different things. Know a rep who's great at closing difficult prospects? Sit in on a few of her calls, and have her review your most recent meeting with a tough prospect.
Admire a rep who's great at negotiating? Ask him to review a recent negotiation you conducted. Zoom in on different aspects of your calls and meetings, and get granular about improving each part.
8. Shadow your peers.
Along those same lines, you can learn a lot about excelling in sales by listening to the best — your peers and teammates alongside you.
Take some time each week, or each month, to listen to how your teammates conduct successful sales calls. Whether you're listening live or listening to recordings, you can pick up key phrases, rapport-building techniques, and closing strategies that you can personalize on your own calls.
9. Find a mentor.
It's important to check in with your peers to hone your selling skills and day-to-day workflows. But it's crucial to pair with a mentor who can help you plan and grow your career. This person should help you visualize where you see yourself one, five, and ten years down the road.
Identify a mentor who:
Has found success in the career you aspire to
Has accomplished certain achievements or milestones you admire
Has experience that's applicable to your own career path
Once you've identified someone who has the experience and availability to be your mentor, set up monthly or quarterly meetings with them. And discuss how you both anticipate spending that time so that it's beneficial.
10. Ask the right questions.
This section should be broken into two distinct buckets:
Ask the right questions of your manager: "Am I meeting expectations?" "How can I exceed expectations?" "What feedback do have for me about my performance?" These questions demonstrate that you're hungry for professional development. They're what will help you grow — and that's what a good salesperson needs to move their career forward.
Ask the right questions of your prospect: Question-asking is an art form that is practiced and optimized over time. Work with successful reps on your team to find out which questions prove most beneficial when speaking with their prospects. And build your own library of probing questions.
11. Build a personal development plan.
Every salesperson has strengths and weaknesses. It is important for new reps to understand the things they do well and the skills they need to improve. Assessing the areas of the sales process that you do well, such as building rapport or asking good questions, is essential — you want to build upon a solid foundation of your strengths.
When you start out you are unconsciously incompetent – you don't know what you don't know. Then you become consciously incompetent – you do know what you don't know, and you can make a plan to continue learning and filling in skill gaps. From there, you become consciously competent — you have the qualities you need to do the job well.
To facilitate this process, I like to ask new reps to assess their new skills and then create a personal development plan (PDP). This can be a simple document that defines the two to three things per month that a new rep should work on to improve their skills.
The rep should revisit this document with their manager or mentor on a regular basis to ensure they are on track with their learning. All salespeople should have a PDP, but it is especially helpful for new reps to build confidence in their skills.
12. Start a film club.
Professional athletes watch a lot of film and footage of their not only their own performance but of the competition as well. Salespeople can benefit from the same approach.
I recommend new salespeople build a film club to accommodate different learning styles with a handful of their peers who are also trying to improve their skills. Here's how a sales film club can work:
Set aside an hour, and have one person bring a recorded call and a standard evaluation template.
Have the group listen to the call and take notes on what they hear.
Beginning with the person who recorded the call, have participants provide feedback on what worked and what could be improved upon.
This group dynamic helps new salespeople work together to reduce their anxiety and learn together to improve their sales skills in a safe environment.
The most important piece of advice I could give you is to learn from your team today, tomorrow, and 10 years down the road. That's what makes you a great rep. And that's what makes sales a great career.
Editor's note: This post was originally published in May, 2015 and has been updated for comprehensiveness.