The days of a sales, service, or marketing professional's responsibilities being confined to a physical office are long gone. Now, businesses have both the need and flexibility to let their employees work dynamically, across multiple locations — including on the road and on-site with clients.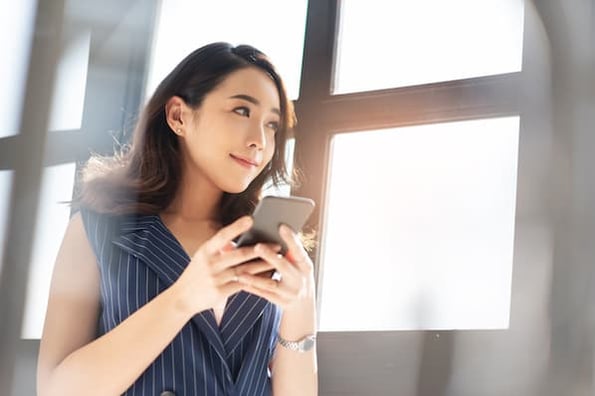 That trend — coupled with the fact that a CRM has pretty much transitioned from a "nice-to-have" to a "need-to-have" for most businesses — highlights the need for resources that allow a company's employees to access its CRM data and general functions anywhere, anytime.
That's where mobile CRM solutions come into play. They allow sales, service, and marketing professionals to leverage their company's CRM wherever and whenever.
Here, we'll explore the concept of a mobile CRM a bit further and see a list of the five best mobile CRM applications on the market.
What is Mobile CRM
The term 'mobile CRM' refers to an application that allows a company's employees — typically those working remotely — to readily access that company's CRM from their mobile devices or tablets.
A solid mobile CRM application will offer most — if not all — of the features and access to information you could expect from a traditional CRM. And any updates you make in your desktop CRM will automatically be reflected in its mobile counterpart.
That kind of seamless transfer of data and consistency in functionality can be a big help to your sales, marketing, and service teams. It offers them the flexibility to leverage your CRM and refer to its data while they're out-of-office or traveling for work.
Mobile CRM applications are particularly useful for sales professionals — specifically field sales reps who might spend a lot of time on the road or working on-site with prospects.
The easy access to calendars, dashboards, meetings, contacts' information, and up-to-date data that comes with a mobile CRM can help sales reps remain in tune with how their teams are operating.
Here are the five best mobile CRM solutions available.
Mobile CRM Solutions
HubSpot
Zoho CRM
Pipedrive
Sugar CRM
Salesforce
Price: Free Plans Available
The HubSpot CRM App consolidates the functionality of HubSpot's CRM into a mobile package. It allows you to create tasks, reminders, and deals on the go — all with instant access to contacts and a detailed activity feed to track leads.
The app features quick email and meeting outreach, a detailed caller ID screen, and consistently accessible live chat. But its utility extends beyond individual users.
It also allows for seamless team collaboration from anywhere through straightforward task-assignment, real-time notifications, and communally accessible storage.
As you can expect with this kind of software, the HubSpot CRM application is an extension of the traditional HubSpot CRM — a platform with free plans available.
It can suit the needs of businesses of every size. If your company is looking for a mobile CRM solution that reconciles power and scalability with ease of use, take a look at the HubSpot CRM app.
Plans Starting at $12 per user per month
The Zoho CRM app covers all the bases of its desktop counterpart — neatly and seamlessly organized on a fluid, interactive interface. Its standout features include a voice notes function for logging call details, the ability to check in at a client's location to record your visit, and a location-based feature that allows you to identify nearby customers and sales opportunities.
Zoho's standard CRM is geared towards sales departments, and its suite of features reflects that. It's one of the most powerful resources on the market for any sales team interested in a dynamic CRM with components like conversational AI and real-time reports and insights — all of which hold up in its mobile application.
Again, Zoho CRM is for sales, above all else. So if you're interested in a first-rate CRM that's primarily tailored toward that aspect of your business, consider exploring Zoho CRM and its mobile option.
Price: Plans starting at $12.50 per user per month
Pipedrive's mobile CRM is another powerful, sales-centric solution. It contains most industry-standard features, including contact notes, email application syncing, and resources for meeting prep.
That's not to say the application is run of the mill — by any means. The Pipedrive CRM is leading-edge, and its mobile counterpart fits that bill as well. One of the application's biggest selling points is its emphasis on organization.
It has a solid suite of features that can keep you on top of both team and individual performance, including a multifaceted search function and visibility into deal timelines — all supported by a sleek, user-friendly interface.
Pipedrive has pricing options to suit businesses of virtually any size and budget. If you're interested in a well-structured, scalable option to help streamline your sales operations, consider giving Pipedrive a shot.
Price: Plans starting at $52 per user per month
SugarCRM covers sales, marketing, and customer service. It's a dynamic option for companies looking to add a degree of structure and simplicity to every facet of their business — supported by a mobile application that maintains the functionality of its conventional counterpart.
SugarCRM's mobile app includes features that allow for straightforward summaries, pin-point location services, and carefully regimented categorization of most aspects of your sales, marketing, and service activities — components you'd expect from first-rate software of its type.
But SugarCRM separates itself from its competition with its offline sync capabilities. It's an industry leader when it comes to consistently keeping your CRM's most crucial information available when your network connection is unreliable or out of reach.
SugarCRM is a bit pricier than the other options on this list. Still, it has plans that suit businesses of any size and can scale with you as you grow. If you're in the market for a multifaceted CRM that can be accessed from anywhere — even without any network connection — look into SugarCRM.
Price: Plans starting at $25 per user per month
The Salesforce Mobile CRM is everything you'd expect from an industry leader. The application is tailored to support a seamless transition from desktop to mobile, letting you readily access your CRM data anywhere and all your custom Salesforce apps in one place.
The application also incorporates Salesforce's Einstein Analytics tool — an AI-supported analytics resource that helps you spot opportunities and predict outcomes while offering actionable recommendations on an ongoing basis.
Beyond that, the mobile platform includes a feature called Einstein Voice Assistant —a tool that lets you conversationally capture notes, update data, and create tasks.
Salesforce is considered an industry pillar, and the functionality of its mobile application is in keeping with its innovative, practical standards. Salesforce's mobile app is included in its $25 per user per month "Essential" plan.
If you're looking for a sound mobile CRM solution that can suit the immediate needs of a small business or the broader needs of a more mature one, consider Salesforce.
All the mobile CRMs on this list come with their own strengths and unique features. Most can suit virtually any business or budget, so your choice shouldn't rest on those factors.
Instead, consider the nature of your business needs, which teams within your organization you need to account for, how much you value ease of use, and how much you trust the brands in question.
Once you've hashed out those aspects, you should be able to land on an option that suits your business goals, structure, and interests.