Looking for a few easy, virtually-free ways to immediately connect with more prospects? I'm willing to bet you just said, "That's a no-brainer."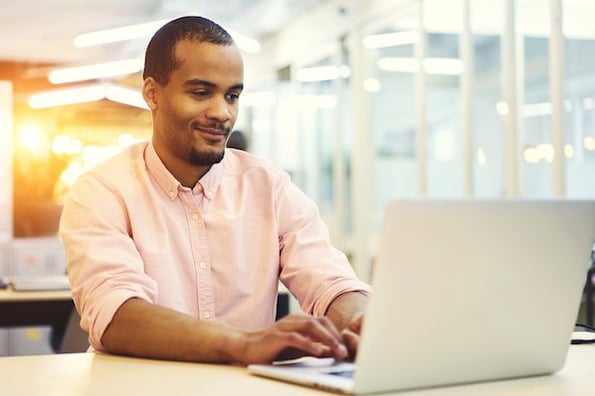 Below, I've compiled 18 of my favorite methods for reaching prospects. Some of them take seconds to deploy, and all of them will save you time throughout your workday. To help prioritize first steps, I put them in sequential order -- starting with those that offer value the fastest and ending with those that require more time.
However, don't stop after the first few. They provide the groundwork for the tips at the bottom -- which are well worth the extra effort.
Let's do this.
How to Prospect
Understand your prospects' interests before speaking with them.
Convert a higher percentage of website visitors into leads.
Track which contacts are in-market for your service.
Connect with more prospects over email.
Automatically track and organize every sales attempt.
Enter contact and company data into your CRM automatically.
Connect with prospects on social media.
Find even more in-market companies visiting your website.
Schedule email responses.
Use email prospecting messages proven to get responses.
Automate customized prospecting campaigns.
Queue up your calls for the day.
Eliminate the hassle of booking meetings.
Initiate a dialogue when prospects are on your website.
Review the conversations your salespeople are having.
Publish content to expand your reach and engage your contacts.
Use surveys to understand and connect with more prospects.
Use documents to connect with more contacts at your target accounts.
1. Understand your prospects' interests before speaking with them.
Imagine owning a high-end retail store selling designer clothing but not staffing the store with experts who can observe buyer browsing behavior and offer assistance. Crazy, right? Well, that's the way many websites behave.
No matter how little traffic your website gets, there are visitors who could become great customers. Unfortunately, you won't have a chance to speak with them if your website isn't optimized to capture these visitors' interest and intent.
Luckily, technology is available to monitor which site pages visitors view and when they view them. Tools, like the free HubSpot CRM, allow you to monitor how and when your leads interact with your website.
With this knowledge, instead of starting conversations with, "How can I help you?", you can start with, "I bet you're interested in learning about how we can help with X and Y" (X and Y are covered on the pages the prospect viewed on your website).
Think that's too creepy? Here's another way to start the conversation: "Companies like yours are usually struggling with how to do X or Y. Are either of these an issue for you right now?"
2. Convert a higher percentage of website visitors into leads.
Many websites convert a small percentage of visitors to customers because they only offer one way for a prospect to contact the company. Marketers might put up a "contact sales" page on their website and call it a day.
Companies can quickly increase conversion rates by creating offers that match the content of different pages on their site. Your forms and CTAs should help buyers find the right products based on their needs and interests.
For example, when Turbine added just one additional conversation point to their site, the new call-to-action generated a staggering 26% of their conversions. The offer? A simple subscription box for their blog.
When they're first exploring your site, most buyers aren't ready to buy; they're in research mode. Match your offers to the different stages of their buying journey, and capture their contact information, so you can attempt to connect and influence them earlier in their decision process.
3. Track which contacts are in-market for your service.
Now that you're capturing more leads, you'll likely follow up as quickly as possible to turn some of those contacts into customers. But not all will respond, and most won't lead to an immediate sales opportunity if the timing isn't right.
When the timing is right, they might not call you, and you probably won't be lucky enough to serendipitously check in with them either -- unless you track their behavior.
HubSpot's free marketing tools allow you to track visitor actions on your website. Once a visitor converts on your website, use your tools to identify these contacts. I know many salespeople who start their morning calling the leads who converted most recently. And why wouldn't they? These are prospects that are clearly in-market for their services.
4. Connect with more prospects over email.
Crafting a well-written sales email takes time and effort. Smart salespeople don't wait for prospects to reply. Just because a prospect doesn't write back doesn't mean they're not interested.
Prospects might not respond because they're too busy, working on a deadline, or they simply get distracted and forget. Recipients are more likely to open and read an email if the message is well-crafted, targeted to the right person, and personalized. They'll consider the salesperson's questions and insights -- and might even click on links in the email to learn more.
If they don't write back, salespeople don't know about their interest. Instead, they move on to another prospect, or blindly send follow-up email after follow-up email. While sending multiple notes and casting a wide net are critical to prospecting success, these reps miss the obvious opportunity to connect with those interested-but-too-busy-to-write-back prospects who are most likely to respond to the next attempt.
With the help of sales email tracking tools, offered by software like the HubSpot CRM, you can monitor and receive alerts when your recipients open and click your emails. How should you use this information to increase your connect rate?
Call while your prospect is reading your email. If the prospect doesn't pick up, focus future email attempts on these evidently interested prospects instead of blanketing their whole list or giving up. By focusing on prospects who've read and considered your email, you can increase your response rate.
5. Automatically track and organize every sales attempt.
The time between a prospect discovering a company's service and making a purchase varies significantly. Some sales cycles are quick, but many have a large number of opportunities that are months -- and maybe years -- old.
As salespeople become overwhelmed managing months' or years' worth of opportunities, they lose track of details and communication history. If salespeople change roles, territories, or move on from a company, sales pursuit records are often lost due in part to poor CRM documentation.
It would be a lot better if every email and phone call were automatically logged to the right contact and account in your CRM, wouldn't it? The free HubSpot CRM integrates with your email client (Gmail, Outlook, or Office 365), your phone system, and your rep's calendar, to automatically capture every interaction salespeople have with their prospects. It speeds up their sales process and nothing gets lost in translation.
6. Enter contact and company data into your CRM with one click.
Not only do salespeople procrastinate over logging calls and emails into their CRM, many of them don't even bother entering contacts. Instead, they work out of their email inboxes, only entering contacts and companies once they've verified a deal (if at all).
Tools like Zapier and the HubSpot Sales email extension allow you to automatically add contacts to your CRM from emails sent to your prospect. With data entry automated, salespeople can spend more time actually selling instead of record keeping
7. Connect with prospects on social media.
If your salespeople could attend a never-ending networking event where they could meet and talk with prospect after prospect, would you tell them not to go? This is what companies do when they discourage social media use at work.
There's no denying prospects use social media at least occasionally. In fact, 65% of sales reps who use social selling fill their pipeline, compared to 47% of reps who don't. Encourage your team to monitor social media for potential buyer mentions of your company name, your product or service, or a hashtag aligned with your proposition.
8. Find even more in-market companies visiting your website.
No matter how good your website is at converting visitors into leads, it won't work every time. Even top-performing websites only convert a single digit percentage of visitors. But, there is a way to discover who some of those anonymous visitors are, especially if you sell to bigger companies.
When someone from a large organization visits your website, "reverse IP lookup" or visitor identification software can detect their computer's IP address and match it with their employer's known addresses.
Sales Hub Professional and other software have tools to identify which companies are visiting your website and give your sales team a clearer picture of where prospects are coming from.
9. Schedule email responses.
Salespeople are heavily reliant on email during the sales process but often respond during off-hours -- early in the morning or at night. This means when a prospect gets into the office, the salesperson's message is buried at the bottom of an inbox avalanche.
With tools such as Boomerang and the HubSpot Sales Chrome extension, salespeople can increase their chances of getting a response by scheduling emails to send when a prospect is most likely to open and read.
10. Use email prospecting messages proven to get responses.
Have you ever had deja vu as you're writing an email to a prospect? Thought to yourself, "I wonder how many times I've written an email almost exactly like this?"
Think about the time each salesperson wastes typing the same thing over and over again and multiply that by the number of salespeople at your company. That's a lot of time wasted.
This is where sales email templates enter the picture. Once they're created, copy and paste them into your email provider and reuse them as needed. Here are tested and true sales email templates your team can begin using today.
Creating email templates and analyzing their performance can improve your prospecting strategy and decrease the amount of time your team spends typing emails.
11. Automate customized prospecting campaigns.
More than 40% of sales reps find prospecting to be the most challenging part of the sales process, and many give up after a few follow-up attempts. Why is this?
Many salespeople are quick to move on to new leads, looking for the low-hanging fruit. Others just aren't organized enough to follow up several times. Still others worry about being too aggressive. None of these are good reasons. To fill the top of their funnel with opportunities, salespeople must attempt to connect with every prospect more than once.
With the sequences tool in Sales Hub, salespeople can schedule a series of targeted emails to send over time. Once a prospect responds, they are removed from the sequence. Never drop the ball on follow-ups again.
12. Queue up your calls for the day.
While email and social media are great ways to connect with prospects, nothing beats the phone for making meaningful, memorable connections. However, most salespeople are highly unproductive when it comes to telephone prospecting.
Companies often report sales reps need help identifying the right contacts to call, and many marketing generated leads are either lost, ignored, or discarded. When you ask salespeople why this is, they'll say it's hard to prioritize and keep track of who to call.
This is where call queueing comes in. As reps go about their day, they can add hot prospects to a call queue and stop wasting time thinking, "Who should I call next?" If you're effectively tracking who opens your emails and visits your website, call queuing is the key to prioritizing and connecting with these hot leads.
13. Eliminate the hassle of booking meetings.
As effective as the phone is at creating connections, the fact remains most calls go to voicemail. This makes scheduling meetings a very frustrating process for busy salespeople and even busier prospects.
The process often includes looking at a calendar, proposing a list of days and times, having the prospect look at their calendar, and proposing more times. What a hassle. Imagine automating that process so the salesperson only has to send a link to a public version of their calendar showing availability, which allows the buyer to book a time that works for them.
Luckily there's HubSpot's meetings tool, Calendly, and Setmore. You'll schedule meetings with ease and have more time to focus on the rest of your prospecting process.
14. Initiate a dialogue when prospects are on your website.
We've already established technology can enable salespeople to reach out to prospects when they're visiting your website or opening one of your emails. But they might not pick up or respond. Want to avoid the delay altogether?
Live chat allows your sales team to reach potential customers as they're browsing your site. Chat solutions like Kayako, Intercom, and HubSpot Conversations give you the ability to interact with website visitors, answer questions, and suggest solutions.
If a visitor has a question, all they have to do is click the chat window to get an immediate answer from a salesperson. This helps your team book more meetings with interested buyers.
You can customize your prompt for different pages of your website. If a prospect is on a page that talks about your pricing, you might write, "Can I help you figure out the right product and price for your needs?"
But if they're reading a blog post about topic X, a message starting with, "I'm an expert at helping people with topic X. Would you like to have a conversation about whether investing more in X makes sense for you?" makes more sense.
15. Review the conversations your salespeople are having.
The vast majority of sales conversations are never reviewed. Companies hire salespeople, train them, join a few of their calls, and leave them alone.
However, mastering sales is nowhere close to that quick or easy. Trust me: salespeople screw up lots of deals. They miss important details their prospects share. They miss buying signs. They spend too much time with unqualified prospects.
One of the most important thing any company can do to improve win rates is to have sales managers or leaders review calls. This helps reps salvage deals and provides advice they can use to become more effective.
In field sales, it's necessary to do physical ride alongs to observe reps. But in inside sales, call recording makes sales coaching much more scalable. Recording sales calls allows sales managers to continuously review and coach.
Too busy to coach your salespeople? Hire an external sales coach. If you want to annotate calls and build a library of best practices, try tools like ExecVision or Refract.
16. Publish content to expand your reach and engage your contacts.
The key to attracting and engaging prospects online is creating content that informs, educates, and entertains them. But content isn't just for pulling in anonymous website visitors and converting them to leads.
Once a salesperson is communicating with a prospect, content helps challenge the buyer's thinking and educate them on potential solutions. In addition, original content reinforces reps' expertise, compelling prospects not just to take their call, but their advice too.
The problem? Most salespeople don't understand how to leverage content, let alone create it. While not every salesperson is a great writer, all top salespeople are great communicators who understand what it takes to transform a prospect from uninformed buyer to happy customer.
With help from their marketing team, they can share content the company creates on social media and in their 1:1 interactions with prospects. And with help from content creation services like Zerys, Blogmutt, or Contently, reps can turn rough thoughts, recorded calls, and company content into original material.
Once you commit to creating content, the next question becomes where to publish it. If your company has a blog and you're using the right marketing software, contributing there will make your name known to website visitors, show you which of your prospects viewed your content, and help your company attract new leads -- win-win-win.
If your company hasn't invested in marketing software yet or doesn't have a blog, publish on LinkedIn. Assuming you've been connecting with good fit prospects during your career, your posts will be presented in their news feed. Starting a conversation becomes pretty easy after a prospect has read one of your articles.
17. Use surveys to understand and connect with more prospects.
When prospecting, most salespeople jump right into what their product does, how awesome it is, and why the prospect should talk to them about it. In effect, they declare, "I have a product to sell. Would you like to talk about buying it from me?" This approach is a recipe for failure.
A better way to pique the interest of a prospect is to ask them about the challenges they face -- that you just so happen to have the ability to help them overcome. And what better way to ask them about their challenges than to invite them to participate in market research in exchange for a report comparing them to their peers?
SurveyMonkey is an example survey software, and their responses integrate with CRMs and other tools used by your sales team. Salespeople can invite prospects to take a survey, which gives the salesperson the ability to start a conversation.
Once the prospect responds, the salesperson has several dialogue openers at their disposal, as revealed by their responses. To further increase the number of sales touches a survey enables, include prospects in the design of the survey, distribute the report to them afterwards, and even offer to present the findings and provide recommendations.
Survey data is also useful when reaching out to new leads after the research has been completed. As Challenger Sale and Insight Selling point out, data-backed insights that encourage prospects to think about their challenges are fantastic conversation starters.
18. Use documents to connect with more contacts at your target accounts.
When calling on larger companies, most salespeople fail to phone enough contacts within the account. Even when they do, they might not connect with more than one or two people.
The problem is that most companies rely on more than one or two contacts to make a purchasing decision. Without having direct access to them -- or even knowing who they are -- it's difficult for a salesperson to influence these additional stakeholders.
Identify who these other decision makers and influencers are by sending prospects documents they're likely to forward to others. Documents, a HubSpot CRM tool, enables salespeople to upload a piece of content and get a sharable link.
If the prospect forwards the document link to someone else, that new person is asked to complete a form, which adds them to the account. In addition, reps get data on what content is impacting sales success and what isn't.
The Future of Sales Is Attracting Prospects to You -- Not the Other Way Around
In an age when prospects are well-informed and often research your company before sales reaches out, it's time to match their behavior. The future of sales is about attracting prospects to you, but that doesn't mean you can sit and wait for them to find you.
The techniques above put your company and salespeople in complete control over the number and quality of conversations they have. Depending on the size of your sales team and contact list, you can get started for free. You can even complete the methods above for a relatively small investment, especially when compared to the potential return.