Social selling is part activity and part reputation. If you're writing insightful comments on your prospects' blogs, responding to their posts, and liking their shared content, you've got the activity bit down pat. But if your LinkedIn profile is three jobs behind and features a headshot you took at your undergrad career fair, you probably have more work to do before you can call yourself a social seller.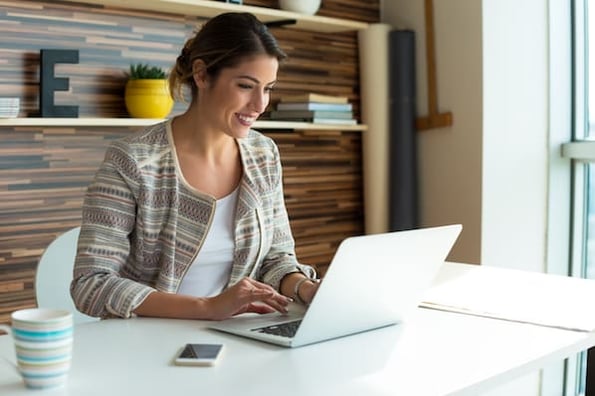 If you'd like to start a LinkedIn social selling initiative in earnest, you should begin by revamping your profile. Just as you're finding prospects on LinkedIn and learning more about them, they're looking at your profile to judge if they'd like to do business with you. Don't ruin great messaging and positive interactions with an outdated, sparse, or mistake-riddled LinkedIn profile.
So what should your LinkedIn profile look like? In social selling, you want your LinkedIn profile to be about your buyer's achievements and how you enabled them, instead of about you and your achievements. To show you exactly how to do that, I put together an infographic that breaks down the ideal social selling LinkedIn profile, section by section.
More of a visual learner? Skip straight to the infographic here.
LinkedIn Profile Tips
Use a professional profile photo.
Add a value proposition to your headline.
Leverage your cover photo.
Be strategic with your LinkedIn Activity.
Include your contact information.
Add keywords to your summary.
Display visual content in your summary.
Provide detail in your experience section.
List honors and awards you've received.
Add your degrees, online courses, and certifications.
1. Use a professional profile photo.
Profiles with pictures are 14 times more likely to be viewed on LinkedIn. As one of the easiest parts of the profile that you can customize, aim to add a photo first and foremost. Your photo should feel professional without being stiff. A picture of you at your desk, in the office, or a simple friendly headshot will make your profile warm and inviting. Remember to choose a current, high-resolution photo that makes your buyer feel confident in trusting you with their business.
2. Add a value proposition to your headline.
Don't just write your title. Answer two questions: Who do you help and how do you help them? Craft your headline to be a mini value proposition packed with verbs and active language.
For example: "I've helped 200+ B2B companies save over $2 million through outsourcing solutions."
The bonus in this example is the amount of money the person has helped save companies. It speaks to a pain point that just about every B2B professional has — high costs. This headline piques curiosity, and even if the LinkedIn user doesn't align exactly with your value prop, they'll probably stick around just to see how you deliver on your promise.
3. Leverage your cover photo.
Did you know you can customize your Linkedin cover photo? This simple feature on the professional network can make your profile stand out from the rest. Rather than keeping the generic blue gradient cover photo on your profile, consider adding a logo, project snippet, tagline, or even a family photo. The point of the cover photo is twofold: to share who you are at a glance and keep the reader scrolling down your profile.
In the example below, Linda Calvin, JD, Vice President, School of IT at Ivy Tech uses her cover photo to communicate her brand. "Find Your Fierce" is her personal tagline. It clues the visitor into what else they'll find on her profile, including posts about women's empowerment, professional development, and diversity conversations.
4. Be strategic with your LinkedIn Activity.
If you know your connections on LinkedIn could see your activity, what might you do differently? Well, that's actually the case. The Activity section on your LinkedIn profile reveals your most recent comments, likes, and shared content across the platform along with a snippet of what you said.
This part of your profile can be an authentic way of showing the type of sales professional you are. Are you offering advice or support to your connections? Recommending the products you sell to potential customers? Congratulating a friend on a promotion? All of this and more can be found in your LinkedIn Activity, so be strategic about what content you engage with and how often you engage with it.
3. Include your contact information.
Although LinkedIn is a great platform to communicate with leads and prospects, you probably aren't spending all day on the site waiting for InMail. That's why it's important to list your email address, phone number, Twitter handle, and blog or company website.
As a salesperson, you have to make it easy for prospects to get in touch with you and that means being present in more than one place.
4. Add keywords to your summary.
Craft a summary around three paragraphs composed of three or fewer sentences each. As you're writing, make sure to include keywords your buyers might search for. Here's how to break down your summary:
First paragraph: Reiterate your purpose from your headline
Second paragraph: Get more specific about your work, the projects you've taken on, the results you've driven, and the companies you've worked with. Elaborate on how you've achieved the mission statement set out in your header.
Third paragraph: Include a clear call-to-action that communicates why and how a buyer should get in touch with you.
For example:
I'm passionate about helping business leaders adopt strategic outsourcing to make their businesses and workforces healthier and more productive.
Through a customized company productivity assessment, I identify areas of opportunity where outsourcing could dramatically impact results. For example, I helped implement an outsourcing program at [Company name] that resulted in a 25% cost reduction and a 30% increase in productivity.
I'm dedicated to partnering with leaders to discover if and how outsourcing can benefit their businesses. Contact me anytime at emma@outsourcingsolutions.com, or call me at 555-123-4567.
5. Display visual content in your summary.
Display two to four pieces of visual content in your LinkedIn summary. Post eye-catching pieces that will be helpful to your buyer. Content like tips sheets, infographics, and recent data work well to get people interested. To take this to the next level, add links to the content that have UTM parameters so you can see just how many people are consuming what you're sharing.
For example, you might add a blog post announcing your company's win of an industry award for "Most Satisfied Customers" and a case study from a big-name client.
6. Provide detail in your experience section.
This section most closely resembles a resume, but you should still keep your prospects in mind as you're filling it out. List your professional positions and titles and include a few sentences to summarize your role at each job.
It's also important to bullet three to five major job duties under each role's paragraph. Mention your quota attainment but keep the spotlight on the results you helped clients achieve along with the methods and tactics you used.
For example:
Sales Representative
Outsourcing Solutions
July 2013 - Present
I work with B2B executives to implement innovative outsourcing programs that drive results. While I've worked with companies of all sizes and verticals, my focus is on the manufacturing industry.
I help clients identify outsourcing opportunities.
I work alongside the support team to ensure proper program implementation.
I consistently achieve 100-150% of quota.
7. List honors and awards you've received.
Sure, bragging on social media gets a bad rap, but the most important product a salesperson sells is themselves. You want your prospects to know that you're capable of getting them the results they're looking for, and honors, accolades, and awards are the best marketing tools for the job.
You'll want to be delicate in the way you go about this part of your profile. Avoid arrogant and boastful language. Instead, opt for a humble approach that centers your achievements around the client.
Here's an example of how you might list an award on your profile:
Rookie of the Year, 2018: I was named Outsourcing Solutions' rookie sales rep of the year for driving outstanding results for clients and my exceptional social selling presence.
8. Add your degrees, online courses, and certifications.
Where you work and the groups you're in aren't the only filters LinkedIn uses to structure your network into first, second, and third-degree connections. Education and certificates can be used to show who you share commonalities with as well.
Include formal degrees like an associate's or a bachelor's degree as well as certificates from accredited schools and reputable companies in the Education and Licenses & certifications sections of your profile. These additions to your LinkedIn profile can help you start conversations with prospects and lend credibility to your experience as a sales professional.
How to Improve Your LinkedIn Profile
Keep your profile up-to-date.
Ask for a recommendation.
Customize your URL to www.linkedin.com/yourname.
Follow people in your industry.
Share articles and blog posts you've written.
Remove jargon from your profile.
Use hashtags in posts to expand your reach.
Add popular posts to your featured section.
1. Keep your profile up-to-date.
Don't forget to refresh your LinkedIn profile. If you recently received a promotion or gained a new skill or certification, make sure you update your profile with this new information.
This works because you can opt to share this update with your LinkedIn following which sends your profile through the algorithm. People can also share your accomplishment with others who might need your help.
2. Ask for a recommendation.
You can't write your own recommendations, but you can request them. Tapping a coworker you've worked with for six months for a recommendation is a good idea, but an even better idea is to send them one first and request one back.
While a glowing review from your boss or colleague is great, one from a client is even better. Their testimony will drive up your credibility with other buyers and provide you with a valuable reference.
3. Customize your URL to www.linkedin.com/yourname.
Customize your URL to www.linkedin.com/yourname for easy searching, linking, and printing on business cards. If you have a common name, insert your middle initial or a number to set yourself apart. This URL will be much more memorable than a string of unrelated characters that someone would easily forget.
4. Follow people in your industry.
Are you following leaders in your industry? Keep up with individuals who post thought-provoking content and follow topics that are relevant to you.
This will help you stay on top of industry trends, and it will give you talking points when you send your next InMail message to a prospect. Plus, the list of people, companies, and topics you follow can be added to the interest section of your profile.
5. Share articles and blog posts you've written.
Blog articles and other external content perform well on LinkedIn, so don't miss an opportunity to share those with your professional audience. You can share any articles from a third-party site in a post. The best part is that later on, you can add these posts to your Featured section where they'll be highlighted indefinitely.
6. Remove jargon from your profile.
Avoid using buzzwords or jargon in your profile. Not only do they tend to be overused, but they also make your profile more difficult to read. Remember, people like to buy from people they like, so limit the use of internal lingo that excludes the customer and speak their language instead.
Are you unsure if your profile is jargon-free? Take a look at these buzzword and jargon phrases salespeople should avoid.
7. Use hashtags in posts to expand your reach.
Improving your profile relies not only on what you do to it but how others perceive it. To get more people to see your profile, you'll need to expand your reach with hashtags. These short phrases do more than enhance key points in your post. They signal to the LinkedIn community that your post is relevant to a particular topic and that people who are interested in that topic should take a look.
Best practice says to use about three to five hashtags for your LinkedIn post and ensure they're all relevant to the topic. And remember, stay consistent. Growing your audience to improve your LinkedIn profile won't happen overnight. Over time, LinkedIn users who follow the hashtags you use will become familiar with your content and want to engage with it.
8. Add popular posts to your Featured section.
Did you have a LinkedIn article that got above-average engagement? Perhaps your team just published a big sales resource that you want to showcase? Whether it's a post, external scheduling link, or even multi-media content to drive leads, you can use the Featured section of your LinkedIn profile to display it. This section works similarly to a carousel where users can scroll or tap through each piece of content and see what you have to offer.
LinkedIn for Business Development
1. Use LinkedIn for prospecting.
LinkedIn is a valuable tool for prospecting. See who's commenting on your prospect's posts, and look at the people who have interacted with your posts. People who interact with your prospects and customers might be a good fit for your product.
2. Join groups.
Show buyers you care about what they do by joining the groups you know they're in and engaging with those groups in meaningful ways.
Look for groups related to your industry or area of expertise. Share content and interact with group members. It's a great way to build connections with new people.
3. Engage with others.
Did one of your connections post an interesting piece of content? Add a comment and start a discussion. This will strengthen your relationships and help you gain more visibility on LinkedIn. The more you put yourself out there, the more likely new connections will reach out to you.
4. Post on a regular basis.
Make sure you post regularly. This could be in the form of a status update or a LinkedIn article. Don't forget to share content (e.g., articles and videos) related to your industry. You can even include a call-to-action to attract people to a content download, eBook, or white paper from your company.
5. Send customized invitations to new connections.
Build your network with quantity and quality in mind. Send customized invitations to anyone you've interacted with, either in person or online. It's alright to request someone you've never met, but make sure to personalize the invitation with a reason you'd like to connect that's relevant to them.
For example:
Hello, Paul. I also work in the outsourcing industry and have admired your work in the Denver area. I'd love to connect here.
Thanks, Emma
Click image to enlarge:
Invest time in your LinkedIn presence and see if you're able to source more leads with your new-and-improved profile. Perfecting your LinkedIn profile is crucial in the sales profession — especially if you're a social seller.
Editor's note: This post was originally published in December 2018 and has been updated for comprehensiveness.