If you're looking for the best real estate blogs to level up your knowledge of the industry, you're in luck. We've created a list of the top 31 real estate blogs to follow in 2023.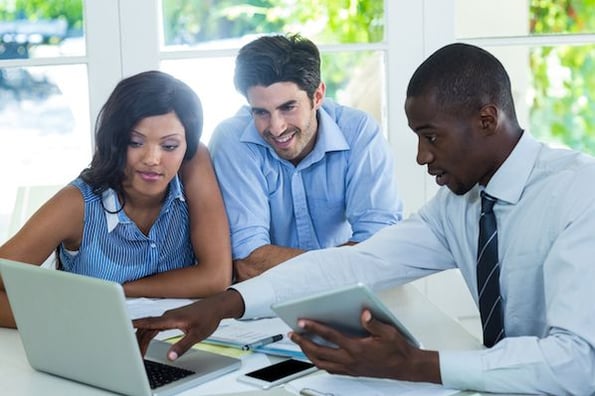 Pick some of your favorites and commit to following them each week. Reading their content will keep you connected to the industry, motivated, and equipped with the skills to offer more value to your clients.
If you're looking to become a better real estate agent or investor, these blogs offer valuable resources. Let's dive in.
31 Essential Real Estate Blogs
Zillow Market Reports
CRE Online Blog
McKissock
Ryan Serhant's Blog
Fundrise Education
HousingWire
The BiggerPockets Blog
National Association of Realtors
Inman
Redfin Blog
Tom Ferry
Real Estate - The New York Times
ButterflyMX
Lab Coat Agents
Forbes Real Estate
Invest Four More
The Business Journals Residential Real Estate News
The Close
Century 21® Real Estate Blog
REtipster
Jason Fox
The RE/MAX
Cornerstone Home Lending Blog
Sotheby's International Realty
Trulia's Blog
Keeping Current Matters
Rentonomics
Geek Estate Blog
Norada Real Estate Investments
DIRT
Notorious ROB
Real Estate Blogs Every Realtor Should Read in 2023
If you seek credible market reports you can rely on, Zillow fits the bill. This section of Zillow's blog gives agents a great pulse on what's hot in the housing and rental markets.
Zillow's blog dives into trends in home pricing, why these trends exist, what to expect from a trend, and many other factors that affect the real estate industry.
Best for: Real estate agents who want free, useful market reports
Must-read post: Housing Market Showed Signs of Life in January, as Buyers Began to Compete Over Still-Scarce Listings (January 2023 Market Report)
The CRE Online blog helps you know how real estate investors are acting in the current market. You'll also find tips on avoiding common real estate mistakes, mastering rental properties, and choosing an investment strategy that's right for you.
Best for: Real estate investors
Must-read post: Real Estate Investing in the Age of Bitcoin (and Other Cryptocurrencies)
Founded by a father and son duo, Richard McKissock and Matt McKissock, this blog teaches realtors how to grow their appraisal skills and real estate career.
McKissock is a great place to learn about real estate tax laws, appraisals of specific home types like senior housing, and even how to balance parenting with a real estate career.
Best for: Real estate agents, real estate appraisers
Must-read post: Appraisers Share Their Top Professional Goals for 2023
Does learning from folks who have done over $4 billion in sales sound appealing? That's what Ryan and his team have done. Ryan's blog is chock-full of content about starting a real estate business, getting your real estate license, getting leads, personal branding, and lots more.
If you want to learn the skills for growing and marketing your real estate business, you should really read Ryan's content.
Best for: Real estate agents
Must-read post: What is Real Estate Pre-Licensing Education?
Fundrise is a leading real estate investment platform with over a decade of experience under its belt. So, whether you're making your first or your fifteenth real estate investment, Fundrise has helpful how-to articles to help you make the right choices immediately or down the road.
Best for: Real estate investors
Must-read post: Forecasts for 2023: Scenarios, Systems, and Pattern Recognition
As your one-stop shop for industry news, HousingWire will feed you the latest trends in interest rates, finance, and regulation. Whether you're a seasoned investor or an expert realtor, you'll find valuable information that's helpful for making educated decisions about the market.
Best for: Real estate agents, real estate investors
Must-read post: The 2023 Housing Market: A Look Ahead
Deep inside the pockets of this blog are authoritative articles on real estate investing, personal finance, real estate marketing, and more. Landlords, first-time homebuyers, and agents will all find helpful resources on the BiggerPockets Blog.
Best for: Homeowners, landlords, real estate agents
Must-read post: The Ticking Time Bomb in Real Estate is Not Prices — It's This
As the official blog of the National Association of Realtors, you can expect all things real estate, including insights on real estate policy, violations, and home equity loans. The blog's no-frills approach is refreshing and trustworthy in today's crowded internet landscape.
Best for: Real estate agents
Must-read post: 6 Books That Will Change Your Perspective on Real Estate
Tech-obsessed realtors will find the Inman Blog interesting. This blog always explores what's new in real estate technology, what the biggest agencies in the U.S. are doing, and what real estate predictions you can swoop on.
This is a resource for the modern realtor, so if you're keen to learn the latest trends in home buying, you'll feel at home.
Best for: Real estate brokers, agents, investors, and startup founders
Must-read post: The Real Word's predictions for the 2023 market
Redfin has a vast database of homebuyer information they share regularly on their signature blog. From local news to national real estate analysis, realtors and homebuyers will find something interesting here.
Best for: Real estate agents, homebuyers
Must-read post: 2022 Housing Market Year In Review: Looking Back on a Historic Year
Tom Ferry is one of the best real estate educators you'll ever find. Agents will benefit from the fresh insights that Tom shares on his blog. If you don't have time to scour dozens of websites for the latest information that'll make you a better agent, consider reading Tom's blog.
Best for: Real estate agents
Must-read post: The Early 2023 Growth Checklist for Real Estate Agents
Sure, it's New York-centric, but you'll also get interesting insights into the global market, think pieces on where the industry's headed, and helpful articles on trends the Times' experts are spotting.
If you're in the New York area or just looking for a news-centric perspective, check out the articles gathered here.
Best for: Real estate agents, homebuyers
Must-read post: Shopping for a Home with FaceTime
With a focus on multifamily property management and ownership, this blog is a great resource for real estate professionals looking to learn everything they need to know about real estate marketing, property technology, and multifamily access control.
Best for: Property managers and owners
Must-read post: 15 Unique Real Estate Marketing Ideas to Attract More Prospects
Lab Coat Agents (LCA) is a massive real estate online community that began in 2015. You can search articles by section so you can find the right article for your needs.
Real estate agents can get some dose of humor by reading articles in the humor section of the blog. Want coaching advice? There's a section for it. The same applies to career insights for powering your growth in the real estate industry.
Pro tip: Too busy to read the blog regularly? Check out LCA's podcast, so you can take insights on the go.
Best for: Real estate agents
Must-read post: A Mansion, a Necromancer, and a Realtor
If you already avidly read Forbes, you can add the publication's real estate section to your rotation. Offering unique peeks into the global market, financial advice for homebuyers, and deep dives into local markets, the Forbes Blog offers something for agents and buyers alike.
Best for: Homebuyers, owners, real estate investors
Must-read post: Here's How to Buy a House When You Have Student Loan Debt
This real estate blog is packed with real-life advice and hard-learned lessons about house flipping and investment. Whether you're entering the rental world or considering your first flip, this blog has the unvarnished information you need.
Best for: Real estate investors
Must-read post: What Is The 70 Percent Rule When Flipping Houses?
This is your hub for interesting real estate stories, global viewpoints, and financial advice. You won't find depth on any one subject here, but you will find interesting pieces on national real estate projects, struggles homebuyers are currently facing, and news on huge real estate deals.
Best for: Real estate agents, homebuyers
Must-read post: Contemporary Pewaukee home with EV charger hits the market for $1.45M: Open House
The Close Blog provides actionable and strategic insights from trusted industry professionals. You can explore articles on real estate marketing, lead generation, the latest technology available, and team-building strategies.
If you're new to the industry, The Close's helpful glossaries and guides will definitely prove helpful.
Best for: Real estate agents
Must-read post: 27 Open House Ideas That Will Actually Get You Leads
Century21 doesn't just cover how to buy or sell a house. The blog will help you undertake projects to make your space feel like home.
If your real estate client is concerned about the return on investment for a home project, this blog has the inspiration that'll help them transform their space or make their investment more lucrative. Get the best of real estate with a Better Homes & Garden flair.
Best for: Homebuyers, sellers
Must-read post: A Great Presentation: 6 Easy Tips for Staging Your Own Home
Not everyone in the real estate game works in the industry full time. You might own an Airbnb or sell/rent homes on top of your day job. This blog is geared toward the part-time real estate investor.
You'll learn how to grow your business while still having plenty of time and space to live your life the way you want.
Best for: Real estate investors
Must-read post: 6 Steps to Turn Your Airbnb Side Hustle Into a Thriving Full-Time Business
Fox's self-titled blog offers innovative marketing tips, practical advice on how to manage homebuyer expectations, and tips on how to reach younger homebuyers. The depth of advice and practical marketing tips you'll find here are both valuable and authentic.
Best for: Real estate agents
Must-read post: Send Video to Your Sphere of Influence Using Facebook Ads
This blog is a great resource for agents looking to grow their real estate business. You can also send your buyers and sellers here for practical tips on preparing for an open house, budgeting for a first home, or the perks and challenges of living in a tiny home.
Best for: Real estate agents, brokers, homebuyers, sellers, and owners
Must-read post: Facing Low Inventory as a Real Estate Agent? Pros Identify an App to Help
This glossy site offers realtors advice on how to approach uncomfortable conversations, news about mortgage rates, and practical articles on how to make the most of your time as a busy realtor.
If you need a quick, feel-good read that will give you an immediate, actionable step, this is a great place to start.
Best for: Real estate agents
Must-read post: 11 Awkward Mortgage Questions You're Way Too Embarrassed to Ask
If you're focusing on high-end real estate, this blog has everything you need. Sotheby's luxury living blog is as aspirational as its clientele. Head here for luxury real estate headlines, posh destination roundups, and development spotlights on high-end global sales.
Best for: Luxury real estate agents, window shoppers
Must-read post: 7 Properties with Incredible Guest Houses
Trulia's blog is a treasure trove for homebuyers and sellers. The blog has sections that cover tips for helping buyers to get good credit scores and save for their first home.
Other subsections are about housing market analysis, the economy, and affordable home buying. Trulia has interesting pieces and expert insights you won't find anywhere else.
Best for: Homebuyers, sellers
Must-read post: Sneaky Things That Can Ruin Your Credit Score
This is another all-around resource for your homebuyers and owners. You'll find information on VA loans, advice on what to do in a bidding war, and information on which states have the most affordable homes.
Best for: Homebuyers
Must-read post: Applying For a Mortgage? Here's What You Should Avoid Once You Do.
27. Apartment List
Apartment List offers an important perspective on residential housing, the affordability crisis, and multifamily construction. If you're considering moving into a rental property or putting one on the market, this blog is where you should start.
Best for: Homeowners, real estate investors, renters
Must-read post: The Persistent Effects of Residential Segregation
If you're interested in learning from some of the biggest names in the real estate industry, Geek Estate is where you should go. Sean Harper, Marc Rutzen, and Steven Wynands are just a few of the giants featured on this site.
Best for: Real estate investors, real estate agents
Must-read post: Trendy Ways Landlords Can Attract and Retain Tenants
Learn how to be successful in real estate investment with tips from Norada. Whether you're interested in condominium investment, rental properties, or national investment opportunities, there's something for you on this blog.
Best for: Real estate investors
Must-read post: How to Be Successful in Real Estate Investment
Agents who enjoy celebrity real estate stories will love the DIRT blog. DIRT covers stories about the richest folks around the globe. Think global celebs like:
Pele, the King of Football.
Leonardo DiCaprio, the veteran actor.
Nicki Minaj, the popular singer.
Best for: Luxury agents who enjoy celebrity real estate stories
Must-read post: Egypt's Richest Man Buys $24 Million Trousdale Estates Stunner
The Notorious ROB blog is an iconic knowledge base that contains deep insights about the real estate industry. With over 1,000 articles under its belt, this blog is a compulsory read for brokers, investors, and agents who want constant updates about the real estate industry.
Best for: Real estate investors and brokers
Must-read post: Most Brokerages Have Zero Counter-Cyclical Hedge
Start Reading Today
Blogs like this can help realtors feel connected to their peers, the industry, and their consumers. Find your favorites to follow and share some with your prospects or clients to establish value and authority.
Start reading today to build your knowledge and your business.