Sales coaching is all about looking forward and developing your people. High-revenue growth companies are seeing the payoff; 54% of high-performing companies are using sales coaching more than in the past, and 60% use sales coaching as an integrated part of a sales training program.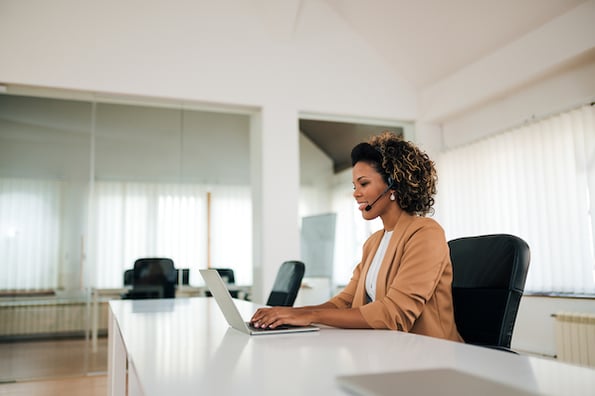 These are among the research findings of a study on "Maximizing Performance with Sales Coaching" conducted by ValueSelling Associates and Training Industry, Inc.
A survey of 330 U.S. learning professionals responsible for sales training, uncovered that coaching is a long-term investment, but there is a payoff. Two-thirds of companies with a formal sales coaching program in place for at least three years experienced high revenue growth.
This study defined high-revenue growth companies as those where revenue was either "at an all-time high" or "better" than the past year.
So, how do you implement a mature coaching program? It requires a process, a consistent sales methodology, and time. Plan to invest at least two to three years in a sales coaching program to get it off the ground.
Coaching vs. Managing
Today's sales managers need to wear two hats – their manager hat and their coaching hat. On a day-to-day basis, the manager's focus is on quota attainment and delivering revenue. Yet, they also need to take a step back and understand how to effectively coach with a big picture, longer-term view.
Just like a sports coach, a sales coach is focused on an individual's development. They must be "consciously competent," with the ability to sell successfully themselves, and also consciously understand how to build that same skill set in other sales reps.
For your sales function to operate at a high level, every sales-related role should be supported with coaching – this extends to customer service reps, external/field sales reps, business development personnel, and internal/digital sales reps.
As a sales manager, if you're looking to improve your coaching skills, I recommend honing in on the following competencies:
Observe and assess — If you are coaching a specific employee, it helps to be observant of how they show up in their day-to-day work. Are they meeting expectations? Can you recognize their strengths and weaknesses? What opportunities do they have for improvement?
Provide feedback — Valuable feedback is critical to any coaching relationship. Practice delivering clear, actionable feedback to those you manage.
Build trust — As a coach, you must be able to get buy-in from the person being coached so there is a reason for them to change their behaviors. This starts by using soft skills to build trust with those you're coaching the same way you would build trust with a prospect or client.
Are Internal or External Sales Coaches Best?
The ultimate goal of a sales coaching program is to empower sales managers to coach their team members. Successful companies develop internal sales coaches by pairing new coaches with experienced coaches, providing training on basic coaching competencies, and sending potential coaches to external courses or certificate programs.
And while empowering internal sales managers to be coaches is ideal, it takes time to develop the coaching culture required and to produce results. Often, the best-performing sales leaders are lousy coaches if they are just thrown into the role.
While building coaching competency, an excellent strategy is to rely on professional coaches and experienced sales reps to augment their managers' coaching capacity. In fact, 54% of our survey respondents in high revenue growth companies send potential coaches to participate in external courses or certification programs.
Top 5 Outcomes to Expect from Sales Coaching
The survey results showed that 53% of individuals who work at companies that achieve high-revenue growth believe sales coaching is "always effective" or "almost always effective." Here are the top five outcomes they experienced for their companies and their teams.
Outcomes to Expect from Sales Coaching
Individual contributors become more productive.
Organizational performance improves.
Sales reps report increased skill enhancement.
Increased employee engagement.
Improved employee retention rates.
1. Individual contributors become more productive.
74% of these respondents saw individual productivity gains for their sales reps. By optimizing their productivity, they're maximizing the results that each individual contributor is providing to their company's bottom line.
2. Organizational performance improves.
In addition to productivity on the individual level, 69% of respondents saw organizational performance gains. This is because there is a cause-and-effect relationship between developing your people and your corporate results. When individuals were performing at an optimal level, the results were felt on an organizational level.
3. Sales reps report increased skill enhancement.
Along with overall productivity, 69% of respondents saw enhanced individual skills in their sales reps. Some of these skills included listening and communication skills, product and service knowledge, presentation skills, sales process, and engaging prospects.
4. Increased employee engagement.
By implementing structured coaching practices, 66% of companies surveyed saw increased employee engagement. Coaching takes time and commitment, and when employees know their company is making that investment, they tend to be more engaged as a result.
5. Improved employee retention rates.
Sales rep retention is a hot topic. Between 2010 and 2018, average sales rep tenure decreased from 3 years to 1.5 years according to The Bridge Group.
Per the sales coaching research, 65% of responding organizations saw improved retention rates for their sales reps. When a company focuses on developing its people and improving their skill sets, they tend to stay with that company longer.
This, in turn, fuels revenue growth because when a rep is in a territory longer, they develop better relationships with clients and are more effective team members.
Coaching for Revenue Results
More and more organizations are recognizing the key role coaching plays in individual, team, and organizational effectiveness. Nowhere, perhaps, does coaching play a bigger role than in sales. But it's critical to know how to do it right.
The research shows there is a cause-and-effect relationship between developing sales teams and achieving revenue goals. A winning sales team uses a consistent sales methodology and implements sales coaching as an essential part of a sales training program to make sure the entire customer-facing team will reach their next level of performance and excellence.
Start with a winning playbook and put a proven sales methodology in place as your first step. From there, make sure sales coaching is integrated through the entire sales function and develop sales managers who can coach their teams and follow through with an insightful measurement strategy.
Editor's note: This post was originally published in March, 2020 and has been updated for comprehensiveness.