All data is good, but not all data is relevant for making better decisions. That's why salespeople need sales dashboards to visualize actionable data, analyze performance, and make key decisions.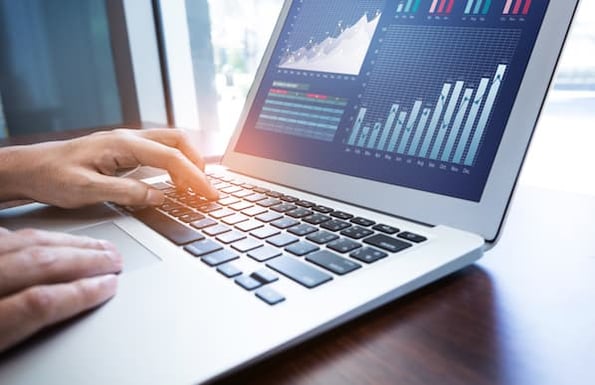 In this article, we'll cover what a sales dashboard is, examples of sales dashboards, and tips for using your sales dashboards.
How to Create a Sales Dashboard
What is a Sales Dashboard?
A sales dashboard is a visual representation of your sales data. As a salesperson, you can filter information using different time periods and even pull in real-time data with some sales dashboards.
Sales dashboards provide an overview of your key performance indicators (KPIs).Common metrics that are tracked include quota attainment, conversion/win rate, average deal size, revenue, and sales funnel leakage.
Informed by the KPIs, sales leaders track the team's progress toward goals and revenue targets, adjust compensation, and award bonuses. They can also identify issues before they become colossal problems and make other key decisions.
How to Create a Sales Dashboard
Determine which sales metrics you'll track.
Identify how your team will use the dashboard.
Pick a sales dashboard provider.
Pull data into the dashboard.
Build reports for the sales dashboard.
1. Determine which sales metrics you'll track.
Are there specific goals or targets you're trying to reach? A dashboard can help you visualize your progress toward those goals.
First, start by identifying the sales metrics you want to track. Ask yourself the following questions:
What metrics do you regularly review in your company, one-on-one meetings, and among your sales team?
Do you consider some metrics more important than others?
What are your key performance indicators (KPIs)?
Do you have multiple sales teams within your organization?
The sales metrics you choose will often fall into one or more of these categories:
Activity sales metrics.
Pipeline sales metrics.
Lead generation sales metrics.
Sales outreach metrics.
Primary conversion sales metrics.
Channel sales metrics.
Sales productivity metrics.
Rep hiring and onboarding metrics.
Sales process, tool, and training adoption metrics.
If you don't know where to begin, check out our guide to sales metrics to determine which pieces of information are most important to your sales organization.
2. Identify how the dashboard will be used.
There's no one-size-fits-all sales dashboard, so you need to know how your team will use the dashboard.
Is the dashboard going to help individual sales reps track their progress toward their monthly quota? Or will sales managers use it to see the top-performing reps for the quarter?
Here are a few things to consider.
Who will use the dashboard? Sales reps, managers, VPs, or executives?
How will they use it?Are they checking the dashboard daily, weekly, or monthly?
What information will they want to see? Which metrics, visualizations, and calculations will they look at?
Think about where your team will view the dashboard as well. For example, if you have an outside sales team who'll be on the go, consider making a mobile-friendly version of the dashboard so your team can view it from a mobile phone, tablet, or computer.
3. Pick a sales dashboard provider.
If you're already using a CRM, it likely comes with reporting dashboard features that your team can use. However, if you're not using a CRM, there are stand-alone reporting tools for syncing or importing your data to create dashboards and reports.
Sales Dashboard Software Providers
HubSpot creates custom reports and dashboards for your team by pulling data directly from the HubSpot CRM. You can sync data from a wide range of apps and web services.
What we love: HubSpot gathers all of your data in one place, creating a single source of truth for your team.
This software allows you to use data from your CRM and combine it with data from the other services to create dashboards.
What we love: Kipfolio also generates a sales team leaderboard. This can help you celebrate your top performers and foster healthy competition.
Track key performance metrics by creating a custom report or using one of Zoho Analytics 60+ reports and dashboards.
What we love: Zoho Analytics integrates fully with HubSpot. You can then merge your HubSpot CRM data with 100+ different data sources to create meaningful business reports.
With Coefficient, you can build dashboards that centralize your sales and marketing data right within your spreadsheet. You can also choose from a gallery of dashboards built specifically off your data source integration.
What we love: Coefficient's templates are unique in the fact that you can power them with your live data. No need to copy/paste or import/export. Make a copy of the template, then follow the prompts to sync live data from your tech stack, including HubSpot.

With Slemma, you can build dashboards that centralize your sales and marketing data. You can also choose from a gallery of dashboards built specifically off your data source integration.
What we love: Templates save you time and set you up for success.
If you're looking to create a dashboard to increase investor visibility, this is the software solution for you. With Visible, you can automate report creation, build dashboards, and drill down to see the details of your reports.
What we love: For a new company or startup, this is the right app for you. It's made specifically to help you keep these stakeholders in the loop.
TapClicks allows you to address sales challenges by creating reports and dashboards that identify warning signs. When a challenge arises, the software will notify your team so you can proactively find a solution.
What we love: With TapClicks, you can take information from dashboards and turn it into slides or reports. Your data tells a story, and TapClicks makes sharing the message easy.
4. Pull data into the dashboard.
If you're using dashboards that integrate with your CRM, you'll be able to easily sync the data between them.
For example, the HubSpot CRM allows users to generate sales reports based on data from their customer database. You can create dashboards and reports to track sales performance, identify top-performing sales reps, create sales forecasts, and more.
That said, the process will be manual if your team uses spreadsheets to manage prospects and customers and not a CRM. Luckily, there are sales dashboard templates for Excel that can help you build reports from scratch.
5. Build reports for the sales dashboard.
When building reports, you can pick from a wide range of charts to visualize your data. Depending on the data you're adding to your dashboard, you can use charts for:
Comparing values (e.g., compare sales from two different territories). This can be shown as bar charts, column charts, line graphs, pie graphs, and scatter plots.
Composition (e.g., total sales broken down by sales rep). You can demonstrate where your sales come from with a pie chart, stacked bar chart, stacked column chart, area chart, or waterfall chart.
Trends (e.g., month-over-month revenue growth). Show trends with a line chart, dual-axis line chart, or column chart.
Remember: The best visualizations are easy to read and actionable. Your dashboard users should read and understand the charts at a glance, without having to click the full report.
Once the dashboard and reports are ready to go, share them with your team. Don't be afraid to go back to the drawing board if some reports don't meet the needs of your sales team.
Sales Dashboard Examples
Since there isn't a universal dashboard that applies to all sales organizations, here's a compilation of sales dashboard examples you can model.
1. Sales Conversion Rate Dashboard
Calculate progress throughout your entire sales pipeline with HubSpot's free Sales Conversion and Close Rate Calculator. This interactive dashboard helps you analyze and set goals by month and quarter, forecast your lead-to-MQL rate, MQL-to-customer rate, lead-to-customer rate, and more.
2. Sales Rep Dashboard
Provide sales reps with a dashboard that allows them to track their individual performance. This dashboard includes reports for key metrics like meetings booked, open opportunities, the number of deals in their pipeline, forecasted revenue, and any other performance indicators your team uses.
3. Sales Manager Dashboard
This dashboard provides an overview of key metrics that sales managers use to measure performance. It includes a section for today's stats, and it shows monthly progress toward the sales team's new account target and MRR goal.
4. Sales Leaderboard
See who's performing the best out of all your salespeople. Sales leaderboard dashboards typically include information on the number of completed activities (e.g., calls, emails, and meetings), new accounts, generated MRR, and customer retention numbers.
5. Deal Performance Dashboard
With the deal forecast front and center, members of your sales organization can see how much revenue they're expected to close. The reports that follow show how many deals are at each stage of the sales process and how many have closed compared to the goal.
6. Win/Loss Dashboard
This win/loss dashboard by Solver provides metrics on deal size, salesperson, and industry. Using it allows you to identify top performers in your team, understand why anyone won or lost deals, and iterate on your sales process.
You can also compare your team's close rates to the rates from the previous reporting period or industry benchmarks.
7. Sales Performance by Region
Where are you making the most sales? And what products are customers buying? This dashboard gives insight into which territories are selling the most of each product type. Plus, it provides an overview of MRR compared to the previous month.
A sales activities dashboard provides sales managers with a visual representation of what their reps are doing on a day-to-day basis. Plus, it gives broader information like the average number of activities per won deal.
9. Performance Overview Sales Dashboard
This dashboard features the key performance metrics, front and center. This makes it easy to read, and the most valuable information is the first thing you'll see when the dashboard loads.
10. Time-Tracking Sales Dashboard
Do you have a sales team that's always on the go? This time-tracking dashboard shows where your sales reps spend their time and how much revenue they're generating.
Need to keep a close eye on your company's sales goals and how you're progressing toward your targets? Sync your live data into this template, establish customized sales targets based on teams or opportunity categories and effortlessly monitor advancements on a monthly, quarterly, and yearly basis.
Sales Dashboard Tips
Are you inspired to crunch some numbers and build sales reports? Keep the following tips in mind as you create your own sales dashboard.
1. Use a clean layout.
Don't make the visuals (e.g., graphs and charts) and colors too busy — this will distract from the data. Many dashboard tools allow you to lay out your reports in a grid. This helps you organize the data even further.
When thinking about where to place your chart, apply human psychology. Research by The Nielsen Norman Group shows people view the left side of a webpage more frequently than the right. With this information in mind, create a flow of reports so users can read them from left to right, positioning the most important visuals on the left-hand side of the dashboard.
2. Include calculations (when applicable).
Calculations can add additional context to a report and help you save time.
For example, you don't want your team to go through the trouble of doing mental math to determine month-over-month revenue growth.
3. Make the dashboard accessible.
If you make the dashboards specifically meant for sales managers, VPs, or executives available to all, individual contributors can see which metrics and goals are important to leadership. Transparency is one way to motivate your sales reps because they can zoom out and see the impact their numbers have on the business.
Getting Reporting Right
With these tips in hand, I'm sure you're now better equipped to build your own sales dashboards. To take your learning further, check out the 102 sales metrics every manager should be tracking.
Happy reporting!