For many leaders, when we hear the term "remote sales management," our blood pressure starts to rise.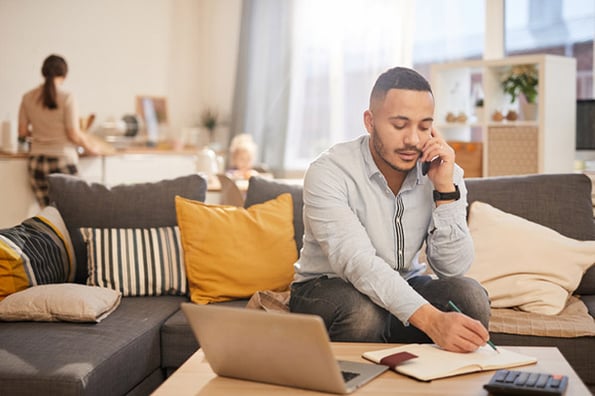 "Sales teams are hard enough to manage already, let alone remotely," we think, shaking in our boots.
I, too, have had this shaking-in-my-boots moment. But that was before I discovered these sales enablement best practices.
Top-tier firms around the world are quickly adopting sales enablement best practices to ensure that performance standards are not only maintained but also improve beyond when training was limited to the classroom.
Unfortunately, there still isn't a gold standard or set of rules for sales leadership to use when building an enablement plan to support a remote workforce focused on inside sales.
Let's explore some crucial components you can keep in mind when constructing your own sales enablement strategy.
Sales Enablement Strategies for Inside Sales Teams
1. Divide and conquer in weekly meetings.
A common mistake is to limit enablement efforts to a weekly ad-hoc "all-hands call" where the entire sales team joins a video call to discuss results and the five business days ahead.
It's extremely difficult to monitor employee engagement in these meetings as people typically have the freedom to turn their audio or video off with management leading the discussions in one-way dialogue.
The key to success for an inside sales team working remotely is to shift the primary focus to two-way interactive dialogues between individual contributors and direct management. This can be achieved by conducting two types of collaborative meetings:
A meeting between sales leadership and front line sales managers to communicate the organization's weekly objectives
A meeting between front line sales managers and individual contributors; during this time sales reps have the ability to contribute feedback and managers can make sure key messages have been understood
From a strategic perspective, we call this moving from a one-size-fits-all approach to a divide-and-conquer strategy.
2. Focus on continuous learning and reinforcement.
The shift to remote work provides a critical opportunity for inside sales teams to transition from more traditional practices around employee training and enablement.
From my experience, training initiatives historically have manifested in three key areas:
SKOs (Sales Kick-Offs)
An initial training and onboarding period (typically two weeks for new employees)
Weekly feedback from direct management
The problem with this approach is that retention of key learning principles is extremely difficult given SKOs and orientation training are singular events with finite time periods, making ongoing revision an optional practice.
The weekly feedback sessions generally address day-to-day concerns and lack the time to refocus on the central tenants of the annual sales plan in place — making it an ineffective mechanism to deliver ongoing training.
In an ideal state, top sales teams are supported by sales enablement programs that present new learning opportunities electronically on an ongoing basis. These programs should have the ability to determine progression via online examinations and certifications, allowing sales reps to recall and apply the information they've learned.
Aim to readdress core competencies with reps every three to six months to ensure understanding and build upon critical skills. This also incentivizes sales reps to review past materials in order to maintain strong results.
3. Shift institutional knowledge to public knowledge.
In the conventional workplace with face-to-face meetings and water cooler conversations, the magic of how top reps close deals in the field can be lost behind the scenes.
To address this, my team has a quarterly exercise where both management and sales reps examine our leaderboard and begin to retroactively look at how and why top performers achieved their amazing results. It is a valuable opportunity to share best practices within the organization and to help engage the broader team when we are working separately.
In an environment where meetings are hosted digitally, all emails are tracked in our CRM, and all essential documents between prospects and the team are stored electronically, sales enablement leaders can shift to proactively analyzing and understanding their team's data to determine exactly what the top performers are doing differently and share these approaches with the entire organization.
Moreover, top enablement teams are able to isolate leading and lagging indicators based on these behaviors and work with sales operations to develop a predictive system.
This gives sales managers and employees the ability to forecast their success well in advance of the results coming in, enabling both parties to adjust behaviors to achieve the best results
4. Ensure sales materials are easy to find.
For inside sales teams working remotely, it can be difficult to access the materials required to sell effectively when it's not as easy as tapping someone on the shoulder for help.
Also, given the sales landscape is rapidly changing, content can easily become outdated and stale. Teams that can maintain digital hygiene, making content easy to find for reps have a clear edge over other competitors who circulate these materials manually, or who have materials their reps have to hunt for.
Sales enablement tools ensure that sales teams always have access to the content they need when they need it. Additionally, having content organized by tags such as persona, product category, industry, or other team-specific topics can help drive efficiency.
If sales content management technology is adopted for teams that have an agency model, it is important to provide centrally managed assets while encouraging sales reps to personalize content based on the specific needs of each client.
Sales enablement teams can then monitor these changes and propose new ideas to the entire team, which can boost the efficacy of content shared broadly.
5. Implement independent call reviews to supplement manager feedback.
Even top-performing sales organizations are limited by the archaic way they approach the call review process.
In many companies, calls are selected at random, reviewed by a front-line manager based on the structure of the organization, and one-dimensional feedback is given. Here are the issues with that approach:
The same front-line manager reviews all the calls for their team each time. This limits the scope and variety of feedback given.
This process can seem rather intrusive and can demotivate salespeople in a world where they already feel highly monitored and bereft of autonomy.
With managers in charge of call reviews, many reps only receive feedback one to two times per month, which makes it extremely unlikely that areas of development can be isolated and improved upon.
In addition to managerial feedback, sales teams should empower reps to analyze their own calls. Reps can record their calls and review independently with the following questions in mind:
What is one area I struggled with in this call?
How could I improve this area for next time?
What was I proud of?
How did I incorporate the learnings from my development areas I'm working on this month?
This feedback can be then shared with management or placed in the CRM to create a more continuous, self-driven feedback loop.
For sales reps who are experiencing separation from their peers, leadership, and customers, sales enablement is a critical function for their success. To continue growing in your sales enablement journey, check out this post for research-backed ways to help your organization improve.
Editor's note: This post was originally published in May 2020 and has been updated for comprehensiveness.