Did you know vacation is scientifically proven to boost productivity, increase creativity, and reduce long-term risks of heart disease? The key isn't taking two weeks off and spending half the time checking email or making calls. Even the presence of a cell phone decreases the quality of in-person conversation and the ability to relax.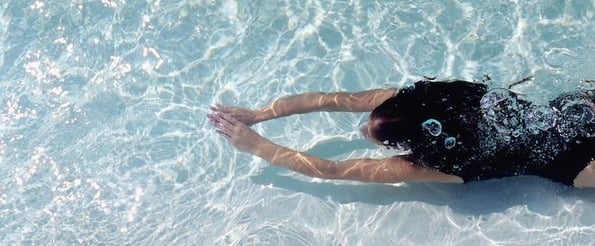 But is it realistic for salespeople to completely unplug on vacation? We asked the HubSpot sales team how they approach time off. Their responses were as diverse as the offices they came from (Cambridge, Sydney, Dublin, and Berlin). Check out their thoughts below, along with best practices for working -- and not working -- when out of office.
I even had a rep respond to my email while poolside in Bali … I'll let you decide which camp he fell into.
Can Salespeople Take a Vacation from Work?
Should you check email and stay accessible to prospects/managers while on vacation?
Most HubSpot salespeople answered "Yes" to this question, saying they want to stay on top of business while out -- especially if a prospect is almost ready to close. To mitigate work during vacation, HubSpotters said they collaborate with managers and teammates to prepare and set limits on how much they'll work while out.
David Appleby, channel account manager at HubSpot (Cambridge), responds to prospects on vacation but not internal emails unless they're super urgent. "My OOO message says to expect 24 hours for a reply," he explains. "This lets prospects know that if they have something urgent, they should reach out to my OOO contact."
Dan Tyre, director of sales at HubSpot (remote), says he works and checks email if he's in the US and has wifi. "But not if my wife says that it is or I feel like it takes away from my family time." Tyre adds, "I have five things going on at all times, so if I didn't check my work email, I would still be checking email."
"If I'm well over my yearly number and have a strong pipeline, I will try to completely disconnect," says Paul O. Rios, manager, international sales and strategy at HubSpot (Cambridge). "If I'm going through a rough patch or have an important or interesting deal on the one-yard line, I will make myself accessible."
"I do, yes -- but this is totally my option. Many of us in sales are control-oriented, and would rather stay on top of things ourselves than delegate," says Jessica King, senior IGA at HubSpot (Cambridge). "I pride myself on building rapport with my potential customers, and would prefer to be their POC unless I absolutely cannot be available."
Some salespeople explained unplugging is critical to their sales results.
"I think when on vacation it's very important to put work aside so you can get the rest you need," says Ransom Cook, senior inbound growth specialist at HubSpot (Cambridge). "I find that if I don't fully unplug from work and make that time I am much less productive in my role and in my job."
"I realized that I could leverage my time out of the office to get more insight into any deals I was working and would be accessible only to prospects that I needed to," comments Greg Brown, senior sales manager at HubSpot (Cambridge). "For everyone else, I set the expectation I was going to be OOO and would respond when I got back."
And what about the pool-side salesperson?
Usman Hijazi, inbound growth specialist at HubSpot (Sydney), says he's been checking his email every morning since he left four days ago. I guess there are worst places to keep an eye on your inbox than a villa in Bali.
Should managers expect their reps to be accessible at all times -- even during time off?
Managers unanimously said they prefer reps make arrangements before time off. They want team members to get the most from fully unplugging.
"No!" Rios says. "Time off is important for recharging batteries and not burning out … I encourage reps to completely unplug."
Tyre is similarly emphatic managers should let their team members recharge in peace. He explains, "A good manager makes people turn off and has someone else cover for them."
According to Brown, there are a few steps salespeople can take to ensure they're ready for a complete break.
"I expect them to help me prepare for their vacation by providing updates on active deals, tell me what I need to keep an eye out for, come up with a plan to cover for them while they are out (i.e. who will follow up with their leads), and add me to their auto-responder," he says. "In general, I want reps who are going on vacation to feel like they can step away from the business and rest up, so I need their help in preparing for their departure."
Have you ever closed a deal while on vacation?
Almost every HubSpotter has closed a deal on vacation. From the middle of the lake to white sandy beaches, because they were winning deals, no one minded the disruption.
"I closed a deal while on a boat on Lake Winnipesaukee last summer," says Alexandrea Ferguson, inbound growth specialist at HubSpot (Cambridge). "I took the call from my cell phone and asked my friends to slow down the boat."
"Yes, multiple times. It's sometimes kind of fun," says Michael Rogewitz, inbound marketing specialist at HubSpot (Cambridge). "There was one vacation where I was running a big deal and had to do a demo to close with my manager. I went up to my hotel room overlooking the beach, went back into business mode, ran the call, got my manager on the contract steps, and went back out to the beach with a drink in my hand. It made the vacation that much better knowing I was coming back with 35% knocked off of my number."
Aine Garland, account manager at HubSpot (Dublin), disagrees. "Nope -- downtime is downtime. I can't give my full attention to something like this while on vacation."
Rios shared that his biggest month ever happened while he was taking three weeks off. "In 2014, I took three weeks off to go to the World Cup in Brazil," he says. "But I had a very strong pipeline and closed multiple deals while out of the office. In fact, June 2014 was my best month ever as a sales rep in three-plus years."
Is there ever an appropriate time to completely unplug from work?
Respondents agreed, when it comes to mental health, maternity and paternity leave, and family emergencies, it's always appropriate to unplug. A few HubSpotters proudly shared secrets to maintaining work-life balance -- an impressive accomplishment in sales.
"It's really important to manage your stress load in sales. It's almost impossible to not get to the point of cracking, so it's important to manage it like anything else, health-wise," says Rogewitz.
He continues, "You should work with your manager and be transparent about how stressed you are. Your manager will want you to perform to your best. There's no sense in ruining opportunities because you over-exerted yourself. There's not value in running deals like that."
"Being customer-facing, I think there needs to be a balance. If you're gone for a week and a half -- that has direct implications on anyone you're working with at that time, so you need to ensure that they're not being affected by your vacation," says Joshua Newall, senior inbound growth specialist at HubSpot (Cambridge).
"Setting up a solid game plan with your manager to fill in for you is critical, but I don't think it hurts to check-in in the morning or when you're winding down at night to ensure there's not any alarm bells going off."
"I am very happy to say that I think this is one of my biggest strengths," shares Cook. "I have worked very hard at being able to separate my work from my time off and when I'm out, I don't check my phone or email. Tim Ferriss' podcast and book, 'The 4-Hour Workweek,' have been incredible at helping me manage my time. Things like meditation and journaling are amazing tools to help train yourself to focus intensely when you need to get stuff done and separate your work life from personal life."
"I may not feel it is necessary to unplug while on a staycation or even a short trip," explains King. "If I am going on Sabbatical or maternity leave, and the company is compensating accordingly, to unplug would be in the best interest of both parties."
"I think it's important to unplug completely from work as long as you've prepared your team, your boss, your prospects/clients, and other stakeholders about your absence and have communicated your coverage plans," Brown says.
It's hard for salespeople to unplug. The job demands you be accessible -- sometimes to a fault. But it's important to make your mental and physical health a priority to perform at a high level. Find what works for you, talk to your manager, and be willing to put yourself above the job.