Chances are, your email templates are no spring chicken. And with buyers becoming more discerning every year, it's never been more important to ditch your copy-and-paste strategy and take a fresh approach to email outreach.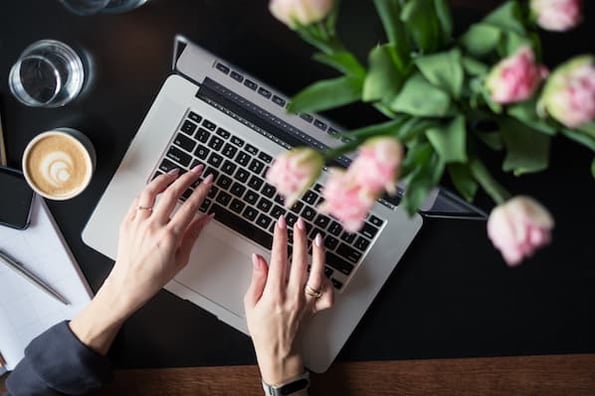 Boosting response rates (with quality responses, of course), is what matters most to reps, and timely, unconventional sales emails can be just what you need to get more eyeballs, clicks, and replies.
Spend 30 minutes refreshing your tired email templates and you can give your buyers a memorable message they will reply to — and one they might just forward to their colleagues. Emails that show this type of share-worthy personality benefit your company even if you don't get an immediate reply.
Need a little help getting the creative juices flowing? Here are a few spring-themed sales email templates for you to customize for your prospects, product, and industry. Put your own unique spin on each one and start building that name recognition with your target companies and consumers.
Prospecting Email Templates
Use these emails to contact new prospects. Your creativity will make a great first impression.
1. Back to the Future
[Today's date] 2020
Hi [prospect name],
It's one year into the future. How has [prospect's company] handled [X pain point, Y opportunity, Z strategy]?
If you're unsure about the answer, I have a few ideas you might find interesting. Would you like to hear them?
[Your name]
Remind the buyer the future is coming, whether they like it or not. The chances they know exactly what they're going to do are slim — so they'll probably want to hear what you have to say.
2. A Good Read
It's a big day
Dear [prospect name],
I recently learned March 2 is Read Across America Day. In honor of the occasion, I wanted to recommend a great book about [topic]: [Title]. Its [suggestions, insights] on [subject] may be particularly relevant to your [challenge with X, industry, product, market, etc.], especially [chapter Y, section Z].
I'm happy to discuss the takeaways on a quick phone call if you're interested as well.
Best,
[Your name]
A book recommendation is only valuable to your prospect if you explain why that title is pertinent to their situation and highlight a part they should focus on. Doing so proves you read the book, and more importantly, thought about why it would benefit them specifically.
3. Watching the Clock
Spring forward, fall back
Hi [prospect],
Hopefully, you remembered to show up to work an hour earlier today. Losing 60 minutes of sleep is never fun, but I do have a few suggestions for [saving time with X, boosting your efficiency at Y, reducing the time to do Z] that could make up (and more) for your lost time.
Would you be interested in hearing them?
Cheers,
[Your name]
Provoke the buyer's interest with an offer to help them accomplish more in their day. Once you've earned their attention, you can position yourself as a trusted advisor. They'll be eager to learn additional ways to boost their productivity — including buying your offering.
4. New Season, New Strategy
Spring is coming
Dear [prospect name],
Congratulations on making it through the winter — is it just me, or does it seem longer every year? With Q2 almost here, you might be thinking about [launching new campaigns for X, starting a project on Y, solving Z]. I've helped several clients [in your industry, serving the same market, dealing with this challenge] and would be happy to share what worked and what didn't.
Are you interested?
Thanks,
[Your name]
Establish rapport with your prospect by mentioning the weather, which everyone loves to hate. Then demonstrate subject-matter expertise and a familiarity with their business by mentioning a likely challenge or focus are. Finally, leverage social proof by sharing that you've helped other companies with the same thing.
5. Congratulations on Your Success
Lucky streak
Hi [prospect name],
Was [prospect's company] been blessed with the luck of the Irish? You guys have been killing it lately when it comes to [business area, strategy] — I was impressed to see [recent announcement].
Typically, companies who achieve X [struggle with A, pursue B next, double their return by investing in C, minimize risk with D strategy]. Have you considered this approach?
Best,
[Your name]
Prove your knowledge of the buyer's situation by congratulating them on an effective campaign or competitive move. Even if they've already thought three steps ahead, they'll be curious to speak with you.
The language is casual, so consider tweaking it if you're emailing someone at a conservative company.
6. Theory vs. Practice
Hi [prospect name],
My customers often tell me [capitalizing on X opportunity, solving Y pain point] can feel like finding a four-leaf clover: In theory, it's possible, but in practice time-consuming and often fruitless. Luckily, I've got several tips that can make your efforts easier and far likelier to pay off.
Let me know if you'd like to hear them.
Best,
[Your name]
To earn your prospect's trust, show some empathy for their challenges. This email also highlights the expertise you've built in this specific area. If the buyer is experiencing the problem or opportunity you mention, they'll be compelled to respond.
7. A Groovy Tune
Here comes the sun …
Hi [prospect name],
Is everything all right when it comes to your strategy for [business are]? If not, you owe it to The Beatles to take some action.
This [ebook, white paper, blog post, podcast episode] has some valuable tips on [resolving issue, boosting favorable metric, planning for upcoming event or occasion]. You might find [page X, section Y, clip Z] particularly helpful — it speaks to [specific topic], which relates to your [company, problem, role] in [specific way].
Cheers,
[Your name]
A familiar song will break the ice with the buyer — plus, once they've got it running through their head, they'll be thinking of your email all day. Add value with a highly personalized content recommendation.
8. The Right Place at the Right Time
Hi [prospect name],
You know what they say about spring: It's the perfect time to reevaluate your [business area] strategy.
Okay, I might be the only one saying that. But I've got a good reason — [similar company], one of my clients [in your space, serving the same market as you, selling the same product as you], recently [saw X results] after revamping the [way they approached business area].
Would you be interested in learning the specific steps they took?
Best,
[Your name]
Citing results from a similar company will either make your prospect worried about falling behind or eager to get ahead. Whatever the case, they'll be highly motivated to schedule a conversation with you.
9. Follow That Rabbit!
Down the rabbit hole
Hi [Prospect name],
I noticed you recently read several of our blog posts on [topic of interest]. I thought I'd help you continue down your rabbit hole of information by sharing a few other articles:
[Blog Article 1]
[Blog Article 2]
[Blog Article 3]
If you have any questions — or need more articles on the subject — I'd be happy to help.
Regards,
[Your name]
Is your prospect obviously conducting research into a topic? Help them out with some material they might not find on their own. And don't be afraid to source blogs from outside your company website. This shows you're plugged into the community and not territorial about where you get your information from.
10. Temperature Whiplash
Cabin fever hitting yet?
Hello [Prospect name],
They tell me it's spring, but it sure doesn't feel like it outside. Unfortunately I can't boost temps but I can help you boost customer retention.
If you'd be interested in learning how [Your company name] can help [Buyer company name] increase annual member renewals by up to 40%, click here to book time on my calendar: [Calendar link]
I'll leave you with a reminder that warmer weather will exist again.
Thanks, [Your name]
Spring can seem like winter's second wind. Playing into that universal feeling of "Please, not another cold, dreary day ..." makes you relatable, and your beachy GIF will hopefully bring a smile to your prospect's face.
Follow Up Email Templates
Are you trying to keep a deal moving forward or strengthen a relationship? These follow up emails help you check in without being annoying or pushy.
1. Getting a Good Season's Sleep
[Prospect name], I'm pretty sure I know …
… why you haven't been in touch — you've been hibernating for the winter.
Now that spring is here, are you interested in picking up our conversation about [solving X pain point, taking advantage of Y opportunity] again?
Thanks,
[Your name]
P.S. I came across this [article, newsletter, infographic] the other day I think you'll like because it [reason why it's relevant to prospect].
It's always tough to re-engage prospects who have gone dark. With this tongue-in-cheek email, you'll remind them of your persistence without sounding aggressive. They may be amused enough to reply.
2. Some Mistakes Are Worse Than Others
When it comes to [business area], are you feeling the pinch?
Hey [prospect name],
Forgetting to wear green on St. Patrick's Day is one thing, but letting [paint point] go unresolved is a little more serious. Here are two ideas you might consider trying:
[Actionable suggestion #1]
[Actionable suggestion #2]
If you'd like more details on how to execute those, just give me a shout.
Best,
[Your name]
Buyers will be impressed by your willingness to offer help with no strings attached. At the same time, you're demonstrating your subject-matter expertise. You'll have the ideal segue to discussing how your product can improve their efforts in the same area even more.
3. A Missed Connection
Not very lucky lately
Hi [prospect name],
Maybe I should have brought my shamrock to work today — I wasn't able to connect with you at [planned time]. I was planning on covering [topic #1] and [topic #2]. To catch you up, here are some helpful resources:
If you'd like to try again, here's a link to my calendar: [Link].
Cheers,
[Your name]
While you might be tempted to guilt trip a prospect into rescheduling, this strategy never pays off. Even if you manage to get them on the phone, they'll only be humoring you. Rather than wasting their time and yours, send them a follow-up email that summarizes the situation in a neutral way. Linking to resources is a nice extra touch.
4. Spring Renewal
It's the season of renewal
Hello [prospect name],
'Tis the season of fresh foliage, new blooms ... and account renewals! Based on our previous conversations, it sounds like you're happy with the returns you're seeing with us.
Are you ready to talk about renewing your contract? If so, I'll send the paperwork right over. We'd be honored to earn your business for another year.
Thanks,
[Your name]
This template should not be sent unless you've been communicating regularly with your client and know they're happy. If you send this to an unhappy client, you'll strike the wrong chord and risk a negative answer to your final question.
5. Testing the Water
Bow down to Recyclops
Hey [Prospect name],
Did you know that an old milk carton can be sawed in half and used as a planter?
All "The Office" jokes aside, spring is a time when I touch base with old contacts to see if we're a better fit now — like recycling old relationships to form the new.
If you'd like to set up a quick phone call, book time on my calendar here: [Insert calendar link]
Thanks,
[Your name]
If your prospect is an "Office" fan, this template will be a big hit. Perfect for reintroducing you into their inbox in a fun, friendly way.
Breakup Email Templates
Reach out one last time to prospects who have fallen off the grid.
1. Rinse and Repeat
Do you feel like Bill Murray?
Hey [prospect name],
February 2 has come and gone, but I'm starting to worry my emails to you are making you feel like Phil Connors in Groundhog Day.
No one wants to relive the same experience over and over. If [solving X challenge, exploring Y opportunity] is no longer a priority, please let me know and I'll stop reaching out.
Thanks,
[Your name]
Acknowledging it can be frustrating to receive multiple emails shows the buyer you're human and makes the situation feel less "salesy." And if they're Bill Murray fans, the film reference will make them smile.
2. Starting Fresh
Spring cleaning
Hi [prospect name],
I'm spring cleaning my files and saw you hadn't responded to my calls or emails in a while. Are you still considering [doing X, solving Y]? If not, I won't reach out again.
Thanks,
[Your name]
This short and sweet template gives the buyer one last chance to engage with you. If they've simply been busy, it'll prompt them to respond or lose the opportunity. If they've decided not to buy, on the other hand, they'll ignore you or say they're not interested. Either way, you can move on.
3. Spring "Break"
Need a spring break from me?
Hi [Prospect name],
I haven't heard back from you in a while. I hate to part ways before you've heard how I can help you [increase X, decrease Y], but I understand that now might not be the right time.
If you'd like to keep our conversation going, please respond to this email. If not, no problem. I'll simply assume we're on a break :)
Thanks,
[Your name]
This is a lighthearted way to break up with a prospect — at least for now. There's no pressure from the salesperson. Instead, you've reminded them of the benefits you can offer and left the ball in their court.
4. So you're saying there's a chance?
Is the sun setting on us?
The days are getting longer and the sun is setting later, so I thought that might give us a little more time to discover whether [Your company] can help [Buyer's company].
I'd love to tell you how I've helped similar companies increase their D&I recruiting by up to 55%. If this sounds like something you're interested in, you can book time on my calendar here: [Link to calendar]
Thanks,
[Your name]
This template keeps things light while helping you know whether it's time to move on. If you don't get a response, it's probably time to sunset this prospect for now.
5. One Last Time
I'm allergic to sales emails too
Hi [prospect name],
Fresh blooms aren't the only things giving me allergies this year — salesy emails have been out of control lately. It looks like our previous conversation got lost in the shuffle and I wanted to reach out one more time.
Do you still need support with [doing X, solving Y]? If so, I'm happy to help. You can book time on my calendar here: [Link to calendar]. If I don't hear from you by next week, I'll stay out of your inbox.
Thanks,
[Your name]
As the days warm up, your pipeline should too. Use these fresh spring-themed sales emails to engage new prospects, follow up with existing ones, and say goodbye to stale opportunities.
Editor's Note: This post was originally published in 2017 and has been updated for cohesiveness.