Do you think top sales leaders are just good sales reps who got promoted? Not so fast, this couldn't be further from the truth.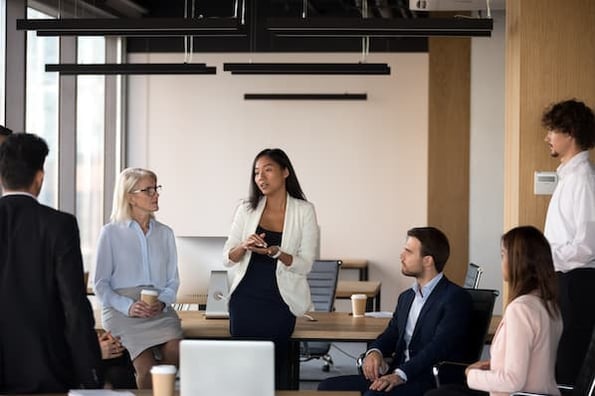 While a successful track record driving sales can be a qualifier, being a high-performing sales rep does not necessarily equate to being an effective sales leader. If you're looking to upgrade your development plan and have your eyes set on becoming an impactful sales leader, you're in luck. We're breaking down what traits make a top sales leader, and are telling you exactly how to acquire them.
According to HubSpot Sales Director Dan Tyre, sales leadership styles have evolved greatly over the past decade.
"A lot has changed in the time I've been working with sales leaders. When I first started my career, sales leaders were very authoritative and activity-based. I noticed things really started to shift around 2007, and success in sales required a different set of leadership skills," he says.
Read on to see what it takes to be a top sales leader.
5 Personality Traits of Sales Leaders
Strategic
Thoughtful
Analytical
Empathetic
Servant leader
1. Strategic
Gone are the days when success in sales equated to who could perform the most activity. In 2020 and beyond when competition is stiff across industries, sales leaders must be able to provide strategic direction to help their teams find success.
"Sales leaders need to be strategic. The focus needs to be on solving problems for our customers using strategy and data, instead of assuming activity leads to specific outcomes," Dan says.
Influential sales leaders must be able to develop and implement sales strategies that empower their organizations to work at their highest levels. For both sales reps and leaders alike the goal should be the same: to help customers solve their problems.
2. Thoughtful
Salespeople aren't always popular or well-received by their potential customers — in fact, 50% of prospects describe salespeople as pushy. This partially stems from previous generations of sales leaders who focused on constantly pushing for the sale. In 2020, sales leaders need to take a more thoughtful approach to how they instruct their employees to navigate the sales process.
Top sales leaders are big-picture thinkers who are constantly looking for ways to help others, whether they are helping their own prospects overcome an obstacle or helping the reps who report to them drive sales in an ethical manner. These leaders thoroughly understand how their organization's performance impacts the company as a whole, and are able to manage expectations at all levels while still focusing on results.
3. Analytical
Influential sales leaders must be able to interpret and draw conclusions from the data available to them.
"For a long time, salespeople could get away with making sales calls all day without tracking their activities. Today, sales organizations are more metrics-driven. Understanding their company data is very important for sales leaders," Tyre says.
If you want to manage an effective sales team, taking a data-driven approach is a must. Sales leaders should use the data collected from their sales team to inform their business decisions.
Unsure how to start implementing a data-driven approach?
First, you'll want to identify what data your team should be collecting and tracking. Work with your team to understand what sales metrics are most meaningful to track for your business. Identify where your team can source this data, and put processes in place to empower your team to collect the information you need.
Once you know what information you need to track and have a process in place for tracking it, review your data on a regular basis (we recommend monthly, at minimum), to assess whether your organization is on track to meet its goals.
4. Empathetic
When developing as a leader, it can be tempting to focus on the hard skills necessary to succeed on the job. After all, so far we have discussed the importance of being strategic and analytical as a sales leader. However, with sales being a people-centric field, it is important to focus on the importance of soft skills as well.
In a position of leadership, the ability to be empathetic can be a key driver of success. Empathy is the ability to understand and relate to the feelings of others, which is a must-have trait for effective sales leaders.
While managing their teams, sales leaders should seek to understand the challenges their employees are experiencing when on the field, keeping these factors in mind as they develop and implement sales targets and strategies.
5. Servant leader
The most effective leaders aim to serve, not dictate. According to Tyre, this quality is called servant leadership.
"As a leader, you ultimately work for your team. Your job is to remove barriers that prevent your sales team from doing their best work," he says.
Qualities of a servant leader include actively listening to your employees when they express their needs or provide feedback, prioritizing the development of your team, and a commitment to keeping your employees informed when it comes to communicating important decisions that impact them.
How to Improve Sales Leadership Skills
Ready to take your leadership skills to the next level? Use these tips to become a stronger sales leader.
1. Ask for feedback.
Feedback is a valuable tool for professionals at all levels. If you want to improve your leadership skills, first you have to know what your strengths and opportunities are. One of the best ways to find out is to ask for feedback from your managers, direct reports, and peers.
Seek feedback from parties who will provide honest, thoughtful insights into your performance. If you aren't sure how to ask for feedback, you can try the following prompts:
"I would like to set up some time to discuss my performance on [project name]. I would appreciate hearing your thoughts on what I did well, and what opportunities I have for improvement."
"How did I do? What could I have done differently?"
"Thank you for attending today's meeting. What is one thing that went well, and one thing that could be improved for next time?"
2. Seek mentorship.
Have a leader in your organization or network who you really admire? Seeking a formal or informal mentorship with them can be beneficial for your development.
If they are open to mentoring you directly, establish how often you plan to meet and communicate what you would like to learn from them to receive their buy-in. As we mentioned above, feedback is an incredible tool when it comes to your professional development. An engaged mentor can be a wonderful source for useful feedback.
If they are not able to mentor you directly, you can still seek out mentorship from afar. As you see them lead, consider what you admire about them. What qualities do they have that you admire? How can you apply their approach to your own leadership style? Incorporate your findings in your own work and document your efforts in your performance management plan.
3. Mentor and coach members of your team.
How much experience do you have managing a team? If you don't have any, that's ok — all leaders start somewhere. Just like you can benefit from receiving mentorship and guidance, chances are a more junior member of your team can benefit from receiving mentorship and guidance from you.
Practice your people management skills by offering to mentor or support members of your own team (who are open to receiving it). Whether you volunteer to help onboard a new team member or serve as a sounding board for your peers, micro leadership opportunities can be available to you where you are.
Leadership development is an ongoing process. To continue building your skills, check out this post breaking down the 26 Habits of Incredibly Successful Salespeople.