If you ask a group of customer success professionals what their job is, you'd probably get a handful of wide-ranging answers.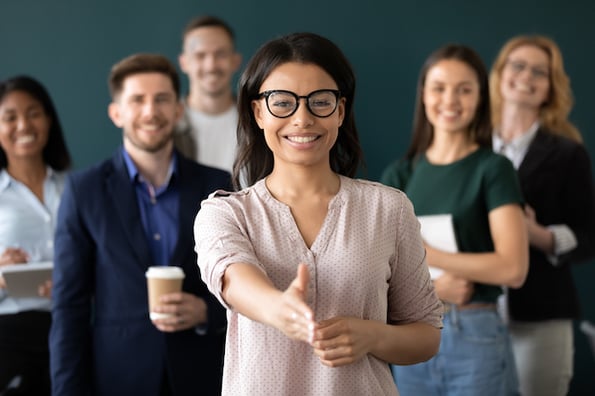 Some say it's about building "more proven value faster for both the customers and your company." Others might say it's about ensuring "that customers will achieve success with the company's product." And still, others would refer to it as "when your customers achieve their desired outcome through their interactions with your company."
HubSpot defines customer success as "an organizational function that helps customers get maximum value out of a product or service."
So, it's well-understood that customer success is more than customer support. But, are there ways that a customer success team can make an even bigger impact on the company's bottom line?
At nearly every company, one of the top goals is growth. When you take a step back and think of customer success as "growing the company," you realize that your success team has the potential to make a significant impact on your company's short- and long-term growth.
In this piece, we'll cover how a customer success team can drive two of the biggest growth levers: customer retention and customer acquisition.
Customer Acquisition vs. Customer Retention
Customer acquisition is the process of attracting and closing new customers. Customer retention, on the other hand, involves keeping customers satisfied so they continue purchasing or subscribing to a company's product or service.
In the past, the sales department handled customer acquisition, and the customer service department handled customer retention. However, customer success professionals today can both acquire new customers and retain existing ones by activating happy customers to refer new leads, serve as case studies, and leave positive reviews.
Customer acquisition is about bringing new customers in. Customer retention is about keeping those customers around. One isn't more important than the other — both are critically important to business growth, and ideally, salespeople and customer success professionals collaborate to achieve both outcomes simultaneously.
You see, once a new customer is closed and acquired by sales, customer success then troubleshoots their problems, provides onboarding assistance, collects feedback, and partners with them to help them derive maximum value from their purchase. This prevents them from churning or leaving negative reviews due to dissatisfaction. And, if customers stay happy, they'll continue purchasing from your company, providing customer testimonials, refering their friends, and leaving you positive reviews on third-party review sites and social media.
So really, customer acquisition and retention go hand-in-hand, and one isn't possible without the other. Next, learn more about how customer success professionals can directly improve customer acquisition and retention.
How to Improve Customer Acquisition
Increase Customer Referrals.
Promote Customer Success Stories as Case Studies.
Encourage User-Generated Content (UGC).
Improve Your Brand's Messaging.
Respond to Customer Feedback
1. Increase Customer Referrals.
Referral marketing is one of the few customer acquisition channels that can scale infinitely, and a customer success team can play a big role here.
The email outreach company, Mailshake, gets 90% of new customer acquisition via word-of-mouth referrals.
The secret? Proactively reaching out to customers already referring new business, and thanking them for it.
Mailshake founder Sujan Patel says,
"We ask all new customers how they heard about us, and if they were referred by someone, we ask for the name of the person who referred them. Then we find them on social media (Facebook or LinkedIn) and thank them, and sometimes offer them free Mailshake swag. That leads to more referrals, great feedback, and a deeper relationship with our best customers."
This action is highly impactful, and easy for any customer success team to implement.
2. Promote Customer Success Stories as Case Studies.
Nearly every business — especially in B2B spheres — uses case studies to drive customer acquisition. Case studies are proof that your product works.
As mentioned in HubSpot's guide to writing case studies, the first step is to find the right case study candidate. The right candidate matches one or more of the following criteria:
They have in-depth knowledge of your product.
They have had remarkable results using your product.
The company is a recognizable brand.
The company switched from an alternative product.
Who better to identify the ideal case study candidate than the customer success team?Additionally, customer success teams are in a position to help during the creation of the case study, as they know the customer better than anyone else.
3. Encourage User-Generated Content (UGC).
Companies like Yelp and TripAdvisor are successful — and popular — because of user-generated content. Their users are incentivized to create useful content, which makes their pages rank well in search engines, driving more users who will, in turn, create more content.
If your business uses user-generated content for SEO, your customer success team can help get more UGC.
Take Yelp, for example. When you join Yelp as a business, you get a call from your customer success manager showing you how to succeed on the platform. The customer success manager walks you through how uploading photos, filling out your business information, writing bios, and responding to reviews will help you gain more customers from Yelp.
As it turns out, all those actions not only help the business succeed, they also create more user-generated content, helping Yelp rank better in the search results — a true win-win.
4. Improve Your Brand's Messaging.
A company's messaging is key to customer acquisition. It should consistently describe your company's key benefits, target ideal customers, and highlight points of differentiation between you and your competitors.
A brand's messaging must also be in the voice of the customer, which is often easier said than done.
Recently, our product team was working on our signup flow for lawn care businesses. While doing user research, we learned that many lawn care professionals were confused about what we were. We asked our customer success team "How do the lawn care pros typically describe us?" to which they replied "Uber for lawn care."
As a side note, we've always hated that analogy, but we reluctantly tested the "Uber for lawn care" copy on our landing page.
Source: LawnStarter
The result? A significant increase in conversion.
Customer success teams know the customer better than anyone else. To make the most of this, set up time for your customer success team to critique website copy, read through email sequences, or listen to sales calls. Have them give feedback, focused on mismatches in how the company is communicating and how customers actually communicate.
5. Respond to Customer Feedback
Nowadays when one person leaves your business, there's a good chance they'll try to take a few other customers with them as well. In fact, 95% of people share feedback with other consumers whenever they have a bad experience with a business, and nearly 55% of these people will turn to social media to voice their complaints. Since 76% of consumers trust online reviews as much as peer recommendations, this negative word-of-mouth can quickly damage your brand's digital reputation as well as customer acquisition.
However, while you might not be able to stop the customer from writing a negative review, you can respond to their feedback to prevent additional revenue loss. Here's a great example of a car dealership doing exactly this after a customer was unhappy with their buying experience.
While this customer may never call them back, the dealership showed its social media following that it cares about the customer's poor experience and wants to make things right. Now, if you're looking for a car and come across this review, there's a chance that this customer's experience may have been unique, and doesn't accurately reflect the brand. You won't immediately disregard this dealership because of one bad review.
Now that we've assessed how customer success can improve acquisition, let's review this department's core function: increasing customer retention.
How to Improve Customer Retention
Guide Customers to the 'Aha!' Moment.
Share Customer Feedback
Help Customers Test Your Product
Invest in a Customer Education Program
Provide Self-Service Support Options
Create an Omni-Channel Experience.
1. Guide Customers to the "Aha!" Moment.
Nearly every great product has some sort of "aha!" moment — the instant where a customer first experiences the core value of your product.
The canonical example of this is Facebook's "7 friends in 10 days." Slack CEO Stuart Butterfield revealed that Slack's "aha!" moment is 2,000 messages sent. Customers who reach that moment typically have much longer retention than those who don't — because they've seen the value of the product or service firsthand.
Once your company knows this magic moment, it's important to drive your customers toward it.
My company, LawnStarter, is a marketplace that connects consumers to lawn care professionals. At one point, we established that our "aha!" moment on the lawn care professional side was when the pro claimed their first job.
Many lawn care businesses never actually claimed a job, leading us to create a workflow where a customer success manager reaches out to the service pro to understand why they hadn't claimed their first job, answer any questions, and address any concerns they had. This led to a significant increase in long-term retention.
Sometimes, all it takes is a conversation with a human to get your customers to that moment.
2. Share Customer Feedback.
In the modern internet era, customers are used to extremely high standards when it comes to usability. If parts of your product are confusing to use, it creates little bits of negative brand equity and hurts engagement. You only get so many chances before someone will churn and switch to a competitor.
Fortunately, customer success teams typically hear about these confusing issues. Simply sorting cases by ticket type can reveal issues that never should have been support cases in the first place — they should have been handled by the product team.
To ensure that customer success teams can effectively relay these confusing bits, there must be open lines of communication between customer success and product teams, whether it be in the form of meetings or asynchronous processes.
3. Help Customers Test Your Product.
Some products require a customer to wait a significant period of time before they start seeing results. Products that help with SEO — such as Yext or Yodle — are a great example, as SEO typically takes over a year to see significant results.
If your product simply takes time to work, a sub-segment of your customers will grow impatient and want to cancel. This is where customer success teams can jump in.
A prime example of this is Self Lender, a company that helps consumers build credit. It takes time to build credit, so inevitably, there are a number of customers wanting to cancel after they don't get instant results.
Co-founder and CEO James Garvey was determined to do something about this, not just because of lost revenue, but because he knew retaining his customers would help in the long run.
"Many of our customers see substantial credit score improvement after six months of on-time payments. This improvement is often life-changing," said Garvey.
He implemented a method called LASEC. It stands for Listen, Analyze, Set Expectations, Check In.
Listen: We first listen to the customer.
Analyze: We analyze customer's account.
Set Expectations: We empathetically answer questions and set the customer's expectations.
Check In: Our team follows up personally on a set cadence to give them assurance that we are there to help them, and to update them on any progress to their credit.
After implementing this method, Self Lender saw a "significant increase in retention and customer satisfaction," according to Garvey.
4. Invest in a Customer Education Program.
It's important to provide resources so customers can help themselves if they're having trouble using your product. You need to keep providing customers with free educational resources, in addition to the 1:1 support you provide, so they can continue to be engaged and informed about best practices.
Customers also want to be emotionally connected to a brand — a better predictor of loyalty than simply measuring customer satisfaction — so putting in extra effort here truly counts. Ideas could include creating blog content specifically for your customers, building a detailed knowledge base, and hosting webinars and AMAs. These initiatives require more effort from customer success managers, but they can go a long way towards building more tangible customer loyalty.
5. Provide Self-Service Support Options.
One of the biggest points of friction between customer success teams and customers is lack of availability. For instance, it's common for customer success managers to oversee multiple accounts at once. Customers that are assigned to this rep will have an email or phone number that they can reach them at and will typically meet periodically to discuss strategies, answer questions, and assess long-term results.
But, what happens when the customer has a crisis at 2AM and needs support from your team outside of your normal office hours?
If they're solely dependent on your success and support personnel for help, they're stuck waiting impatiently for a response until your team arrives the following morning.
However, if your company offers self-service support options — like a community forum — customers can seek out solutions without the help of a service rep. This will make your support offer even stronger as customers will feel like they can rely on you 24/7.
Now, if you add a chatbot to complement your knowledge base and community forum, you'll have a diverse set of self-service options that can significantly improve the customer experience.
6. Create an Omni-Channel Experience.
If you really want to increase availability, you'll need an omni-channel support experience to connect customers with your team regardless of time or channel.
With an omni-channel experience, customers can seamlessly switch between communication channels and work with customer success in an environment that caters to their needs. For example, let's say a customer posts a complaint on your Facebook page. Your customer service team can respond to it on Facebook while simultaneously connecting your success team to the support ticket. That way, if the situation escalates and customer success needs to be called in, they have all the information they need at their fingertips to pick up the conversation right where it left off with the service rep.
To do this, you'll need help desk software that has a shared inbox. A shared inbox will allow your reps to see all of the tickets that your support team received or created. When a support rep needs to transfer a case to your customer success team, they'll simply assign the ticket to the desired team member who can continue the conversation directly from the shared inbox.
Below is an example of what this might look like at your business.
Takeaways for Customer Success Teams
Customer success teams complete your company's flywheel by adding value to the customer experience immediately after a purchase is made. At their core, these teams drive customer retention by answering onboarding questions and teaching customers how to use your products and services. This is incredibly important especially if your product is subscription-based or shows results over a long period of time. Your customer success team ensures new customers understand how to use your product to achieve their long-term goals.
But, customer retention isn't the only place where a customer success team is useful. They can also play a crucial role in customer acquisition since they work closely with customers every day. Not only can they gather valuable feedback about how to improve your products and services, but they can also advise marketing and sales strategies so your brand's messaging is relevant to your target audience.
These are just two ways customer success teams provide value to a business. To learn more, read about how to ask for referrals, next.