The customer journey is just that — a journey. And it's not a short one, either. It's a cross-country road trip, full of traffic and delays, wrong turns, surprises, and sometimes even accidents. That's because it's not quite set in stone and each process must be tailored to every customer.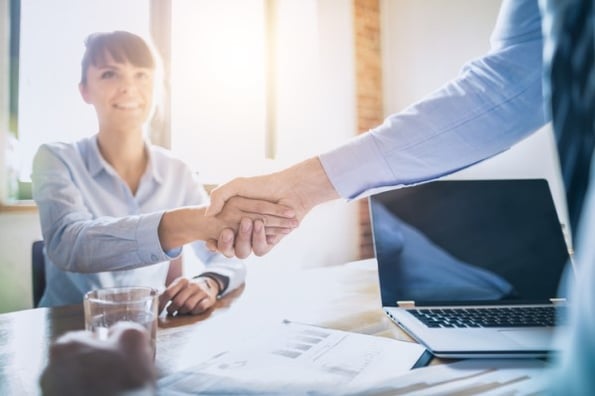 In the inbound marketing methodology, the typical customer journey includes three phases that engage the main departments of your business: marketing, sales, and customer service.
The first phase attracts customers to your brand by using a free offer or service provided by your company. The next phase engages customers with your business through service and marketing channels like live chat and phone support. Finally, the third phase utilizes bonus offers and support that turns users into loyal customers who return for future purchases.
If executed properly, the customer's journey becomes cyclical experience as demonstrated by the flywheel below:
The best part about this method is that delighted customers often turn into brand evangelists who participate in customer advocacy.
Customer Advocacy
Customer advocacy is a program that elicits customers to act as evangelists on behalf of a brand. These people have had positive experiences with the company and are excited about the opportunity to represent the brand. Customer advocacy can be displayed in a multitude of forms, including verbal references, speaking at events, posting on social media, blogging, and more.
An important aspect of customer advocacy — and one that often falls under the radar — is that the advocate should be receiving value for their service.
According to HubSpot Research, customer advocates should be treated like prospects. "Customers should feel they are getting much more out of the advocacy program than they are putting in." This means tapping into the intrinsic motivations behind customers choosing to become advocates for a brand.
Read more about the following strategy and the future of customer advocacy.
Customer delight is a core fundamental of the inbound methodology, but customer advocates are a crucial component of a company's growth. To help your company grow, we put together a tested strategy that you can use to build an army of customer advocates.
5-Step Strategy to Creating an Army of Customer Advocates
If your business has above-and-beyond customer service, then customer advocates are bound to be out there. If you're not sure how to reel them in, take a look at our trusted strategy for creating customer advocates.
1. Don't entice customer advocates with money.
If you want an army of customer advocates who stand by your brand, the way to draw them in isn't with monetary rewards. You want customers who are eager to be advocates and have motives that align with your company's values. If their actions are driven solely by payment, their messages will be ingenuine and meaningless.
2. Personalize the program to the individual advocates.
Just because you're not paying your customer advocates doesn't mean you shouldn't provide them with an alternative form of reward. After all, your true advocates should be rewarded for the fact that they're willing to represent your brand without a payment.
A great way to keep advocates engaged in the customer advocacy program is to personalize the experience to their unique interests. You can send out surveys or run experiments to find the perfect solution to provide each advocate with value. Some options include providing advocates with more influence within the company or on newer advocates or allowing them greater access to internal leadership meetings.
3. Create and follow structured goals.
A customer advocacy program is a waste of resources if it doesn't both increase leads for marketing and sales teams and provide high value for the advocates.
However, it can be difficult to track the results of the program, since not all advocacy efforts are measurable, like word-of-mouth referrals and other one-on-one forms of communication. Thus, it's essential to set measurable goals. There are two types of goals for a customer advocacy program:
Advocacy goals: These goals are what the advocates are hoping to get from the program. This includes things like added benefits, unique perks, and exclusive discounts.
Business goals: These goals are what the business wants to achieve from the program. Business goals are typically quantitative and centered on referrals and lead acquisition.
A successful advocacy program prioritizes advocacy goals over business goals. If your customer advocates are finding value in your program, they'll be returning the favor by putting plenty of effort into sharing their positive experiences with your brand. This brings in tons of new referrals and references from other customers who are inspired by their stories.
4. Streamline your advocacy efforts.
It's a waste if some of your customer's efforts are going unnoticed. For instance, you might have customers sharing their positive experiences with your brand, but they haven't been recruited for your advocacy program.
If customer advocacy is unorganized or being spread across too many teams, it can lead to unnecessary work for employees or advocates not being recognized for their work. Instead, centralize your efforts by setting strict guidelines on how to go about performing advocacy work as this will improve the reach of your program.
5. Find a platform that matches your current efforts.
You can compromise customer advocacy by using software that's too complex or out-of-place. Don't overthink it. It's best to have advocacy efforts occur on one of your company's platforms or on a specific platform that's flexible for your advocates. If you're not sure which platform your company should use, consider one that has a COS tool and email marketing features.
Customer advocacy is a powerful customer service tool that your business can use to bring in new leads. Start using this strategy to share your positive customer experiences and draw more attention to your brand.
For more ways to capitalize on customer advocacy, read about creating an effective customer loyalty program.