Do you love your customers?
If you said yes, how do you show them? (If you said no, then you desperately need this post.)
If you answered with something along the lines of, "By providing them with stellar service," then I'm going to give you a hard reality check: That's not enough.
Think about it like this: Your customers have put their trust in you and are paying your business good money because of it. The least you can do is show them how much you appreciate them.
In this post, we'll explain everything you need to know about customer appreciation, including why it's important, what it looks like, and how you can master it at your business.
But, if you're in a bit of time-crunch, use the links below to find exactly what you're looking for.
Why Is Customer Appreciation Important?
You might be wondering just how come great service isn't enough. It's because great service is expected nowadays. It's no longer a luxury to have a company who solves your problems efficiently with empathy. Thus, companies have to go the extra mile to really drive customer loyalty.
Enter customer appreciation.
Customer appreciation is more than simply being extra nice to your customers or writing a quick "thank you!" on one of your emails. It's about making your customers feel like they really matter to you and are one in a million because they do and they are.
Starbucks, one of my favorite companies, exercises customer appreciation in many ways. The best one, in my opinion, is their coupon for a free drink or food item on your birthday, which I just recently cashed in.
When I went into my local Starbucks and told the barista it was my birthday, she immediately squealed and wished me a happy birthday. She then encouraged me to get the fanciest, largest drink I could, in honor of my free birthday drink. My would-be $7.22 drink was a whopping $0. It's little things like that that make customers feel appreciated and, thus, even more loyal to the brand.
Examples of Customer Appreciation
Along with Starbucks, several other companies have been prioritizing customer appreciation with fun campaigns. Here are some examples of brands who are going all out:
1. Honda
Source: Twitter
Honda has had some outstanding customers who have gone to great lengths to show their unwavering loyalty to the brand (i.e. customer Dustin tattooing the Honda logo onto his forearm).
In 2011, Honda finally reached 1 million likes on Facebook. They decided to go all out in saying thanks by launching their #HondaLovesYouBack campaign, which is still in use today.
They took photos of employees doing the same things for customers that customers had done for the brand, such as shaving a customer's name onto their head, mowing a customer's name onto their lawn, and painting a portrait of a customer. It showed customers that Honda genuinely sees them and appreciates how much they have given to the brand.
2. Pizza Hut
Source: Twitter
Back in 2013, Pizza Hut understood the struggles of their customers who had procrastinated a little too long on purchasing romantic Valentine's Day presents for their sweethearts. Thus, the company decided to bring out the big guns and show their dedication to these customers.
Pizza Hut launched a #LastMinuteLovers campaign on Twitter. Customers who were desperate for a last-minute Valentine's Day gift could tweet at the brand until February 13 with the hashtag in the hopes of securing a Pizza Hut fragrance perfume and $20 gift card that was guaranteed delivery by the 14th.
With this fun and quirky giveaway, Pizza Hut showed its loyalty to its customers. With no personal monetary gain, Pizza Hut clearly created this promo for the full purpose of appreciating its customers and giving back to them.
3. HubSpot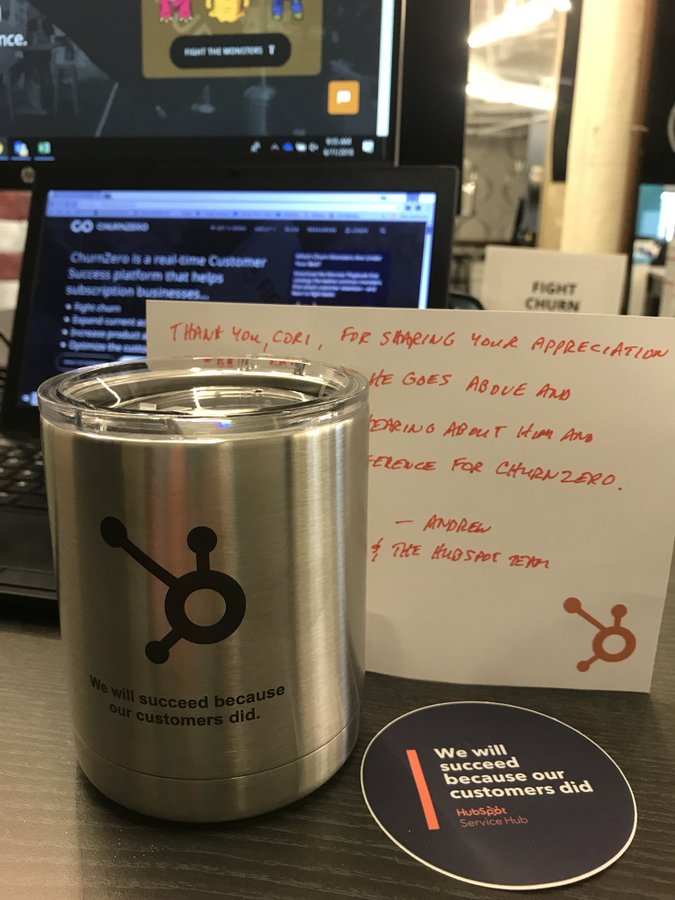 Source: Twitter
On May 30th, HubSpot released a video on Twitter under the hashtag #CustomerLove, thanking all of our customers for everything they have done for us. This video panned out to reveal individual videos of several employees, all displaying the same message.
Along with the campaign, HubSpot sent out personalized thank you letters and gifts to several of its partners and customers, such as ChurnZero in the above tweet.
This genuine campaign was completely directed at customers and was an effort on the part of all HubSpot employees to show their loyalty to those customers. After all, without our customers, we wouldn't be where we are today.
Customer Appreciation Day
Technically, National Customer Appreciation Day is April 18th, but you are in control of this day. Choose a date (or week) during which your company is especially dedicated to customer appreciation. You can also celebrate it in small ways throughout the year, or target it towards customers on their birthdays.
The important part about creating a specific customer appreciation day is to make the day known to your customers. Advertise it in advance and make your customers feel part of the entire process. The point is to show them that you appreciate their loyalty to your company and that it doesn't go unnoticed.
Below, we have included a list on some ways to show your customers some TLC.
Customer Appreciation Ideas
Write thank you cards.
Throw a networking event disguised as a party.
Send out coupons or gift cards.
Do spotlights on some of your customers.
Launch a customer loyalty program.
Provide an upgrade.
Distribute your company's swag.
Release pre-sale notifications.
Donate to charity.
Send personalized gifts.
1. Write thank you cards.
A simple way to show your appreciation of your customers is by writing personal thank you letters. It's a touching way to convey to your customer exactly how much they mean to your company and how much they've helped you grow.
It's never okay to turn a thank you card into a "Thanks for being a loyal customer. Here's our latest product." card. This is your one opportunity to make it all about the customer, and not your company. Gush all you want about them, but make sure to leave out any self-promotions.
Be as sincere as you can be, and that includes handwriting each card when you can. Obviously, companies with a large customer base would probably benefit more from an email template card, but smaller companies can add that extra level of personalization. The most important thing is to be genuine and thoughtful, and your customers will feel special.
2. Throw a networking event disguised as a party.
Pull a Gatsby, and throw an elegant party for your customers. You could host it right in your office building or rent out a restaurant or other space. Your customers will love the chance to attend an event and get to know the people behind the company they love.
This is also a great chance for your customers to mingle and meet. They could network with each other, giving the event professional value. This option could end up being fairly expensive, what with potentially renting out a space, decorating, and providing food and drinks, so definitely make the decision wisely. However, if your company can afford it, it would have a huge impact on your customers and truly show them how much they mean to you. Nothing says "thank you" like a whole night dedicated to them.
Here at HubSpot, our annual INBOUND event for marketing, sales, and customer service professionals lets thousands of people network and learn together, all while enjoying the luxurious venue and amenities we have to offer.
According to ProProfs Chat, it's essential that you treat this simply as a party to celebrate your customers and not as a chance to get more of their business. However, brand consistency still matters when making event planning decisions; make sure you are still presenting your company as the same company your customers love doing business with. That means, if you work in the fitness industry, maybe don't get Taco Bell to cater.
3. Send out coupons or gift cards.
For a customer appreciation option that could go hand-in-hand with a thank you card, consider mailing your customers coupons, gift cards, or discounts on products and services. They've probably paid for plenty of your services -- why not treat them to the next one?
It may not be possible to give a gift card or to cover the entire cost or a product or service, depending on your company. However, even offering a BOGO or 50% off discount would show the level of commitment you have to your customers.
This Thrillist post shows how good it can feel as a customer to get a coupon or gift card from a company you love and have developed a relationship with. It makes them feel seen, and that's one of the best ways to show you care.
4. Do spotlights on some of your customers.
Why not brag to the world about how great your customers are? It could be a fun idea for you to create spotlights on some of your customers to be posted on your website, blog, LinkedIn or social media.
Send out an email encouraging customers to submit their story and a photo for the spotlight, and then post them a few times a week. Not only does that give you interesting content for your digital channels, but it also shows your customers that you are proud to have them.
It's an exciting chance for your customers to talk about their lives on your platforms. It could even lead to a professional opportunity. But, most of all, it deeply shows your gratitude to them.
5. Launch a customer loyalty program.
One of the most effective ways to show customers that you care is with a customer loyalty program. This incentivizes customers with rewards whenever they engage with your business and it's a great way to organize your appreciation efforts into one, consistent structure.
The best loyalty programs don't sell to customers, but rather keep them interested in your business's content. They periodically send customers deals, provide users with company updates, and rewards them whenever they make a repeat purchase. This type of gamification keeps users engaged and interested in what your company has to say.
6. Provide an upgrade.
If you're running a SaaS or subscription-based business, one way to show customers you care is to provide them with a free upgrade. For example, if you have customers who are using outdated tools, ungate them to your updated versions and let them try your newest features. Even if it's just a trial, this can show customers what they've been missing all this time.
If you don't have a subscription-based pricing model, you can still use this approach for customer appreciation. However, you'll probably need a CRM to keep track of people who have bought from you in the past. Look for customers who may be ready for an upsell or are using a product that's past its expiration date. This is a great way to reconnect with customers and show them that you still value their business.
7. Distribute your company's swag.
Everybody loves swag. Free hats, shirts, bottles, even buttons are enough to get customers excited. But, there's a reason why companies slap their names on random products then give them away for free. They want customers to remember them.
In fact, research shows that 85% of customers remember brands that give them a promotional product. And, people are twice as likely to have a positive impression of this form of advertising as compared to internet ads. So, not only does swag make your brand more memorable, but it also makes your customers happier, too.
If you're not sure what kind swag your business should make, we've included a section for customer appreciation gifts.
8. Release pre-sale notifications.
While you want to appease your entire customer base, you should prioritize your most loyal users first. Since these customers shop the most frequently and spend the most money with your business, you want to make sure they're satisfied with their treatment.
One way to show them extra attention is to release pre-sale notifications through your email newsletter. Since your most loyal customers are likely to be subscribers, they'll be first to know whenever a sale is about to launch.
And, this provides an incentive for other customers to join your mailing lists. They'll want the same access to exclusive deals that your loyal customers are experiencing, which can eventually turn them into repeat customers as well.
9. Donate to charity.
Sometimes, customers don't want anything in return. They just want to know that your business aligns with their values, even when the conversation has nothing to do with your product.
A great way to show customers that you're on the same page is to donate to a charity that they care about. This demonstrates that your business is not only generous but also understands what your customers value most. By getting behind the same causes that your customers are a part of, you're building a relationship that extends beyond your products.
10. Send personalized gifts.
Just as one would show their appreciation on Mother's Day or Father's Day, you could take the time to carefully select and send gifts to show your appreciation for your customers. These don't need to be wildly costly, but it should be clear that you put some thought and effort into these.
These gifts could even double as free swag. Everyone loves getting free merchandise, especially from a brand they love. It's always nice to get a gift, especially from a company you love.
We've curated the following lists of gift ideas for your customers.
Customer Appreciation Gifts
Company merchandise: Laptop, stickers, water bottles, coffee mugs, etc.
Industry-specific gifts: Pens, notebooks, selfie sticks, etc.
Food and drink: Fruit, chocolates, wine or champagne, etc.
Experiences: Tickets to a sporting event, concert, etc.
Money: Gift card, product discount, etc.
Company Merchandise
Laptop stickers
Phone wallets
PopSockets
Water bottles
Coffee tumblers
Mugs
Notebooks
Pens
Hats
T-shirts
Selfie sticks
Car window decals
Other Gifts
Flowers
Succulents
Chocolates
Fruit
Wine or champagne
Wine glasses or champagne flutes
Gift cards to other businesses
Latest tech product (i.e. speaker, headphones, etc.)
Tickets to a sporting event, show, or concert
Still aren't convinced of the importance of customer appreciation? Check out the following quotes on why customer appreciation, and gratitude in general, is so important.
Customer Appreciation Quotes
"Here is a powerful yet simple rule. Always give people more than they expect to get." -- Nelson Boswell

"Make the customer the hero of your story." -- Ann Handley
"It's easier to love a brand when the brand loves you back." -- Seth Godin
"One of the greatest gifts you can give to anyone is the gift of attention." -- Jim Rohn
"Too often we underestimate the power of a touch, a smile, a kind word, a listening ear, an honest compliment, or the smallest act of caring, all of which have the potential to turn a life around." -- Leo Buscaglia
"The only people with whom you should try to get even are those who have helped you." -- John E. Southard
"Appreciation is a wonderful thing. It makes what is excellent in others belong to us as well." -- Voltaire
"Every company's greatest assets are its customers, because without customers there is no company." -- Michael LeBoeuf
"Open, honest communication is the best foundation for any relationship, but remember that at the end of the day it's not what you say or what you do, but how you make people feel that matters the most." -- Tony Hsieh
"As we express our gratitude, we must never forget that the highest appreciation is not to utter words, but to live by them." -- John F. Kennedy
For more information about showing customer appreciation, check out this post on writing thank you letters to your customers.
Originally published Dec 6, 2019 2:11:00 PM, updated January 29 2020
Don't forget to share this post!