Your customers want two things: quality and convenience. They want a product that satisfies — or exceeds — their expectations in solving their problem. And, when they get it, they want to understand it as efficiently as possible.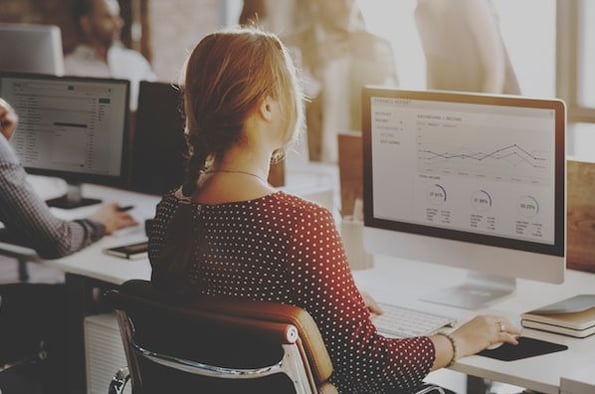 Customers like to handle as much of the buying process as they can on their own. Typically, contacting you for support is — and I'm sorry to say it — their last resort (not to mention, they may not be too happy about having to do so).
So, how can you make the customer onboarding process as simple as can be? Well, by building a customer education program, of course.
What is a customer education program?
Companies create customer education programs to teach customers how to use their new products. These programs are typically packed with teachings that show how the product works, provide tips for navigating tricky features, and incorporate different use cases. They may also consist of an FAQ page, knowledge base, how-to videos, audio content, courses, and certifications.
Basically, these programs provide customers with an extended how-to guide that can answer most, if not all, questions they might have while onboarding. And then, any advanced questions that remain after can be directed to a customer support or success rep.
Customer education programs can create a more positive, effective experience for both customers and customer-facing employees.
7 Reasons to Build a Customer Education Program
Let's dive into why you should consider building your own customer education program.
1. You can educate every customer at scale.
Customer success managers are, yes, dedicated to helping onboard their new customers. However, their job becomes very difficult when they are assigned dozens of customers in a day. They shouldn't have to hold the hand of each customer and walk them through each step of the process.
Instead, with a customer education program, your customer success managers can focus on educating just the customers who need that extra layer of help. If they still have questions and concerns after tackling the customer education program on their own, customer-facing employees would likely be happy to help them, as it is probably something that will be confusing to many other customers.
2. You can ensure every customer gets the same level of information.
Every customer wants to feel special. So, when they find out that someone else was educated more thoroughly than they were, they might be livid — for good reason. It can be frustrating when there's a lack of consistency across a customer success team and when certain employees provide more in-depth information than others.
By having a customer education program, you can ensure a consistent onboarding experience for each customer. Each customer will have access to the same courses to help them navigate the product. They can feel confident that they received the same information and attention as every other customer.
3. Your support reps can refocus their time on other tasks.
One of the biggest time-wasters for customer-facing employees is having to answer very basic questions. It wastes both your time and the time of your customers who probably had to sit on hold for several minutes just to ask you a question that you were able to answer in 30 seconds — or find in your customer training program materials.
Rather than mindlessly working through hundreds of emails, phone calls, live chat messages, and social media direct messages, your employees can focus on answering the more detailed questions of those who still have qualms post-program.
These problems might take longer to solve, but your employees can feel like their work is more meaningful. And, outside of customer support, they can spend more time training themselves, working with other teams, and helping update the customer education program.
4. You can cut support costs.
Your employees have probably spent countless hours on support calls with customers. Imagine how much money you could save if you could have fewer employees dedicated to support calls and more dedicated to other tasks? This is especially helpful for customers who have questions 24/7.
Rather than having employees working around the clock, you can hire staff for shorter periods of the day and feel confident that the majority of your customers will be able to access the necessary resources to answer their questions.
In addition, a big reason for customer support employees to leave their jobs is repetitive conversations and a seemingly meaningless workload. The more employees that leave their jobs, the more new employees need to be hired and trained.
Training costs can be expensive for your company. Thus, ensuring a more satisfying, valuable experience for your employees can ensure they remain with your business and customers.
5. Customers will have more trust in your brand and products.
You may worry that, by educating your customers more, they will also be more educated in choosing between competitor brands. You hope that, by keeping them in the dark, they will continue to ask you questions and remain loyal to you.
However, a more educated customer will also be grateful for the company that educated them. Customers want to be taken seriously; they want to be able to solve their own problems and teach themselves new information. By offering them that opportunity, they will trust your brand and products more and recognize your customer-centric mentality.
6. It will encourage customers to create online communities.
In the past, customers were strangers to each other. They came to a company for one purpose only: to purchase a product that would solve an immediate problem. However, this attitude has severely changed. Due to the rise of social media, modern-day customers actually enjoy meeting and networking with each other.
Creating a customer education program can help kickstart some online communities based around your company. These communities provide opportunities for your customers to ask each other questions, provide helpful tips and tricks, and illustrate examples of the great work they're doing.
And, in addition, the increased conversation surrounding your brand is a form of free advertising for you.
7. Your customers are already searching for customer education programs.
You want to satisfy your customers, but, perhaps, you're already failing to do so in one way. 70% of customers always or usually search their question online before turning to a company for help.
Moreover, 53% of customers abandon their intended purchase if they can't find speedy answers to their questions. So, if you have nothing available online, in terms of educational resources, they might just find a competitor who does.
Give your customers what they're already searching for: a chance to maintain their pride and educate themselves, first. No customer wants to feel like they are incompetent. By giving them the tools they need to be successful, they can confidently solve most of their problems with ease.
(For more information, read our post on how to enable customer self-service.)
Editor's note: This post was originally published in October 2018 and has been updated for comprehensiveness.