No matter how much you love your customers and your job, there can be some dull days. Those are the days when you wake up to a rainy morning, miss the train, spill your coffee on your impeccably white button-down shirt, and, on top of it all, have a customer yell at you on the phone because you're out of stock of the product they want.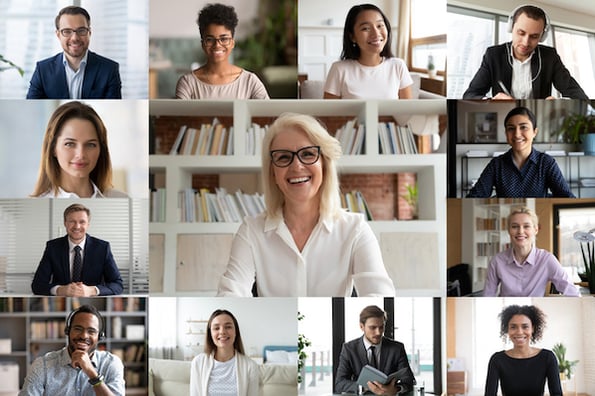 On those days — which somehow often end up being Mondays and Tuesdays — it can be hard to find the motivation to prioritize customer satisfaction. You're human, and that means that you're allowed to have a bad day, here and there. However, suffering through a moody workday can make eight hours feel like 20.
During those gloomy shifts, sometimes, all you need is some words of wisdom and inspiration to remind you why you do what you do. After all, a happy employee makes for a happier customer and, overall, a more positive interaction.
Customer Satisfaction Quotes
1. Tony Hsieh, CEO of Zappos
"Let's take most of the money we would've spent on paid advertising and paid marketing and instead of spending it on that, invest it in the customer experience/customer service and then let our customers do the marketing for us through word of mouth."
While Hsieh recent passed this year, this is the general philosophy at Zappos, an online shoe and clothing retailer. In the opinion of Tony Hsieh and his company, a business should be modeled after building happiness for both customers and employees. That is the true recipe for success; customers can't be satisfied if the employees serving them aren't. Click to tweet this quote.
2. Alex Allwood, CEO of The Holla Agency
"It comes down to how your customer experiences the brand – and how that brand makes a person feel."
Alex Allwood trusts in this mantra as a customer experience specialist and author of Customer Experience is the Brand. With growing competition in every industry in every aspect — from price to technology to innovation — Allwood believes the way to differentiate your brand is through improving customer experience and, thus, satisfaction. A standout customer experience is what helps a customer remember a brand, and that's why companies should be focusing on meeting customer needs and expectations. Click to tweet this quote.
3. Julie Rice, Co-Founder of SoulCycle and Chief Brand Officer of WeWork
Image Source
"There's a certain way of creating a service, hospitality, and experience that perpetuates people feeling like they matter."
In an interview, Julie Rice discussed how she wanted WeWork to have the same sentiment as SoulCycle about its members by having members connect with each other and the brand connect with its customers more. So much of what drives SoulCycle is its feeling of belonging. Members are continuously satisfied by their experiences with the brand not only because of the intense fitness classes but because of the community aspect. The relationships they build with other members and the acceptance they feel drives their satisfaction and lifetime loyalty. Click to tweet this quote.
4. Steve Jobs, Co-Founder and former CEO of Apple
"Get closer than ever to your customers. So close that you tell them what they need well before they realize it themselves."
According to this quote from Steve Jobs, the best form of customer satisfaction is exceeding expectations that customers didn't even know they had. The best customer reps don't wait until customers ask questions and bring forth problems to problem-solve. Proactive customer support is high in demand these days. Offering product solutions, upgrades, and new technologies to customers shows them that you prioritize their needs and know what's best for them. Click to tweet this quote.
5. Dr. Maya Angelou,
Poet/Educator/Historian
"People will soon forget what you said. They will never forget how you made them feel."
In an interview with a Wisconsin newspaper, Dr. Angelou talked about the things she's learned after living for 75 years. While it's unclear whether this quote was originally said by her or adapted from Carl W. Buehner, the point still remains pertinent to customer service teams. If you deliver a delightful service experience, customers will remember it and seek out your brand in the future. Click to tweet this quote.
6. Dan Pe
ña, Chairman and Founder of the Guthrie Group
"The best form of customer service is self-service. Constantly empower customers to get their own answers themselves."
A vibrant personality who's not afraid to speak his mind, Dan Peña is an American businessman that has achieved his success through his no-nonsense, gritty attitude. In this quote, Peña is arguing that customer self-service is as, if not more, effective than traditional customer support. Self-service empowers customers to find their own solutions, getting them faster answers and freeing up your service team to work on more complicated support tickets. Click to tweet this quote.
7. Indra Nooyi, former CEO of Pepsi Co
"The basic of business is to stay as close as possible from your customers, understand their behavior, their preferences, their purchasing patterns, etc."
In this quote, Indra Nooyi outlines the importance of a company building a close bond with its customers. In order to truly satisfy your customers, you can't make mere assumptions about what they want. The only way to build products and services that they'll actually purchase is by paying attention to their actions and listening to their praises and complaints. Mold your company around your customers, rather than forcing customers to adapt to you. Click to tweet this quote.
8.
Angela Duckworth, Founder and CEO of Character Lab
"Unless you have a vision, you haven't begun to do the practice that makes you great."
This quote comes from Angela Duckworth, a professor of psychology and winner of the 2013 MacArthur "Genius" grant. Duckworth is saying that people need to make plans if they're going to achieve a goal, and in customer service, that means you need to know how you can support your customers before you can actually help them. By auditing your customer service resources, you'll identify the most effective ways to support customers and engage them on channels that they're most comfortable using. Click to tweet this quote.
9. Ratan Tata, Chairman of the Tata Group
Image Source
"None can destroy iron, but its own rust can. Likewise, none can destroy a person, but his own mindset can. "
Ratan Tata is the chairman of the Indian business conglomerate, Tata Group. He's one of India's most prominent philanthropic business leaders and has been the face of the organization since the early 1990s. Even though he had family ties to the company, Tata started on the ground floor shoveling limestone in a car dealership until he worked himself into the position where he is today. This quote reminds him that his success has been built upon his can-do attitude and he can continue to succeed so long as he maintains that approach. Click to tweet this quote.
10. Girish Mathrubhootam, Founder and CEO of FreshDesk
"Don't be a jerk, even if you are brilliant, don't be a jerk."
Girish Mathrubhootam is the Founder and CEO of Freshdesk, a customer service software that helps businesses manage their customer support teams. In an article posted on Your Story, Mathrubhootam sheds light on a common support roadblock that many SaaS businesses face. Most customer support reps are product experts and can get frustrated when working with users who don't share their same level of experience. This quote acts as a friendly reminder that even if your reps are brilliant, they still need to exercise emotional intelligence if they want to be successful. Click to tweet this quote.
11. Shiv Singh, Best-Selling Author
Image Source
"The purpose of a business is to create a customer who creates customers."
Shiv Singh is the best-selling author of the book, Savvy, a marketing book that explores company cultures and how modern media influences the trust between consumers and businesses. In the book, Singh offers this quote as a mission statement for organizations who want to build trust with their customers. If your company focus on customer success, your customers will start referring other people to your business. Not only does this improve customer retention, but it also reduces your customer acquisition costs. Click to tweet this quote.
12. Joseph Jaffe, Founder of Evol8tion
"Customer service is everything and anything that touches a customer – directly or indirectly. Customer service means servicing customers, and it's so much more than just solving problems or addressing complaints."
Joseph Jaffe is the Founder and CEO of Evol8tion, a marketing agency that connects small startups with established brands. This quote from his blog, Jaffe Juice, shows that customer service is more than just a reactive function. Any interaction with the customer can be consider customer service, and employees need to keep that in mind if they want to create a consistent customer experience. Jaffe goes on in the interview to discuss how proactive customer service can significantly improve customer satisfaction. Click to tweet this quote.
13. Sneh Sharma, Founder and CEO of Ittisa
"Your talent and the right opportunities open the first few doors, but your attitude opens the rest."
Sneh Sharma is the CEO of the Banglor-based Media agency, Ittisa. Sharma is known for her creativity, work ethic, and attitude, which made her into the successful businesswoman she is today. In a blog post published on Ittisa's website, Sharma talked about how her perspective has kept her motivated and eager to overcome new challenges. This quote serves as some quick-fire inspiration for customer service teams who may need some additional motivation for their workday. Click to tweet this quote.
14. Warren Buffett, CEO of Berkshire Hathaway
Image Source
"It takes 20 years to build a reputation and 5 minutes to ruin it. If you think about that, you'll do things differently."
If you're not familiar with Warren Buffett, he's one of the world's most successful and influential businessmen. He's the outspoken CEO of Berkshire Hathaway and is reportedly worth over $80 billion. This quote from 2003 demonstrates one of the reasons why Buffett has been so successful over the years. He understands that even the best companies can fail if they become complacent and stop prioritizing customer needs. Click to tweet this quote.
15. Kate Zabriske, Author
Image Source
"The customer's perception is your reality."
Kate Zabriske is a marketing consultant and author of the book, The Communication Jungle: Understanding Yourself and Others. Zabriske has worked on marketing teams for popular brands like Toyota, Sodexo, and Microsoft. This quote highlights the importance of the customer's opinion, and how your brand's reputation influences marketing, sales, and customer service. Even if you think your business is great, the customer's perspective will always be the determining factor of your success. Click to tweet this quote.
Customer Retention Quotes
16. Alice Sesay Pope, former Senior Vice President of Global Head of Contact Centers at VISA
"Customers don't care about your policies. Find and engage the need. Tell the customer what you can do."
At HubSpot, our support team has the mantra, "solve for the customer, not our convenience." This means we focus on meeting the customer's needs even if that requires us to do a little more work than what our job typically requires. Alice Sesay Pope, captures that idea perfectly with this quote by saying customers aren't interested in your company's policies. Instead, they're more concerned with the solution you're going to provide them, rather than the roadblocks your support team is running into along the way. Click to tweet this quote.
17. Janet Robinson, former President & CEO of The New York Times
Image Source
"Repeat business or behavior can be bribed. Loyalty has to be earned."
In this quote, Janet Robinson notes the distinction between customer sales and customer loyalty. It doesn't matter if a customer simply buys the same product over and over again from you if they feel no connection to your brand. When a customer is truly satisfied by the brand experience and not just their specific product, that is when they'll gush about your company to others. You want your customers to choose you over competitors because they are loyal promoters, not because you manipulated them into doing so. Click to tweet this quote.
18. Shep Hyken, Chief Amazement Officer of Shepard Presentations
Image Source
"I believe customer service doesn't cost — it pays. Just like advertising earns money by bringing people in, customer service pays by bringing people back."
Shep Hyken, a customer service and experience expert, quoted this in an interview with the HubSpot Service Blog. Here, he discusses how customer satisfaction ties into the customer experience. In his opinion, customer experience shouldn't be the responsibility of a specific customer department. Every single employee in a company should always have a customer-centric mentality and focus everything they do on how it will be perceived by the customer and satisfy their needs and expectations. Click to tweet this quote.
19. Brian Halligan, CEO & CO-Founder of HubSpot
"Your focus should include creating communities outside of your site for people to connect with you, your products, and others within the community. Ultimately, this 'outside' focus will drive people back to your site."
Our CEO Brian Halligan said it best with this quote tweeted by HubSpot. The best way to satisfy your customers is by providing value beyond the physical purchase they make. Yes, customers want an efficient and effective product or service. However, what they also want — or don't yet know that they want — is a community. Satisfy them and exceed their expectations by helping them connect with your other customers and build a community that can also connect them back to you. Click to tweet this quote.
20. Kōnosuke Matsushita, Founder of Panasonic
"After-sales service is more important than assistance before sales. It is through such service that one gets permanent customers."
This quote is attributed to Kōnosuke Matsushita, who was the founder of Panasonic in 1918 and was renowned internationally for his customer-centric approach to business. It's amazing that after 100 years, his ideas are still relevant to how companies provide customer service today. While you certainly need to delight customers before they make a purchase, keeping them happy after the sale is made is what motivates them to come back to your business — and not a competitor. Click to tweet this quote.
These quotes and inspiring industry leaders can brighten your work days and show how you — as a customer service, support, or success employee — can improve the reputation of your company by spreading a customer-focused mindset.
Next read this post on how to measure customer satisfaction.