Think about the groups of people in your life — family, friends, coworkers, educators, coaches, and more.
Chances are you don't communicate with each of these groups the same way. For example, you most likely chat with your family in a different way than you do with your coworkers. You probably have different expectations of and methods of interacting with each of these groups, too.
The same goes for your customers. Within your business's base of customers, there are inevitably various groups of people. The people who make up these groups are from a variety of places and have unique needs, traits, pain points, and expectations for your business in terms of communication, support, and more.
The key to creating and maintaining successful relationships with your business's different customer groups is understanding their preferred styles of communication and their unique needs. This helps you effectively and efficiently meet (and, hopefully, exceed) their expectations.
The best way to do this is through customer segmentation.
What is customer segmentation?
Customer segmentation is the process of separating your customers into groups based on the certain traits (e.g. personality, interests, habits) and factors (e.g. demographics, industry, income) they share.
Segmentation offers a simple way of organizing and managing your company's relationships with your customers. This process also makes it easy to tailor and personalize your marketing, service, and sales efforts to the needs of specific groups. This helps boost customer loyalty and conversions.
Why segment customers?
There are a number of other reasons why customer segmentation is so important. Here are some of the things this process can help your business accomplish:
Learning about your customers on a deeper level so you can tailor your content to their unique needs and challenges
Creating targeted campaigns and ads to resonate with and convert segments of customers
Improving your customer service and customer support efforts by understanding and preparing for challenges different groups are likely to experience
Increasing customer loyalty with customized content and interactions
Understanding who your most valuable customers are and why
Communicating with segments of customers via preferred channel or platform.
Meeting specific groups of customers where they are
Identifying new opportunities for products, support, and service efficiently
Now that you understand what customer segmentation is and why it's a process worth investing time in, let's cover the most common models and types of segmentation.
Customer Segmentation Models
Demographic Segmentation
Geographic Segmentation
Psychographic Segmentation
Technographic Segmentation
Behavioral Segmentation
Needs-based Segmentation
Value-based Segmentation
Although the following list doesn't cover every type of customer segmentation, it provides you with a starting point for organizing your customers. Along with each model is an associated list of ways to segment your customers.
| | |
| --- | --- |
| segmentation model | How to segment customers |
| Demographic Segmentation | Age, gender, income, education, and marital status |
| Geographic Segmentation | Country, state, city, and town |
| Psychographic Segmentation | Personality, attitude, values, and interests |
| Technographic Segmentation | Mobile-use, desktop-use, apps, and software |
| Behavioral Segmentation | Tendencies and frequent actions, feature or product use, and habits |
| Needs-Based Segmentation | Product/ service must-haves and needs of specific customer groups |
| Value-Based Segmentation | Economic value of specific customer groups on the business |
Next, let's take a look at how to segment customers in just four steps.
Customer Segmentation Strategy
To create a customer segmentation strategy, you first need to determine your team's goals. Then segment customers into groups and target them based on their related characteristics. For the most effective results, you should analyze your marketing efforts and fine tune your messaging as you learn more about each segment.
When determining how to segment your customers, start by working through the following strategy.
1. Determine your customer segmentation goals.
Think about why you're creating a customer segmentation strategy — ask yourself why you are spending time on segmentation and what you hope to derive from the process.
To do this, refer to the list of common reasons businesses choose to segment customers we reviewed above. Determine which outcomes that you're looking to achieve so you can develop the rest of your strategy in a way that will help you accomplish them.
Something to note when developing your customer segmentation goals is that they're going to be unique to your business — segmenting customers isn't a one-size-fits-all process.
For example, your number of goals will be unique to you based on your business's size, type, and industry as well as who your customers are. Additionally, your goals may be relevant cross-team (e.g. marketing, sales, service) or for one department specifically. So, when determining your customer segmentation goals, use your company's specific traits and business needs as a launching pad.
2. Segment your customers into groups of your choice.
Once you have an idea of what you're looking to get out of the customer segmentation process, decide how you'll segment your customers. Refer back to the customer segmentation models and types to determine how you'll do this. There's no right or wrong answer here — it's dependent on your specific business, customers, and the goals you set in the previous step.
For example, if you want to share targeted ads with your audience members and customers on the West Coast in hopes of boosting conversions in that region, you can geographically segment your customers.
Learn how to organize and segment your contacts using the lists tool in HubSpot.
3. Target and reach your customer segments.
Once you've segmented your customers, it's time to determine how you'll target them across your organization. By ensuring all departments (e.g. marketing, sales, and service) understand how your customers are segmented, members of those departments will be able to effectively target your customers through their work.
For example, think back to our example above about targeting ads to your West Coast customers:
Marketing can tailor and customize content to attract, teach, and meet the needs of your West Coast audience members to boost leads and brand awareness.
Sales can identify common traits shared by your most-qualified West Coast customers — as well as best ways to reach out to and communicate with them — to increase conversions.
Service can use your customer segments to prepare materials and resources for them based on challenges West Coast customers are most likely to experience.
4. Run customer segmentation analysis.
Analyzing your segmentation efforts will provide insight into the way you've organized your customers — this way, you can make updates and changes if needed.
Check in with your marketing, sales, and service teams (as often as you want) to get their opinions on any necessary segmentation adjustments. You can also experiment with new ways of grouping your customers together to decide what makes the most sense.
You can also gather feedback from your customers to more effectively segment them into appropriate groups. For example, you could conduct surveys to improve your behavioral segmentation by asking customers about their feature use and product-use habits/ tendencies. This will allow you to more accurately organize customers based on their specific behaviors.
Lastly, review the way your customers are segmented whenever you update your product or service, re-brand, or revise your buyer personas — these changes may call for reorganizing some or all of your customer segments.
Now, what about a tool or resource to support you while you work through the strategy steps we just covered?
Customer Segmentation Software
There are a number of options when it comes to customer segmentation software — here are five of the most popular to help you get started.
With HubSpot, segment your customers with static and active contact lists and set up contact scoring to use lists to segment your contacts and customers.
The software also offers an option for event-based segmentation. For example, if your company is holding a day-long workshop in Boston, you could use event-based segmentation to help you identify and inform your customers in the area, who have previously expressed interest in the information that your team will share, at the workshop.
Then, once the workshop is complete, you can use the details obtained from those who ended up attending (and showing interest in) your workshop to segment your customers for your future events.
These customer segmentation features, among others, are automatically included in HubSpot's (free) CRM, CMS, Marketing Hub, Sales Hub, and Service Hub (the specific segmentation features within each of these tools are listed here).
Learn how to create a contact management and segmentation strategy with HubSpot.
Experian's customer segmentation software has multiple functions so you can build, view, and manage your segments in a way that meets your business needs.
Focus on lifestyle segmentation to hone in on the habits and preferences of your customers or identify your most economically-valuable groups so you can add those details to your profitable-customer contact portfolio.
Sprout Social allows you to reach specific segments when creating and sharing messages on both Facebook and LinkedIn through Audience Targeting — it's a marketing-centric customer segmentation tool.
On Facebook, the tool allows you to segment and target customers by interests, gender, age, location, relationship status, education, and age; and on Linkedin, you can segment and target customers by business size, industry, location, and seniority.
(Note: SproutSocial integrates with your HubSpot CRM.)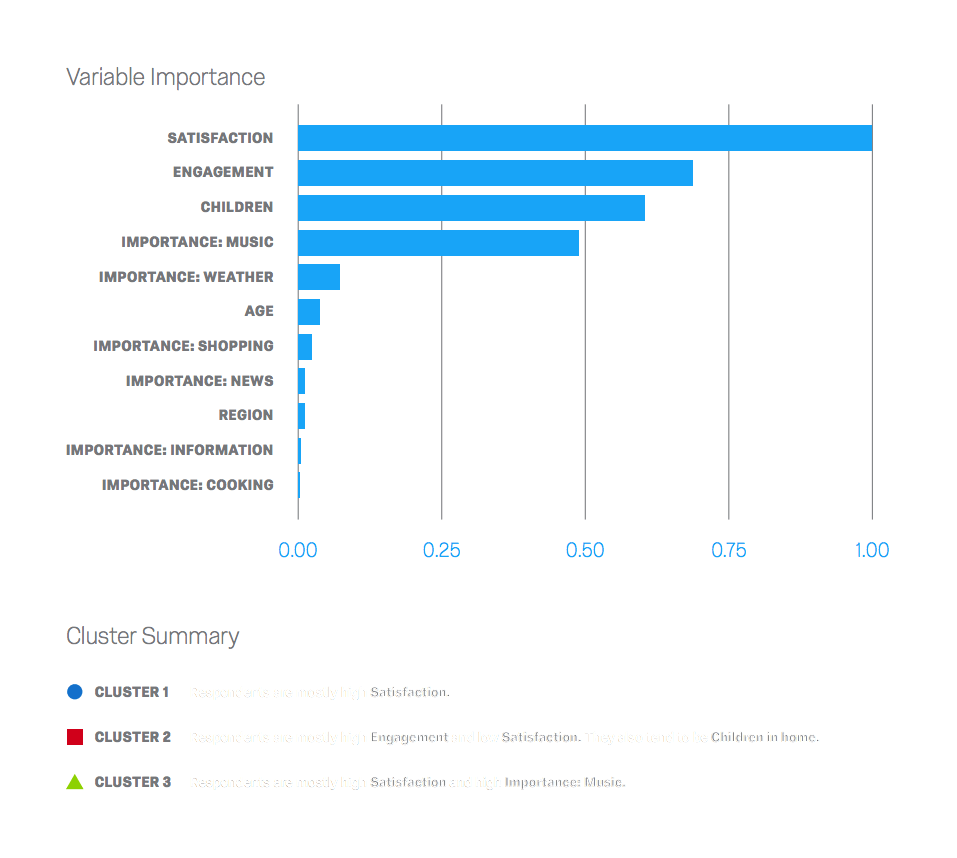 Qualtrics is a customer segmentation software that provides segmentation tools for your customers and products.
You can build studies, organize groups of customers, analyze the way you segment your customers, and determine the right type of communication different segments want all in the tool. Qualtrics also has machine learning and artificial intelligence (AI) capabilities to help you identify new ways to segment your customers.
Mailchimp's marketing and email automation service includes a customer segmentation tool. Organize and manage segmented email marketing campaigns to target groups of your contacts and customers with messaging that's customized and tailored to their needs. You can filter between one and five criteria to communicate with your specific group(s) of choice.
(Note: Mailchimp integrates with your HubSpot CRM.)
Not exactly sure where to get started? Take a look at the list below for some examples of how you can segment your customer base.
Customer Segmentation Examples
Gender
Age
Occupation
Marital Status
Household Income
Location
Preferred Language
Transportation
Workspace
Lifecycle Stage
Website Activity
Last Customer Engagement
Ecommerce Activity
Values
Interests
Personality
Device Type
Browser Type
Original Source
Customer Satisfaction Scores
Number of Purchases
Average Purchase Value
Product Attributes
Service Needs
Delivery Method
Demographic Customer Segmentation
1. Gender
This is one of the first places that businesses start with when it comes to customer segmentation. And, while it's good to get an idea for who is engaging with your business, you should make sure this segment is inclusive and provides plenty of categorization options so customers are accurately segmented into groups where they feel comfortable.
2. Age
Age is another common factor that businesses use to segment customers. After all, age tells you a lot about the person that's interacting with your business. For example, a 10-year-old likely won't have the same budget and interests as a 60-year-old.
3. Occupation
Your customers' occupation tells you a lot about their interests and availability. It can also give you an idea of their budget as well as their annual income — especially if they don't disclose this information to you directly.
4. Marital Status
If marital status is important for understanding your customer base, then you can segment buyers in a few different ways. You can categorize customers based on if they have a spouse or not, or ask them if they're in an active relationship. How you gather this data will depend on your business's marketing strategy.
5. Household Income
Household income gives you an idea of how much money a customer can potentially spend with your business. Keep in mind that income isn't the only factor at play here, as things like location, occupation, family structure, and more will also influence a customer's budget.
Geographic Customer Segmentation
6. Location
Location is important for a few reasons. First, it tells you where your customers are and how you can find them. It also tells you how you should approach certain segments if they live in different areas. For example, how you market to people in Boston will likely differ from how you market to people from Walla Walla, Washington.
7. Preferred Language
It's important to identify the language that your customers prefer to speak. That way, you can communicate more clearly and make it easier for them to interact with your business.
8. Transportation
Transportation can also present a valuable marketing opportunity for your business. For instance, if your customers take the subway to work, you can buy ad space on trains and popular subway stations. I can speak from experience that there's not much to look at other than the ads on the train when you have a 30-minute commute that's mostly underground.
9. Workspace
Before COVID-19 remote work was slowly gaining popularity. Now, that timeline has been accelerated, and you can't assume everyone is going into an office to work. As a marketer, it helps to know whether your customers are commuting regularly or staying at home throughout the day and working remotely.
Behavioral Customer Segmentation
10. Lifecycle Stage
Lifecycle stage refers to where the buyer is in the customer journey. Are they a new lead that's ready for a sales conversation? Or, are they a loyal customer who's willing to advocate on your business's behalf? Knowing where the relationship stands between you and your customers can help you form a more effective marketing strategy.
11. Website Activity
Website activity is anything your customers do while engaging with your website. For example, you could segment customers based on the first page they interact with. Or, you could segment them based on how many times they've visited your home page or clicked on a certain page element — like a call-to-action.
12. Last Customer Engagement
You can learn a lot about customer relations from the last interaction a customer has with your business. If it was a positive interaction, they might be ready for more marketing messaging or a specific promotion based on when they are in the customer's journey. If the interaction was negative, you might want to ping your customer service or success teams to proactively reach out and strengthen the relationship.
13. Ecommerce Activity
Similar to website activity, ecommerce activity refers to any action a customer takes in your online store. For instance, abandoned carts are a very popular customer segmentation option. You can also segment customers based on the products they've purchased or the product pages they've seen, but haven't converted on.
Psychographic Customer Segmentation
14. Values
Values are usually harder to identify than fundamental information like age or location. To determine a customer's values, you need to understand their needs thoroughly and empathize with the roadblocks they face when trying to achieve goals. When you can align with the customer in this way, it's easier to see what they value most in a product, service, or brand.
15. Interests
While values are characteristics and actions that customers admire most, interests are things that customers enjoy, but may not necessarily be related to your business. For example, your customers might be interested in dogs (who isn't?), so you could partner with a local pet store and run a cross-promotional campaign. This lets you reach customers in places you might not have thought about before and create opportunities to foster mutually beneficial relationships with adjacent businesses.
16. Personality
Personality can be hard to sum up in one phrase or sentence. But, you can segment customers based on different personality traits. Are they outgoing? Introverted? Comical? Serious? You get the point. The more you know about their personality, the more you can adapt your marketing to fit your audience.
Technographic Customer Segmentation
17. Device Type
Device type is the type of phone, tablet, or computer that a customer is using to interact with your website. If the majority of your website visitors are using smartphones, then you know mobile responsivity is imperative to your site. Or, you might consider building a mobile app to capitalize on users who are interacting with your brand while on the go.
18. Browser Type
Browser type refers to the internet browser that a customer is using. For example, are they using Google Chrome or Mozilla Firefox? Perhaps they're an Apple customer and are using Safari. Point is, there are dozens of internet browsers available and each can display your website, emails, and apps differently. This makes it important to understand what your customers are using so you can build your marketing content for those browsers.
19. Original Source
You may have been asked in a customer survey, "how did you hear about us?" This question is great when you're walking into a store or filling out a form online. But, it's not so helpful if I'm just browsing your site and not converting on content.
Original source solves this problem by telling you where your website visitors are coming from. This lets you know if people are discovering your site via search engines like Google, or if they're coming to your pages from social media, email, or a referral from another site. Once you know how your customers are finding you, you can optimize this conversion path and make it easier for more people to locate your site.
Value-Based Customer Segmentation
20. Customer Satisfaction Scores
Whether you use CSAT or NPS, customer satisfaction scores tell you a lot about recent service interactions. Higher scores mean that customers are happy with your service, while lower scores indicate a risk of churn. Segmenting customers into promoters and detractors can help you increase the value of your most loyal customers, while also ensuring unhappy customers get the support they need and don't leave your business.
21. Number of Purchases
The number of purchases that a customer makes is a primary factor in determining customer value. The more purchases they make, the more valuable they are to your business.
22. Average Purchase Value
The same can be said for average purchase value. The higher this value is, the more overall value the customer provides to your business.
Needs-Based Customer Segmentation
23. Product Attributes
Some groups of customers require specific features from your products in order to use them. For example, if your website isn't web-accessible, you could be alienating individuals with disabilities. Make sure you're aware of customers with these needs so you can cater to them and won't miss out on valuable conversion opportunities.
24. Service Needs
Service needs are the services that customers require when interacting with your business. Let's take HubSpot as our example. If you're a new HubSpot user, you might want to undergo an onboarding process to learn how to use our products. Or, you might have experience with HubSpot in the past and decide to opt out of this service. Identifying these needs will ensure your customers are properly supported.
25. Delivery Method
Your product isn't very useful to your customers if you don't deliver it at the right time or in the right way. This segmentation option allows you to categorize individuals who have specific needs in regards to how they wish to receive your product or service.
Segment Customers to Grow Better
Customer segmentation helps you boost conversions, reach your audience through cross-team (marketing, sales, service, product, etc.) efforts, and communicate more effectively with customers to meet their specific needs. So, begin working on your customer segmentation strategy and use our recommended tools for support along the way.
Editor's note: This post was originally published in February 2020 and has been updated for comprehensiveness.
Originally published Jul 27, 2021 5:00:00 PM, updated July 28 2021
Don't forget to share this post!