One of the great things about customer service is that a lot of its skills can be relevant to jobs you're applying for. Your resume is going to be a place where you really showcase your personality and your diverse experiences.
No matter your professional experience, being personable, motivated, and friendly are critical traits in a customer service role. You're going to be talking to customers all day, after all.
That being said, successfully marrying job readiness, skill, and personality into a one-page resume can be daunting for anyone. But fear not -- there are steps you can take to ensure your resume is as strong as possible without causing you tons of stress.
In this post, let's review the sections you need to include in a successful customer service resume, as well as example resumes and templates you can customize for your next application.
Customer Service Resume Objective/Summary
Let's begin with diving into your goals for the position. Feel free to include genuine interests here, but keep your message relevant, and most importantly, realistic. Your goals should logically follow what's attainable in the position so your employer knows you actually understand what the job entails. You can put this in paragraph or bullet-form at the beginning or end of your resume to make it clear to whoever is reading it.
Featured Resource: Free Resume Templates
Download These Templates for Free
Put the customer first.
Show them that you understand the customer comes first. Companies know that customer interactions with the product and the business are incredibly important, and as service rep, you'll be the face of the company during these scenarios. Making this stance clear will show hiring managers that your priorities are in order and your head is in the right place to get started.
Teach, rather than explain.
Contrary to assumption, going into a customer service position with customer autonomy as a goal is a huge bonus for a hiring manager. Let them know that you want to be so good at what you do that the customer's understanding of the product might reach a level where they no longer reach out to your team as often. This shows that you value every case, as well as your customers' businesses as a whole. Customers with that level of success will evangelize your product, referring new customers on their own.
Desire challenge from an unpredictable environment.
A day in the life of a customer service representative can be extremely unpredictable. Adding this as an objective will make it clear that you're ready to hit the ground running, and will reassure the hiring managers that you know what you're applying for.
If you have experience in an environment like this, let them know that you're looking to further this experience, or that you thrive in this type of environment. Even if you've never worked in customer service before, mentioning any experience of thinking on your feet will help show you're ready to be successful.
Grow your technical and product knowledge.
Learning is a huge part of customer service. So, showing eagerness to grow in technical and product knowledge is going to be vital.
On top of that, you're going to be doing a lot of things that seem daunting at first, but after some practice, come easily. Trust us -- after a few months, you'll be a whiz at programs and procedures you never knew existed. Being able to learn a brand new skill shows your potential as an employee in the immediate role, and beyond it.
Understand how people and the product interact in the world.
It's easy to get caught up in technical knowledge, but conceptualizing how the product works is crucial to your service position. Do your research on who uses the product as well as how it's used. If you know how the product functions objectively, it'll be much easier to explain its value to customers, and potential customers alike, so you can sell the product while you teach someone how to use it.
After making sure your intentions and readiness for the position are clear, you can take time to add in the skills and knowledge you have that will really wow the hiring team. We've included some of the major skill points that a standout customer service resume should hit. These skills can come from anywhere and are critical to success, so every resume should include them.
Customer Service Resume Skills
Learning Potential
Communication Skills
Adaptability
Self-Motivation
Product and Industry Expertise
Emotional Intelligence
Problem-Solving
Improvisation
1. Learning Potential
This is the big one. No matter what level of knowledge you have about the product or the business, you're going to be trained and coached. With this in mind, you need to show a willingness to learn, whether it be in a classroom or on the phone with a customer.
Additionally, the product is bound to change and grow while you work at the company. Being able to learn these updates quickly is going to make a huge difference in your effectiveness a representative.
2. Communication Skills
Though somewhat self-explanatory, these skills become more nuanced when you think about all the different types of customers your company has. Can you take a technical concept, explain it to people of all backgrounds, and come away with them truly understanding the what, the why, and the how?
A lot of the times, soft skills like these are the make or break for customer delight because it helps you level with your customers. This helps immensely in internal relations, too. You're going to need to communicate with your team, take notes, and write internal emails all the time, so you need to be able to avoid misunderstanding.
3. Adaptability
This can range from scheduling adaptability to troubleshooting on the fly. Can you re-organize your day to accommodate meetings? What do you do when your "surefire" troubleshooting step doesn't work? Are you cool under the pressure of the follow-up question?
No matter what your level of product knowledge is, having adaptability and flexibility is going to keep your stress level locked down.
4. Self-Motivation
Even though many companies block times for their reps to be on the phone, it's likely that no one will tell you what to do with your day as a whole. Are you willing to put the extra work that a particularly complex case may need? If you call in for backup from higher up the ladder, have you done your due diligence to try to solve in all the ways you know how?
This is a huge personality trait in this position, because it's one that no training team or manager can teach. At the end of the day, you have to want to be there and help solve for your customers.
5. Product and Industry Expertise
While this trait isn't imperative for getting hired, it is a nice detail that can stand out on your resume. Showing that you have a firm understanding of the product and its industry lets hiring managers know that you're not only ahead of other candidates, but also that you have a genuine passion for the business. That can be an important difference-maker for recruiters when deciding between candidates with similar experience.
For example, HubSpot offers Academy courses as a way to educate users on its product's features and how to use them. Upon completion of the course, the participant can take a final test and receive a certification. When I applied to HubSpot, the recruiter noted that my HubSpot certifications not only demonstrated proactivity, but also a sincere interest in the position.
6. Emotional Intelligence
While product knowledge may be optional at first, emotional intelligence isn't. Emotional intelligence refers to your ability to interpret the thoughts and feelings of others and respond to them in an appropriate way. This skill is incredibly important for service reps because it creates a personalized and delightful customer experience.
7. Problem-Solving
If you know the saying, "when life gives you lemons, you make lemonade," then your resume should make you look like an enterprise-level lemonade salesperson. Customer service is all about solving problems, and often, the solutions to those problems aren't clear. In many cases, reps need to think on their feet to come up with a creative solution that meets the customer's needs.
Even if you don't have any professional problem-solving experience, hobbies and personal interests can prove this skill as well. Think about a time when you encountered a roadblock and solved the issue on your own. Focus on the steps you took to solve that problem, particularly your thought-process and the logic behind each step you took.
8. Improvisation
As we mentioned before, not every service problem has a clear solution. However, it's the job of the service rep to come up with an answer in a timely manner. Customers expect you to respond to their questions and won't wait around all day for your solution.
This is where you demonstrate your ability to make good judgments under pressure. As a customer service rep, it's your job to do everything within reason to prevent churn. Sometimes, this requires creative problem-solving and the ability to improvise when things go wrong. Keeping cool and making the right choices in stressful situations is an incredibly valuable skill in customer service.
Once you've laid out your skills, back them up by adding in your professional experience and accomplishments.
Customer Service Resume Experience & Accomplishments
Next, you'll want to cover your recent professional experience in depth, especially with regard to your career progression or advancement in your role, projects completed, goals surpassed, or other milestones reached.
Customer Service or Professional Experience
If you're applying for a position in customer service and you've already worked in a customer-facing role, make sure your resume highlights your industry experience -- what industry your company was a part of, what metrics you used to measure success, what goals you achieved, and the impact you've had on the company.
If you're applying for a customer service role and you don't have industry experience, do some brainstorming about the transferable skills and experiences that would serve you in a customer-facing role. For example, if your previous experience is in marketing, you've probably developed effective communication skills. If you worked on a side project collaborating with your peers in customer service, detail that experience to show you've taken initiative to move into a new business function. And, most importantly, think about why you want to move into customer service so your resume effectively communicates that.
No matter what your professional background is, build your resume with a busy recruiter or hiring manager in mind. Format details about each position using bullet points, share numbers and percentages (e.g., "I maintained between 102-108% attainment of my retention goal during my year in the position), and make sure details for each job includes a one-liner about what you did, why you did it, and how you did it (e.g., "I worked in front-line customer support, assisting customers via phone, email, and live chat with technical issues they encountered using Biglytics email software.")
Career progression and advancement details
Were you promoted in your last role? Did you ever manage a team? Did you collaborate with other colleagues on side projects, experiments, or campaigns? Were you tapped to lead an experiment or test case?
Make sure the experience section of your resume details examples of you being recognized or rewarded for going above and beyond. Hiring managers want to hire the best of the best, so make sure you highlight examples of this.
Volunteer or community involvement
If you're involved in your community, feel free to include that work on your resume. Not only will experiences like these make your resume stand out and be more memorable, the causes you get involved in communicate your values and personal priorities outside of work. Hiring managers want to hire diverse and inclusive teams filled with effective workers who are also kind people, so if you have relevant and current volunteering experience, make sure to include it in a final section on your resume.
Customer Service Resume Education
Finally, you'll want to make sure you showcase your educational background -- especially any classes, research, projects, or accolades that speak to your ability to excel, your commitment and grit, and your industry expertise.
Higher education background and achievements
Make sure your resume details your highest levels of educational attainment. Note where you studied, what you studied, your GPA, and any particularly relevant projects or research you worked on. It's okay if you didn't major in the industry you're applying to -- few of us have. But education helps round out our workplace knowledge and experience, so showcasing ways you worked independently and achieved results as a student will speak to your diligence and capability as a worker, too.
Additional professional or educational training
If you've taken training courses, certificate programs, or attended classes as part of your on-the-job training, include those diplomas in your resume as well -- especially if they might be part of the tech stack the team you're applying to uses.
Now that we've broken down each section you should include in a customer service resume, let's take a look at a few examples you can use as inspiration for your application.
Customer Service Resume Examples & Templates
1. Entry Level Customer Service Representative
Source: LiveCareer
This resume is a great example of someone who has no direct customer service experience, but does have experience interacting with customers of different backgrounds. The fictitious Justine has made a clean-looking resume that clearly states the experience she has had working with customers, and shows familiarity with hitting a metric of some kind in her sales position. She also uses her "Summary" portion to highlight her unique skills.
That being said, since she has no direct customer service experience, some elaboration on relevant skills, like working with an internal ticketing system or building relationships with customers would have been a nice touch. Hiring managers are looking for reasons why you're beginning a career in this industry, so make sure a passion for the work is clear in the resume.
2. Mid-Level Customer Service Representative
Source: LiveCareer
"Lily's" resume is a great example of someone who has a mixed background with both directly and tangentially-relevant experience. She was a bank teller before she broke into the customer service industry, and putting it on her resume shows diversity and opens a conversation about why she began a career in customer service.
Additionally, she's listed a good number of applicable skills at the top, which functions both to show her personality and highlights what she does well. Being self-aware of strengths and weaknesses within the field you're applying to shows comfort and confidence, and it will be something your potential employer will look for -- maybe even ask you about directly.
3. Experienced Customer Service Representative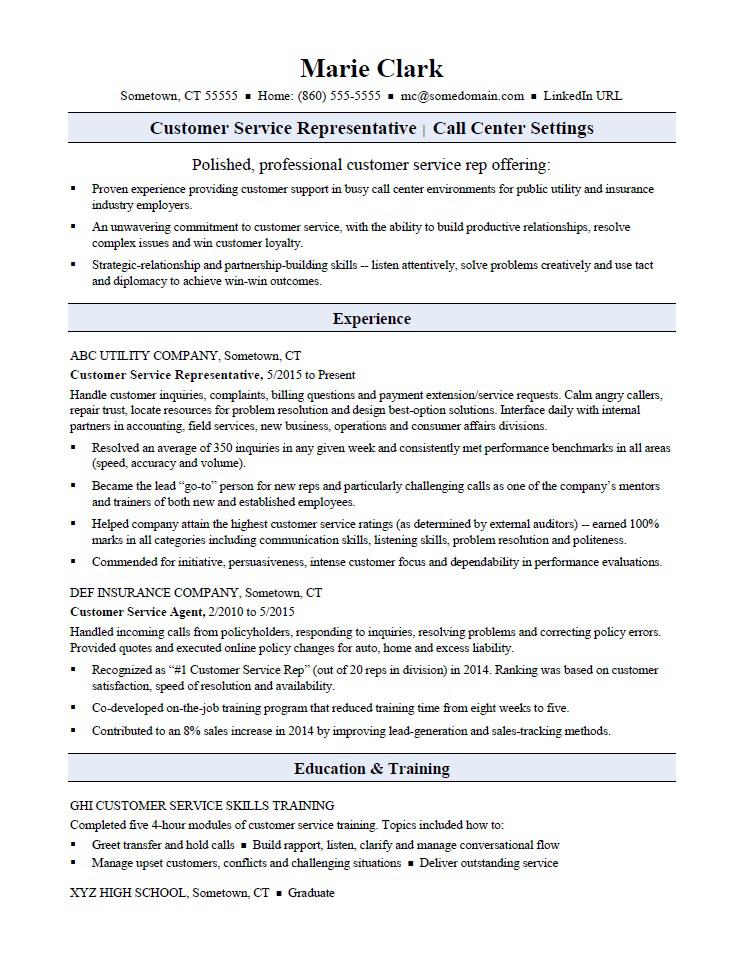 Source: Monster
It's easy to tell right away that "Marie Clark" has been killing it in the customer service industry for some time now. She takes some space at the top to highlight what sets her over the edge as an applicant, making it clear she loves what she does and wants to make a career out it.
Looking closer, we can see that she has a deep understanding of how the industry functions at its core, and has excelled in her core role to the point of taking on personal side projects where she saw a need, like co-developing a training program. Potential employers eat this up, because it proves that you can help their service organization flourish by putting back in what you get out.
4. Personalized Customer Service Resume
Source: Freesumes
This clean and creative resume will help you stand out right off the bat while still allowing room to fit all of your awesome experience. The addition of a photo adds a face to your qualifications, and in a career where you might communicate with customers solely over email or phone, it's important to show that you're more than just a faceless resource.
5. Classic Customer Service Resume
Source: Freesumes
This is a prime example of a no-nonsense resume that still looks great. It's classic, clean, and clear, which can be a relief to recruiters and hiring managers who may look at hundreds of resumes a day. This formatting allows your experience to speak for itself, and would be a great option for a candidate who has a lot of prior experience.
6. Formal Customer Service Resume
Source: Freesumes
This resume is an effective mix of the first two we've shown in this article. The pops of color and headshot show uniqueness while the formatting leaves a lot of space for what you want to include. It's muted and easy to read, so no one element is overwhelming to the point of throwing it off balance. If the company you're applying to has a formal work environment, this would be an awesome way to stay classy, and show your identity.
7. Whitespace Customer Service Resume
Source: Freesumes
This resume stands out because it's the first one we've seen in the article that utilizes the full width of the page. If you really need the extra space, this single-column format allows those extra inches on the side so your qualifications take up less vertical space. This can help your resume look less bunchy, and is extremely easy for your potential employers to follow.
8. Customer Support Engineer Resume
Source: LiveCareer
This customer support engineer resume lets the skills and experience speak for themselves. Its simple, straightforward formatting might not be advisable for a creative role, but for a technologist, it's not as mission-critical to standing out and impressing a hiring manager. That said, there's nothing wrong with designing a more creative resume if you want to communicate your personal brand along with your experience and skills.
9. Customer Service Manager Resume
Source: LiveCareer
This customer service manager resume highlights this candidate's experience and impact -- which is critical when applying for a leadership role. Using color, a modern font, and bullet formatting, this resume effectively divides the different sections while highlighting the most important aspects of this candidate's background.
10. Call Center Resume
Source: Resume Genius
This resume outlines all of the skills and qualifications needed to work in a call center. It starts by listing the candidate's key attributes then backs them up using their professional experience below. On the right, it outlines other skills that the candidate possesses and categorizes them by either "hard" or "soft." This not only tells an employer what this candidate can do, but it also shows that they're organized and think logically when approaching a problem.
Before you get started on the application, though, take a look at our picks for the top customer service jobs.
Originally published Sep 25, 2019 1:54:16 PM, updated June 15 2021
Don't forget to share this post!