You may remember when Forrest Gump said, "Customer service is like a box of chocolates… you never know what you're gonna get." Ok, it may have not been customer service, but if you are in the industry, I know you know exactly what I'm talking about.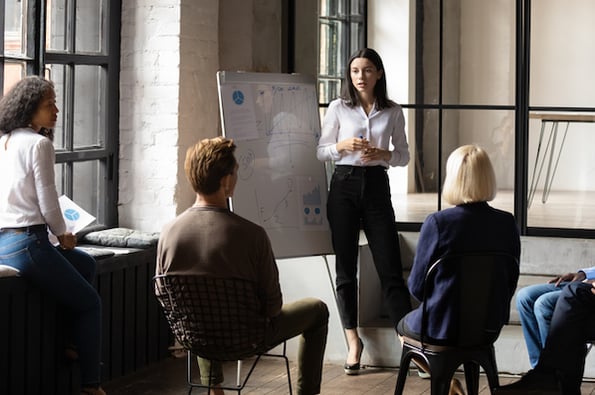 Customer service is a tricky job. You walk into most customer interactions not knowing what the question or concern will be, expectations for your speed and savviness are at an all-time high, and your company is constantly adding new products and features that you need to master on the fly. HubSpot support reps know these challenges all too well and are working tirelessly to meet both their customers' and their company's expectations.
As a support manager, it's my job to help my team navigate this ever-changing world and make sure everyone feels supported and motivated to do their best work so we can meet our goals.
Making your team feel supported and motivated isn't the hardest part, it's keeping them feeling this way. While it's impossible to have everyone in sync all the time, I have experimented a lot in the past few years with my team structure and operations to try and create a dynamic that allows us to not only surpass our targets, but to also make sure my team feels that their development takes priority.
The single most important thing I have learned to achieve this is your team must feel intrinsically motivated to see itself succeed.
In this post, I'll talk about the management approach I use to foster this intrinsic motivation, then dive into some tips that will help you apply this methodology to the customer service teams at your business.
Customer Service Team Structure
Depending on how many employees your business has, your customer service team might look a little different than ours. You might have a handful of employees overseeing specific customer accounts, or you might have an extensive team structure with team leads, specialists, and escalation hierarchies.
No matter how your team is set up, a bottom-up management approach is effective for every customer service team structure. It empowers reps to set ambitious goals and work collaboratively to improve team performance.
What Is Bottom-Up Management?
Bottom-up management means that whenever possible you should try to include the team in the decision-making process and give them a seat at the table when deciding the team's goals, how time is spent during meetings, and what training topics you'll focus on together. I've found this approach creates an environment where everyone feels tied to the success of the team, and motivated to progress the team forward.
I apply this approach to three areas — People, Productivity, and Processes — and run a bi-annual feedback survey to serve as a feedback loop to make sure we're always challenging the status quo. I think about the team like an S-curve, we usually roll something out, it works for some time, and then it doesn't and we have to pivot. The team feedback survey helps call out the initiatives that are starting to plateau so we can adapt before they become ineffective.
Here's how the bottom-up approach is applied to people, productivity, and processes.
People
You can't run a productive customer service team if the people on it don't feel intrinsically tied to the success of the organization or connected to the people around them. There has to be a "we're all in this together," attitude if you want your team to work together and stay focused on company objectives. You can create this attitude by giving your team ample opportunity to provide feedback and show them that they have a say in how the team is run by implementing their feedback.
For example, I found that my team felt spending each of our weekly meetings discussing our performance wasn't valuable because week-over-week changes were minimal. Since hearing this feedback, we now conduct biweekly performance updates and spend our other meetings focusing on topics that the team has selected. The team really appreciated this pivot and not only has participation in meetings increased, but the individuals feel more comfortable giving feedback on what's useful and what's not.
Productivity
Almost every manager wants to know how to develop a team that consistently achieves its daily and weekly metrics. Again, this is where you can use a bottom-up approach and have your team set its own goals.
At the beginning of the year, we met as a team and I presented our productivity results from the previous year. The team then used this data coupled with some set targets that we knew we had to hit, and we created our own goals that we would strive for this year. This made the team more invested in its success because the goals they were working towards weren't just numbers decided by an executive or manager. These were milestones and benchmarks that our team felt it could reach, which made them much more motivated to achieve them.
That being said, if your team is struggling in multiple areas, you might just want to pick one metric to focus on and set goals quarterly instead of annually. We did this in 2019 then worked our way up towards annual goals the following year. We learned that sometimes it's better to take baby steps and focus on gradual progression if you're not achieving the original goals that you set for your team.
Processes
Whenever possible, give your team ownership over the team's assets and operations.
For example, let your team create its own email newsletter, have them oversee team meetings (when you meet, how often, what you'll discuss), and let them build the team's out-of-office procedure. You should also give them ownership over team training and how management can support them.
Let your team call the shots on how these processes work and push them to think about how to make them better. Not only will this help develop valuable skills, but it will also create a team mentality where everyone has a hand in helping the team run efficiently and reinforce the "we're all in this together" attitude.
Now that we've laid out the fundamentals of the bottom-up approach, let's review a few tips that will help you support this customer service team structure.
7 Tips for Managing a Customer Service Team
1. Create a Team Brand.
When I joined the HubSpot customer support team, we ran a brainstorming session to decide our team name and came up with the name, "Team Ostrich," as a play off my last name, Ostrander.
Now we apply this theme to everything we do. When we meet, we call these meetings, "Flock Huddles," we use bird jokes whenever possible, and have even created ostrich emojis to use in Slack. It's become a fun, lighthearted way of building a team environment that everyone can contribute to.
2. Adopt a Team Feedback Survey.
For my own personal development, running a feedback survey helped me become a better problem-solver. I used to fall into the trap of churning out new ideas solely for the sake of trying new things. This led to my team feeling like their time was spent doing things they didn't find valuable like weekly call reviews.
When I adopted the feedback survey, it let me know exactly where opportunities to improve existed, so we could then focus our time solving problems that we knew existed, instead of pursuing ideas that I thought would be helpful.
For my team, the survey reinforces the importance of feedback and being open and honest about your strengths and weaknesses as an organization. It also shows the team that it's OK if something we try doesn't work, as long as we recognize what we learned from it and apply those lessons to make it better in the future.
3. Assign a Team Member to Lead Culture Initiatives.
Culture initiatives — or anything your team pursues to build psychological safety and inclusion — are almost, if not as important, as productivity metrics. These initiatives are central to your team culture and provide ways for employees to interact with each other in non-work related ways.
Sometimes as a manager, you can feel like you're slightly removed from the social dynamics of your team. By taking the Bottom-Up Management approach and assigning someone on your team to be the DRI for culture initiatives, this will help make sure you have all the appropriate context when making decisions. I work closely with my culture lead on our feedback survey and have valued her advice and insight immensely when our team went fully-remote during quarantine in March 2020.
4. Assign Team Members to Own Key Metrics.
If your team has a few goals that you're working towards, pick one person to own each metric. Give them the responsibilities of presenting results in team meetings and sourcing new tips and tricks on how to succeed with that metric. By doing this you are creating an internal champion within your team for this metric who becomes a role model for others to do well in this area. This also allows you as a manager to step away as the sole voice pushing the team to hit their targets.
5. Set "Stretch" Goals.
Whether your team is underperforming or overperforming, you should encourage them to set stretch goals, regardless of the outcome. While the logical part of your brain may say, "what's the point of picking a number that we aren't anywhere near hitting?" you have to remember that setting stretch goals isn't actually about hitting the goal. It's about the intended outcome of the goal.
At HubSpot, we don't have a NPS goal to hit a high NPS. Rather, it exists to push our team to provide our customers with a wildly exceptional customer experience. As a manager, you can remove the fear of failing by creating excitement around the possibilities of succeeding. This creates a culture where potential failure doesn't hinder creative thinking and it instead becomes a positive part of the learning process. This mentality is exactly what drives business innovation.
6. Let Your Team Pick Training Topics.
At the beginning of the year, we used every Monday meeting to talk about performance. This got boring after a while because the team performance wasn't changing very much week over week.
So, we started using two huddles a month for training and development. The team got together and brainstormed their top topics of interest and our team lead is currently planning those training sessions. Now, the team can look forward to the next training session because they know it's a topic that's relevant to their workflow and it's something they've petitioned to discuss.
7. Lead With The 'Why.'
Lara Casey, Founder of Cultivate What Matters, once said, "The goal is not the goal, what matters is what matters"
"The goal is not the goal, what matters is what matters" - Lara Casey, Founder of Cultivate What Matters
As a support manager, you are a part of an organization with people who are all motivated by helping customers and seeing them succeed. You can harness this motivation and help your team to overperform by connecting their metrics or behaviors back to what really matters and why these metrics exist.
Your goal shouldn't be to have a perfect CSAT score, or earn an NPS of 75 or higher; it should be to provide your customers with a delightful experience every time they interact with your brand. After all, customer service isn't about reaching a certain number, but instead focusing on the purpose behind those numbers and why you set them in the first place. If you put the customer first, the positive results that you're looking for will eventually follow.
Remote customer service teams have their own unique set of needs. So, for more customer service management tips, check out this interview featuring my colleague, Ed Yealu, discussing how to manage a remote support team.