In a world that's being changed rapidly by technology, it only makes sense that the same is happening with customer experiences.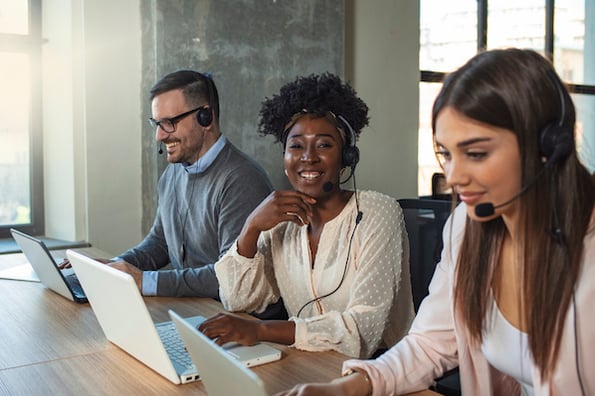 As we progress forward with new, innovative developments from telephones to computers to internet to social media the customer service industry has adapted, too. An industry that was once handled solely in person or via snail mail is now dominated by AI systems, virtual representatives, and human interactions conducted through social media, live chat, and the occasional phone call.
Today's customer experience is giving customers more power. They get to control how, when, and where they interact with service representatives. To keep up with these constantly shifting trends, we put together a list of the most important ones that HubSpot service reps are looking out for this year.
2023 Customer Service Trends
1. Customer service is a significant pillar of business growth.
73% of business leaders report that there is a direct link between their customer service and overall business performance. In addition, 64% of business leaders say that customer service has a positive impact on their growth.
As a result, businesses overall are increasing their investments in all areas of customer service to ensure customers are satisfied with their experience. Below we'll discuss the key areas of focus to look out for.
2. Customers Want a Personalized Experience.
When someone reaches out to your team, they want to be treated like a person, not a number. They want to feel like their case is important and that your rep cares deeply about solving their issue. It shouldn't feel like your team is applying a one-size-fits-all approach to every customer interaction. Since every support case is a little different, each one should be treated as such.
Consumers are highly likely to purchase exclusively from brands that show they understand them. In addition, 66% of customers expect companies to understand their needs and expectations. This means that you're prepared to handle unexpected situations and are rarely scrambling to come up with a solution. Even if a customer asks you to do something you don't normally do, you should be flexible enough to adapt and meet their needs anyway.
"66% of customers expect companies to understand their needs and expectations." - Salesforce
3. Businesses are prioritizing customer experiences.
Since customers have more power over the buying process, more businesses are prioritizing customer experience over other acquisition strategies. In fact, 63% of companies are spending more time prioritizing the customer experience.
"63% of companies are spending more time prioritizing the customer experience." - Zendesk
With more businesses shifting their focus to customer experiences, customer expectations are rising as well. This means that if your business isn't prioritizing customer experience, you run the risk of failing to meet customer needs and potentially falling behind your competitors.
4. Face-to-Face video support options are increasing.
Face-to-face video was once an internal tool that teams would use to conduct meetings between offices or team members who worked in different departments. Since the COVID-19 pandemic, video has grown tremendously in popularity as many businesses were forced to adapt to a remote or semi-remote environment.
Now, tools like Zoom are becoming commonplace as organizations are starting to realize how useful face-to-face video communication can be both internally and when working with customers. Customers appreciate this as well, as preferences for using video calling in customer service have increased to 70%. In addition, 94% of customers rate video support as a positive experience.
If you choose to adopt video for your customer service tools, you can offer live streaming as a support channel, host office hours or AMA's for your products and services, create product tutorials, and live stream events.
5. Automation is being used for simple tasks.
In customer service, you can perform the same task multiple times within the same day. Whether that's solving a common problem, transferring calls to a special department, or sending follow-up notes to customers, there are a few actions that can seem tedious or menial throughout your workday.
This is where artificial intelligence has made great strides in reducing the workload for customer service personnel. APIs and workflows automate routine functions like assigning cases and chatbots can handle customer inquiries without the need for a human rep. Customers also prefer automated interactions for simple tasks, as shown in the graph below.
Image Source
6. Self-Service is a standard form of customer service.
Google — and other search engines — have changed the way consumers access information. Rather than calling your support line when they have a question, people will Google their inquiry first to see if they can find a solution. This cuts the need to call your support team and potentially get stuck on hold waiting for an answer.
"69% of consumers try to solve their issue on their own." - Zendesk
More than 69% of consumers try to solve their issues on their own, and, as such, 62% of businesses are increasing their investment in self-service. Even resources as simple as a knowledge base or an FAQ page can go a long way in helping your customers find solutions to their problems independently.
7. Chatbots and other messaging tools will continue to be popular.
Chatbots and other messaging tools are great for customer service because they often provide answers faster than waiting on the phone or for an email reply. 71% of customers already expect brands to offer customer support over messaging channels, so it's a trend for 2022.
"71% of customers already expect brands to offer customer support over messaging channels" - Conversocial
59% of survey respondents expect a response from a chatbot in 5 seconds or less, a metric that would be challenging for a human rep to meet. As a result, customers like chatbots because it allows them to get faster answers from support, leading to less friction during their customer experience, which results in more sales, revenue, and loyalty to the business. Businesses that already use chatbots chose to adopt them because they save valuable time.
If you're skeptical about adopting them, consider that 48% of customers already feel comfortable with interactions managed by bots, and 71% say that they'd be happy to use one if it meant it would provide an improved customer experience.
For further reading, check out this post on our predictions for the future of customer service technology.