One day, I put on my sunglasses and found a nasty scratch on the lens. Since it happened to be Prime Day, I figured this was a sign to purchase a new pair. Determining it would be cheaper to buy online, I went to Amazon and bought a sleek pair of aviators in preparation for my upcoming road trip.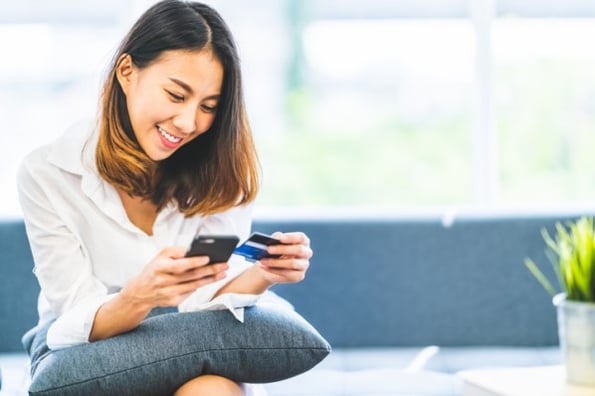 You can probably relate to this story. If not, you're the one in 10 consumers who doesn't price check items on Amazon before making a purchase. The rest of us depend on the site's competitive prices and reliable customer service to guide our buying decisions. Because of this painless customer experience, we have defaulted to Amazon as our preferred ecommerce website.
Amazon has created a service model that aligns with the needs of its ecommerce customers — for example, maybe you've spoken to an Amazon support rep on the phone or online chat.
In this post, we'll explain what ecommerce customer service is and provide some best practices you can use to improve it on your website. Then, we'll provide a list of ecommerce service tools you can adopt for your business.
Customer Service in Ecommerce
Ecommerce customer service refers to the services you provide to online shoppers. If visitors have questions or need help making a purchase, these features help them navigate your site and achieve their goals. Ecommerce customer service allows reps to meet customers where they are to make the process of support simple and efficient.
The approach to ecommerce service differs slightly from brick-and-mortar settings. Since reps can only call or chat, you need to anticipate roadblocks that users will experience during the buying process.
That requires you to consistently obtain customer feedback and analyze it for common user pain points. Once you understand these variables, you can install proactive and self-service features that guide visitors through the customer journey.
If you're looking to enhance the service in your online shop, take a look at the next section for some best practices we gathered for ecommerce customer service.
Ecommerce Customer Service Best Practices
Providing excellent customer service in an ecommerce setting can be challenging for some businesses. That's because it can be difficult to engage with customers when you're not interacting face-to-face. The tips in this section can help you overcome these obstacles and delight visitors in your online store.
Focus on your average response time.
Customers enjoy online shopping because it's efficient and convenient. They can easily compare prices between products and order items right to their front door. However, when customers have questions they expect them to be answered effortlessly. They don't want to wait for answers when they came to your site for a quick purchase.
This is why it's important to focus on average response times when working with ecommerce customers. If visitors reach out, reps should respond in seconds. Tools like live chat and chatbots can improve your average response time and streamline the support process for your users. By reducing the time it takes to get them an answer, customers are less likely to get distracted and navigate away from your site.
Use social media for customer service.
With speed and efficiency being our primary focus, social media becomes a valuable asset as a customer service channel. Customers can use social media to report problems or ask questions, which immediately notifies your service team.
Then, your reps can address the issue and reach back out and update all of your customers at once. Rather than funneling inquiries through one communication channel, this omni-channel experience makes it easier for online shoppers to get in touch with your customer support team.
Provide proactive customer support.
When customers are navigating your website, they may not be aware of your support and service features. They could have questions but have no idea where they should go to ask. Or, they might decide it's too much work to contact support and move on to a competitor. Even if your site offers service features, it's important to proactively share them with your customer base.
You can implement proactive customer service by creating CTA's on your website. Make it clear where users can file support inquiries and provide FAQ's for what they can expect from your service team. If you have live chat, create a pop-up message that draws your visitor's attention to the chat widget. This will encourage visitors to use your support features which creates opportunities to engage and delight customers.
Include customer self-service options.
Another efficient way to provide customers with answers is by using customer self-service features. These are tools that customers use to find solutions to their problems without the help of a service rep. When customers have quick or fundamental questions, this saves them time from having to open a formal inquiry.
One example of self-service is a knowledge base. A knowledge base is a section of your website that contains service and support documents. These resources discuss common customer roadblocks that users experience every day. Customers can review these references before reaching out to your service team.
Offer a phone support line.
Some customers don't have the patience to go through online support options. Speed and efficiency are key in ecommerce settings and customers who aren't tech-savvy aren't interested in surfing your site for answers.
If possible, offer these users a direct line to your service team by providing phone support. Even if you don't have call center software or a designated phone team, having an immediate way of creating a live interaction can dramatically improve the customer experience.
Leverage customer service tools.
No matter how large your business is, customer service tools can make a significant impact on your ecommerce website. These tools automate support functions and expand the bandwidth of your customer service team.
For example, a ticketing system can manage and distribute incoming customer inquiries so reps know exactly what to work on and no cases are overlooked.
Ecommerce Customer Service Software
If you're looking to adopt tools like these for your website, check out the list below of the best ecommerce customer service software.
1. HubSpot
HubSpot's Service Hub is great for ecommerce businesses for a number of reasons including its Shopify integration. You can sync customers from your Shopify store into your HubSpot CRM, then engage visitors when they take action on your site.
Additionally, Service Hub has free live chat and chatbot tools. You can easily install these features on your website to provide your customers with immediate support.
Price: Free
2. Kayako
Kayako is a help desk software that includes features specific to ecommerce. For example, it has Facebook and Twitter tools that help service reps manage social media inquiries. There's also a shared inbox function that centralizes incoming requests into one location. That way, reps can easily keep track of all customer interactions through a universal interface.
Price: $15/month
3. Clickdesk
Clickdesk is another service platform that can be used for ecommerce. Its most notable feature is its video chat tool that lets customers work directly with reps.
So, if a conversation seems to be going nowhere, your team can hop on a video chat to clarify any miscommunication. That's a huge advantage for SaaS businesses that have to explain highly-technical or complex solutions.
Price: Free
4. Get Satisfaction
Get Satisfaction centers its product around the idea of creating a service community. It believes that self-service options, like community forums, are the best ways to provide customers with immediate answers.
Using its gamification features, you can set up a community page that encourages customers to help each other solve problems. Supplementing this forum with your other support functions should create a more satisfying service experience.
Price: Variable
5. Acquire
Acquire has a chatbot that can answer up to 80% of customer questions, instantly. It uses machine learning to interpret inquiries then provides users with the most relevant solution. You can also import FAQ, snippets, and knowledge base documents into the bot to improve its personalization. And, as the bot gathers more customer data it improves over time.
Price: $40/month
If you want to master the software you just adopted, read how to improve your customer service tools.
Editor's note: This post was originally published in August 2019 and has been updated for comprehensiveness.