We know that everyone has dreadful customer service stories. You know the kind — a missed flight, downed WiFi, or an impossible quest to speak to a human on the phone.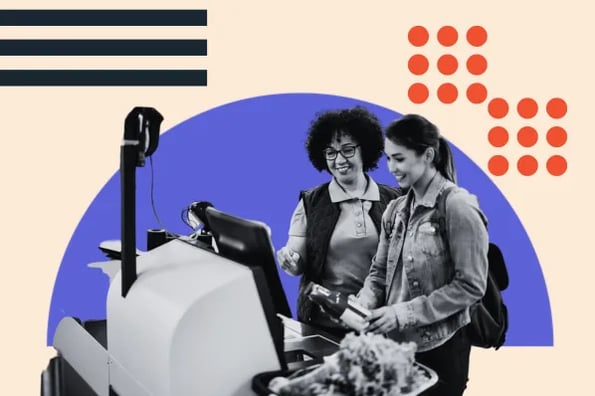 It's scientifically easier for us to recall negative memories than it is to recall positive ones. This is why customers typically share twice as many stories of negative experiences as they do positive ones. Because of this, we know that there are many untold stories of customer-centric companies, customer-first policies, and customer service reps who go the extra mile.
In the interest of positivity — and yes, a little bit of advocacy for our profession — we'll keep updating this blog post with positive stories to share with your family and friends.
Great Customer Service Stories from HubSpotters
Great customer service stories are what we want people to have here at HubSpot, and for good reason! The customer experience is critical for building brand loyalty and turning problems into opportunities.
The biggest win is when a customer who has a problem is so happy with your service that they then become an advocate for your brand, like our first story from HubSpotter, Clint Fontanella.
Our first positive customer service story comes from Clint Fontanella, marketing manager for the HubSpot Blogs and former HubSpot support rep. He shared his memorable experience of buying shoes at a local sporting goods store. Here is his story in his own words:
"A few months ago, I picked up running to keep me in shape. But, I didn't own a pair of running shoes. So, I asked my family for a referral."
"My brother was a college track star and my parents have run more races than I can count. Suffice to say, I was going to the right people for a recommendation, and they unanimously agreed I should go to Whirlaway Sports."
Whirlaway Sports is a retail store that specializes in running and golfing equipment — because those two sports go hand in hand. However, what differentiates Whirlaway is its customer service.
"When I walked in, I was immediately greeted by a rep who asked if they could help. I told him I needed running shoes, and he paired me with one of their 'running specialists.' And, he wasn't kidding because the rep really knew his stuff.
He talked to me about my running style, the shoes I had worn in the past, and where I would be running. He used a cool machine to analyze my feet for any insoles that could make my shoes more comfortable. He even had me jog around the store to see how I ran and if there were any tendencies in my movements that could be addressed with a specific shoe.
Then, he talked to me about price and pulled out an array of options for me to choose from. He sorted each option and gave me his honest opinion on each shoe. When I finally selected a pair, he had a hunch they might be going on sale and asked his manager to give me the discounted price. He didn't have to do that, but it was clear that he was focused on my needs, not getting me out of the store.
After this experience, I used it as the model for my customer support career. Just like that rep, I wanted to provide honest advice and timely solutions. By going above and beyond for customers, I found more value in my role because I was generating memorable interactions."
For this story, we interviewed representatives from Santa Cruz Bicycles to learn how they adapted their customer service approach to fit the needs of their growing business.
When the company started, it centered its focus on the customer. Reps could work closely with customers on their bikes, and the business developed strong relationships with its customer base. However, as the business grew, it realized its customer service approach couldn't fulfill the rising demand.
In our interview, Kyler Harder, Santa Cruz's Rider Support Lead, discussed some of the challenges his team faced during this period.
"It got pretty bad. It wasn't horrendous; we never let it get to that point. But it was just me and one other guy taking care of all the customers, and we were all over the place. One email inbox was too much. The volume just got to be way too high.
"The volume was just too much. We couldn't handle it. We needed some sort of organizational tool to bring everything together."
Santa Cruz knew it needed to find a sustainable solution to this problem. So, it adopted Service Hub to manage its incoming support requests. Rather than juggling tickets manually, Kyle and his team had an automated system that could assign and distribute cases to available reps. This allowed them to meet deadlines while still maintaining their original style of customer service.
Additionally, with the new service tools, Santa Cruz could now capture valuable customer data. Using the built-in reporting features, reps can record actionable information and distribute it to the entire team to optimize workflow. Kyle goes into this benefit in more depth:
"Now we can put numbers on all the inquiries we get. Whether it's just the number of questions and category or actual issues with a product, we can now track that and determine if we need help in certain areas or not. There are a lot of great things that have gotten better."
Yoga International is an online yoga studio whose goal is to share yoga with the world. It uses a subscription-based model where customers can download and attend classes on their own time. While this approach is effective for its target audience, one of the biggest challenges facing the business is reducing customer churn.
During an interview with our team, the company's VP of Marketing, James Blake, highlighted this obstacle and how they overcame it.
"As a membership site, we're always focused on reducing churn and increasing satisfaction. We know that collecting feedback from customers throughout the customer's lifecycle has allowed us to achieve both."
Using our Customer Feedback Software, Yoga International created an effective feedback loop that relays timely information to its marketing, sales, and customer service teams. For example, the company searched to see what type of content its customers enjoyed best. It also looked for feedback related to its technology, including suggestions that would improve its website.
By using these customer-driven updates, Yoga International reduced churn by 20%. Blake continues to explain the reasons why they made this shift in the quote below.
Lastly, another benefit that Yoga International gained from this change is the addition of a knowledge base. A knowledge base provides customers with answers to frequently asked questions.
Yoga International's team estimates that this portion of its website deflects over 1,000 service requests per month. This means users are getting quick answers to their problems, and the support team has fewer inquiries to work through each day.
It's always frustrating when a subscription fee jumps from one month to the next with no warning. HubSpot Director of Customer Success Stephen O'Keefe shares his perspective on Netflix's price changes.
Although not ideal for prices to go up for customers, he explains why it wasn't a bad experience, because Netflix gave him a heads-up and explained the added value he would receive from the increased price.
"I got an email from Nextlix a couple of weeks ago, informing me that my rate was going up $2 — from $17.99 to $19.99.
"First, nominally, it's a small increase. Second, I'm getting more value from Netflix than ever before. The app is better than ever; it's easy to access on multiple devices, and the content is great, too. And finally, best of all, I don't have to talk to anyone to negotiate a price or contract length. My Netflix NPS is a 9 or 10 — I'm a big promoter."
"I'd wager that Netflix has a high customer NPS. Its subscriber base is through the roof. There are obviously a lot of factors at play here but — at a high level — I think their valuation is a reflection of their ability to adapt to changing consumer habits and expectations."
"I share this more as an example of a process that matches my evolving expectations as a consumer — and my prediction that more and more customers will come to expect the Netflix approach."
Going to the dentist feels like a chore for most, but having a personalized experience can make the visit much more enjoyable.
Our next story comes from Kaitlin Milliken, a program manager at HubSpot. She moved from Boston back to her hometown, San Jose, California and was surprised to get a call from her old dentist, who she hadn't seen since she was in high school.
"My parents still go to the same dentist and must have told them I was back," Milliken says. "They asked if I needed a dentist, and I was able to book an appointment on the spot."
It had been about a year since her last dental checkup. When Milliken found out she needed a filling, Chao's office was able to give her an accurate estimate of the procedure.
"I always get so nervous at the dentist, but everyone was so friendly. They made it easy to book follow-ups and know exactly what I would pay in advance," Milliken says. "The predictability made the experience memorable and positive."
Now, I want to share my perspective as a writer in the HubSpot Freelance Network. It's about In Bloom Florist, the vendor that did my wedding flowers.
Wedding planning was so stressful. There has never been anything quite like the pressure of using thousands of my parents' dollars on something I'd never done before. I was breaking my brain to do it right.
Luckily, our village of friends helped us contact all of the businesses it takes to throw the biggest party of one's life. I thought for sure I'd have to visit at least two vendors to feel like I was making wise choices with the budget. It turned out that choosing a florist was the easiest decision of the billions we had to make.
We opted for the very first florist we met. John Kobylinski (the owner of In Bloom Florist, himself!) expertly guided us through a completely foreign landscape of flowers, greenery, containers, and delivery details — and what weddings typically include versus what our authentic vision was. What struck us was what a genuinely good person John was. He wanted to help us, not sell us.
Weeks afterward, I was thinking about how to make extra money for the wedding. I thought, "John was such a nice person. I bet he'd be easy to work for. I wonder if they have a temporary opening for a bucket washer or something — just until the wedding?"
It turned out that they did, so he let me work around the shop up until the wedding for some extra funds. When the big day arrived, John delivered our flowers to the venue himself to wish us well in person. He had armies and fleets of vehicles to deliver flowers — doing it himself was above and beyond customer service.
Good Customer Service Stories from Around the Web
You may have heard about the good work Chewy does for rescues by directing donations to animal shelters on Giving Tuesdays each November. Even better, it encourages its service teams to use empathy and its unique customer knowledge to provide top-notch service all year long.
The VP of Communications at Chewy has said that focusing on creating excellent experiences for their shoppers "has been part of [their] operating model since the early days. The ideas themselves are often up to our team members who know the customers so intricately. It's incredible to see the creativity they exhibit when a customer is in need of a little extra love."
Two customer service employees at Chewy recalled their favorite stories of going beyond expectations for their customers:
"I had a customer who used to go to the Florida Keys every weekend with his army buddies, and they'd go to Kermit's Key Lime Pies. He called us, and he had just mentioned that he hadn't had one in 40 years, so we overnighted one to him! I've never heard somebody cry so hard, laugh so hard, and be so happy all at the same time." - Derek, Customer Service Rep at Chewy
"There was a customer who had her Chewy order left at the lobby of the condominium that she stays at. We called up a pizza place and we were like, 'Hey, we want to order a pizza, but can you also take this package of dog food up to the person that you're bringing it to?' And they were like, 'Yeeeeeah!'" - Steven, Customer Service Rep at Chewy
Nintendo is known for its understanding and flexible customer service. It even trains service members to use Nintendo-themed vocabulary when confirming correct spellings with customers, such as "T like Triforce," "G like Ganon," and "H like Hyrule."
One of the best Nintendo customer service stories we've seen is about a 95-year-old woman who loved her GameBoy. Unfortunately, it stopped functioning as her health started to decline, so her daughter wrote a letter to the company explaining the situation and sending in the broken game system.
One week later, Nintendo replied by letter as well, explaining that the parts to fix it were no longer available — so it sent her a brand new GameBoy from the warehouse.
The daughter reports that in the letter, they wished her mother a long life. She lived to the age of 99, an avid Tetris player in control of her mental faculties until the very end.
This theme park is famous for its interactive characters, engaging experiences while waiting in lines for rides, and creating unforgettable memories for visitors, young and old. We found a story shared by a visitor with a mortifying problem that was met with the utmost compassion and understanding by Universal Studios team members.
She raves about how their customer service turned an awful moment that women dread into a positive experience:
"I was treated so amazingly when I had a 'woman accident' at the very beginning of the day at Universal Studios. The bathroom attendant was so gracious, she said, 'Oh honey, let me take care of that.' She called her manager, and he took me and my husband to the Universal Studios store. He let me try on a new pair of shorts and gave them to me for free, and then he put us in the frontline of the Minions Ride when there was a 1.5-hour wait."
"I have never had such a positive, compassionate experience with something so humiliating. 100% A+ Thank you for making that day a positive memory."
Publix was recognized in 2023 as the #1 grocer on Newsweek's America's Best Customer Service List. This is the sixth year in a row!
And it's no wonder because the internet is riddled with stories of how Publix customers felt they were treated like royalty — a tenant of Publix's customer service strategy for over 92 years. Here's just one of the many stories we found about great customer service at Publix:
"My 3-year-old niece loves riding in Publix's kids' shopping carts that look like a car complete with steering wheel. But each store has a limited number of these special carts."
"One time, all those carts were in use, and my niece was disappointed to find she'd have to ride in one of the plain carts. Without our knowing it, one of the Publix employees recognized the situation. He kept an eye on the checkout lines, and when one of the kids' carts became available, he snagged it and searched for us in the store."
"He offered us the cart and even helped us transfer our groceries into the car cart. His extra effort delighted my niece, which in turn delighted me."
One of Subaru's best marketing campaigns to date? Love. It's what makes a Subaru a Subaru. That same spirit is instilled in its customer service teams across the world, and one of its customers, Jeff, shared this experience in Subaru's huge library of customer stories:
"I just wanted to take some time to reach out and advise that I am 100% satisfied with the service provided by Sellers Subaru in Macomb township, MI. […] Alex was very attentive to my inquiries and the ton of questions I had."
"I talked to Alex on the phone and emailed back and forth with him numerous times over the course of the last 2-3 weeks. I was a 'potential' buyer, who Alex was spending a lot of his time on. There was no guarantee that I was going to buy a Subaru, and if I did decide to buy one, no guarantee that it would be from Sellers Subaru."
"Alex didn't seem to be concerned with that and was focused on simply answering my questions and making sure I had a clear understanding of pricing, availability, interest rates etc. [...]"
"Ultimately, my wife and I decided to buy from Sellers. A large part of that decision was because of Alex, the attention he gave us, his prompt responses to our questions, and the effort he was putting into forming a relationship with a customer who was a 'potential' buyer who he knew only as a name on an email and never met in person."
"I definitely appreciated his efforts. [...] Thanks to Alex, the buying process was quick and seamless. As parents of very young children, we appreciated only spending a few short hours at the dealership and driving our new Outback home the same day. "
"Our new car is phenomenal. The quality, safety features, fit and finish, drivability, and overall feel and look of the vehicle are head and shoulders better than any other vehicle we have ever owned. Subaru really has done an excellent job with the Outback. We're thrilled with our new Outback and will likely be lifelong customers of Sellers Subaru."
"As a manager of people, I feel that everyone deserves to receive a 'thank you' for a job well done from time to time. [...] We always hear about the negative experiences customers have with companies. I wanted to take some time to share our positive experience."
"Alex earned this letter. Subaru earned this letter. Thank you very much for selling me a fantastic vehicle and providing great customer service to go along with it."
Great Customer Service Demonstrates Brand Excellence
These customer service stories are all great examples of ways that businesses have embodied their values and demonstrated brand excellence.
Plus, delighted customers will often willingly evangelize for the brand. One of the best ways to build brand loyalty and bring in new leads is to make existing customers so happy with their experience that they will want to share their own special stories about it.
If you have a business, encouraging your service team to turn problems into outstanding experiences is a winning strategy. Consider how much financial and logistical freedom you want to allow your service team members, then encourage them to solve problems creatively in ways they know their unique customers will love.
Net Promoter, Net Promoter System, Net Promoter Score, NPS and the NPS-related emoticons are registered trademarks of Bain & Company, Inc., Fred Reichheld and Satmetrix Systems, Inc.