The 'How did you hear about us?' survey is one of the most fundamental customer feedback tools that businesses use to learn more about their customer base. This question is often featured as a standalone survey or is included in an application or feedback form before or after a transaction.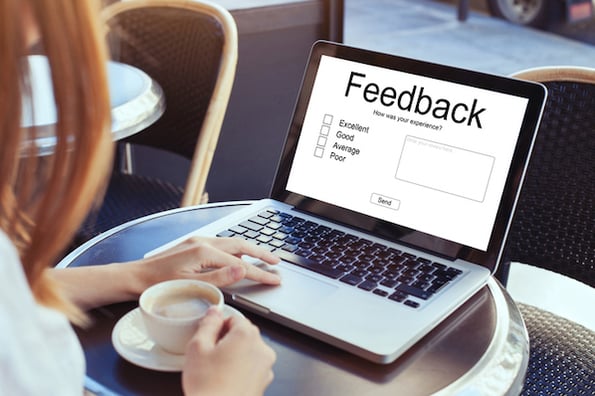 This survey provides an important piece of information that companies use for customer acquisition. By knowing how customers are discovering the brand, organizations can focus marketing, sales, and customer service efforts on channels and audiences that are best for the business.
In this post, let's explore how you can create the perfect 'How did you hear about us?' survey. We'll also include some alternatives your team can use if you don't have room for a standalone survey in your marketing strategy.
How Did You Hear About Us?
'How did you hear about us?' surveys gather feedback that businesses use to improve customer acquisition. Asking customers how they discovered a company helps an organization identify effective communication channels to engage existing customers and nurture potential leads.
These forms are relatively easy to create since they're only one question long and you typically provide the customer with a set of multiple-choice answers. The tricky part is mastering the timing and positioning of the survey as this usually dictates whether visitors will participate or navigate past your form.
Additionally, it's important to use the right survey set up as well. You'll want to use a form creator that provides multiple-choice answers instead of rich text. Rich text will permit the customer to write any answer they wish, but it will be more difficult to analyze later. Limiting answers to a list allows your team to use quantitative analysis which is faster and more consistent than interpreting qualitative responses.
If you're not sure what a 'How did you hear about us?' survey looks like, read on for some examples below.
How Did You Hear About Us Examples
1. Basic 'How Did You Hear About Us' Survey
Here's a fundamental example of a 'How did you hear about us?' survey. It asks how the participant discovered the company and provides five general answers to choose from. And, it provides an "other" category, so the participant can type in a custom response if none of the options are relevant.
2. 'How Did You Hear About This Job?' Survey
If you're hiring, you might want to know how your best employees are finding you. Adding this question to your application is a great way to learn more about your recruitment process and improve your hiring strategy.
3. Lead Capture 'How Did You Hear About Us' Survey
This form builder includes additional fields that capture lead information. This way, your business can obtain information about its customer base while simultaneously adding a new contact to its CRM.
4. 'How Did You Hear About This Event?' Survey
If you're hosting an event, you can include this survey question in your signup or registration form. That way your marketing team will know where to engage customers when advertising for future events.
5. Customer Behavior Survey
Rather than directly asking the customer how they discovered your brand, you can ask how they typically find out about companies or products in your industry. It's a craftier approach to the topic and you can use this question on a lead acquisition form, focus group questionnaire, or customer feedback survey.
How you position this survey question will likely be determined by when and where you're triggering your survey. Be sure to consider its timing and phrase the question so that it fits naturally with the rest of the questions the participant is answering.
You might find it difficult to determine what answers to include in your multiple-choice. While this format makes it easier to interpret results, the tradeoff is that you'll need to provide the answers for the participant. Providing too many choices can make things confusing, while not having enough options can lead to inconclusive data.
Read on for some sample answers you can use in your 'How did you hear about us?' survey.
Sample Answers to How Did You Hear About Us
Use these answers for some inspiration for your form. For a simpler survey, use the headers above the paragraph. If you're looking for more detailed results, try adding some additional answers provided in the bullet points.
1. Advertisement
If your marketing team is building this survey, they might be curious to know if an advertising campaign is working or not. Instead of using a blanket response like "advertisement" or "marketing," you can use more specific responses to see exactly how a customer responded to your content.
Advertisement Sample Answers:
Promotional Videos
Television
Newspaper
Billboard
Podcast
2. The Internet
The internet allows consumers to access information as quickly as they can type a question into a search bar. Search engines have created powerful algorithms that help people find exactly what they're looking for which makes it easy for users to share information online. If you're a cloud-based or SaaS business, it's important to narrow down exactly how customers are finding your website.
Internet Sample Answers:
Search Engines
Social Media
Another Company's Website
Job Listing
Blog
Customer Review Sites
Organic Content (videos, pictures, stories)
3. Word of Mouth
Word of mouth is a powerful way for customers to refer a business. While a peer recommendation may not reach thousands of people, it's 92% more likely to convince a customer to buy from your business than any of your advertisements.
Word of Mouth Sample Answers:
Peer Referral
Customer Testimonials
Employer or Coworker
Community Forum
4. Events
Some businesses rely on events to meet new clients and develop sales connections. While your team might not get the chance during the event, you can include a 'How did you hear about us?' question in your event registration form.
Event Sample Answers:
Webinar
Corporate Outing/Social
Networking Event
Training Seminar
5. Other
You should always include the option, "other" on your survey. This gives participants the option to omit an answer or provide one that might not have been included in the multiple-choice.
You also have the option to allow participants to describe what their "other" source is. This provides you with some additional qualitative information that you can use to recategorize the answer.
For some businesses, it might not make sense to have a standalone 'How did you hear about us?' survey. However, it's still important to find out where your customers are coming from.
That's why we've come up with the alternatives below that your business can use if a 'How did you hear about us?' survey isn't right for you.
Alternatives to How Did You Hear About Us
"Who referred you to us?"
If your employees work face-to-face with customers, this is a question they can ask while still keeping the discussion casual and conversational. Whether it's during checkout or making conversation during a sales pitch, your employees should take notes on how customers answer this question and update your contact information after the interaction.
"Was it easy to find us?"
If you're less concerned about where your customers are coming from, you may be more interested in how they're finding you. If they're spending a lot of time searching for your business on search engines and social media, it can deter people from working with your company. This question can help you determine how accessible your business is and whether you need to adjust your SEO or content strategy.
"How would you rate our sign up process?"
One way you can indirectly find out how customers found your business is by asking them to review your signup process. If you include a comment box, customers might explain how they discovered your business and how you can improve its accessibility.
If you're looking for another way to gather customer information, check out these strategies to obtain customer feedback.