Consumers are more discerning than ever before. They demand top-class customer experiences and are looking for fast and efficient support whenever they have questions.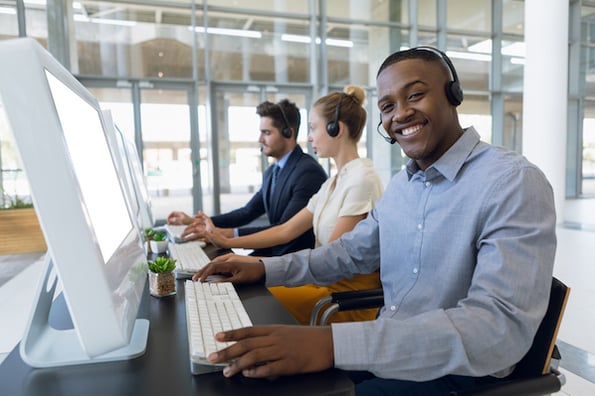 Traditionally, call centers have acted as a primary channel for customer support. Today, 39% of consumers prefer using phone support over any other customer service channel. Phones are used twice as much email and are the most popular support option compared to every other service medium.
Your call center plays a critical role in your customer service strategy because the experience that customers have when calling your company dictates their future with your brand. If you're consistently adding value and reducing friction within these interactions, you'll be more successful with delighting and retaining your customer base.
One way you can enhance your call center experience is by implementing an Interactive Voice Response (IVR) system. This software adds an element of self-service to your call center's operations and helps customers find solutions to their problems faster.
Not sure if an IVR system is right for you? Read on, and we'll tell you all about them.
What's an Interactive Voice Response (IVR) System?
An IVR system routes calls to your contact center more efficiently. It's an automated, self-service menu that's presented to customers whenever they call your support line. As soon as they choose one of the options presented, they're connected with a representative who specializes in solving their specific issue.
For example, when you call a business sometimes you're asked to "press one for sales inquiries" or "press two for payment inquiries." This is an example of an IVR system, and it's typically a fundamental component of most call center software.
The reason why IVR systems are widespread is simple. Customers have higher expectations for customer service and IVR systems help support teams respond to customers on time. As the graphic outlines below, most customers expect their calls to be answered within 20-30 seconds, and the average support call should last about four minutes. An IVR system not only helps you reduce response times by acting as an automated answering system, but it can also improve your average case duration by connecting customers with service reps who are better suited to solve their case.
But, that's not all. A well-optimized IVR can do the following and more:
Help customers solve their own issues – get answers to FAQs, make payments, check account status.
Swiftly provide relevant information via recorded messages — updating delivery information, announcing opening times, sending product announcements.
Immediately route a caller to the correct agent – minimizes transfers, reconnect calls that were dropped, getting help with specialty issues.
If you don't have an IVR system, then you may be interested in installing one in your VoIP call center. However, it's important to keep in mind that IVR can change your customer service strategy. You'll have to prepare your reps to work under a self-service system where call routing is faster and distribution is automated. You don't want to rush into adding this feature without planning how it will fit in your larger support scheme.
The section below can help you successfully install an IVR system so that it optimizes your team's workflow and adds more value to the customer experience.
How to Adopt an IVR System
While an IVR system can offer superior call routing, self-service support options, and improved call resolution speed, in some cases, this system may not be right for your business. You might not have a large enough customer base to fulfill this need or your current strategy may not support this type of automated response. Therefore, it should be clear how much of an impact an IVR system will have on your call center operations before you adopt one.
Below are a few steps you can take to gain that critical understanding.
1. Explore the Caller's Journey.
To enhance the customer service offered by your call center, you must understand your current callers' experience. That means putting yourself in your callers' shoes. Try testing your system by:
Performing test calls and interactions
Recording how your calls are routed and how long it takes to route them
Explore how choosing different options from an IVR menu alters the experience
2. Evaluate Your Call Routing.
Now that you've had a taste of the experience that your call center delivers, the next step is to evaluate your present call routing system.
For this evaluation, it may help to generate a standardized form to record your findings. Doing so will make it easy to compare the results of assessments made at different times. What you're looking to do is identify noticeable weaknesses in your setup that you can work on to improve your service moving forward.
3. Review Your Call Center Metrics.
As part of your evaluation, you should lean on data as well as practical tests. There are several standard call center metrics where IVR systems can have a notable impact. These include call abandonment rate, average handling time (AHT), and call containment rate.
This graph shows how a slow or ineffective IVR system can lead to a heightened call abandonment rate. AHT, meanwhile, will increase as calls are routed to the wrong agents and problems take longer to solve.
Ideally, an optimized IVR will reduce abandonment and AHT, while also having a high call containment rate — the proportion of calls handled entirely by the system's self-service options. If you can get a good handle on these metrics, you'll have an excellent idea of how your present IVR system is impacting your customer service.
4. Schedule Regular Reviews as You Make Changes.
If you're going to implement a new IVR system or improve your current one, it's good practice to track the results of any changes that you make. As you make adjustments, you should schedule regular reviews of your call center and analyze how these changes impacted the customer experience.
If you implement an entirely new system, wait a little bit and follow the steps outlined above. Then, compare your new results to the baseline you've recorded from your original system.
5. Collect Feedback From Your Customer Service Staff.
In addition to your scheduled reviews, you'll want to know if anything changes with your operations from day to day. The best people who can tell you about this are your frontline support agents. You should make it as easy as possible for them to provide you with feedback on your IVR system.
If you're a manager, you should make yourself available to staff to discuss any issues they may encounter. Your feedback collection loop should be swift and should flag any notable problems so management can be aware of them immediately. Having a system like this in place helps you resolve hitches before they become significant issues for your customers.
Once you understand your current call center operations, you'll know what you need from an IVR system to improve. This makes you better placed to implement a new system or optimize the one that you're already using.
Read on for some tips you should consider when adding a new IVR system to your call center's support system.
IVR System Best Practices
Optimize Your IVR Call Menu.
The options that your IVR system presents to callers are vital and there are three principles that you need to get right:
The number of options
The order in which options are presented
How the options are worded
Ideally, an IVR menu should include three or four options. More than that and a caller will get confused, bored, or frustrated. Fewer, and they'll wonder what the point of the menu is in the first place.
The options used most frequently should be the first ones that you present. You can lean on the data from your analytics platforms to identify these options.
Finally, you should give the action required first and then its description. For instance, you'd want, "Press one for sales," rather than, "For sales inquiries, press one." Doing it this way aids recall and stops customers from having to repeat the entire menu.
Include Succinct & Simple Messages.
The recorded messages that a caller hears through your IVR system should be short and sweet. You want to keep things clear and project a professional etiquette. If you record the messages yourself, make sure there's no background noise or verbal mistakes.
Maintaining clarity is particularly important for the first communication a caller hears. Tell them who they've called and what they need to do to navigate your menu. Try not to make it any more complicated than that.
Provide Additional Information Regarding Queue Position or Wait Time.
No matter how efficient your IVR system is, callers are sometimes going to have to wait on hold. Giving them the correct menu options should limit how long their wait will be and it will allow you to mitigate their frustration by providing them with more information while they wait. As the graph outlines below, wait times are one of the most "annoying" aspects of the service experience, so reducing friction at this point in the customer journey is key to creating a delightful interaction.
As part of your IVR system, you can include a message telling callers how long they may have to wait. You can let them know their queue position and how long it will take before they're connected with a representative. Some help desks will even offer the option to call the customer back if it's a long wait time. That way, the customer doesn't have to keep their ear to the phone while they wait to be transferred.
Make Your Sure Your IVR System Is Flexible.
Your customer service strategy may change based on the variables impacting your team. For instance, your agents may only be on the clock at certain times or your hours may vary if it's a holiday. Your IVR system, therefore, must be flexible and let callers know about any updates to your service.
If someone calls when your center isn't operational, they need to hear different messages. Your IVR system should apologize for the inconvenience, then tell callers when your lines will be open and give them other options to find answers to their queries. That could mean directing them to your knowledge base or a chatbot installed on your website.
Add Music to Your Wait Queue.
Some people may complain about hold music, but you simply can't ever leave callers in silence. Think about it; if you're on the phone and the line goes silent, you might think that the call's been dropped.
You don't want that to happen to your customers. So, either come to terms with using hold music, or use the time to play out useful and informative messages.
Provide an Easy Opt-Out.
Sometimes a caller won't want to use your IVR system or won't have time to navigate it. That doesn't mean their problem or query isn't important. You still need to offer excellent customer service to these callers, which means making it easy to "opt-out" of the main call routing system if desired.
Provide an option in your menu for someone to immediately seek live assistance. That might mean transferring them to a general hold queue for an agent or it may mean allowing them to schedule a callback for when an agent is available in the future. Either way, it's important to let each caller take charge of their own customer experience.
Integrate Other Customer Service Tools.
When searching for an IVR system, you aren't only looking for the best setup for today, but also for the next year or five years down the line. That means exploring the cutting-edge tech options that can bolster your IVR system.
AI is impacting the call center niche in a big way. Several AI-enabled processes can improve an IVR system. They include:
Automatic Speech Recognition – Allows callers to 'speak' to your IVR, rather than having to use a keypad.
Natural Language Processing – AI algorithms process and 'understand' simple conversational statements. This allows an IVR to assess what a caller needs more accurately.
IVR – A Fast Route to Enhanced Customer Service
Your contact center is the heart of your customer service efforts and it's the hub through which many customer interactions are handled. Call center operations must then be top-notch as it's an excellent way to provide superior customer experience.
A well-optimized IVR can make all the difference. It lowers call handling times, improves call resolution, and enhances customer satisfaction. It's more straightforward than you may think to implement, too. All you need do is follow the tips laid out above.
For more of the latest tech, check out these customer service resources and tools.