Imagine you're one of the top sales reps beginning a day of work at your highly competitive retail company, when — suddenly — your computer goes haywire.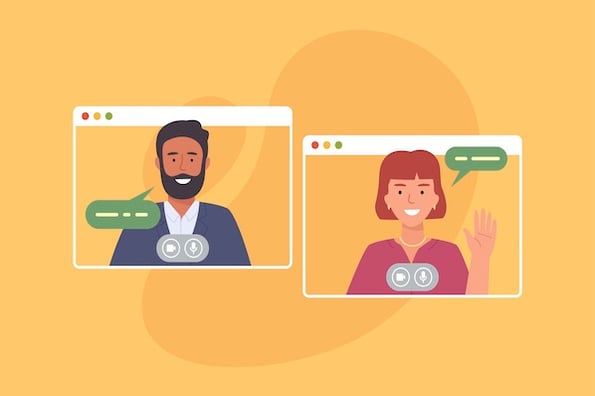 Your list of potential prospects are unavailable, your calling function has gone down, and you're stuck furiously clicking at the rainbow pinwheel of death that's plaguing your screen. You need help to get out of this situation, fast.
So what's next? Should you send the software company an email? You definitely can't spend a whole day waiting on a reply.
Do you call the business' customer support line? It could be a long wait just to connect with someone, and you certainly can't afford to wait on hold — which will eventually just end with a rep asking to follow up with you.
What about the website's live chat feature? No waiting queue, no holds, and getting immediate answers seems like the best way to go. Plus, you can keep working while you wait for a reply instead of sitting on the phone.
The scenario above is just one of the many instances where adding live chat to your website can drastically improve the customer support experience for your customers. Live chat is rapidly becoming a standard channel for support teams — in a 2015 study conducted by Forrester Research, the adoption of chat support has nearly doubled since 2009, and chat services continue to show trends of increased usage since.
Of the respondents in that study, 65% said they'd adopted live chat as a support channel — compared to the 38% who said they'd adopted it in 2009. And with this rise in popularity of live chat, phone and web-based queues have become more manageable as the hybrid nature this new channel provides a more efficient support outlet for customers.
Backed up call queues, long response times, and lengthy holds can make customers hesitant to pick up the phone to call support or send you an email. At the opposite end, glaring wait times on your dashboard can make support reps feel pressured to move calls along, increasing the chance of your team overlooking errors or even providing incorrect answers.
As this domino effect keeps falling down the line, the frustration felt by both your customers and your support team can damage your business's reputation — and even end with your company losing valuable customers.
By adding a live chat feature to your website or business, you can help remedy these common customer support roadblocks, increase your support team's daily productivity, and give your company a competitive advantage in the following four ways:
4 Advantages of Using Live Chat for Customer Service
1. Greater Convenience
When it comes to providing high-quality customer service, the accessibility of your support team — as well as the timeliness of your response — are two key factors in delivering a positive user experience.
Adding a chat service to your website can meet both these demands because chat channels reduce stress for customers by meeting consumer needs in a more immediate fashion. In comparison to a phone line for customer support, most live chat providers don't have a call queue where customers will wait on hold before speaking with a rep. The chat widget on the page will either be visually marked that there is a rep ready to help, or it will indicate that the chat feature is not available if all reps are occupied or offline.
In addition to wasting time waiting to speak with a rep, chat channels also remove the need for putting customers on hold during troubleshooting. A 2016 study found that the most popular pain point that customers experienced with support teams was being placed on hold for too long. In fact, of the nine options listed in that study, being put on hold for too long captured 42% of the respondents' votes for being the most frustrating.
Adding chat to your site can remove this poor experience altogether. Your support reps will be able to troubleshoot on their end while simultaneously being able to maintain a steady flow of conversation with customers. Chat communication naturally produces 3-4 minute delays between responses where reps can look deeper into a case and then return to the interaction — without having to formally put the customer on a hold.
On the opposite side, customers don't have to be glued to their phone or computer while live chatting with customer support — they can work simultaneously alongside the support rep. Most customers value their time, so they may be hesitant to pick up a phone and call your support line if they're fearful of long wait times. By adding live chat to your support offering, it demonstrates to your customers a commitment to providing more immediate solutions across different platforms by reducing time-consuming roadblocks like waiting on hold.
2. Improved Efficiency
With the added convenience of a more accessible support team, your support reps can expect an increase in work efficiency as well.
Most live chat services allow support reps to handle more than one case at a time, improving individual productivity among your team. With those built-in delays in between responses, this typically leaves enough space for reps to take three or more cases simultaneously. A rep can nearly triple their output on chat because of this unique ability to handle multiple conversations at once.
Even without taking multiple chats at a time, the structure of the channel allows for easier, time-saving transitions between cases. As one chat ends, another pops up, and the rep can simply click "accept" — rather than having to pick up a phone or dial a number. While there is an initial learning curve when transitioning from phone to chat rep, once that hill is climbed, reps will see improvement in their multitasking abilities and ability to communicate quickly and with urgency.
While the workflow on live chat can improve a reps' statistical performance, there are also minor, every day speed-bumps that can be smoothed out with the addition of a live chat service. For example, reps don't have to memorize or recite canned opening and closing statements, nor do they have to wear a bulky and uncomfortable headset all day that can make it hard for customers to hear you. Reps don't have to deal with the roadblock of language or audio barriers with customers they may not be able to fully hear or understand them.
Even small logistical improvements such as these can noticeably increase a rep's overall focus by taking away those oft-overlooked distractions that can impede an employee's performance on a daily basis.
3. More Cost-Effective
With reps able to take on more cases within the same period of time using live chat, you can use the same amount of reps to double or even triple your potential to take on more support cases. This can save your business a significant amount of money because you won't have to spend more on your payroll to meet a higher support demand from your customers during busy times.
Live chat also opens up the possibility for the use of chatbots that can automate the distribution of cases to the correct support source. Some can even answer simple questions and resolve less-complicated tasks if programmed in the correct way. Not only do you not have to pay the bot (for now at least), but this means your team can interact with more customers and at a higher frequency than ever before. By increasing that reach for your support team, you are not only expanding your support team's bandwidth, but also strengthening your relationship with your customers.
That increase in engagement will also raise your potential to influence customers at the evaluation and decision stages of their buying process. Online shopping and touchless purchasing are quickly becoming a preferred consumer experience, but when dealing with this impersonal buying environment, it's imperative that you do not lose your personal interactions with your customers. In fact, according to a Forrester survey, 53% of customers indicated that they would abandon an online purchase if they could not get an immediate response from the support team.
Luckily, live chat can serve as a means of proactive communication, as businesses clearly display the chat icon on all of their pages, constantly providing customers the option for support throughout their entire purchase. This creates the strategic advantage of a direct line of communication to customers at the very moment when they are deciding whether to go with your product or your competitors.
4. More User-Friendly
Along the spectrum of customer support, chat can be described as a halfway point between phone and web channels.
Like the center of a Venn diagram, chat is a happy medium between these two channels — and it tends to be the happy medium for most support teams, too.
For example, compared to phones, chat doesn't require an immediate response while still maintaining a fluid conversation. As highlighted before, those built-in pauses during a chat give the rep time to gather information or troubleshoot to better respond to customers' queries. During a chat interaction, the customer can clearly lay out the problem, the rep reads it, comprehends it, and then effectively troubleshoots the problem at hand.
In comparison, during a phone interaction, the rep must listen once, identify the customer's need nearly immediately, and then proceed to troubleshoot at a moment's notice. This gives the rep significantly less time to be confident in their response to your customer. According to a study, 66% percent of customers surveyed expect an immediate response or resolution when using a live interaction for support. Chat lessens this pressure for the support rep and allows them enough time to critically think about how they can meet both the customer's tangible and intangible needs.
To learn more about different customer support media, learn about new customer service technology next.
Editor's note: This post was originally published in April, 2018 and has been updated for comprehensiveness.