Before the COVID pandemic, not many of my friends had heard of Zoom. In fact, the only people that were familiar with the app were those who used it for work, like me.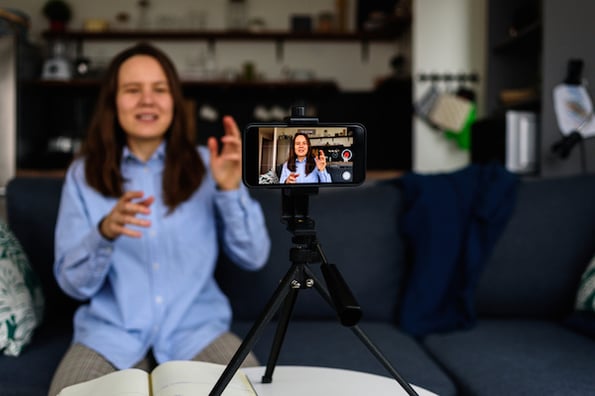 But, when businesses were suddenly forced to close their offices and people were ask to stay at home, Zoom quickly became a household name. Meetings with employees and customers were conducted via Zoom, and we even held social events like virtual happy hours to get some much-needed face time with friends.
As we continue to adjust to the "new normal," it's important to recognize that live video streaming apps, like Zoom, aren't going anywhere anytime soon. Even when the pandemic is over, live video streaming will still be a useful customer acquisition and retention tool as many brands have discovered how effective it can be at engaging a target audience.
In this post, we'll talk about how you can use live video streaming to support your customer base. From support "office hours" to live product tutorials, below are a few ideas that you can use to leverage video streaming as a powerful customer service tool.
How to Support Customers With Live Video Streaming
1. Offer Live Video Streaming as a Customer Support Channel.
Imagine buying something from a business and getting a product expert with it that fits in your pocket. No, I'm not talking about shrink rays that can turn your team into fun-sized support reps. I'm talking about live video streaming with a support agent whenever you have a question or concern.
Just like in the image above, live video streaming can be provided as it's own customer support channel. If phone, email, or live chat don't seem to be interactive enough, customers can switch to a live video option where your support rep can both show and tell them what to do. This can help you avoid tons of friction within the service experience, especially during cases where customers feel like they aren't getting anywhere with your support team.
2. Teach Customers How to Use a Video Streaming Service.
If your support team does offer a live video streaming service, you might notice that there's a learning curve for some customers that use it. While some may seem very comfortable with using this technology, for most, it will still be fairly new. Not every company offers live video support, so some people may not have used it before. They may be interested in trying it out, but ultimately go with a more familiar option when a real problem pops up.
If you want customers to become comfortable with video support, then you'll need to teach them how to use it. You can start by providing plenty of copy that guides them through opening a new support ticket and make sure you're extra patient with those who might not have used this medium before. Once they become familiar with how to use it, it'll be just as productive as your other support channels.
3. Broadcast Interviews With Your Product Experts.
Besides directly supporting customers, video streams are great customer retention tools. For instance, you can host live interviews with your product experts and ask them various questions about your products and services.
If you have a ticketing system or a customer feedback loop, you can leverage those resources to create a list of interesting prompts and questions. That way, you'll be asking your product experts the same things that your customers ask your support team.
In the video below, British chef, Jamie Oliver, does this by cooking recipes from his cookbook with his colleague, Gennaro. Viewers can see exactly how the dishes are made and get answers to any questions they may have about preparing the meal.
4. Host "Office Hours" or "AMA's" for Your Products and Services.
If you can reach a large audience with your video streaming app — like with Facebook Live — then you can host office hours or "ask me anything's" (AMA's) for your customers.
These streams are typically short, interview-like sessions where your followers can simply comment on the video and ask your team anything they want about a product or service. They don't have to open a formal support ticket or wait a day for your response, instead, they get the answer they're looking for just seconds or minutes after asking the question.
5. Create Informative Product Tutorials.
Product tutorials are no longer limited to text-based pamphlets where customers follow a series of diagrams and try to decipher confusing instructions. Today, product tutorials are interactive; they're creative, and they motivate the customer to use the product.
Just like in the example below, live video streaming is perfect for delivering these tutorials because you can walk a group of customers through how to use a product or service. If there's a tricky feature or steep learning curve, this live session is perfect for showing people exactly what they need to do to accomplish their goals. This makes all the difference for customers who abandon your product early because they think it doesn't work or doesn't fit their needs.
6. Show How Your Product Is Made.
Some businesses don't want their customers to know "how the sausage gets made." These are mostly sausage and hot dog companies that have good reasons for why they wouldn't want their customers to see how their products are created.
For every other business, customers want to know what was put into making your product. They want to know what materials were used and if there's anything proprietary about your development process that's different from your competitors.
One interesting way to share this information is to give customers a virtual tour of this process. You could walk them through your manufacturing facility or take apart one of your products piece by piece. Regardless of your approach, be sure to highlight what makes your product special and why it's unique from your competition.
7. Livestream Your Company's Events.
If your company hosts awesome events, then you should share them with your online following. Not only will they be interested in this content, but it will also make them want to go to your next event.
Think about it. If you go on Facebook and see this great networking event being held in real-time, it's almost like you're watching a party that you didn't get invited to. While, yes, you didn't "plan to go" in the first place. But, now that you know you're missing out, you'll be sure to attend the next one.
Here's one example from Fenty Beauty, where the brand brought things up a notch by having Rihanna host their live stream.
8. Provide a Behind-the-Scenes Snapshot of Your Company.
For some companies, you don't need a celebrity like Rihanna to promote your brand. Instead, your employees are impressive enough to attract new leads to your business.
Here's a pretty common example used with movies.
In addition to interviewing the actors, film companies will often highlight the behind-the-camera roles as well.
Why?
Because it makes the movie more relatable. You see real people working extremely hard to bring a product to life. By learning about these individuals and how they contributed to the film, you develop a closer connection to the movie which makes you want to see it more.
For more unique ways to support customers, learn about social media customer service.