When was the last time you were pleasantly surprised by a customer service team?
Perhaps you ordered a coat online, only to find the store didn't have it in stock. Instead of giving up or issuing a refund, the rep had the coat shipped from another location and delivered right to your doorstep. Or maybe you booked a flight with your family and since the airplane was under capacity an attendant offered to change your seats so you could all sit together.
These pleasantly surprising instances of added value are forms of proactive customer service. Proactive customer service plays a significant role in increasing customer retention as well as customer delight.
What Is Proactive Customer Service?
Proactive customer service occurs when representatives reach out to customers and offer solutions without being prompted. This can include introducing new products or services that customers may like, immediately notifying customers about errors and glitches, or simply going out of your way to improve a customer's experience.
The mentality behind proactive customer service is that your company wants to go above and beyond for its customers, past the point of purchase. You want to prove your trustworthiness and increase customer loyalty, so you offer customers solutions to problems before they arise which creates a mutually-beneficial relationship.
However, not all customer service can occur proactively. Reactive customer service is just as valuable but is reserved for different scenarios.
Proactive vs. Reactive Service
You can think of proactive customer service like getting vaccinated. It's proactive protection of your body against a virus that may affect it in the future. Similar to the way that proactive customer service offer solutions for problems that haven't happened yet.
Reactive customer service is like over-the-counter medication. It's a reactive treatment of your body against an illness that has already affected it. In reactive customer service, a rep steps in once a problem has already occurred.
Neither is better or worse than the other. In fact, the best case scenario is to combine both proactive and reactive customer service. When you notice patterns in a customer's purchasing behavior offer appropriate proactive solutions. And, when a customer has questions about their product, reactively answer those questions and guide them to success.
Proactive vs. Reactive Service Example
Customer support is a great example of reactive customer service. When people have a problem with your product or service, they call your support team for help. If they never experienced the roadblock, they wouldn't interact with your support agents. Your team is only needed as a reaction to customer demand.
Conversely, your customer success team would be an example of proactive customer service. This team reaches out to customers and helps them avoid problems before they occur. These interactions are unexpected and add delight to the customer experience.
Now that you understand the importance of proactive customer service, read on for the best method to implement it in your own business.
8-Step Guide to Implementing Proactive Customer Service
If your customer service team is traditionally reactive, then adding proactive measures may seem like a daunting challenge. To help you get started, here's a guide to implementing proactive customer service which can be used at any company.
1. Send out surveys.
The best way to get into the minds of your customers is simply by asking them. One of the biggest mistakes that companies make is assuming that they know what their customers want and need. It's near impossible to do this from an internal perspective. Instead, questionnaires can help you gain information from customers about how to improve aspects of your business.
Consumer feedback is essential to improving your proactive customer service. You can ask questions such as, "What do you wish we had done more of?" or "How could we have improved your experience shopping with us?" to gain insights into how to be more proactive with future customers. Survey tools like NPS® are great for gathering this feedback as it can collect both qualitative and quantitative customer data.
2. Create a knowledge base.
Knowledge bases are databases that store information about a specific company, their products or services, and other related topics. The data can be collected and stored through artificial intelligence or manually uploaded by expert contributors. HubSpot's knowledge base helps us better serve and delight our customers by helping them access the solutions they need 24/7.
Knowledge bases are useful because they reduce the need for customers to contact support with simple questions. Customers can do their own troubleshooting and avoid having to have a lengthy phone call with your customer service team.
3. Introduce a "Products You May Like" feature.
It's exciting when a customer makes a purchase with you. However, nothing is more disappointing when your relationship with that customer ends with that single purchase. How could you have grown that relationship and made them want to return to your company?
One way of doing so is by showing that you haven't forgotten about them after the purchase. Consider what product they purchased with you and create a list of other offers they might be interested in. Tailor these options based on their purchasing history, then send your suggestions to the customer using email automation.
Not only will you have proven you still care about the customer by proactively reaching out, but you will have also sparked their interest in making a second purchase.
4. Start an email newsletter.
There are other ways you can stay in contact with your customers beyond just sending them products they may like. After all, if you bombard them weekly with the same content, they might feel like they're being used by your brand. Instead, an email newsletter is a great way to keep customers connected to your company while continuously providing them value.
Your email newsletter can include blog posts, industry news, new product announcements, events, and more. No matter what you include, it should be tailored to your business's offerings. The point is that you're proactively offering value to your customers by showering them in free content, rather than just soliciting them for additional purchases.
5. Include automatic or SMS scheduling options.
Part of providing proactive customer service is completing minor time-consuming tasks for your customers so they don't have to deal with them. This proves that you're dedicated to maximizing their customer experience and that it's never a hassle to make their lives a bit easier.
One way to do this is by offering automatic or SMS scheduling options. If your customer has to constantly make appointments to access one of your services, put them on an automatic pattern so they don't have to manually schedule appointments.
Or, if a customer really loves a product, you could offer them an automatic payment plan so they can access the product on a consistent basis — perhaps monthly, quarterly, or annually. If automatic scheduling isn't possible, consider SMS scheduling so customers can schedule appointments or payments at the click of a button on their mobile devices.
6. Start monitoring your social media.
If you don't know what's being said about you on social media, then you're in trouble. Much like gossip spreading around a high school, company scandals can spread around social media channels and quickly turn loyal customers against your brand. So, it's always best to pay attention to what's happening online and what people are saying about your company.
Even if there's no drama involving your business, it's good to track keywords and hashtags related to your company. This opens up new doors for proactively offering customer service to people via social media.
For instance, if a customer tweets about how frustrated they are with how delayed their delivery is, you can immediately respond and offer a solution. After all, the longer a negative complaint is left unattended online, the more people will read it and make their own judgments about your company.
7. Begin a loyalty program.
It takes a lot for customers to commit to a company, so you should pat yourself on the back for each lifetime customer you've built. However, you should never forget to show loyal customers how appreciative you are of their dedication and trust in your business.
Loyalty programs are a great way to show your thanks. They show how willing you are to reward customers for choosing to do continually business with you.
A proactive way to bank on loyalty programs is to reach out to customers between purchases with special offers and discounts. This proves to them that you aren't just offering something in return for a purchase. You truly value the relationship that will be built beyond the initial purchase.
8. Call out your mistakes.
It's pretty embarrassing when a customer has to contact you about a glitch, technical error, or general mistake in their purchase that you aren't aware of. They'd much rather hear the bad news from you and know you're already planning on doing something about it.
Calling out your mistake puts more power in your hands. You can apologize for the inconvenience, tell them how you're finding them a solution, and offer a discount or refund if you can't adequately fix the problem. This proactive approach to problem-solving will be well-received and show that you're keen, honest, and dedicated to providing value.
Following these eight measures should help any business provide proactive customer service and add more value to the customer experience. If you don't believe us, let's look at how they were used by real companies in the section below.
Examples of Proactive Customer Service
Debenhams
Copa Airlines
Anglian Water
HubSpot
Timberland
IKEA
KFC
Sephora
1. Debenhams
Debenhams is a UK-based retailer that sells clothes for men, women, and children. Being an ecommerce site, one of its biggest points of friction is product returns and exchanges. This adds additional shipping expenses and creates a less-enjoyable experience for the customer.
To combat this roadblock, Debenhams created buying guides that help customers select products that best fit their wardrobes. On its site, customers can look through a knowledge base with self-service articles covering everything from buying men's suits to what to wear at a wedding. Customers who may be confused about Debenhams' products can read these guides and make a more confident decision when purchasing online.
2. Copa Airlines
Air travel can be a stressful and confusing process for customers. Some people don't fly often and aren't used to the formal procedures that are common with most airlines.
Copa Airlines tries to reduce this friction by implementing a virtual assistant to its live chat service. Customers can contact the chatbot 24/7 with any questions they may have about their trip. This is especially useful in situations where travelers need to quickly lookup information about their flight.
Copa Airlines even includes this handy webpage which tells customers what their chatbot can and can't do.
This investment in proactive customer service has resulted in a 40% reduction in case volume for Copa Airlines' support agents. The support team now has more time to focus on complex and time-sensitive cases that are more likely to result in customer churn.
3. Anglian Water
An interruption to your water supply can make a dramatic impact on your day-to-day life. If your water is cut off, you'll likely want real-time updates alerting you to when it will be turned back on.
Anglian Water provides a self-service option through its "In Your Area" webpage that notifies customers whenever there's an outage or construction taking place on their water line. Customers can also subscribe to email or SMS messages that provide live updates on services being conducted in their area. That way, they have as much information as possible whenever there's a water shortage.
4. HubSpot
HubSpot doesn't just provide a live chat tool, it supports customers with it as well. HubBot, HubSpot's chatbot service, acts as a proactive customer support tool on the company's website. When customers have questions about products or want to speak with a support representative, HubBot can help them accomplish their goals without friction.
Additionally, HubBot is personalized so that it adapts to the page that you're on. In the example above, HubBot is showing a response tailored to HubSpot's CRM page. But, if we visit the SalesHub page, HubBot updates to the chat thread below.
5. Timberland
The outdoor retailer, Timberland, came up with a creative approach to proactive customer service when it debuted its virtual dressing rooms in Warsaw, Poland. TV monitors were placed in the display windows of Timberland stores, and when customers approached them, they would display an image of the customer on the screen. The participant could then swipe through Timberland products to see how different clothes would look on them.
The video below shows how this campaigned worked.
Rather than expecting customers to go into stores and try on clothes, Timberland brought their products to where customers were shopping. This made it easy for people to see how Timberland products would fit into their wardrobe.
6. IKEA
Before augmented reality, furniture shopping was a bit of a guessing game. There was no way of telling how a piece was going to look in your home until you physically put it there.
Now, IKEA's augmented reality app allows you to place multiple items in your home before you buy them. That way, you can feel comfortable knowing that the $1000 couch you purchased will match the coffee table in your living room. This adds significant peace of mind when having to make a major purchasing decision like buying furniture.
7. KFC
In 2018, KFC experienced a crisis when the company ran out of chicken to serve its customers. Being its number one product -- and literally having chicken in its name -- KFC took a proactive approach on social media to address this problem. It released a series of light-hearted posts, like the one below, explaining the issue as well as the steps it was taking to correct it.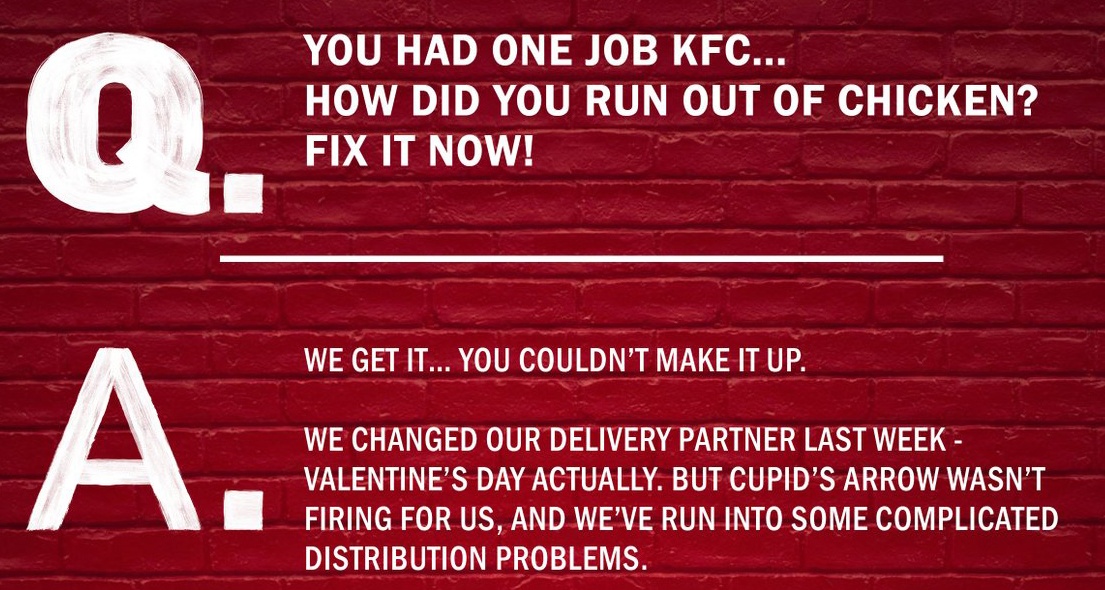 This comedic stance was well received by KFC's customer base and helped the company navigate an unexpected crisis. It's a great example of how proactive service can reduce friction when a company makes a costly mistake.
8. Sephora
Sephora's Beauty Insider is an extremely popular customer loyalty program that has over 17 million subscribers. And, these customers account for nearly 80% of the company's annual sales.
The program's success can be attributed to the attractive rewards that it offers. Sephora understands that it offers high-quality products at a premium price, so customers are interested in rewards that lessen the cost of a product without reducing its value. Therefore, Sephora's Beauty Insider rewards subscribers with giftcards and discounts they can use to buy their favorite products. Or, they can save up points for exclusive beauty products that aren't offered in Sephora's stores, like the ones listed below.
For more ways to provide proactive customer service, read about customer retention strategies.
Originally published Feb 11, 2020 8:00:00 AM, updated February 11 2020
Don't forget to share this post!