Building a product isn't a one night, one day, or even one-week task. It requires focused efforts along with foolproof, flexible planning and there are tons of logistics that need to be taken care of. This planning around developing a new product or feature is commonly known as product roadmap.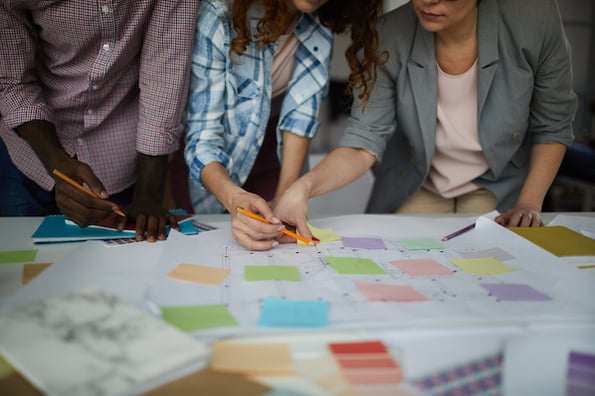 If you're new to this process, then you've come to the right place. In this post, we'll cover some of the different approaches to building a successful product roadmap then provide you with some commonly used templates so you can create one yourself.
Let's start with the basics.
Product Roadmap
A product roadmap paints a clear picture of how a product manager is planning to build a product and acquire the budget and strategy for developing it. It's a plan for how your product is going to meet a set of business objectives and the strategy for building it.
An effective product roadmap includes answers to all the questions that might arise when developing a product. If not, then it should be flexible enough to adapt to changes along the way to make the product a success.
Product Roadmap Types
The two most popular approaches to product management are agile and waterfall.
A waterfall product roadmap communicates a long-term commitment to building specific features on a set timeline. An agile roadmap, on the other hand, accommodates inevitable changes while still committing to getting meaningful work done. It communicates a short-term plan for achieving product goals with the flexibility to adjust that plan according to customer value.
Most businesses are always keen on taking the agile approach and the major reason for that is the flexibility that comes with agile planning. It can look something like this:
Source: Aha
Let's dig in deeper to understand the agile product roadmap in-depth.
Agile Product Roadmap
Agile product roadmaps help outline the product development strategies for agile teams. An agile product roadmap is used in product development when agile teams are working on different aspects of a product when priorities and strategies are subject to change.
Here are the core components of a product roadmap that one should be familiar with.
Products
It can be an item, service or method that satisfies a customer's current need or demand. It has a combination of tangible and intangible attributes (benefits, features, functions, uses).
Goals
Goals are measurable, time-bound objectives that have clearly defined success metrics associated with them. They're included in a product roadmap to show the critical accomplishments required to make the product vision a reality.
Releases
A release is typically the launch of new product or feature that provides value to customers. Releases often contain epics or multiple features that get delivered at the same time.
Epic
An epic is a large user story that can't get delivered as defined within a single release. It's often broken down into small features or user stories that can get delivered incrementally.
Features
A feature represents new or improved functionality that delivers value to users. Features provide more detailed information about new functionality.
Minimum Viable Product (MVP)
MVP is a development technique in which a new product gets just enough core features for it to function. The goal of the MVP is to quickly get feedback from customers and improve the product without having to invest a lot of time or money that would potentially go to waste.
User Stories
A user story defines a new software feature from an end-user perspective — including what the user wants and why. The words "features" and "user stories" are often used interchangeably.
Timeline
Product roadmaps typically include dates to show when new products and updates to existing ones will be completed and released.
To build a roadmap, product owners take into account market trajectories, value propositions, and engineering constraints. Once these factors are reasonably well-understood, they're expressed in a roadmap as initiatives and timelines. To build any roadmap, the product owner needs to bring all the stakeholders into one room to share ideas and outline a plan.
Here's basic example of what this plan could look like.
Source: Roman Pichler
During these meetings, ideas and suggestions from all stakeholders are taken into consideration and put on a whiteboard.
The final ideas are then put together and made available for everyone to access. The entire process can be broken down into steps and stages depending upon the product, the business needs, the stakeholders and timelines.
This is what I can suggest as a starter.
How to Build a Product Roadmap
Define the project's goals.
Keep your roadmap clear and concise.
Map user stories.
Determine product features and priorities.
Categorize tasks into epics.
Create a visionary board.
Review your product roadmap.
1. Define the project's goals.
When you're thinking about building product roadmaps, you have to be very clear about your goal. There could be several possibilities depending on what you're building the roadmap for. For example, is it a new product or is it for revamping an existing one?
In the case of a new product, you have to start with the ideation and define MVP's for someone to be able to use it and test its functionality. MVP's are important assets of product roadmaps and the priorities for these are to be well-defined.
For instance, if you're creating a login page for your users to access your platform, then having login fields like email ID and password will be some crucial MVP's. On the opposite end, MVP's like the functionality of 'Forget Password' can be kept at a lower priority and can be tackled later on.
2. Keep your roadmap clear and concise.
When everyone on your team is aligned towards the same goal, product development goes much smoother. But this only happens if the entire team understands the product as well as their role in its development.
It's important to keep your roadmap simple and easy to understand. You may think a complicated gameplan will detail every step to your success, however, this approach will only lead to miscommunication and missed deadlines. A clear and concise roadmap is the key to keeping employees focused and motivated towards the same goal.
If you want to plan out every detail of your plan, put that information in your product backlog. If you're having trouble deciding, the image below shows how you should use each tool.
Source: Roman Pichler
3. Map user stories.
Once you are set on the goal you can start with user story mapping.
Many times, it's difficult to decide where to start and what to focus on. User mapping is an engaging activity where all stakeholders are involved in the process of building the product backlog which is much better than writing a dull, 100-page requirement document.
User story mapping is a top-down approach to requirement gathering and is represented as a tree. This is led by a product manager or any other product owner with all other stakeholders -- designer, developer, and finance to allocate the budget for a huge product in one room.
The user-driven approach helps to identify requirements from the user's perspective e.g. buyer, seller, administrator etc. The map is then structured as User > Goals > User Journeys > Actions > Stories.
For eg; to achieve the goal 'Find product' there are multiple ways to do it, such as browsing through a product category tree, using free text search, looking at promoted products, etc.
Let's take one approach, 'Browse through product category tree' to build a story map. To complete this activity, the user needs to perform certain tasks which are recorded and converted into user stories for software development.
Thinking from the user's perspective, taking everyone's suggestions as to what the product should be capable of doing and under what timeline. This is followed by collating all those suggestions on a whiteboard, like in the example below.
Source: Medium
4. Determine product features and priorities.
Building a product roadmap includes taking into consideration all the features that might be connected to the core product. For example, when building a new SaaS product, related features could be 'new campaign' and 'cloning new campaign'.
You also have to consider the priority of the feature and how soon it needs to completed during the project. If a feature is more essential to the product's function, you'll want to pursue those projects first. That way, you can perfect the core functions of your product that are imperative to your customers' needs and goals.
5. Categorize tasks into epics.
Next in line comes deciding the timeline and breaking tasks into smaller, achievable epics. An excel sheet or similar tool can be used for this step. Putting the final roadmap together into a sheet includes, putting all the epics together under a defined timeline.
Large projects may require up to 6 levels in the story map or timeline. However, for smaller projects, 3 levels are usually sufficient. Make your judgement based on how mature and big the product is. Here's an example of an epic for a larger product.
Source: ScrumDesk
6. Create a visionary board.
The next step is putting everything on a visionary board that's accessible to all stakeholders. This lets everyone involved track the progress of the product's development. Epics or even features can be divided for each sprint based on the resources available.
In an agile approach for product road mapping, testing happens at each epic level and doesn't have to wait for the entire product to get completed. This gives you an idea of how much time each task takes for the existing resources and if you need to add more resources at any stage.
Whenever you are creating an agile roadmap, you have to be very adaptive for all unexpected changes that come your way and deal with them to make the product a success.
7. Review your product roadmap.
Chances are your product roadmap isn't going to be perfect. And, that's okay. Unexpected roadblocks will pop up and you'll need to rally your team to meet deadlines. It's all part of the process.
However, you can safeguard your roadmap by reviewing it every time you experience a problem. Ask yourself questions like: Was this problem anticipated? Do you have a short- and long-term solution? What resources will we need to resolve this issue?
Your roadmap may not begin perfect, but you can fine-tune it to ensure your product comes out exactly as you envisioned it.
Here are some additional tips around creating agile product roadmaps.
Now, let's see these steps in action with the hypothetical example below.
Product Roadmap Example
Here's an example of a product roadmap from a SaaS company.
In this example, the company has two goals. By April, it wants to increase user engagement on its platform by 20% and it wants to increase its monthly active users by 5%. We can see these goals clearly defined in the blue sections above the user story mapping.
For this roadmap, the user stories have already been turned into actionable tasks for the product development team. On the visionary board, each column — or epic — below the blue goal contains a list of action items that needs to be completed before the end of the corresponding month. For instance, the April column includes "screensharing during video calls" and "share Dropbox files," which are features that should be completed at the end of the project. Now the product development team knows exactly which features to include and when they should build them.
Ready to build your own product roadmap? Use one of the templates below to get started.
Product Roadmap Templates
If you are at an early stage of your business and don't have the budget to invest in tools like Asana or Trello, here are a few free templates you can start with.
This roadmap helps you specify the who and when of your product planning so your team can handle the how. This template also comes alongside five other product marketing templates, including a product launch planner, product email templates, and more.
2. Multiple Product Roadmap
This product roadmap is designed to build multiple products at once. It schedules tasks up to one year in advance and it uses a color-coded system to identify the product associated with each initiative. This is great if you're building a product like a website where there a multitude of features and elements that you need to create.
3. Agile Product Roadmap
If you want to go into greater detail for each phase or initiative, then this template may have exactly what you're searching for. This agile roadmap has a variety of sections and subsections that can help you layout every detail of your team's plan. That way, your product development team will know exactly what their responsibilities are and what the timeline for the project is.
4. Goal-Based Roadmap
This product roadmap is perfect for tracking goals that span across multiple epics, phases, or initiatives. For instance, let's say your goal is to increase your number of active users by 15%. To do this, you plan on building a website as well as a mobile app. Once both are completed, this roadmap would help you determine if your new website and app helped you achieve your initial goal. Click here to download.
5. Product Release Roadmap
Sometimes your product isn't completed all at once. Some products are released in phases and are gradually introduced to your customer base over time. For instance, you may have been ungated for a beta product or feature at one point in your life. This is a product that's usable, but still needs some work before it's perfected.
Roadmaps like the one above can help you plan your product's gradual release if it's not going to be fully completed by the end of a single phase.
6. Project Roadmap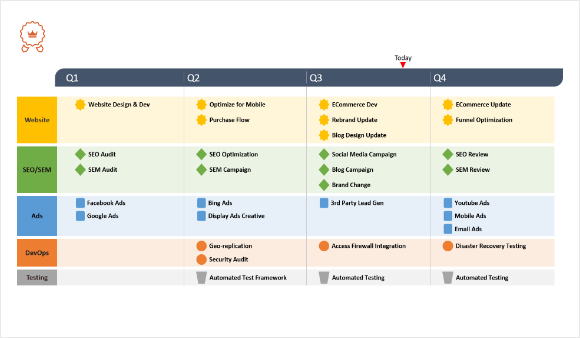 While the two are considered different, a project roadmap can be used in place of a product roadmap. The difference is, the project roadmap will be much more focused on dates and deadlines than it is on product goals. While this will ensure your product is completed on time, you should be aware that with this shift of focus, there's a chance the final product may stary from the original vision.
To learn more, read about how to become a product manager next.
This blog post was written in collaboration with Piotr Dziekanski.