"We put the customer first!"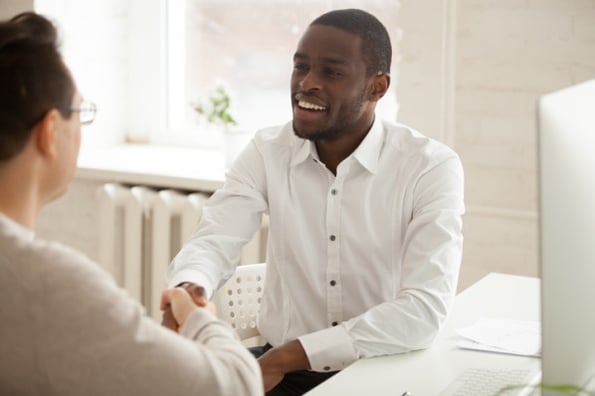 You've definitely heard this phrase before -- and probably from more than one company. This statement is a foundational promise in countless mission statements, website headlines, and choruses of customer service teams everywhere. Today, it's hard to find a company that doesn't say, "we put the customer first" in some part of their messaging.
But here's a tough question: how many of these companies go beyond a marketing message and actually take the necessary steps to put their customers first?
According to new HubSpot research -- not nearly enough of them. We found that an astonishing 42% of companies don't survey their customers or collect feedback.
How can your company claim to put the customer first if you aren't making the effort to listen to what your customers have to say?
The truth is this: even though most businesses claim to be "customer first", they aren't taking steps to actually be there for their customers.
That's probably why only 12% of people actually believe a business when they say "we put the customer first".
As part of a larger research effort we surveyed over one thousand customer service agents across the world to understand how they use customer data.
Most businesses are well-intentioned when they say they are "customer first," but it's time to do more than just say it.
If you want to truly build your business around your customers, there are some simple steps you can take to start. Try surveying your customers, creating a customer code, or researching how other companies have successfully grown with a customer-first mindset.
Tightening your focus on customers and how they feel about your company/product/service is critical to growth. Our survey found that 69.5% of companies say that review sites, social media, or word-of-mouth directly drive leads for their business. The only way to consistently generate that organic growth is through a great customer experience, and truly understanding your customers.
Power Has Shifted to Customers
A tight customer focus is critical to growth -- in part because customers today have unprecedented power in the buying process.
Today, your customers are much better informed than ever before. 76.2% of customer service professionals agree that customers today are more informed than they used to be.
A smarter consumer expects more from your company -- and the data we uncovered backed up this trend in consumer behavior. 87.8% agreed that customers have higher expectations than ever.
A big factor in these heightened expectations is the rise of social media. Social platforms like Twitter and Facebook have given customers a louder voice and empowered them to share their experience with a larger audience. This phenomenon is something that our survey respondents pointed out: they overwhelming agreed (89.17%) that customers today are more likely than ever to share positive or negative experiences.
Let's add this all up. Customers today are: smarter, have higher expectations, and -- good or bad -- are very likely to share their experiences on social media. It's simple to see how much more power they have than in the past. This is scary if you're aren't obsessed with your customers experience. However, if you have a great product and offer a great customer experience, this is great news. It should translate directly to growth through customer advocates.
What Does the Modern Buyer Want?
People today are clearly changing, but what do these empowered consumers want? We asked a series of questions to understand what they look for when evaluating products.
This one may be obvious, but 95% of respondents do research online when they have a need for a new product or service. We've all known this for a while, but what exactly are consumers looking for when they conduct this research?
Top 5 Needs During Online Research in 2019
Product information (demos / explainers) (52%)
Reviews and social proof from users like them (44%)
Discounts and deals (42%)
Customer examples / Case studies (33%)
Educational content / strategy / best practices (32%)
People are clearly on the hunt for specific information about products (52%). They want to understand what something does when they buy it. They also are price conscious and (42%) on the hunt for discounts and deals.
For these reasons, It's more important than ever before to provide information on your website about what your product or service will deliver and how much it'll cost. But most businesses websites do a good job of that. What they don't do a good job of is delivering social proof.
Reviews and social proof (44%) and customers examples / case studies (33%) are two similar buckets of information that heavily impact how customers view your business. Today, customers are smarter, which means that they are less influenced by what you have to say and instead want to hear from people like them.
Creating happy customers who are willing to fill out reviews and volunteer as case studies is the first step towards building this social proof. Then, you need to create real advocacy programs to help create and promote this content. Most businesses don't do this. Only 19% of companies have a formal customer advocacy program. It's up to the Service and Marketing teams to work together to create this social proof and build it into your external marketing channels.
It's also interesting that reviews rank higher than case studies. While both offer social proof, reviews are less filtered by a company than case studies. Why do people like reviews more? Simple, they are perceived as more trustworthy. When you're a startup and lack a successful customer base marketing can be your voice, but when you're a scale-up, customers have to become your voice and integrated into your marketing campaigns.
How Can Your Business Adapt?
The easiest way to act on being more customer first is to open up and formalize listening channels. How do your customers want to communicate with you? Are you recording that data systematically? Are you asking the right questions?
Live Chat
Live chat is just one channel to capture customer insights -- but it's popular for a reason and can help increase the amount of feedback you're getting tremendously. It's also delivers customers answers in real time. It's hard to underestimate how happy a quick answer can make a customer. Live chat isn't right for everyone, however we were surprised to see that 76% of companies don't it. Of the companies that have invested in live chat, a whopping, 93% found it to be a successful channel for helping customers. Indicating that it's likely a big opportunity for many companies.
Help Desk
Opening your Service team up to more incoming customer questions can be tricky. There is always a chance your team will get overwhelmed quickly, especially if you're growing. As such, it's important to design the customer experience you want -- one that's great for your customers, but also allows you to scale your team effectively.
Building a help desk is going to allow you to do this. A help desk combines different customer channels with a shared inbox, tickets, automation, and reporting to deliver the ideal customer experience. However, just like with live chat, there are still a lot of companies that don't use a help desk. 53.4% of companies don't have a help desk system. However, of those that do -- 85.4% said it makes them more productive. It's pretty tough to get 1,000 people to agree on much, but the results are pretty clear: a help desk will make you more productive.
Self-Service Solutions
Maybe the best way to help the smarter, more savvy customer is to help them help themselves. Self-service solutions give your customers what they need to solve their own problems. When done right, this creates a better customer experience and saves you and customers time.
It's like when you used to have to stop on the highway at a toll booth and hand your toll money to a human. That's a painful, disruptive experience. Today, you can buy your own E-ZPass and cruise on by. A much better solution. A great knowledge base is the equivalent of an E-ZPass. You customers can search Google for their answers, which they are use to, find the information on your site, and they can do it all on their time.
However, 56.3% of companies don't not use a knowledge base to help their customers. That's a shame -- Forrester reports that 70% of customers prefer to use a company's website to get answers to their questions rather than use phone or email to contact the customer service department.
Customers are the Key to Growth
Based on our findings it's clear that customers have changed. Today, they expect more, are harder to impress, and their voices are louder. But when you do build a great customer experience that delights customers, and work with them to highlight their successes, these picky customers can become your secret to growth. Companies that empower their customers will in turn be successful, but they have to put the customer first and dedicate themselves to their success.
For more ways to put the customer first, read about how you can become customer-centric.