When you work in a customer-facing role, you're bound to learn a thing or two about people. You understand what makes them tick, how to get on their good side, and what exact words to use to persuade them to lean in your direction. It's not manipulation but a strong comprehension of the consumer mind and what your customers need and desire.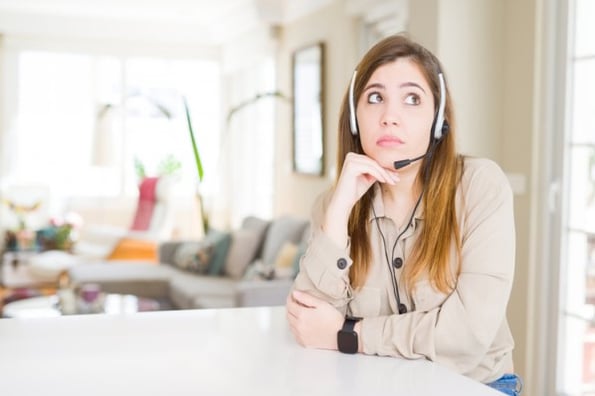 Additionally, working directly with customers leaves you with a few interesting stories to tell your coworkers. You've likely had some mind-boggling encounters with customers, like calling wrong phone numbers, insisting packages went missing that were already delivered, and believing laptops were broken just to realize it needed to be restarted.
These types of unorthodox conversations can make some customer service employees believe that your customers are dumb, rude, or inconsiderate. This perspective is dangerous as it can quickly spread across a customer service team and severely harm your business. Customer-facing reps may develop a tone of bitterness and superiority towards your customers which can lead to customers being just as negative in return and even switching to a competitor who treats them with more respect.
If your team is struggling with negativity towards customers, below are some tips you and your reps can use to be more positive and foster a welcoming, nonjudgmental work environment.
6 Ways to Be More Positive Towards Customers
1. Remember that customers might have less experience with the product.
It's easy to fall into a trap of blaming customers for being stupid when they don't seem to be able to move at your pace. This is why it's absolutely essential that you take a step back and recognize that many of your customers might not be as experienced with your products as your team.
Whether you're working with a customer who has been using similar products for decades or a customer who can't figure out where the "power" button is, you should treat both with the same respect. Patience is key — the slower you go, the better the customer will understand the product and the more they'll appreciate your dedication to educating them.
2. Manage your emotions.
If a customer makes a big mistake or wrongly accuses you of being at fault, the worst way to respond is with anger or by jumping to the defense. This negative energy will quickly agitate your customer, creating a toxic and unproductive interaction for both parties.
Rather, it's best to hold back your emotions in these situations. If you need, ask to put them on hold for a minute so you can take some deep breaths and calm down. Then, return to the call when you're ready to move forward. If you're working with a customer in person, ask to consult with another employee which can give you a brief break from the action. Keep reminding yourself that the customer means well and that raising your voice with them will only negatively impact your company's reputation.
3. Try to see the customer's perspective.
Empathy plays a major role in any human interaction, especially in ones pertaining to customer service. For example, we mentioned earlier how reps can be empathetic by recognizing if they have more experience with the product than the customer they're working with. Additionally, there are other ways to be empathetic that can help your team be more positive towards your customers.
For instance, if there are lulls in the conversations between you and the customer, try asking about their personal or professional lives. They may be having a bad day or are experiencing a problem at work that they'd like to vent about. Even if you can't offer them advice, asking personal questions at the appropriate time can help you understand why a customer is behaving in a certain way.
4. Surround yourself with a positive environment.
Your negativity towards customers may be stemming from general negativity in the workplace. Are you stuck in a gray cubicle, facing a bare wall all day? Do you spend all day on the phone or answering emails and not experiencing any face-to-face interaction? Do you dread coming into work and watch the hours slowly tick by? If you're answering yes to any of these questions, then perhaps you're taking out your own anguish on your customers.
You can turn this situation around by turning your office into a place of growth and inspiration. Put up photos of your family and friends, paste inspirational quotes on the walls, hang up funny memes, and even consider listening to some upbeat music in between calls. The slightest changes can make your day feel a bit brighter and make you more positive towards customers.
5. Approach each customer interaction as a learning opportunity.
One of the things for which you're probably already grateful for is your best customers. These are the regular purchasers who love your business and are immensely loyal. Due to their history with your company, they already know how to use all the products and what to expect from your customer service team. Basically, it's a breeze to work with them, however, you might not have much to learn from each other anymore.
This is where your other customers present a valuable opportunity. Rather than viewing these customers as stupid and or a waste of time, consider these ones to be mutually-beneficial learning opportunities. Of course, you can help them learn how to better use your product, but they can also teach you how to become a more patient, understanding teacher. In the long run, you'll become a more well-rounded frontline worker.
6. Remind yourself that your company wouldn't exist without your customers.
Like with any relationship, you'll face some ups and downs with certain customers. However, it's important to remember that being rude to customers or talking badly about them behind their backs will only poison your company's customer relationships. Even if the customer can't hear your criticism, your negative feedback influences the next rep who will work that customer. This eventually can lead customers to switch to competitors. So, instead of sharing gossip about a recent customer interaction, remind yourself that you need these customers just as much as they need you.
At the end of the day, there's no reason to be negative towards any of your customers. After all, these people are the reason your organization is successful. They provide profits that keep businesses operating which keeps employees, like customer service reps, paid. When all other justifications fail, that's a big thing to remember when you're trying to remain positive with an angry customer.
For more ways to prepare your employees for tricky customer interactions, read about the different options available for customer service training.