Software as a service (SaaS) has been the largest and fastest-growing market segment since 2019, with Gartner reporting a 2020 growth forecast of $104.7 billion for the industry. Businesses now spend 50% more on these cloud technologies than they did just two years ago, and they're growing more reliant on them, too.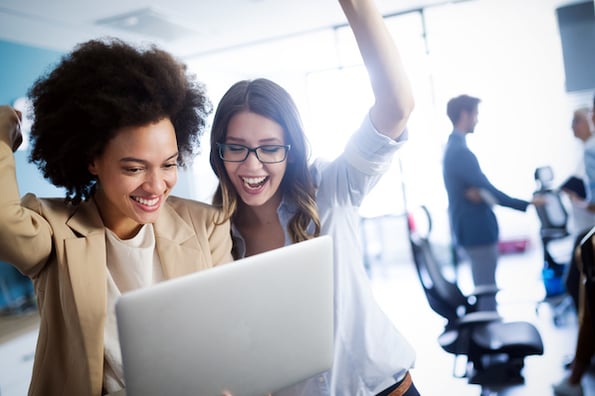 Software as a service is one of the most sought-after business opportunities. People looking for their next service role or even their next business venture can develop valuable skills and knowledge in this fast-moving industry.
But with so much opportunity for growth, how stable is SaaS? Let's put it in perspective with a real world example. On the first Monday of January 2021, Slack, an instant messaging platform used by millions of teams each day, suffered a system-wide outage that put more than 12 million daily active users (many of whom work from home because — you know, the pandemic) out of touch with their coworkers and clients for over three hours. Twitter went wild, the press was in a frenzy, and the memes ensued. A back up plan to communicate would've made this situation a much lesser deal, but it goes to show us how dependent we are on SaaS technology to make it through our work day.
This relationship between business and SaaS won't be unraveling anytime soon, so let's understand the big picture, structure, and examples of this big tech phenomenon.
In this post, we'll explore what a SaaS company is, what it sells, and how to follow its business model. Then, we'll look at the top SaaS companies that have been successful using this approach.
But, first let's provide a table of contents so you can locate all of this information a bit faster.
→ Download Now: State of Customer Service in 2020 [Free Report]
Table of Contents:
What is a SaaS Company?
SaaS companies are organizations that use software to provide customers with a service. These businesses create, develop, host, and update the product themselves. SaaS businesses have immediate access to an unrestricted global market and can scale without increasing product delivery costs.
SaaS is changing the way organizations work. These products distribute data online so that they're accessible from a web browser on any device. SaaS companies continue to host the software and provide customer support for it. As we can see, SaaS companies have more control over their products than traditional companies do which means they're inclined to have greater security, faster updates, and a better user experience. They also are able to provide more transparent pricing as many of them operate on a monthly subscription paid by customers.
How to Follow the SaaS Business Model
SaaS businesses are built in three phases: setup, growth, and stabilization. Let's take a look at each stage in the sections below.
Setup
The setup phase is where the foundation is built for a SaaS company. This is where the founders discover the need for the products they plan to develop, identify their target market, and create the products. In this stage they'll also plan the campaign to bring the products to market. Creating an effective marketing and sales strategy, considering options for customer support, and organizing finances is also common in this stage.
Growth
After the products reach the market, the business (hopefully) experiences a great deal of growth. Because SaaS companies can expand their target market quite far, they can expect new customers to adopt the products, creating a sudden demand for marketing, sales, and customer service teams. The business will need to act quickly to capitalize on this timely opportunity to secure a loyal customer base.
Fortunately, this growth will be accompanied by additional revenue. By reinvesting the capital back into products and services, companies usually have the resources needed to meet their current user demands like IT support and customer service. The company will likely start to see more money coming in as they continue to acquire and retain more customers.
Stabilization
At this point, the business continues to attain new customers, but with.and added benefit — they don't have to take on more overhead costs. That's because they've wisely reinvested into customer service software, marketing automation, and product updates. These tools help SaaS companies keep pace with customer demand, create a delightful user experience, and eventually pursue an exit strategy.
Now that we've explained the SaaS model, let's review SaaS products.
SaaS Products
SaaS products types of software that are hosted by a central provider and offered to customers through the internet. Rather than installing or downloading a copy of the application, users can access the product from a web or mobile browser. The SaaS company then manages and updates the software based on user needs.
Hosted software on the other hand requires that users download products on their workplace's servers. Some examples of hosted software include Microsoft Office, Quickbooks, and even the AOL discs you might have received in the mail in the early 2000s. In the digital age, some of these companies have begun to offer SaaS versions of their software as we'll see later in this article.
The type of product a company sells usually determines whether the organization is B2B or B2C.
B2B SaaS companies tend to focus on customer needs that are specific to business owners and management teams. These products are usually made for organizations. HubSpot, Google, and Asana are a few examples of B2B companies.
B2C SaaS companies target people who buy products for personal use. Entertainment, personal finance, and organization are a few needs individuals have that they would need software for. Networking site LinkedIn Premium, credit report service Experian, and dating site Bumble are all B2C SaaS companies.
B2B SaaS
B2B SaaS refers to companies that sell software to other businesses as a service. These products help organizations run more efficiently or automate internal functions. Many businesses rely on these services to optimize their marketing, sales, customer service, and operations efforts.
Since their products help businesses achieve goals, B2B SaaS companies are deeply invested in customer success. When customers succeed, they're more likely to remain loyal to the SaaS business and even become advocates who refer their friends and colleagues to use the products. This fosters mutual growth between the company and its customers.
Some SaaS companies have stood out from the crowd this year — which is a tough feat to accomplish in their respective markets. To give you an idea of what these organizations look like, we've curated a list of the strongest, fastest-growing, and biggest SaaS companies that you can learn from in 2019.
Top SaaS Companies
SurveyMonkey
HubSpot
Microsoft
Asana
SAP Concur
ProofHub
MailChimp
Canva
Shopify
Slack
Adobe
Snowflake
OpsGenie
Google Cloud Platform
Splunk
KnowBe4
Looker
Jamf
Envoy
Freshservice
Zoom
Salesforce
ServiceNow
Square
Atlassian Corporation
Workday
Veeva
Paycom
Twillo
Ring Central
Okta
Dropbox
Wix
Elastic NV
New Relic
Appian
Plurasight
Strongest SaaS Companies and Products
This data was collected by G2. G2 uses Grid® Scoring Technology, which establishes its scores of top companies and products on a scale of 0-100 based on user reviews, online sources, and social networks. You can read more about the Grid® Scoring Technology here.
1. SurveyMonkey
SurveyMonkey is an online survey developer tool that helps with data analysis and representation. The company was recognized as The Winter Momentum Leader for 2021.
Type of SaaS Company: B2B, B2C
2. HubSpot
HubSpot is an inbound marketing software company with tools focused on CRM, social media marketing, content management, web analytics, and SEO. HubSpot's marketing hub was awarded one of G2's Top 100 Highest Satisfaction Products in 2020.
Get started with our free CRM. Or take a look at all the features available in Marketing Hub, Sales Hub, or Service Hub.
Type of SaaS Company: B2B, B2C
3. Microsoft
Microsoft owns over 100 different cloud products that are used in a variety of different software. Microsoft's PowerPoint was acknowledged as a Top 100 Software Product in 2020.
Type of SaaS Company: B2B, B2C
4. Asana
Asana is a project management software that allows teams to manage track and connect on projects. The market cap for Asana is 5.62 billion as of January 2021.
Type of SaaS Company: B2C
5. SAP Concur
Travel plans, expenses, and invoice management are all made simpler with SAP Concur. The market capitalization for this company currently sits at $157 billion.
Type of SaaS Company: B2C
6. MailChimp
MailChimp is a marketing software company that owns three major products. Its main product, MailChimp, is an email marketing platform that allows you to schedule automated emails and track their results. This product was ranked as a Top 50 All-in-One Marketing Platform.
Type of SaaS Company: B2B, B2C
7. Canva
Canva provides software that allows just about anyone to create beautiful designs using the platform's drag-and-drop feature. Canva is valued at $6 Billion.
Type of SaaS Company: B2B, B2C
8. Shopify
Shopify is an ecommerce business that owns four products. Its main product, Shopify, is an ecommerce platform for online stores and retail POS. Shopify was ranked as a Top 50 Small Business Product in 2020.
Type of SaaS Company: B2C
9. Slack
Slack owns three products. Its main product, Slack, is a collaboration and chat tool that allows for internal messaging, video conferencing, and productivity bots. In this report, it was recognized as the Best Estimated ROI Enterprise company for Winter 2021.
Type of SaaS Company: B2B
10. Adobe
Adobe owns over 50 computer software products in digital media and marketing, printing, and publishing. The company holds the G2 award as a Top 50 Enterprise Product in 2020.
Type of SaaS Company: B2B, B2C
Fastest-Growing SaaS Companies & Products
This data was collected by the cloud service provider, Okta. It is based on the growth rate of these SaaS company's products within the last 12 months. Okta creates their Businesses @ Work reports by analyzing customer data in a number of categories. You can read more about the Business @ Work reports here.
1. Snowflake
Snowflake is a data cloud that provides businesses with the ability to visualize their data. Snowflake's year-over-year growth was 273% in 2020.
Type of Saas Company: B2B
2. ProofHub
ProofHub is a top-rated project management and team collaboration tool that allows teams to keep track of everything in one place. In 2021, ProofHub was awarded as one of the top three project management systems and is used by over 85,000 teams worldwide.
Type of Saas Company: B2B, B2C
3. OpsGenie
OpsGenie monitors development and operations incidents to help businesses respond to alerts faster. OpsGenie grew 194% in 2020 compared to the previous year.
Type of Saas Company: B2B
4. Google Cloud Platform
Google Cloud Platform gives people and enterprises a place to build and run software using the internet to connect them. The app experienced 108% growth in 2020.
Type of Saas Company: B2B
5. Splunk
Splunk provides software solutions for searching for, monitoring, analyzing, and interpreting machine-generated big data. Year-over-year growth for Splunk was just over 100% in 2020.
Type of Saas Company: B2B
6. KnowBe4
KnowBe4 provides Security Awareness Training to help educate users on solving IT security problems related to spear phishing, engineering, and ransomware attacks. KnowBe4 experienced 89% growth during the 12-month observation period.
Type of SaaS Company: B2B
7. Looker
Looker markets itself as business intelligence software that lets users explore, analize, and share real-time business analytics. Looker grew 86% in 2020.
Type of Saas Company: B2B
8. Jamf
Jamf provides simplified IT solutions for Apple device management. The company experienced a 82% growth over the 12-month period.
Type of SaaS Company: B2B
9. Envoy
Envoy streamlines workplace experiences with software that enables visitor management, reservations, booking and more. Envoy saw 80% growth year-over-year in 2020.
Type of Saas Company: B2B
10. Freshservice
Freshservice is a customer service branch of Freshworks. It offers help desk software that assists customer service teams with their daily functions. Freshservice experienced 77% growth over the last 12 months.
Type of SaaS Company: B2B
11. Zoom
Zoom provides video conferencing tools for hosting remote meetings. The report lists that it experienced 76% growth in 2020.
Type of SaaS Company: B2B
Biggest SaaS Companies
We created this list by referencing data collected from Global leading SaaS companies report by Statistia and additional data from digital marketing consultant Mike Sonders. This data is based on the market capitalization of each SaaS company. You can read more about The SaaS Report here.
1. Salesforce
Salesforce owns 58 cloud-computing products that help employees collaborate with their customers. The market capitalization for Salesforce is $207.35 billion.
Typ of SaaS Company: B2B
2. ServiceNow
ServiceNow provides enterprise automation solutions for streamlining work and conversations across an entire organization. The market capitalization for ServiceNow is $108.13 billion.
Type of SaaS Company: B2B
3. Square
Square is a credit card processing app that lets businesses easily accept credit payments without a cash register. User buy the Square product, plug it into their phone, computer, or tablet, and their device immediately transform into a credit card processor. The market capitalization for Square is $99.17 billion.
Type of SaaS Company: B2B
4. Atlassian Corporation
Atlassian provides products, such as Jira and Confluence, that improve software development, team collaboration, project management, and code quality. The market capitalization of Atlassian Corporation is $56.57 billion.
Type of SaaS Company: B2B
5. Workday
Workday is a tool that human resources team use for financial management and human capital management. The market capitalization for workday is $54.85 billion.
Type of SaaS Company: B2B
6. Veeva
Veeva offers cloud solutions for applications in the pharmaceutical and global life sciences industries. The market capitalization of Veeva Systems is $42.41 billion.
Type of SaaS Company: B2B
7. Paycom
Paycom is a software provider that helps businesses manage and optimize their payroll operations. It's market capitalization is $22.63 billion.
Type of SaaS Company: B2B
8. Twilio
Twilio connects people by providing business with tools that can use to communicate with internal and external stakeholders. The market capitalization of Twilio is $54.48 billion.
Type of SaaS Company: B2B
9. Ring Central
Ring Central is a communications provider that offers messaging and video solutions that help businesses communicate internally. It experienced a 73% growth over the 12-month period. The market cap for Ring Central is 33.14 billion.
Type of SaaS Company: B2B
10. Okta
Okta offers a software that integrates applications into one interface. This makes each app accessible through one secure location. The market capitalization of Okata is $33.46 billion.
Type of SaaS Company: B2B
Top B2C SaaS Companies
This data was collected by Mike Sonders. It measures the largest public SaaS companies based on market capitalization as of January 2020. Since there's no exclusive list of B2C SaaS companies, we went ahead and filtered this list to fit our specifications.
1. Dropbox
Dropbox is a cloud-based storage solution for documents and data. The company owns four products and collectively it's worth $9.55 billion.
Type of SaaS Company: B2B, B2C
2. Wix
Wix is a website creation tool that's marketed toward users with little or no web-development experience. It's market capitalization is $13.81 billion.
Type of SaaS Company: B2B, B2C
3. Elastic NV
Elastic NV is a data analytics platform that helps users explore their data differently by using a search feature. Its market capitalization is $13.41 billion.
Type of SaaS Company: B2B, B2C
4. New Relic
New Relic is a data analytics platform that provides real-time app monitoring and troubleshooting. Their market cap is 4.73 billion as of January 2021.
Type of SaaS Company: B2B, B2C
5. Appian
Appian is a low-code automation software that provides automation and case management. The market cap for Appian is $15.11 billion.
Type of SaaS Company: B2B, B2C
6. Pluralsight
Pluralsight is an online education platform that analyzes different career skills and provides courses that teach customers how to use technology based on their assessment scores. Its market capitalization is $3.02 billion.
Type of SaaS Company: B2B, B2C
Set Goals for Your SaaS Company
These companies set the precedent for what a successful SaaS business should look like. Studying the structure of SaaS organizations, understanding the difference between B2B and B2B companies, and determining the type of products the SaaS industry needs can set service professionals and entrepreneurs on the right path to growing a company or start up. The achievements of the 36 companies we featured will hopefully inspire you to set specific goals like increasing customer satisfaction and earning customer loyalty to experience similar growth in your business in 2021 and beyond.
Before you can get started growing your own SaaS organization, you'll need to understand the most important factor of this model — customer service. This exclusive report will give you the latest best practices for delighting your customers