Do you know what the difference is between successful and unsuccessful businesses?
The successful ones understand their customers.
They pay close attention to what their customers are saying. They know that business metrics like revenue and churn tell only a part of the story. They understand that to know why customers make certain decisions, it's critical to understand the customer's perspective.
Don't believe me? Here's what Steve Jobs once said about it: "Get closer to your customers than ever. So close that you can tell them what they need before they realize it themselves."
If you dream of becoming an industry leader, then you have to listen to your customers. Customer-perceived value is one of the leading drivers of business success. It's important to know:
Why your customers need you.
What you can do to help your customers.
What your customers are looking for.
What their interests and behavioral patterns are.
But now the question that might be popping in your head could be "How do I find all of that out?"
Well, it requires a lot of patience and an in-depth understanding of your customers. And that's the only formula to become successful.
That might sound daunting to many, but trust me, understanding your customers and building a solid customer relationship is not rocket science at all. There are certain techniques that you can follow to get reliable answers. And this is what we'll cover in this post.
If you search the web or talk to your industry colleagues, you'll come across numerous techniques and best practices. But the one that has worked for many is capturing the voice of the customer, or VoC.
So ... what is Voice of the Customer?
Voice of the Customer
Voice of the Customer (VoC) is a research method that's used by businesses to describe the needs and requirements of their customers. This process captures everything that customers are saying about a business, product, or service and packages those ideas into an overall perspective of the brand. Companies use VoC to visualize the gap between customer expectations and their actual experience with the business.
Businesses study VoC by gathering various pieces of customer feedback. After analyzing the feedback for trends in consumer behavior and preferences, companies record their findings into a document or add it to their buyer persona. This helps them gather a more complete picture of their target audience.
Voice of Customer is imperative for business functions like customer success, operations, and product development. These groups use this research to identify and improve all stages of the customer's journey by working together to enhance their products and services. By adhering to the voice of the customer methodology, companies not only develop a closer bond with their customers but also improve their internal collaboration.
Voice of the Customer Methodology
The voice of the customer methodology is the approach that businesses use to understand their customers' needs and expectations. This method can be executed through a variety of different techniques, all of which are aimed at extracting vital information from customers. Companies often use a few different techniques together to ensure they're getting the most that they can from their research.
How Voice of the Customer Impacts Your Business
According to the research by the Aberdeen Group, best-in-class VoC users enjoy an almost 10x greater increase year-over-year in annual company revenue. This is because by capturing VoC, you can connect and engage with customers at every touchpoint in the customer journey. This technique helps you:
Spot early warning and potential brand crisis
Evaluate new concepts, ideas, and solutions
Customize your products, services, add-ons, and features to meet the needs and wants of your customers
Increase customer retention
Serve your customers with what they really need
VoC Techniques
Regardless of the industry, it costs organizations five to 25x more to attract a new customer than it does to retain an existing one. Thus, the value of retaining existing customers over acquiring a new one is obvious. With this in mind, we'll keep our focus on the techniques that help retain customers at your business.
1. Customer Interviews
Customer interviews are one of the traditional techniques to collect VoC data. It is commonly used to understand particular customer point-of-view regarding product or service issues, attributes, and performance measures. You can choose to perform this for either a particular customer or for a group of customers with some common attributes. Usually executed in person, on the phone, or through email.
While the cost of in-person interviews is the highest among all forms of interview, it is still considered to be the most useful form for building trusting customer relationships. This is because customers perceive this type of interaction as more personal.
2. On-Site Customer Surveys
Another great way to capture VoC is by conducting on-site customer surveys. These surveys help you in understanding your customers and addressing the issues they face.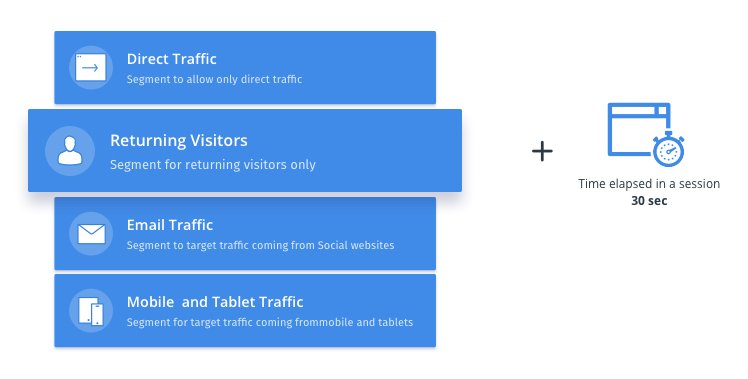 Source: VWO
However, if you don't ask the right questions with the help of the right platform, you may never get reliable answers. That's why you need to put in a lot of thought while designing your surveys. With platforms like VWO or SurveyMonkey, you can choose from the different types of surveys available, such as yes/no type, multiple option-based surveys, drop-down surveys, and textbox-based surveys.
3. Live Chat
According to a study, 44% of online shoppers feel the best feature an ecommerce website can have is a live chat.
Having an on-site chat is an incredible method of collecting real-time customer feedback and reducing the possibility of your customers feeling unsatisfied.
The use of live chat is not limited to listening to customers complaints and resolving them. It is also a good tool to capture Voice of the Customer data. For this, you can schedule a follow-up survey of all the customers connecting with you through a chat, like the one shown in the image below. You can use HubSpot Messages to get live chat up-and-running on your website.
4. Social Media
Social media is a potent ingredient of the feedback cocktail, as it provides you the opportunity to have a two-way communication with your customers.
On any of the most commonly-used social platforms like Twitter, Facebook, or LinkedIn, you can tap into relevant ongoing conversations, connect with those customers by actively participating, or quietly listen (while lurking and taking notes). The core strength of social media lies in allowing you to have a more direct and real-time conversation with the people using your products or services. The following exchange is a good example:
While a good way to gather feedback, look for trends, and create stories, it may be more challenging to turn this into hard data. But you are now hearing feedback — direct and unfiltered — from customers.
5. Website Behavior
Your website is a great place for you to capture the voice of customer data. Besides chat and on-site surveys, another way to collect this data is by analyzing your customer behavior on the website. You can do it in a jiffy by leveraging tools like heatmaps, scrolls, and visitors recordings. You can also opt for a single platform that'll allow you do all this — like CrazyEgg — and you won't have to invest in multiple tools.
If you're planning to leverage historical data, recorded call data might come in handy. Recorded calls with your customers can give you a broad overview of how they perceive your brand, what sort of objections do they have, and what else do they expect from the brand.
Though this technique requires a lot of time, it is always advisable to do this every now and then. What it'll also do is help you with training your customer support team with better objection handling and enhancing your customer service.
7. Online Customer Reviews
Your online reputation isn't just the result of what you generate at your end — it includes all instances in which your business appears online, including online reviews. With online review sites like G2 Crowd, Finances Online, TrustRadius, TrustPilot, Capterra, and Angie's List, it's essential to understand the impact they have on your business and how you can use reviews to earn your online reputation.
The examples of negative and positive reviews below can help you understand your customers.
Moreover, 86% of visitors hesitate to purchase from a business that has online negative reviews. With such statistics, it becomes crucial to not just ensure positive reviews, but also handle negative reviews.
8. Off-site Surveys
Opting for an off-site survey is yet another method to capture the Voice of Customer. Although this may not be a popular method for large business setups, it's leveraged by lots of medium-sized businesses when conducting customer research — and it can be done using a tool as simple as Google Docs.
9. Net Promoter Score
Net Promoter Score (NPS) is a management tool that is used to measure the loyalty of a company's customers. This customer loyalty metric was developed by Fred Reichheld, Bain & Company, and Satmetrix Systems.
NPS gives you quick and reliable feedback from customers. The way the system works is easy. Customers need to answer this simple question on a scale of 0–10:
"How likely are you to recommend our company to a friend or a colleague?"
10. Focus Groups
This is where a group of eight to 12 customers meet in a room, where they are asked to share their perceptions, beliefs, and opinions about your product or service. The group participants are free to openly talk with one another.
This data collection method is used to gain insights into customers' prioritization of needs, or to test concepts and get feedback. Focus groups are sometimes used in addition to interviews and surveys as the last step to further investigate and understand the Voice of the Customer for each of the company's touch points.
11. Emails
This method can be as informal or as formal as you want it to be. You can send highly personalized emails to particular customers or create a template that can be used for the entire target. You also have the option to either ask for feedback as a response to your email (which might be unstructured and time-consuming) or add a link in the email body to one of your surveys.
12. Dedicated Feedback Form
The last option is to have a dedicated feedback form on your website — and this is really more of a mandate than an option. No matter which other methods you plan to choose to capture VoC, you cannot skip having an on-site feedback form.
Give your existing customers and website visitors the opportunity to share their feedback at any point in time. Don't make them wait unless you feel that there is a need to capture their voice.
Another detail to note here is that the majority of these techniques will help your team derive qualitative information from your customers. That means you'll need to ask thought-provoking questions that motivate participants to provide insightful answers. For some companies that may be easy, others not so much. Keep in mind that it's not the customer's responsibility to provide you with any feedback, let alone productive feedback.
Voice of the Customer Questions
If you're not getting the results you're hoping for from your VoC techniques then you may need to reassess the questions that you're asking your customers. Below we compiled some of the best VoC questions to ask in order to get effective survey results.
1. What characteristics do you look for in a company/product?
This question is often a great starting point for a survey or questionnaire. It removes your company from the conversation and directs the attention to the customer's interests. By asking this type of question first, you give the impression that your interests are more customer-driven.
Pay attention to the vocabulary that your customers use when responding to this question. Even if the responses are similar, the vocabulary that's used can indicate different characteristics of your customers. For example, if there are responses that use a lot of slang or shorthand then you can deduce that this feedback is coming from a more casual audience. This will help your team when making big operational decisions like changing a product or restructuring your pricing.
2. What comes to mind when you think about [company name/product]?
This question provides your team with an immediate customer reaction to your company or product. This essentially acts like an approval rating that lets you know how customers feel about your business in the present moment. You can monitor responses to see how they change over time to determine whether or not your company is actually addressing the feedback.
One area where this is exceptionally helpful is during crisis management. If you're not sure whether a crisis is resolved or not, you can use this survey question to get a general feel for how your business continuity plan is affecting your customers. If you're still seeing negative comments towards your company, then you know that you need to continue working to resolve the crisis.
3. How can [company name] improve your customer experience?
Admitingly, this question probably won't yield many groundbreaking ideas. No matter how loyal your customers are they'll never fully understand how your business operates nor will they fathom how hard it is to implement even small changes to the customer experience. Making changes takes time and costs money — two assets that most businesses will be hesitant to put at risk. So, why do we see this question included on nearly every survey we take?
The answer is customer loyalty. Successful companies recognize that their most valuable customers spend nearly three times more than others. So, when they're sorting through responses to this question they use their CRM to pinpoint feedback that's left by their most valuable customers. This way companies can be sure these customers are being included in every business decision.
4. Name a competitor you would prefer over our product or service and explain why you would choose them.
This question gives you two pieces of information. First, it tells you who your direct competitors are, or at least who your customers believe your competitors are. This difference is important because your customers may be using a competitor that you're currently unaware of. For example, customers may be supplementing your product or service by using a competitor who's in a completely different marketplace.
The next piece of information that this question provides is why customers would switch to a competitor. It could be because of price, functionality, style, etc. Whatever the reason is, knowing why customers may prefer a competitor can help you address any weaknesses that exist in your products or services.
5. Would you recommend [company/product] and why?
One way to determine customer satisfaction is to see if customers would recommend your company to others. Customers trust other customers and won't advocate for your product or service if they don't like it. That's because if they recommend a bad product or company, they risk ruining a personal or professional relationship in their own lives. If customers are hesitant to recommend your company, you may need to assess how your marketing, sales, and customer service efforts are affecting the customer's experience.
A good addition to add to this question is to ask to whom they would recommend your product or service. This not only gives you an idea for potential lead opportunities but also helps you gauge how invested customers are in your company. For example, if a customer said they would recommend a product to their boss or potential lead of their own, you know that your product is significantly meaningful to that customer. If they would only recommend it to a peer or acquaintance, then there may be an opportunity to enhance the customer experience for these users.
Voice of the Customer Examples
If you're still not sure how your business can benefit from the VoC methodology then it may help to look at some real companies who benefited from following this method. Below, we highlight three businesses who profited from applying VoC to their organization.
1. Subbly
Subbly is an SaaS ecommerce platform that's used by entrepreneurs and marketers. When the company adopted VoC, it added a feedback page to its website and set up a feedback monitoring system for its Facebook page. Now users can comment on others' feedback that's posted to the company's website and vote on ideas that they like best.
Subbly's CEO, Stefan Pretty, believes that "between all these methods of collecting the voice of the customer, [they] harness their [opinions] on the best way to run Subbly, to shape [their] product roadmap and the features [they] roll out." Pretty notes that this approach has paid off too, as the company has become much more customer-centric and has even rolled out two new features based on the voice of the customer.
2. Plainview
Plainview is a B2B SaaS company that offers software for strategic planning and resource management. It regularly hosts meetings called "Inner Circles" where customers participate in interviews and attend focus groups. Since 2006, Plainview has hosted about 40 sessions and has met with over 1,000 customers from 300 companies.
This VoC approach helped the company make a major design change to its product. Plainview's CMO, Brian Urioste, discussed how the "Inner Circles" pointed out flaws in the software's navigational design which was preventing customers from achieving their goals. Urioste noted that "even though the feedback and changes extended [their] product development cycle, [they] ended up with a product that better served the needs of all of [their] customers."
3. Convertize
Convertize is a content management software that lets customers A/B test their content when publishing it to their website. They benefited from the VoC methodology by gathering feedback during product releases and using that criticism to improve their new products.
For example, when they released their persuasive notifications feature they also sent out surveys and sought out reviews to see how users felt about this product. Some users reported issues with the feature blocking important content on their site and had to remove it because they could not adjust it. After seeing these reviews, Convertize moved quickly and resolved the problem two weeks after it was first reported. Convertize's CRO Project Manager, Benjamin Ligier, highlighted that not only did this feedback "solve the customer's immediate problem, but also gave [them] a much-improved feature."
Final Thoughts on Voice of the Customer
The bottom line is to be highly customer-centric to engage and retain your existing customers.
A successful VoC program will provide you with all the insights that you'll need to understand customer preferences, problems, and complaints. However, the drill doesn't end here — it's just the tip of the iceberg.
The entire process of capturing VoC should be data-driven and at no point should you make any assumptions.
In-depth knowledge of your user's journey and customer lifecycle is a must.
Don't forget to skim through historical data.
Leverage Google Analytics for better customer analysis.
Now, you have to put these insights into action, and then identify and respond to the Voice of the Customer to improve customer satisfaction and loyalty. Use VoC to increase customer retention. Be a pathfinder and hero in your organization by investing in products, feature enhancements, and services that will make your company stand out from the rest.
Next, read about everything you need to know if you want to create an army of customer advocates.
Net Promoter, Net Promoter System, Net Promoter Score, NPS and the NPS-related emoticons are registered trademarks of Bain & Company, Inc., Fred Reichheld and Satmetrix Systems, Inc.
Originally published Apr 26, 2019 4:20:00 PM, updated February 28 2020
Don't forget to share this post!