SaaS, or Software as a Service, has skyrocketed over the past few years, and customer service is just another industry that has been affected by this trend. Many SaaS companies are offering B2B customer service software that helps small to medium-sized businesses manage their growing service demands. These tools are powerful too, ranging from ticket management to chatbots to knowledge bases, which can all significantly impact customer experience.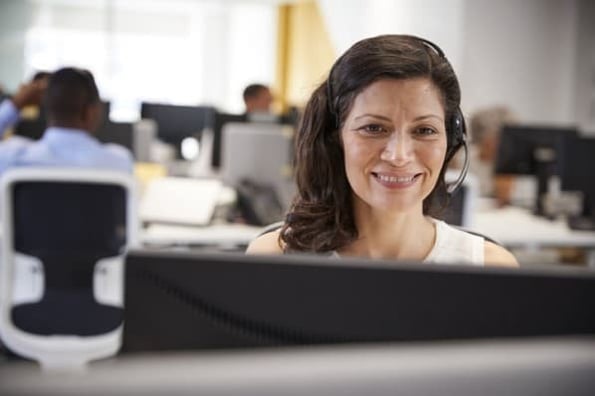 Help desks are SaaS products that group customer service tools together into one central hub. They provide a one-stop-shop for customer service teams that need to integrate software for reps to operate on. Help desks can support phone, chat, and email support channels as well as provide detailed analytics on the performance for each medium.
Help desks can come in a few forms and layouts, but the style that's growing most quickly in popularity is the web-based help desk. These help desks provide flexible internal and customer-facing features that service and support teams will benefit from on a daily basis
In this post, we'll break down what web-based help desk tools are, as well as the ones you should consider adopting for your customer service team.
What Are Web-Based Help Desk Tools?
Web-based help desk tools are online software that assists customer service teams with their daily functions and operations. They provide customer service reps with a range of features that improve their workflow and ability to complete tasks. These features include tools like ticketing systems, knowledge bases, and live chat support.
Web-based tools are beneficial for small businesses because they tend to be less expensive and easier to adopt. Rather than downloading a costly software and constructing a custom code or API, web-based tools only require a login via a web browser. Businesses create an account on the service's website, and employees log in to the help desk as a user. This makes it simple for reps to sign in and get started on their work day.
Why Adopt Web-Based Help Desk Tools
You may be thinking, "We're not a big company. Why do we need this? We already have a call center and email support, and they're doing a great job." While your customer service team may be meeting customer demand now, that demand will grow as your company continues to succeed.
Web-based help desk tools help your team manage higher volumes of service requests without having to take on a major financial risk. In fact, there are many free help desk tools available that will provide your team with basic features to improve customer experience. Additionally, if the tools malfunction, your company isn't responsible for fixing them either. With minimal financial risk at stake, why not give a web-based service a try?
If you're ready to adopt a web-based help desk, then take a look at the list we curated below for the best web-based providers of help desk tools.
Best Web-Based Help Desk Tools
HubSpot
AnswerDash
Oracle
JitBit
Apptivo
Dezide
Cayzu
NABD
Vision Help Desk
HubSpot provides a free help desk tool as a component of its Service Hub package. HubSpot's help desk includes a ticket management system as well as automation features that streamline the workflow for your reps. It also includes proactive service options like a knowledge base and live chat tool which are easily installed on your website.
What's great about HubSpot's tools is that they're all focused on helping a business grow. Every tool comes with detailed analytics that breaks down the performance of each feature that you're using. Customer service managers can monitor these reports and use their findings to make recommendations to both service reps and product management teams.
Price: Free
AnswerDash offers a help desk that makes it easy for customer service teams to adopt and integrate new tools. It has a seamless onboarding process that imports content and customer data directly into the platform. Your team can quickly transfer existing content from your FAQ and knowledge base into AnswerDash for faster access to troubleshooting information.
AnswerDash also has a self-learning software that works to predict potential customer roadblocks as well as their solutions. It then provides actionable steps for the customer service team to take to avoid future frustrations for your customers. Having that type of proactive insight can help your team stay ahead of customer demand and edge out your competitors.
Price: $95/month
Oracle's Service Cloud is aimed at providing your team with an easy-to-use service platform. It provides a team portal that every rep has access to and even has options for reps to log in via a mobile device as well. If your team gets stuck or has questions about certain tools, Oracle offers both self-service and live action support options including video chat and virtual assistants. This way your team can quickly onboard your new tools without risking any negative impact on your customers' experience.
As for the features that Oracle provides, the help desk comes with an email support tool that helps teams provide timely responses to email tickets. It also has guided assistance options which let reps walk customers through troubleshooting steps together. That type of hands-on approach to customer service is how businesses ensure customer success during every interaction.
Price: $90/seat
JitBit offers a web-based help desk that is ideal for everyone from a freelancer to startups, as well as enterprise businesses. The help desk tool offers unlimited storage for attachments, downloadable backups, HIPAA and GDPR compliance, as well as custom domain integration, making it ideal for modern-day businesses.
JitBit integrates with all the popular applications like JIRA, GitHub, and Dropbox, and offers features like live chat, knowledge base, and email integration that makes it a well-rounded browser-based help desk solution.
Apptivo is a help desk that has a variety of customization options. Users can customize ticket layouts, contact form fields, and even in-app interfaces. Additionally, Apptivo safeguards against any potential internal confusion by allowing users to restrict viewing access to their custom preferences. That way team members can customize their workflow to their liking without influencing their coworkers.
Price: Free
Dezide is a platform that focuses on solving problems quickly for customers, particularly through self-service options. For example, one of its most notable tools is its customer-facing workflow. Most companies think workflows are used to streamline employee actions, but Dezide's customer workflow makes it easier for customers to solve their own service requests without the need of a rep.
Another useful feature that Dezide provides is its system for distributing incoming service requests. It uses learning technology to assess the customer's case then selects the most optimal employee to fulfill the request. This way customer roadblocks are always being solved by employees who are best suited to resolve them.
Price: $49/month
Cayzu takes minutes to get started and allows you to personalize almost every aspect of your account. Setting up a help desk can take time, so Cayzu makes the process simpler by creating a step-by-step setup process for each tool that it provides. This is great for businesses who have multiple products and need to quickly organize their portal for each product's needs.
Cayzu also offers team collaboration features that reps can use to work together on complex cases. Cases can be easily transferred between reps and teammates can send comments to each other when escalating a service issue. Attaching notes to the case prevents reps from having to ask customers to repeat information which negatively impacts the customer's experience.
Price: $4/month
NABD is customer service software provider that offers a range of unique customer service tools. Its help desk feature includes workflow management tools that assist reps with their day-to-day tasks. It also has a complaint management software that manages customer feedback. It not only logs the initial review but also tracks whether that feedback changes during the next interaction with the customer. This way your team can distinctively determine if your meeting individual customer demands over time.
Price: Free
It's important for your customer service team to be accessible to your customers. So, Vision Help Desk aims to create a omni-channel service experience that seamless across every interface. It provides features that support different service mediums like chat, phone, email, and social media. It also includes API options that your brand can use to build custom service offers.
Vision Help Desk also includes "gamification" options that improve rep performance. These features motivate reps to meet performance goals and deliver positive customer experiences. This not only will make your employees happier, but their increase in happiness will help improve customer satisfaction.
Price: $12/month
Web-based help desk tools are growing in popularity because of their effectiveness and ease of installment. If your company is having trouble meeting customer service demands, consider adopting one of these web-based help desks to further assist your service team.
If you're looking for more technology that can improve customer service, read about the importance of adopting a ticketing system.