It's difficult for customer service agents to manage their workloads when they can't predict how long their queue will be each day. Some days are slow and reps can knock the queue down to almost nothing. Other days, a major product breaks and your team is scrambling to keep up with customer demand.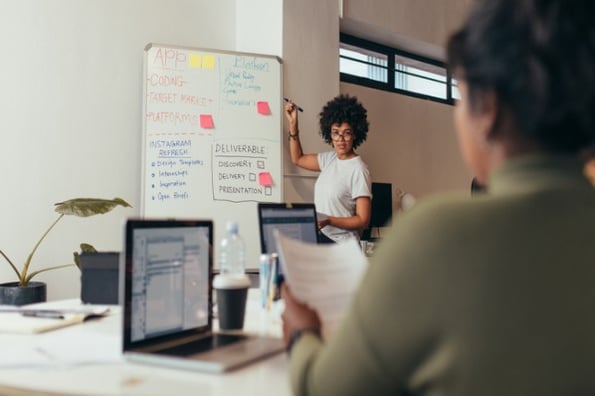 Help desk software eases this problem. It provides unique features and tools that automate your team's workflow. Rather than spending time creating and organizing tickets, they'll focus on solving problems for your customers.
Let's start by discussing what help desk software is, then we'll list some of the features you should consider for your team. At the end of the post, we'll give you a link to a list of the best help desk software available this year.
What Is Help Desk Software?
Help desk software is a customer service tool that manages and distributes customer inquiries. The software collects tickets -- or customer support requests -- from a variety of communication channels, such as email, live chat, or social media and streamlines them into a single interface.
With the help of a help desk, your customers can expect a timely and consistent response from your team, no matter what channel they contact you with. Beyond this, help desks offer a range of other features that ease the customer support process. Let's take a look a few common ones in the section below.
7 Help Desk Software Features
1. Omni-channel support
Most help desks offer omni-channel support for a variety of communication channels. The most common channels covered by a help desk are phone, email, and live chat, but others also include social media, website, and SMS.
When searching for a help desk, be cautious because some providers are specifically email ticketing systems. These only process tickets via email, which is great if you have a small customer service team. However, unless the majority of your support requests come through email, you'll want software that covers more ground.
2. High-level ticketing process
Most help desks can do more than just receive and categorize tickets. For instance, it's important that you can create tickets through the software. This is effective for in-person support requests so the rep can log the interaction.
Additionally, help desks should be able to route tickets -- or direct them to the appropriate individual or team who can best address the issue. You should be able to modify tickets when more information is gained and close it when the issue is resolved. This keeps your team organized and improves the efficiency of their workflow.
3. Reporting and tracking
After each ticket has been solved, it shouldn't just be closed forever. When you close a ticket, it should be stored in your records so it can be used as a resource. Over time, you can use these cases to identify and correct common customer roadblocks.
Help desks can also be used to track metrics based on tickets, such as the time taken to resolve an issue, the communication channel used, and the number of times an issue has been re-opened. When a help desk offers reports on these metrics, supervisors can use the data to assess team performance and adjust agent training.
4. App integrations
Help desks are designed to organize every aspect of your customer service process. This is a lot easier when every tool you need is included in a single program. That's why app integrations are such a key component of help desk software.
There are plenty of integrations that benefit your customer service team like scheduling, payment, social, customer feedback, CRM, online chat, file hosting apps, and more. Reps won't lose time switching between platforms when everything is connected into one interface.
5. Self-service portal
Customers love solving their own problems. And, you should love that, too, because it saves your team from answering basic, repetitive questions. Instead, they can re-focus their time on urgent or complicated cases that require more attention. This is where a customer self-service feature comes in handy.
Self-service features are tools that help customers solve their own problems. This includes knowledge bases, FAQ pages, and informative blog posts. With these additions, your customers will find the answers they need without having to reach out to your service team.
6. Productivity improvements
Help desks offer a plethora of features that improve team productivity. For instance, you can automatically assign tickets to certain individuals or teams based on keywords or current workload. Supervisors can also manually set deadlines on tickets and notified on the agents' progress. These are small upgrades, but over time they end up saving your team hours of work.
7. Security
In some cases, you might want to help a customer get their problem resolved with whatever means necessary. However, you never want to compromise their privacy through the company's help desk.
For these scenarios, many help desks offer ways to protect customer data. For instance, customer service agents might get exclusive access to tickets and customer information through special logins. You can also secure your help desk domain and restrict access to it from outside your office.
Help desks can offer any combination of the above features -- as well as many more -- so it's important that you research all available options before selecting one for your company.
Now that you're familiar with help desks and their features, take a look at this list of the best help desk software.