As a website administrator and marketer, you're always looking for ways to reduce friction in your customer experience. From discovering your brand to receiving an order confirmation email, customers expect a smooth buying experience and exactly zero unnecessary steps.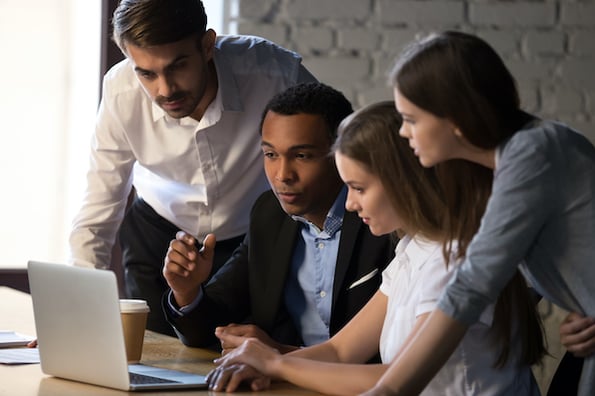 One common inconvenience on membership sites and ecommerce sites is the need to create user accounts. User accounts engage customers and simplify the buying process...as long as they get past the hurdle of creating an account.

For this reason, social login can be an indispensable feature on your site. Social login allows a user to create and sign in to an account on your website using credentials from their social media account, like a Facebook or Twitter account. This way, users don't need to make an entirely new account just for your site.

You've probably seen social logins before — they look like this:
Social login is an easy alternative to other types of logins, like email registration or forms, and makes users much more likely to complete the signup process. Additionally, social login helps visitors save time by giving them one less username-password combination to remember.
Default WordPress doesn't include a social login feature, so you'll need a WordPress plugin to let users log in this way. Below you'll find a list of our favorite social login plugins that can seamlessly add this feature to your site.
Best WordPress Social Login Plugins
Nextend Social Login
Social Login
AccessPress Social Login Lite
WooCommerce Social Login
Super Socializer
Social Sharing by miniOrange
Youzify
Ultimate Membership Pro
UserPro
With over 300,000 downloads, Nextend Social Login is the most popular WordPress plugin for social login, and for good reason. This free tool integrates with your WordPress login screen and adds the option to log in with Google, Facebook, or Twitter. The login page is customizable to fit your site's branding, and users can even use their social media profile photos as their profile image on your site.
The pro version of Nextend Social Login comes with premium features including additional login screen layouts, integration with WooCommerce, and login options from Amazon, LinkedIn, Yahoo, and others.
Social Login is a reputable plugin option that lets visitors log in, register, and comment on your site through dozens of possible social networks. It cleanly into your WordPress login process, so users can provide and remove their social network accounts when desired. It's a comprehensive plugin that supports leading social sites like Facebook, Twitter, Google, LinkedIn, PayPal, LiveJournal, and Instagram.
Social Login updates often to stay current with the APIs it works with. It's also perfectly compatible with WooCommerce BuddyPress, a popular WordPress membership plugin, so you can use Social Login's tools on your e-commerce or social community site.
If you want a free plugin with the option to upgrade in the future, try AccessPress Social Login Lite. The free version lets you choose a Facebook, Twitter, and/or Google login option, then pick a customizable template for your login button to fit with the design of your site. Lastly, it produces a shortcode snippet to place the social login element anywhere on your site.
The pro version of AccessPress Social Login supports 12 additional social networks, broader customization, and integration with WooCommerce and BuddyPress.
User accounts in WooCommerce accelerate the buying experience, especially for repeat customers, so you want customers to sign up hassle-free. A great add-on for WordPress users with an online shop, WooCommerce Social Login lets users check out as guests or log in via their Facebook, Twitter, Google, Amazon, Yahoo, LinkedIn, PayPal, Disqus, or VK credentials.
Additional benefits to this paid plugin includes tools for reporting relevant data around social logins on your site and viewing social profiles on your account all in one place.
Super Socializer is a free, easy-to-use, multipurpose social media plugin for WordPress. It helps you integrate social media sites on your comment box, and offers social sharing options along with its social login feature. Once visitors register on your site, their profile data will be saved in your blog database, allowing you to communicate with them if needed.
Super Socializer supports seven social networking sites and delivers extensive flexibility for its (lack of) price tag. The plugin lets you customize many aspects of its mobile-responsive login page elements, add specialized buttons like Facebook "like" or Twitter "tweet" buttons, and integrate with BuddyPress, bbPress, and WooCommerce.
This social login plugin by miniOrange supports login through Facebook, Twitter, Google, LinkedIn, Windows Live, Instagram, Amazon, Salesforce, and more. It can also be integrated with other advanced plugins like WooCommerce, Mailchimp, and BuddyPress.
The free version of Social Sharing comes with plenty of customization options for login icons, and lets administrators automatically assign WordPress user roles (including custom user roles) to new registrants. miniOrange also has Standard and Premium paid plans for its social sharing plugin, which pile on more features to give you greater control of your login process.
Youzify makes it easy to set up your site so members can access their account through their Facebook, Twitter, Google, Instagram, or LinkedIn credentials — but that's just the tip of the iceberg with this plugin. The feature-packed tool also includes a highly customizable user account and profile page builder. It's fully responsive and translatable as well.
Ultimate Membership Pro is a complete membership management plugin designed for the WordPress platform. It includes social login functionality with Facebook, Twitter, Google, LinkedIn, Instagram, VK, and Tumblr. But that's just the beginning.
With this plugin, you can create a free or paid membership site with multiple payment gateways, recurring payment options, social login options, coupon management, content locker system, conditional logic, and comprehensive email marketing options.
For simple social sign-on, opt for a simpler plugin. But if you are running or scaling up to a full membership site, consider this popular tool.
For a high-quality, front end social login and registration system, try UserPro. This premium WordPress plugin adds a beautiful social registration and login system to your site, allowing users to make accounts with their Facebook, Twitter, Google+, LinkedIn, and Instagram social profiles.
From there, you can make multiple custom registration form types and assign them to different WordPress user roles. For example, a website based around user-generated content might include different sign-up forms for readers and content creators. You can even set your forms to require strong passwords to keep user accounts secure.
Convenience isn't just a perk on modern websites — it's an expectation. Social login is a piece of the UX puzzle that many modern sites should adopt to keep up with consumer interests. By picking one of these plugins, you'll ensure visitors leave with a positive impression and return with excitement.
Editor's note: This post was originally published in October 2020 and has been updated for comprehensiveness.