Sponsors connect companies to non-profit organizations, fund promotional events, and create long-term monetary support pipelines.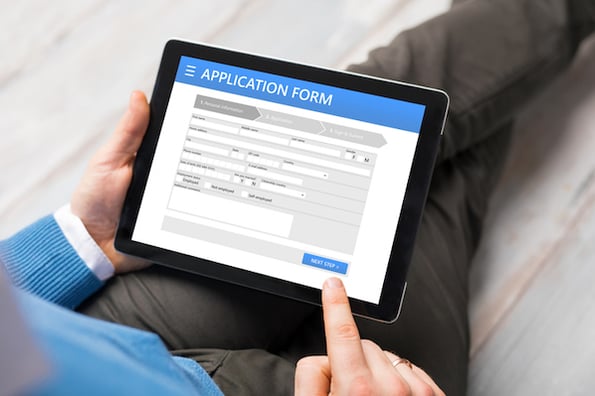 But, attaining a sponsorship and generating continuous cash flow demands more than good intentions — businesses need sponsorship forms that are clear, compelling, and streamline the sign-up process.
In this post, we'll provide a step-by-step guide that can help you create forms that effectively attract sponsors. Then, we'll wrap up by providing some form templates and tools you can use to bring your forms to life.
What is a sponsorship form?
Organizations use sponsorship forms to create valuable partnerships with communities or other companies. These documents outline the agreement reached between both parties including what the sponsor will receive in return for its investment.
There are two basic types of sponsorship forms. The first type lets website visitors know that you're looking for sponsors. The second makes it clear that you accept sponsorship requests.
Non-profit organizations often use the first type to seek out long-term relationships with new supporters, while companies looking to make a difference in the community may use the second type to identify potential contribution opportunities.
No matter the type you choose, the goal of a sponsorship form is to create a long-term relationship between the sponsor and your business. This intention is what differentiates sponsorships from donations — while donations are typically one-time gifts, sponsorships are designed to cultivate ongoing support.
Sponsorship Form Components
Sponsorship forms need to collect key data including sponsor names, addresses, phone numbers, emails, and the amount of money the sponsor is willing to commit. This is critical for both record-keeping and delivering consistent communication to your sponsors.
Along with capturing basic data, the design of your form is important as well. While it's helpful to have an interesting background or include your corporate logo, the key concern is usability. Potential sponsors must find your form easy to navigate and complete.
It's also worth including information about your sponsorship goals. If you're a non-profit, briefly describe your mission and monetary needs. If you're taking sponsorship requests, clearly outline what you're looking for in potential candidates.
Excellent Sponsorship Form Samples
Here's a look at a few samples of great sponsorship form letters that turn visitor interest into action.
Basic Sponsorship Form
Here's a great example of a sponsorship form that could be used for an event, or to foster a long-term partnership. Its form section is easy to understand, and it includes a clear description of what the sponsorship entails.
Online Sponsorship Form
If you have a website, you can leverage it to create sponsorship forms that are convenient to access and fill out. The one above is a basic example used to attract sponsors to an annual event.
Tiered Sponsorship Form
This letter describes different sponsorship "tiers" available to supporters. It communicates the benefits of sponsoring and gives potential supporters multiple options depending on their financial situation.
Event Sponsorship Form
This form refers to an upcoming event. It includes details about the intended purpose and the ways that sponsors can contribute.
Now that we're familiar with a few types of sponsorship forms, let's review how you can create one for your business.
How to Create an Online Sponsorship Form
1. Log into your form building software or account.
Since HubSpot provides a free form builder, we'll use that one to get started. If you don't have a HubSpot account, you can create one here.
Once you log in, go to your form building interface. In HubSpot, the "Marketing" tab is where you can build forms and customize ads, emails, and web pages.
2. Select a form type.
Most form builders will provide you the option to choose a form type. Here's where you can decide whether to put the form on a new, standalone page or embed it into an existing one. You can also create a "pop-up" form to grab a visitor's attention while they're scrolling through your site.
3. Add form fields.
Next, choose the contact fields you'd like to add. Our example form comes standard with an email field, but it's also worth adding fields like first and last name, street address, and phone number.
4. Include form fields that collect sponsorship information.
Aside from basic information, you'll also need to include fields that obtain information that's specific for sponsorships. These are fields like donation amount, company information, and checkboxes for contract compliance.
In HubSpot, scroll down the left-hand side menu to the "Create New Field" section. Here, you can select the style of field you want and define the data you want to capture.
5. Create a follow-up email.
Once a sponsor does complete your form, you'll want to send them a message to thank them for their commitment or provide them with additional information. The best way to do this is through a follow-up email that's triggered automatically upon form submission.
6. Publish your sponsorship form.
Once your form is complete, you can choose to copy and embed a form code into your website or get a sharable link that sends the form to specific contacts in your CRM. That way, if you have sponsors that you know are interested in partnering with you, you won't have to create a brand new web page to collect their information.
If you're planning to publish your form on a customer-facing web page, then it's important to have a design that fits the look and feel of your website. If you're not sure where to begin, the tools below can help you get started.
Sponsorship Form Tools
Price: Free
We've run through some of the key features that HubSpot's form builder provides. But, there are still a few more that make this form builder unique.
For example, it uses a drag-and-drop editor so you can easily add and remove form fields. It also has a wide range of field types, ranging from multi-line text fields to date pickers. This gives you everything you need to create an effective sponsorship form, even if you have little or no web design experience.
Price: Starts at $59/year
Gravity Forms offers all the tools you need to create professional-looking sponsorship forms. Plus, it also supports integrations with third-party services like PayPal, Stripe, Zapier, and Twilio.
Price: Free
Forminator is a free WordPress plugin that lets you easily create forms, quizzes, polls, and calculators. It also streamlines sponsorship payments with support for Stripe and PayPal.
Price: Free
HubSpot's free WordPress plugin gives you the power to create great sponsorship forms and keep visitors engaged with live chats and chatbots. Plus, all website forms automatically sync with your HubSpot CRM.
Price: Free
WP Forms is a powerful drag-and-drop forms builder that's user-friendly, 100% mobile responsive, and completely free.
Price: Starts at $14/month
WuFoo is an online forms builder that includes a cloud storage database for all your templates. You can check out its basic features for free or pay for a Starter Plan that includes tools like customized branding.
If you'd prefer not to build your own sponsorship form, we've got you covered with some great free template sites as well.
Free Sponsorship Form Templates
JotForm offers an array of sponsorship form options including request forms, event forms, and tiered sponsorship forms, all for free.
Sample Templates provides more specific sponsorship forms for charity support, immigration sponsorship, and sports fundraising.
This site offers PDF templates of basic sponsorship forms, which provide a great starting point for your own design.
If you're looking to collect more customer data, learn how to create a contact form.