Do you have a bunch of data that you need presented cleanly and succinctly on a web page? Often, a table is the go-to for this purpose. Interactive tables allow visitors to easily view, filter, and sort your data to their preferences, which reflects well on your site.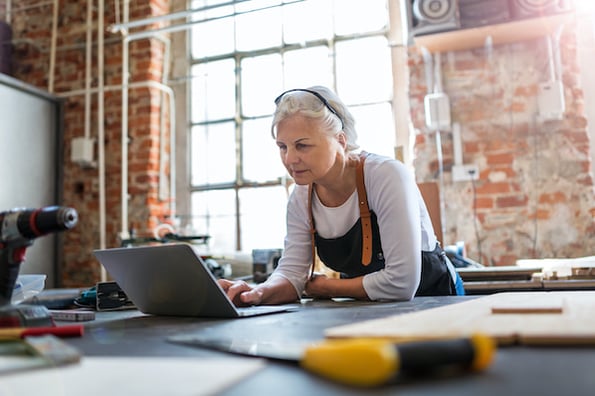 However, any site owner who's attempted to build a table from scratch knows how painful the process can be. After attempting to hard code or import files with sometimes thousands of data points, formatting can be a nightmare. And this isn't even mentioning mobile-friendliness and responsive design, which are coming to dominate the user experience.
Here's the good news if you run a WordPress website: Plugins have your back. There are several free, paid, and freemium options available that let you construct tables in charts in your WordPress admin area, then display them to visitors. In this post, we've compiled eight of the best for you to try out — let's take a look and what they can do.
Best WordPress Table Plugins
wpDataTables
Ninja Tables
TablePress
WP Table Builder
Visualizer
Data Tables Generator by Supsystic
Posts Table Pro
League Table
wpDataTables is a high-quality, easy-to-use freemium WordPress plugin to help you add attractive tables and charts to pages and posts without coding. This plugin comes in two versions, lite and pro.
The lite version of wpDataTables is somewhat limited in what it can do, but should be sufficient for the occasional table. To make one, upload data from an Excel, CSV, JSON, or XML file, customize your ordering and table appearance, and place it with a shortcode or a page builder. Your table will be automatically sortable and paginated, and can be searched as well. Tables support basic text as well as custom links, media, and star ratings.
By upgrading to the pro version (starting at $59 per year), you can do much more. This version removes restrictions on the number of tables and charts you can make and the size of your tables. It also adds the ability to build charts from scratch (instead of importing data), edit table data once imported, sync data from Google Sheets, and toggle responsiveness for small screens.
wpDataTables Pro is one of the best table plugins out there, so we recommend starting with the free version as a trial, then moving up to a paid plan for more freedom.
Ninja Tables is another leading table builder for WordPress that offers an impressive amount of features at no cost.
With the free version, you'll get basic functions like the ability to upload data into tables, sorting, pagination, and filtering. On top of that, Ninja Tables free includes over 100 styles of table for almost any presentation you'll need. It also boasts a highly flexible editing environment with tons of visual customization options, letting you modify colors, fonts, and sorting with drag-and-drop. Perhaps best of all, all tables are responsive and mobile-friendly.
For $49, you can purchase an annual license of Ninja Tables Pro for one site. Extra benefits of this version include real-time connection with Google Sheets, integration with any post type (including custom posts), editing on the front end, photos and videos inside tables, and a WooCommerce integration for product tables.
TablePress is likely the simplest way to place a content table on your WordPress website. It's also the most popular, with over 800,000 downloads to date. This free plugin adds a new TablePress page to your administrator interface, inside which you can construct your tables without dealing with formatting issues — simply plug in your values or import from an external file. Data is exportable to Excel-friendly formats, too.
When finished with your table, embed it anywhere on your site using shortcode, no actual coding necessary. The plugin also lets you add interaction features to your tables like sorting, filtering, and row highlighting, and there's a library of extensions for functionality like detailed filtering and mobile responsiveness. Note that extensions labeled "premium" may be downloaded for free, but the developer does request a donation for these items.
Overall, TablePress is a great WordPress plugin if you publish data regularly, but don't want to dent your budget with surplus features.
The free WP Table Builder is another no-frills option for simple WordPress tables. This tool lets you place seven different elements (text, list, images, buttons, star ratings, custom HTML, and shortcode) and arrange these table items via drag-and-drop. So, if you need a quick product table, comparison table, table of contents, or review list, this plugin helps you build one fast and free.
Through the builder interface, you can add content from scratch or import from an XML or CSV files, and export them in the same format. Tables are placed on pages and posts with a simple shortcode.
WordPress developer ThemeIsle is known primarily for its themes. But, they also maintain a couple of plugins including Visualizer, a table and graph manager for WordPress. It's available in both a free and a paid version.
Visualizer's main selling point is...well, its visualizations. The free plugin lets users implement any of nine chart types, including line charts, bar charts, pie charts, and geo charts. These data visualizations are powered by Google's Visualization API and pure HTML, which means they're responsive, cross-browser compatible, and colorful by default. With the paid version, you get access to six more chart types.
Of course, this plugin wouldn't be on our list without table functionality. Visualizer free and pro let you add responsive tables to any post or page, with a healthy amount of customization settings. If you download the paid version, you'll also be able to edit tables and charts from your admin interface and import data from any source.
For another reliable freemium table builder, try Data Tables Generator by developer Supsystic. This plugin lets you add basic data tables to your website with the ability to search, sort, and filter them. Tables made with this plugin are mobile responsive, and they support large data sets and media uploads.
Starting at $46 per a year, the pro version of this plugin adds charts and graphs, front-end editing, WooCommerce compatibility, and the ability to import and export your tables from Excel, CSV, PDF, and Google Sheets.
WordPress site owners looking for a more high-end premium table solution might consider the Posts Table Pro plugin. Starting at $69 annually for one site, Posts Table Pro lets anyone construct, clean, powerful tables that are fully searchable and sortable.
Tables with this plugin are highly accommodating — you can place text, links, images, videos, audio, and buttons inside them. There's even an option to insert posts, pages, and custom post types into your tables, along with their respective categories, authors, and other meta information.
A subscription to Posts Table Pro also grants you access to the plugin's library of documentation and video tutorials, plus a support team at your back if you encounter technical problems. If you're not happy with the product, you can get your money back within 30 days of purchase.
Closing out our list is League Table, a relatively cheap paid plugin to help you build tables for ranked items, like sports teams, product prices, and finance data. Use League Table's Excel-like editor to place your values and arrange columns, and this plugin will handle the sorting for you. You can also have sortable columns, and apply custom color combinations and fonts to nearly any visual element of your table.
With shortcode functionality, you can put your table on any post or page, and there's no limit to how many tables you can make. Finally, for easy table creation and backup, the League Table plugin supports uploads from and downloads into XML files.
Don't Leave User Experience on the Table
When implemented well, a table is an invaluable information source for your visitors, helping them to sift through heaps of data for relevant insights. You might even augment your tables with visualizations.
When done wrong, however, tables are little more than a block of annoying text consuming valuable page space. Whether it's a product table, a pricing table, a simple data table, or otherwise, users will appreciate a clean design that's pleasant to view and easy to interact with when necessary.
For these reasons, a table plugin, especially one that creates mobile-friendly tables, is a must-have WordPress plugin. WordPress users should strongly consider a table plugin to do this work for them — all you'll need to do is install one, plug your data, and paste the shortcode.