According to data from The Community Roundtable, 78% of members of online communities tend to ask questions and 70% partake in providing solutions.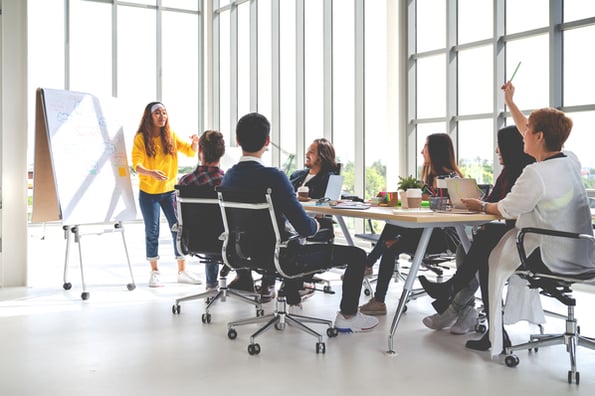 This isn't surprising. When done right, online communities give members a sense of belonging, and members feel motivated to actively participate.
If you're interested in building your own online community, BuddyBoss is a WordPress plugin that can help. In this post, we'll cover why you should build your online community with BuddyBoss and the key features of the plugin.
What is BuddyBoss?
BuddyBoss is an advanced plugin for creating online communities on WordPress. With this platform, you have the flexibility and control to sell memberships and courses, create a central hub for employee training, launch your own mobile app, and more.
The BuddyBoss platform centers around connecting people. With this WordPress plugin, you can bolster your brand by introducing members to like-minded individuals, gathering valuable feedback, and encouraging the community to learn together.
BuddyBoss helps your members make valuable connections, participate in group discussions, and earn rewards for their engagement. Also, your business can generate revenue by selling access to your community.
Below is an example of a member profile with multiple connections, groups, courses, and earned credits:
Why Build Your Online Community With BuddyBoss
Using a SaaS platform is a typical way to build an online community. However, this method comes with several disadvantages.
First, you're limited to the features in the software, and you have little to no control of how your website will function because the SaaS platform is usually not extensible. Second, because migrations from SaaS platforms are so costly, you tend to settle for an underperforming system.
Luckily, BuddyBoss gives you the flexibility to add more functionality to your community site with plugins. You have complete control over how you modify your WordPress website to match your brand's style. And more importantly, the software adjusts as your community grows.
Because of these benefits, over 26,000 WordPress websites use BuddyBoss, according to data from Builtwith.
Now let's look at the key features of BuddyBoss in more depth.
BuddyBoss Features
Member Profiles
Social Groups
Activity Feeds
WooCommerce Integration
GamiPress Integration
Customization
TranslatePress Integration
AppBoss Integration
Customer Support
An online community site can help boost your brand engagement. BuddyBoss is a powerful solution for bringing people together to talk about your brand. Below are a few key features of the plugin.
1. Member Profiles
BuddyBoss comes with customizable member profiles, allowing members to share their personal details. Also, you can assign WordPress roles to different member types, so you can offer paying members different perks.

2. Social Groups
Because every community is unique, you can create public, private, or hidden groups within the social space. Then, you can select organizers within a group to monitor the group's post activity and invite users.
3. Activity Feeds
The Activity Feed feature transforms your community into a two-way conversation. Your members can write on each other's feeds and like each other's posts. Users can also @mention other users on your community site, and the mentioned user will receive a notification to alert them of the comment.
Among the other benefits are the option for members to upload photos and organize them into albums and the ability to create site-wide events for members.
4. WooCommerce Integration
BuddyBoss lets you sell access to your community with seamless integrations, like WooCommerce. You can charge members a one-time fee to join your community or generate ongoing revenue with a monthly subscription. There's also the option to create member-only content for paid users.
5. GamiPress Integration
Engagement plays a critical role in online communities because you want members participating in discussions on a regular basis. BuddyBoss helps you build member retention through gamification. These gamification features are enabled via an integration with the GamiPress plugin.
You can award and deduct points to members who take a specific action, like commenting on a post. Members can earn badges to display on their profiles. By creating an interactive online space, your members will be encouraged to return back to the community.

6. Customization
BuddyBoss is designed to fit your brand. So, you have the freedom to fully customize it to fit the needs of your community and business. For instance, you can change fonts, colors, and cover photos to match your company's brand. You can choose the layout of your theme, header, and footer to help members easily navigate your community.
If you're looking to create a launch page, BuddyBoss integrates with the Elementor page builder, too.
7. TranslatePress Integration
With BuddyBoss, you can build a multilingual community that attracts members from all over the world. BuddyBoss has an integration with the TranslatePress – Multilingual plugin, which allows you to translate your entire website, including output from shortcodes, forms, and page builders.
8. AppBoss Integration
Your members live an on-the-go lifestyle. They're not always engaging with your community via a desktop computer. Instead, members like participating in discussions using their smartphones or tablets. The mobile app feature enables your community to engage in conversations with their mobile devices.
With help from the AppBoss integration, you can launch your own mobile app with BuddyBoss. Build native iOS and Android apps, then submit then to your Google Play Store and Apple App Store accounts. The apps will offer real-time syncing with your WordPress site, so there's a streamlined experienced from the website to the mobile app.
9. Customer Support
BuddyBoss is dedicated to supporting the creation of your community. The plugin's team provides how-to guides and narrated video tutorials to get you started with the platform. The step-by-step documentation gives clear instructions on how to customize your community site.
Plus, if you have a specific question, you can always submit a ticket to their knowledgeable support team.
BuddyBoss Pros and Cons
BuddyBoss has dozens of features to help you create an online community or social networking site. But, like any product, it has its disadvantages.
To help you make an informed decision of whether it's the right plugin for you, we've outlined the major pros and cons in the table below.
| | |
| --- | --- |
| Pros | Cons |
| BuddyBoss is an all-in-one solution, providing a plugin, theme, and multiple integrations to create a fully functional community website. | BuddyBoss may be too feature-rich and heavy for users looking to add a simple online community or forum to their existing site. |
| Since BuddyBoss integrates with WordPress, it is easy to learn and adopt for anyone who is familiar with WordPress and its dashboard. | Using BuddyBoss may not be easy to learn and adopt for users who have no experience with WordPress or its dashboard. |
| Most of BuddyBoss's functionality is available with the free plugin. Only some features require an upgrade to the premium version. | BuddyBoss lacks some customization options, like a custom font integration, which can limit how you brand your site. |
| BuddyBoss has a complete frontend editor so you can preview and make changes to your site instantly. It also integrates with Elementor if you already use or prefer that page builder. | The plugin settings can be difficult to learn and find when first installing it. |
| BuddyBoss has several integrations with WooCommerce, LearnDash, and more so you can easily extend the functionality of your site. | BuddyBoss offers limited live customer support via tickets. There's no phone, email, or live chat support. |
BuddyBoss Alternatives
BuddyBoss is an excellent option for creating an online community, but it's not the ideal solution for every user. Below are some alternatives that you might be interested in.
Like BuddyBoss, Peepso is a free plugin that allows you to quickly and easily add a social networking forum or online community to your WordPress site.
What sets Peepso apart is its selection of features available with the free version of the plugin. It offers content-control privacy options, community moderation, hashtags, polls, and more. These features are only available as premium add-ons for BuddyBoss.
For an in-depth comparison between BuddyBoss and Peepso, check out this video by Darrel Wilson:
ARMember is a top-rated freemium plugin for creating and managing feature-rich membership websites.
It has several advanced features that aren't available with BuddyBoss. For example, with ARMember you can:
drip content based on membership plan, time of subscription, or a specific date
create unlimited membership levels with flexible pricing (including free memberships, subscriptions, one-time payments, or charge per post)
support five payment gateways, including PayPal and Stripe
leverage built-in reporting on members, payments, coupons, and more
To learn more, check out a complete review of this plugin.
MemberPress is another excellent membership plugin for WordPress. Like with ARMember, this plugin lets you drip content, create membership levels, set up user forums, and track payments, members, and more.
What sets Memberpress apart is its reputation for strong security and customer support.
BuddyBoss Plugin: To Install or Not to Install
Online communities can empower your members to learn from one another and persuade members to purchase from your brand. BuddyBoss can help you build an online community site that influences members to connect and rewards them for their engagement while generating income for your business. Take the next step to start building your online community today.
Editor's note: This post was originally published in November 2019 and has been updated for comprehensiveness.