Because building a website from scratch requires a significant amount of time and energy, many people opt for a WordPress theme to simplify the process.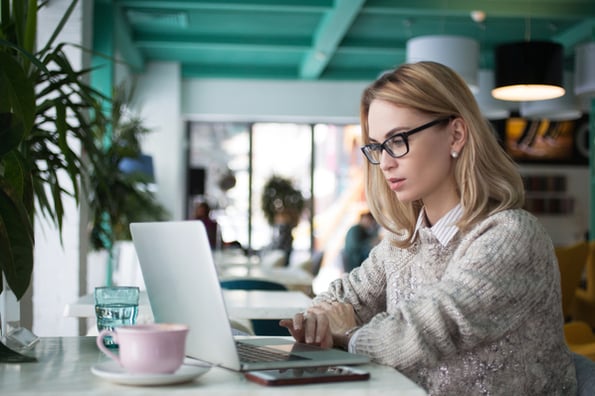 One of the most popular WordPress themes is Divi. We've created this comprehensive Divi theme review to help you better understand its benefits and potential drawbacks.
What is the Divi theme?
Divi is a popular WordPress theme that offers a website-building platform. It has a visual editor option that provides both novices and professionals with the tools necessary to craft engaging, visually appealing websites — no coding experience is needed.
The theme also includes over 800 premade website layouts and a built-in split testing system that streamlines the process of evaluating variations of your website.
To fully understand how much people like Divi, look at the sheer quality of positive reviews left on Trustpilot. Over 20,000 people rated this theme as 'excellent' and awarded it 4.9 stars. Whether you're a freelancer, agency, or website owner, you'll find creating and managing a Divi website to be almost effortless.
What are the pros of the Divi theme?
The best websites engage their visitors with fantastic design and content elements. Divi gives you a complete design framework to craft an eye-catching site. Here are a few of its key features.
Visual Drag-and-Drop Builder
Without coding experience, designing a website from scratch can be tricky or downright impossible.
However, with Divi's front-end builder, coding isn't necessary. Because Divi is highly visual, you can add special effects, change the image settings, and even complete bulk editing. Say goodbye to going back and forth on a classic WordPress editor; check out any Divi theme review, and you'll see how many users enjoy the ability to create stunning designs efficiently.
What we like: Thanks to Divi's front-end visual builder, you can see your changes in real-time. While Divi's front-end builder empowers you to create incredible websites, you can also use a Divi builder module pack like DiviFlash, to elevate your web design.
Source: Elegant Themes
Premade Website Layouts
If you prefer ultimate customization, you can start your website with a blank template. However, the theme also boasts over 800 premade designs and more than 100 full website packs — these range across multiple industries, including business, technology, health, and events. New layouts are added regularly in addition to royalty-free pictures, icons, and illustrations.
What we like: There are over 40 modules, so you can customize a premade website layout to make it work for your business.
Source: Elegant Themes
Customization Tools
Designing and customizing every facet of your website is possible with the Divi theme. For instance, you can use hover options to add special effects on interactive elements. Or, you can take it a step further and add depth to images with custom drop shadows. You even decide the shadows' size, color, position, and intensity. Another popular option is to use animation to make the site more engaging.
What we like: Because of Divi's array of customization tools, your website can be as unique as you'd like it to be. Or, if you'd prefer a more traditional option, you can stick with that, too.
Source: Elegant Themes
Magic Color Manager
If you want to boost your creativity and build your site faster, look no further. Divi's Magic Color Manager automatically remembers and stores your recently used colors for easy access.
What we like: Say goodbye to guess-and-check; Divi uses an algorithm that suggests new colors that match your current palette.
Source: Elegant Themes
Built-In Split Testing
One of the best ways to decipher if your website effectively captures visitors' attention is with testing. A/B testing is a type of marketing experiment that allows you to split your audience to test multiple variations of a campaign or in this case, a website, and determine which is the better performer.
Divi's built-in, powerful split testing system can help if you're curious to learn how your site performs. You can send different versions of your page to visitors to determine how each variation performs. The test results are displayed in an easy-to-understand dashboard highlighting critical insights, like click-through and engagement rates.
What we like:You can also test smaller, more niche facets of your site, such as colors, headlines, and layouts.
Source: Elegant Themes
WooBuilder
If you have an ecommerce business, you'll want to give Divi a second look, as it integrates with >WooCommerce. You can sell unlimited items in your store for visitors to browse and purchase your products. Then, create custom cart and checkout pages that fit the theme of your brand.
What we like: There are dozens of custom WooCommerce modules and thousands of design settings available for your business. These include ratings, galleries, breadcrumbs, and cart notices.
Source: Elegant Themes
What are the cons of the Divi theme?
Nothing's perfect, so of course, some potential cons are associated with using the Divi theme. Here are some of the most commonly reported possible pitfalls.
Too Many Options
We're a huge fan of options, so this isn't much of a con in our opinion, but some users who have left a Divi WordPress theme review mention that the sheer number of options can be a bit overwhelming to sift through.
Learning The Builder Takes Time
Of course, there's a learning curve with anything — and Divi's drag-and-drop builder is no exception. While it's considered significantly more straightforward than coding, you could find it less intuitive if you're used to traditional website development strategies. However, for a beginner, any cons will likely be outweighed by the various pros.
Website Speed Varies
It's possible to create a website that loads quickly using the Divi theme. But it's also possible that, with so many add-ons possible, the theme can become bogged down which results in longer load times — not the best for user experience.
Create your dream website with Divi.
If your business is in dire need of a website revamp, but you don't have the time, knowledge, or resources to build a site from the ground up, these Divi theme reviews should demonstrate why it's a solid choice. Happy website building!
Editor's note: This post was originally published in December 2019 and has been updated for comprehensiveness.