Anyone with basic technical skills can design an ecommerce website, since we have several ecommerce platforms that don't require CSS or HTML to set up a functioning site. While this is easy, how you set up your website will directly affect your sales.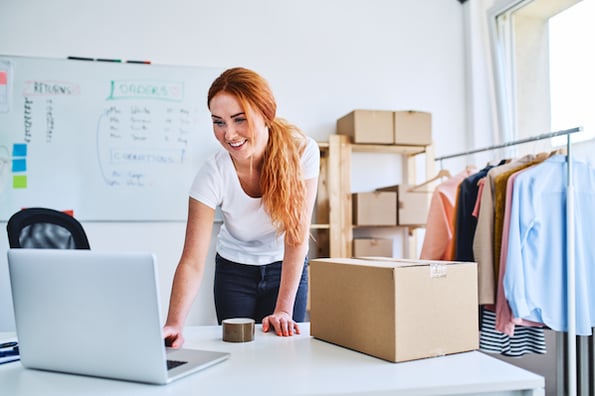 The content and visuals of your ecommerce website should be informing and inspiring. All the checkout practices and shopping carts need to be intuitive, and the website should be responsive.
You have to observe many rules for your website to be deemed effective. If you're currently designing your ecommerce website, you've likely already read all the rules. What would be helpful is a list of the best ecommerce website designs for inspiration.
In this blog post, we'll share some of our favorite ecommerce websites and tell you why they're our favorites. And if you're just starting your ecommerce business, be sure to listen to our podcast about growing your sales:
Best Ecommerce Website Design Examples
Here are several outstanding ecommerce website examples you can use for inspiration.
STANDOUT is a men's fashion store, and its website design is very easy to navigate, even for non-techie individuals. Its homepage directs the buyers to the exact page they need.
It listed all its products in eight categories and all the brands it works with. This means if you need CK's pants, you don't have to browse through all pants.
Lastly, the homepage includes testimonials and all the available means of payment.
Best for: A design like this works best for businesses selling clothing for various brands.
Spotify has one of the simplest website interfaces. Its homepage only has three short sentences. While it's simple, it effectively allows users to easily view the call to action (CTA) — GET SPOTIFY FREE — without any distractions. The premium page is also simple and straight to the point.
Best for: You should take pointers from Spotify if you're a brand looking to get people to sign up or subscribe to online services. However, if your business is new, we recommend adding more information on exactly what you offer.
Bohemian Traders has invested heavily in photography to bring out the best of its laid-back, unconventional, and highly expressive look. It also categorized its pages into seven major categories, each with several subcategories. The CTA button is also visible to ensure buyers don't feel stranded when trying to shop.
Best for: A design like this works well for businesses that rely highly on visual appeal to attract buyers and sell products.
When you visit the Simply Chocolate shop, you know exactly what it's about. It's got colorful chocolates to tempt you into buying its products.
However, the feature that makes the website stand out is its unconventional and bold navigation menu. It has a sideways layout, but rather than putting off potential buyers, it generates visual interest and entices visitors to click on the links.
Best for: Anyone who wants something out of the ordinary, especially when it comes to your navigation menu.
Carrollwood Florist sells and delivers flowers. Its website is simple and very colorful. It only has a picture of a woman holding a bouquet, and we don't see her whole face. We only see her smile, which represents the experience it's selling.
There is also a category session with flowers for all occasions to make the shopping experience easier.
Best for: Businesses looking to promote their products or services by selling the experience.
When you visit Dick Moby's website, the first thing you'll notice is its mission statement. The colors and designs is delightfully simple to ensure the customers' focus remains on its eco-friendly message. There's also a short video from its YouTube channel to further push the message.
Best for: Businesses that want to ensure their web visitors focus more on their core values and beliefs instead of photos. It's a brilliant marketing strategy because people love companies that share their beliefs.
This website sells all the tools kids need in their science classes, including biology, physics, and human anatomy.
With all of the products on its website, you'd expect it to be crowded. However, Home Science Tools made the website easy to navigate by adding several categories. For example, if you click on the biology section, you'll get further options to choose the child's age and the exact classification of biology tools you need.
Best for: Ecommerce shops selling multiple products and looking for ways to make their site easy to navigate.
Bliss is a skin, body, and hair care vendor. The best feature of this website is the colors they used; all colors choices are very bold yet tranquil.
It also uses a carousel slider to showcase its top products and to explain what they do. Each slide has a different color, which makes the slides easy and fun to watch.
The website also uses an amazing font that goes well with the colors and images.
Best for: Ecommerce stores that sell beauty products. It's as neat as you'd like to feel after a skincare routine.
Melula sells gender-neutral shoes for kids worldwide, and its website is as colorful as a child's imagination. The website is simple and very visual, which is what a child's life is like. It only has two sentences of copy on the homepage, which leads you to a different page to read its story.
The website also has a free shipping offer for all shoes bought on its website, which they've strategically written at the top.
Best for: Since this website design is very bold, it's best for sellers who want their buyers to focus more on their products.
Supernatural is an ecommerce shop that sells plant-based spices, snacks, and cakes. You'd expect the website to be green or earthy, but that's not the case. The website's signature color is yellow, and the presentation of its products makes them highly appetizing.
The photography is top-notch, and the copy is informative, easy, and fun to read.
Best for: An ecommerce shop that wants to prove a point or change an opinion on something to get buyers on their side. One look at the Supernatural website, and all you think is, "Healthy eating is colorful."
Minna is a company that sells sparkling tea. Its website shows you all of its canned offerings with colorful, appealing packaging. And when you're done admiring its different products, if you scroll a little, you get short and informative copy about each product. You'll see why they made it, where its inspiration came from, and what it does for you.
Best for: Businesses selling health products like supplements and looking for an exciting way to educate their customers.
The Soilboy website sells plants, ceramic planters, and ready-to-use soil for houseplants. The company's greatest investment is in photography. All the images are spot on and very strategically placed. The website's homepage has plants and their quote, "As interesting as plant," speaks to plant lovers.
Best for: Shops selling simple products that want to make them appealing and interesting. If you use this website design, you'll have to be prepared to invest in professional photos to bring out the whole experience your product brings to the buyer.
As the name suggests, Prevail Boxing is a business that offers boxing classes. When you visit its homepage, you don't need to read any copy to know what it does.
The cover image is self-explanatory.
The site is also easy to navigate, as the pages have all the actions that the web visitors would be interested in undertaking, including scheduling classes.
Best for: Businesses advertising services or events that can be explained in one photo — like boxing, working out at the gym, or wrestling.
If you're looking for a web design that merges the offline experience with the online experience, Smoke Haus is the right inspiration for you. It sells products like beef jerky and crackling pork shards. All products are arranged like they normally are in a brick-and-mortar butchery, giving the buyer a real shopping experience.
The website also engages and walks with the buyers at every step; they have an assistant that guides buyers throughout their shopping.
Best for: Sellers whose target market isn't technology-based and whose buyers require extra help during their shopping.
Jackie Smith has an online store specializing in bags, sneakers, and clothing. The products' distinctive, branded design is up-front and center — even if you don't look at the logo on the navigation bar, you would know you're looking at Jackie Smith's products. The website uses an old-school ecommerce design that lists the most recent products on the home page, which is ideal for speeding along a purchasing decision.
The website also has customer reviews, which are important in building trust with new buyers.
Best for: Those just starting their ecommerce business, especially if they're selling clearly branded products like Jackie Smith's. It's simple and effective.
When you hurt your loved one or have a crush on someone, and you don't know the right gift to give them, Love Billy is the website you go to. It sells jewelry, stickers, and clothing, but the most interesting thing about its website is not the photography or layout — it's the copy.
When you visit the homepage, the first thing you see is the oft-used statement: "It's not you, it's me." Thereafter, their copy keeps getting better. The company is currently on a break, but it will soon be back with new products.
Best for: Selling products that involve romance, grief, or anything that requires an emotional connection. It's also an ideal design if you want to keep your ecommerce site up while pausing sales.
Even the smallest details of an ecommerce website design can significantly affect how your buyers feel about your online shop.
For RACE FX, this detail is the font. You visit the site, and you feel like you're in a Moto X3M game. This makes it appealing to its target buyers and draws attention to its promoted products.
Best for: Shops selling products like helmets, dirt bikes, or paintball gaming clothing and equipment.
Sneaker Shouts is a home for sneaker enthusiasts. The website design is simple; it has its most popular and newest sneakers displayed on its homepage.
In addition, there's a search bar where buyers can search for the sneaker type they want. When you click on the sneaker you want, the website directs you to the different stores you can purchase from.
Best for: Young affiliate marketers who aren't ready to invest in content marketing just yet.
GearLaunch has multiple businesses running on one site. It is an ecommerce shop selling different products, including pet, bathroom, and bedroom items, as well as phone cases and lawn signs. It's like an online mall.
Besides its products, it also has an academy where individuals are taught how to start ecommerce businesses. GearLaunch has brilliantly included everything it offers on its homepage and easily directs web visitors to the page they want to get to.
Best for: Ecommerce businesses that want to run other businesses on the same website without overwhelming buyers.
Glossier is another company with an online beauty shop, but it has a different design from what we've discussed. Instead of photos of their products, they have videos of women using their products and how they look after applying them. The women are from different races, which shows that their products are made for all skin types.
In terms of usability, the website is easy to navigate because they have categories for all its products.
Best for: Ecommerce shops that offer transformative products like makeup, as it gives the buyer an idea of what to expect.
Shleps is a small ecommerce business that sells handmade footwear. Its footwear is unique as it's knitted by the elderly. Every pair is well done, and you can see it in its photos. Shlep uses photos of customers wearing the products. That shows it makes its products for real people.
This website is very simple and budget-friendly, since it only has a few pages.
Best for: Upcoming ecommerce businesses that don't have many products to showcase.
Surrounding has an interior design ecommerce shop, and you can tell that by one click on its website. Not only does it show its products, but it also shows you how to match them up or place them in your home to better achieve the look.
The website has also invested in photography to show its fabulous designs to its customers. As for usability, Surrounding made it easy to find what you're looking for by categorizing the products by brand and by use, like furniture, lighting, and accessories.
Best for: Ecommerce shops that sell interior design products and need to encourage buyers by showing them how their products fit in their homes.
Chewy sells pet food and accessories. It has a simple and beautiful interface and categorizes all pet supplies by each pet's name and a cute photo. The website also has a category for popular products and brands. When you select a category, you'll find subcategories like supplies, food, or toys to help guide you further.
Best for: An ecommerce store that sells multiple products in the same niche and has a big budget for web development and marketing.
The Nuff is a book that teaches little girls about resilience and what it means to be enough. It's not a baby's book, but it has a cute animated cover.
The best feature of The Nuff website is the photos displayed on the homepage of hundreds of other little girls reading the book.
Best for: Businesses selling a single product where what really matters is web copy.
Crossrope sells workout equipment. There are many interesting features to love on this website. For starters, it has a video on its homepage of a guy skipping and doing cardio, which is what its website is about.
Another great feature is the product bundles it offers instead of selling a single product to its customers.
The price of the products also converts to the country's currency the buyer is browsing from, which is a huge convenience.
Best for: Businesses selling different products that can be used together, like workout or kitchen equipment.
Still curious about how to design your ecommerce website? Let's take a look.
How to Design an Ecommerce Website
Make your website user friendly.
Ensure a secure checkout process.
Add filtering options for your products.
Include customer service capabilities on your website.
Have the right CMS.
Spice up your product descriptions.
Integrate social media on your product pages.
Feature your customer voice for your products.
Make your website responsive for mobile devices.
To illustrate the importance of ecommerce web design, let's take a look at an example.
The other day I was shopping online for a Nintendo Switch. The popularity of this gaming console has made it extremely difficult to find one — stores like Best Buy and Target were out of stock.
So, I had to reach outside of my comfort zone when browsing. I scoured Google to find an ecommerce option that carried the Switch.
Although I was desperate to get my hands on a Switch, I was very selective about where to shop — particularly about each website's design and navigation. In fact, as a consumer, website design is one of the biggest factors I take into consideration when choosing where to spend my money.
If a website's design isn't committed to user experience — therefore not fun or easy to browse — I immediately deem the company unprofessional. You don't want to be one of these sites.
Before you upload your next product page, take a look at these ecommerce website design pointers.
1. Make your website user friendly.
When it comes to ecommerce websites, user friendliness is a must. Customers have to be able to easily navigate through your website to make purchases.
Take the Daily Harvest website, for example. The homepage clearly states the purpose of their product and the CTA to "Get Started" is a quick link to explore purchasing:
Image Source
The homepage also has a dropdown menu so customers can easily navigate towards what they're looking for. Dropdown menus keep a website organized and reduce the busyness of a homepage.
2. Ensure a secure checkout process.
If shopping is available on your website, make sure your customers know their credit card information is secure. There are a couple of ways you can do this.
First, as shown on beauty company Billie website, you can include this in an "info" button:
Image Source
Info buttons are useful if you want to display secure checkout information but want to avoid crowding checkout pages. However, if you want to state checkout security more visibly on your website, like in a paragraph at the top of your "Place Order" page, that could be helpful to website visitors who may be wary of purchasing online.
3. Add filtering options for your products.
As a consumer, I love filtering options, which can help me easily find products or services. That's why they're a must for your ecommerce website: Customers who know exactly what they want can find it without having to sift through too many options.
Take this filter list from The Little Market, for example:
The fair trade home decor website has pages and pages of offerings, so this specific filtering system helps consumers find what they're looking for based on multiple categories.
When you design your filtering system, make sure you make the categories broad enough to fit all of your products, but specific enough to be helpful to customers. For example, a website for a record company that sells merchandise might have filtering options based on artists, genre, or the label's apparel.
4. Include customer service capabilities on your website.
Customer service capabilities can include an automated chatbot that answers FAQs about your product or service. Alternatively, you can have a fully-fleshed out support section of your website that offers more information about your products, like this one from camera company Fujifilm:
Image Source
This section provides free information about how to use the various cameras the website has available, including downloadable manuals and software for photo editing. It's helpful to provide resources like these to customers if you sell a product or service that might have features that need a little more explaining, like a camera, or automated software.
5. Have the right CMS.
Choosing the correct software to help you manage your ecommerce site is just as important as fine-tuning the customer experience. Software should be able to support all of the functions in this list and be easy to use for you and your team.
For instance, does your CMS allow you to create a responsive webpage, like in this screenshot below?
Image Source
HubSpot's CMS software is accessible for marketers, web designers, and IT specialists. It supports responsive designs, customer service chatbots, forms, and lets you manage all of those in one place.
If you're in the market for a CMS, take a look at The 8 Best CMS Systems Today & How to Choose.
6. Spice up your product descriptions.
If you want to continuously delight customers, make your product descriptions fun and engaging. The thrilling website copy shouldn't stop with your homepage — make sure you carry the personality of your brand throughout the content of the entire site. Take this tumbler product description, for example:
Image Source
"No glass, no problem," describes the appeal of the product right out of the gate in an appealing way. The description then goes to explain highlights about the product, and ends with a hook to really sell the anchor to customers: "Forego clunky coolers and bring perfectly chilled wine wherever life leads you."
Feel free to use a similar method when describing your company's offerings. First, start with an engaging introduction. Then, spotlight some essential features of your product that sets it apart from customers. Finally, give a visual about how the product will enhance the quality of the customer's life.
7. Integrate social media on your product pages.
Social media icons on your ecommerce website? Absolutely. Social media buttons improve the visibility of your brand.
For instance, if I wanted to share the print below on my Twitter account, the buttons make it easy for my followers to click the link if they're interested in learning more:
Image Source
Social media sharing options give shoppers the opportunity to share your products with their circle of friends and family, giving you exposure to a larger audience.
For more information about social media marketing, check out this ultimate guide.
8. Feature your customer voice for your products.
The voice of the customer is important to display on your site. It gives prospects an idea of how the product or service can help them from other customers, which likely seems more trustworthy than a product description from the company itself.
Image Source
This testimonial from a sales specialist gives HubSpot's Sales Hub software credibility. It proves that the software works for SMBs and provides data about how. As a big plus to adding testimonials on your site, if you contact loyal customers about giving one for your product or service, they'll feel like their voice matters to your company.
9. Make your website responsive for mobile devices.
Did you know that by 2024, it's expected that smartphone purchases in the U.S. will increase to over $400 billion? This is why making sure your ecommerce site is responsive for mobile is imperative to delighting customers.
More and more consumers are completing purchases on their smartphones, so having a site that's optimized for a phone screen makes purchasing easy and delightful for customers. For an example, let's look at Chicago-based coffee retailer, Dollop Coffee Co. Here's what the shopping tab looks like on desktop:
Products are labelled clearly, the photos are large and clear enough to be seen by desktop browsers, and the navigation is simple to understand. Comparatively, let's look at the same tab on mobile:
Notice how in the mobile responsive design, the photos are smaller, and four products are displayed in a different format than the desktop version. These small changes make navigation on mobile as easy as on desktop.
Put your business on the map with the best ecommerce web design.
There are so many factors that go into designing a great ecommerce website. It should be user-friendly, fast, and colorful, and it should reflect what a business sells. Before you start designing your website, it's important to check out some ecommerce websites examples to guide you on what's already working.
Editor's note: This post was originally published in March 2018 and has been updated for comprehensiveness.