If you're building a WordPress site, particularly for the first time, remember that less is more.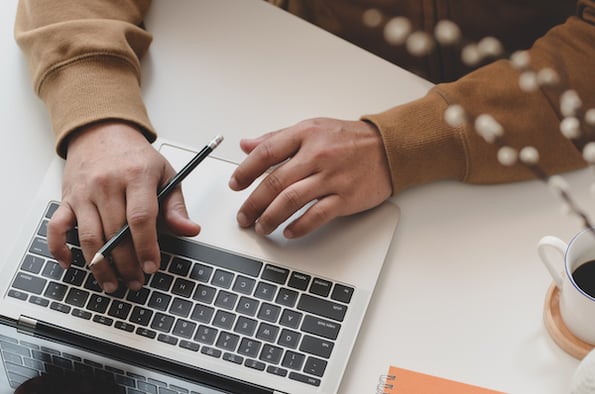 This is the motto of minimalism. Minimalism is a design style that emphasizes simplicity, balance, alignment, and contrast. In web design, this translates into lots of white space, large images, and little text. But minimalism is about more than aesthetics. A more accurate understanding of minimalist web design is to only offer the features and content a user needs to accomplish a specific task, like signing up for your newsletter or making a purchase.
While minimalism can be traced back to early 20th century architecture (and even earlier in Japanese art), it gained prominence once again in modern web design. It rose to popularity as a sort of counter response to the early days of the internet, which were characterized by an overabundance of colors, shapes, textures, and elements that resulted in cluttered websites and poor user experiences. Take a look at the PBS homepage from 1999 for an example.
To improve the user experience, web designers sought to reduce complexity and embrace the principles of minimalism. You can see minimalist techniques all over the internet today, from Google SERPs to Apple's homepage to WordPress themes.
Let's take a look at some of the best free minimalistic WordPress themes below.
Best Free Minimalistic WordPress Themes
By showing only the most necessary content and features, a minimalist website can provide a delightful experience to today's consumers, who are otherwise faced with an unprecedented amount of content (and clutter). Let's look at some of the best themes for creating a minimalist WordPress website below.
Blocksy is a free WordPress theme that's clean, customizable, and fast-loading. It comes with six starter sites, each of which offers a minimalist design for different business niches and purposes. There is an app, charity, travel, shop, and blog starter site, among others. Built for the Gutenberg editor and compatible with the most popular WordPress page builders, it is highly customizable.
Downloaded more than one million times from the official WordPress directory, Astra is one of the most popular minimalist WordPress themes.
With Astra's simple and user-friendly settings, you can create and customize an elegant website with only the most necessary features and design elements. Astra is also lightweight and fast, requiring less than 50KB of resources and loading under half a second.
Simple Lite is the best-selling theme by Nimbus Themes. Perfect for any business site, its clean and responsive design ensures your site looks great on any device. You can choose from multiple homepage layouts to best showcase your content and images.
Phlox is a top-rated minimalist theme in the WordPress directory. Its lightweight and modern design is ideal for almost any type of website, including agency, news, food, travel, photography, blog, and portfolio. What sets Phlox apart from other WordPress themes are its demo sites, which suit a range of business niches and can be installed in one click. It's also fast-loading and has 30 exclusive widgets and elements for customizing your site.
Minimalist Blog is one of the best free WordPress blog themes. It's customizable, fully responsive, and modern, making it perfect for any kind of blog — whether that's travel, news, personal, tech, food, or other niches. It's also designed with the best SEO practices so your blog will load quickly.
The Optimizer is one of the best free WordPress themes for creating a minimalist website. This highly customizable multipurpose WordPress theme is coded with HTML5 and CSS3 so that its lightweight and SEO-friendly. It offers stunning homepage sliders, boxed and full-width layouts, and dozens of premade templates.
Concept Lite is a free, minimalistic WordPress theme offering a unique serif font and social media icons. It also comes with a powerful image slider, full-width page template, and masonry portfolio section for showcasing your images and content.
If you're looking for a clean and modern design to keep all the attention on your content, then Pure theme is an excellent choice. This responsive WordPress theme can make any blog or portfolio look professional on any device. In addition to offering a distraction-free experience to your readers, Pure is fast loading and SEO-friendly.
Squarex Lite is another minimalist theme that can be used to build a personal blog, travel blog, photography blog, portfolio, and more. The grid layout is ideal for displaying lots of images and encouraging visitors to keep scrolling down the page. With this theme, you also get a sticky header, custom header, custom background, multiple color schemes, and a lot more.
Square is a super flexible, fully responsive, multipurpose theme that you can use to create a business site or blog. This theme is also WooCommerce-ready, so you can create an online shop to sell products or services.
Olsen Light is a fully responsive and minimalist theme that offers a distraction-free reading experience to your readers. In addition to offering custom widgets and being translation ready, this theme is optimized for search engines, which will help your content to get higher rankings. You also have a lot of options to customize the design of this theme.
If you are looking for a portfolio WordPress theme, Maker is a great choice. It offers a grid-based layout with clean layout and minimalist typography. This three-column layout theme also comes with a threaded commenting option, sticky posts, a great custom menu, and much more. Maker is translation ready so you can reach any audience regardless of their native language. If you want a simple but powerful portfolio, this theme might be the one for you.
Anariel Lite is another fantastic WordPress theme. This is an amazing free theme loaded with many advanced features to make your site stand out amongst your competitors.
This theme allows you to let your readers have a distraction-free read without overwhelming them with visuals. This theme also comes with a premium version that is packed with tons of additional features.
Simple Business is a feature-rich WordPress theme designed for business websites. Its clean and minimal design will make your site look professional on all devices. You can choose from multiple homepage layout options to present your content in the best way possible.
Kerinci Lite is a great option for creating a personal, travel, or photography blog with a minimalist design. This free theme is known for its bold typography, clean lines, and shortcodes. You can also add a contact form to your site so that people can easily get in touch with you.
Minimalist is a free responsive theme by Dessign Themes. In addition to having a minimalist design with a unique vertical navigation menu, black-and-white color scheme, and clean font, this theme is also mobile- and SEO-friendly. It includes a responsive slider, custom background color, custom background image, and other theme options for customizing your site.
MinimalistBlogger is a free WordPress theme with a minimalist and responsive design. Its color scheme, simple borders, and website typography make it ideal for bloggers and magazine writers. In the sidebar, you can add widgets to display your most recent posts, ads, affiliate links, and more.
Eisai is a modern and minimalist theme for WordPress bloggers or freelancers looking to create portfolio sites. Since it's compatible with the Gutenberg block editor, you can easily create and customize dynamic web pages with full-width images, grid layouts, or GIFs.
Gridly is an excellent minimalist WordPress theme for creative blogs and portfolios. By presenting your content in a Pinterest-style grid, this theme showcases as much of your content as possible and encourages visitors to keep reading and scrolling. The theme's simple design has unique details like a decorative typeface and image overlay zoom effect to keep visitors further engaged.
Simple Persona is a simple and clean WordPress theme that's ideal for professionals looking to create personal websites and blogs. It has all the sections that your visitors will expect, including an About Me, portfolio, featured articles, events, and testimonials section. These sections feature high-quality images, bold typography, lots of white space, and some pops of bright color, all the ingredients you need to make your WordPress site look professional.
NS Minimal is a highly rated WordPress theme for bloggers. It's lightweight, fast loading, translation ready. Build with a responsive design and according to the best SEO practices, this theme is optimized for every device, including mobile, tablet and desktop.
You will love this beautiful blogging theme; it's great for several different types of sites in addition to blogging. This fantastic theme can be downloaded for free. It's a modern design with amazing features and a super clean interface.
The theme comes with a great looking post slider which makes the homepage of the theme stand out, and the grid layout makes every post look unique. This theme will look flawless to every viewer.
This is a great WordPress theme option for a business, portfolio or personal blogging site. The responsive theme offers fantastic options to customize your site design; four-page layouts, two-page templates, four blog display types, thirteen widget areas, five custom widgets and more.
The design is minimal for better performance and usability, and the premium features are excellent.
Shopper is another excellent theme created by Dessign Themes. With its grid layout, bold typography, and color scheme, Shopper is an excellent theme for any ecommerce site. Its minimalist design will ensure your products stand out and that users only see the content and functionality they need to complete their checkout process.
Diarjo is a gorgeous (free) minimalist WordPress theme; it's a great option for your personal blog or portfolio website. Diarjo is a fully responsive WordPress theme based on Boostrap framework that looks great on any screen.
Resi is a nice design option for photographers; its simplicity showcases pictures in a clean interface that easily attracts users' attention. This theme is fully responsive and retina ready makes pictures stand out on high-resolution devices.
Morning Time Lite is a free WordPress theme designed for bloggers and journalists. With this theme, you can create any type of post with a minimalist design, including image galleries, audio files, links, quotes, videos and more. Like all WPLook themes, Morning Time Lite is responsive, fast loading, and compatible with Gutenberg.
This is the mobile-friendly, minimalist theme you need to help you create an SEO-friendly blog. This theme has a powerful, premium-quality theme panel to manage every element effectively. DW Minion offers you various post formats such as standard, gallery, video, link, and quote.
The Minimal is a fully responsive WordPress theme designed for creating content-rich websites. Its typography is easy to read and skim. Its color scheme is mostly muted with some strategic pops of color. Its sidebar features important information and elements, including a search box, recent posts display, comments, archives, categories, and author bio. For these reasons, the Minimal is a great blogging theme.
Freedom is a very attractive but simple WordPress design. If you are looking for a high quality theme, this is one to consider. This theme offers you beautiful boxed and wide layouts, an awesome slider, and much more.
Limpia is a minimalist WordPress theme designed for influencers and fashion bloggers. Fully customizable and responsive, this theme is ideal for displaying high-quality images, text, and white space in a carefully maintained balance. This theme is also Gutenberg ready so you can create posts and pages quickly and easily.
Chosen is a free minimalist theme coded following WordPress best practices so it's clean and fast. With its minimalist design, you can display your content in a clean and uncluttered grid layout. This will keep all the attention on your content, and ensure it looks great on any device.
Sparkling is a simple, responsive, multipurpose WordPress theme that looks great on any site. Sparkling can be a great theme option for travel, health, business, finance, portfolio, design, art, photography, blogs, or any other personal or creative website.
Responsive Brix is a highly-rated minimalist WordPress theme. As indicated in its name, this free theme is fully responsive and will look great no matter what device your visitors use. It's also created with HTML5 and CSS3 so that it's optimized for SEO and speed. With a modern design, boxed and full-width layouts, and easy customization options, Responsive Brix is well-suited for many types of businesses, including web agencies, studios, and churches.
Luna is a simple, light portfolio theme that will help you to create a professional website.
If you are a creative person and want to showcase your work in style, this is a great theme option for you. It offers a number of amazing options to customize the design; for example, you can have right or left sidebars as well as a full-width layout.
Activello is a simple multipurpose WordPress by Colorlib. Creating using the Bootstrap framework, this clean and responsive design comes packed with features that will help you quickly and easily create a minimalist site. Among other features, a full-screen slider, retina ready design, unlimited color options, and Font Awesome icons will help showcase your work in style.
Intuitive is a clean and responsive WordPress theme that is well-suited for any corporate or business website. It comes with all the sections a business website needs, including portfolio, services, and testimonials, and elements that can take your site to the next level, such as a featured slider, dropdown menu, and threaded comments.
Explore is a simple WordPress theme that's perfect for a travel blog or website. Its homepage, About page, Blog archive page, and Contact page feature the same minimalist colors, typography, and amount of text. Coded to WordPress's standards and optimized for speed, Explore loads in less than one second, according to speed tests run by ThemeGrill.
Kokoro is an elegant theme for lifestyle, fashion, and travel blogs. It offers a simple color scheme and layout for showcasing your content and high-quality images, and a sidebar where you can display recent posts, categories, tags, ads, and your Instagram feed. Its responsive design will ensure your blog looks good on any device.
WallPress is a great, free WordPress theme with a Pinterest-style design that is created to make your content stand out. If you produce content regularly, this is a great theme option. The engaging design will help keep your readers busy with new content. It's a fully responsive design that will make your site look great on every device.
Suffice is a free multipurpose theme by ThemeGrill. Its minimalist design and fast load time make Suffice ideal for a wide range of business websites, including construction, food, app, gym, magazine, and photography sites. Since it's compatible with WooCommerce, it will also work for ecommerce websites.
Patch Lite is a free minimalist blog WordPress theme focused on making your written content stand out. The simple, straightforward design helps the content of your blog take center stage, and the flexible layout can accommodate a variety of visuals.
Among the great features are the pre-designed color palettes that let you change the look of your website with a few clicks and subtle animations that entice users to click and read your content.
Courtyard is a clean and minimalistic WordPress theme designed for hotels and resorts. Its homepage has all the sections that potential or existing guests expect: one for rooms and rates, another for services, and special pricing packages. There's testimonials, a video, and blog feed included as well. Each section features the same minimalist colors, typography, and icons as well as a careful balance of content and white space.
Kent is a clean and minimalist WordPress theme created for writers and authors to publish their content. It comes with a simple, fully responsive layout that will help your users enjoy your content no matter how they view it.
Education Minimal is a free WordPress theme designed for colleges, universities, and other organizations in the education field. With this theme, you can present lots of images and information in unique formats, from sliders to grids to videos and more. There are also several animations, including zoom on hover, image overlay zoom, and slide-in effects, to make the scrolling experience more interactive.
Store WP is a minimalist WordPress theme created for online stores; it is designed to be used with the WooCommerce plugin.
This is a fully responsive design that will make your online store look great. It comes with a powerful theme options panel and it also offers a product carousel slider that will make your site look very modern and professional.
Choosing Your Minimalist WordPress Theme
Any of the minimalist WordPress themes above can help you create a simple, clean website that showcases your content and delights your visitors. Once you've installed and activated a theme, you can decide what plugins you need to extend the functionality of your WordPress website.