Squarespace is one of the best website builders for creating and customizing a site without knowing how to code.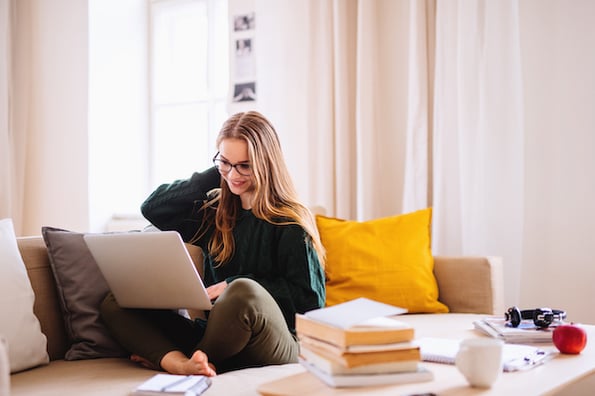 It offers everything you'll need to make a website. In addition to the core offerings you expect from a hosted website builder, including domain registration, hosting, responsive themes and templates, and expert support, Squarespace offers more advanced features. With built-in ecommerce, blogging, SEO, and analytics tools, you can create and optimize your site to attract more visitors and grow your business.
However, Squarespace is not the right solution for everyone. It offers a rich selection of out-of-the-box features, but it offers few extensions for enhancing the functionality of your site. That means if you'd like to add a missing feature on your site, like an auto-save button or module for a table, you're out of luck.
Whether you're looking for more flexibility or a cheaper monthly plan, there are plenty of alternatives to Squarespace. Let's look at some of the best options below.
Squarespace Alternatives
CMS Hub for Rich Functionality
Webflow for Customization
Duda for Client Management
Cargo for Unique Templates
Shopify for Ecommerce
GoDaddy for Fast Set-Up
BigCommerce for International Ecommerce
Webnode for Affordable Plans
WordPress.org for Blogging
Wix for Flexibility
Weebly for Ecommerce on a Budget
Strikingly for Simplicity
SITE123 for Ease of Use
Pixpa for Accessibility
We'll divide the list into premium and free alternatives so you can find the right fit for your budget.
Premium Alternatives to Squarespace
If budget isn't the main reason you're looking for a Squarespace alternative, check out some of the options below. These content management systems and website builders offer unique experiences for building and managing a site. To help you decide which one is right for you, we'll specify an ideal use case for each platform.
1. CMS Hub for Rich Functionality
Ideal for: Any-sized business
Price: $23 - $1200 / month (paid annually)
Why use CMS Hub over Squarespace: As a fully integrated content management system that offers features specifically designed for marketers, developers, and IT professionals, CMS Hub enables you to build more complex sites than Squarespace.
There's a drag-and-drop editor, built-in SEO tools, and contact attribution reporting for marketers to create and optimize content. There's also serverless functions, flexible theme options, and command line tools for developers looking to make changes and custom web assets faster.
For improved security and performance, CMS Hub has a global CDN, Web Application Firewall, SSL encryption, and a dedicated security team to support IT professionals in keeping their site safe. Such an all-in-one connected platform is ideal for all types of businesses, from small to enterprise.
CMS Hub website example: Below is a sophisticated portal site created on CMS Hub. On CrediAuto, users can search different car brands sold in Guatemala, see their financing options, and even pre-qualify for a loan.
2. Webflow for Customization
Ideal for: Web designers
Price: $12 - $212 / month (paid annually); Contact for enterprise pricing.
Why use Webflow over Squarespace: Squarespace is a drag-and-drop, template-based tool that appeals to users at different skill levels. Combining a CMS with a visual web design tool, Webflow is a much more flexible tool that appeals to advanced users with coding skills.
Webflow has front-end customization options that require no coding, but experienced developers can dive into the HTML, CSS, and JavaScript on the back end for more customization, if they prefer.
Webflow website example: Check out web designer Jomor's site below. It's a perfect example of the custom branding and complex web design that's possible using Webflow.
3. Duda for Client Management
Ideal for: Agencies
Price: $14 - $44 / month (paid annually); Contact for custom plan.
Why use Duda over Squarespace: Squarespace and Duda both offer a robust website editor and pre-designed templates for quickly creating sites. What differentiates Duda from Squarespace is its team collaboration and client management tools.
With Duda, you can import content from existing websites, reuse widgets across different projects, create dynamic versions of a single page, and share feedback with your team and clients directly on a website as it's being built. All of these features make it easier for agencies to scale.
Duda website example: Take a look at the Duda site built for Chef Adoni below. Simple and easy to navigate, this site contains information about the chef's restaurants, events, and app.
4. Cargo for Unique Templates
Ideal for: Creatives looking to create unique portfolios
Price: $99 - $165 / year
Why use Cargo over Squarespace: Since Squarespace is a general website builder, it has a little bit of everything: features for photographers, bloggers, shop owners, and more. That's great if you need a multi-purpose tool. But if you need a website builder for one specific need — like building a portfolio site — then you'll be better off using a specialized builder like Cargo.
Cargo comes with over 70 templates that can be fully customized, or used as is. These templates have stunning and unusual layouts, color schemes, and animations that are perfect for portfolio sites. Cargo also has an extensive selection of premium typography and built-in CSS editor to create a portfolio with the exact look and feel you want.
Cargo website example: Below is the portfolio site of married couple, Marta and Michał Siciński. It uniquely represents work from their graphic design studio, Point of View.
5. Shopify for Ecommerce
Ideal for: Ecommerce businesses
Price: $29 - $299 / mo
Why use Shopify over Squarespace: With Squarespace and Shopify, you'll get customizable templates, inventory management tools, secure payment options, and more. But as a dedicated ecommerce builder, Shopify has more features and extensions to help your ecommerce business scale.
You can use Shopify Payments to process credit card payments on your site and avoid transaction fees, Multi-Currency to allow customers to pay with their local currency, and Shopify Pay to let customers save their payment details for a faster checkout. With Shopify Channels, you can sell your products on additional marketplaces like Amazon and Instagram and continue to manage your inventory and orders in one place.
These ecommerce and point of sale features make Shopify perfect for independent entrepreneurs who are just starting or growing their businesses.
Shopify website example: Check out the website of shoe company GREATS below. Powered by Shopify, this site features a growing selection of luxury sneakers and customers who create an account.
6. GoDaddy for Fast Set-Up
Ideal for: Small Business Owners
Price: $6.99 - $17.49 / mo
Why use GoDaddy over Squarespace: Remember when I mentioned Squarespace only offers a few third-party extensions to connect its platform to other platforms to enhance your site? GoDaddy offers a completely different approach to extending your site's functionality. It offers built-in marketing and business-building tools, so you're not limited to the core functionality of the GoDaddy platform — but you'll have to upgrade to a higher-level premium plan to unlock these functionalities.
Since GoDaddy Website Builder integrates SEO, marketing, and other business functionalities to help your business scale at any size, it's not just an online editing and publishing tool. That makes it ideal for creating portfolios, ecommerce stores, and blogs.
GoDaddy website example: Ellevest uses a beautiful, animated template to tell the stories of how women make money. This website supports membership options, too.
7. BigCommerce for International Ecommerce
Ideal for: Scaling ecommerce businesses
Price: $29.95 - $299.95 / mo (paid annually); Contact for enterprise pricing.
Why use BigCommerce over Squarespace: The main difference between BigCommerce and Squarespace (as well as other ecommerce competitors like Shopify) is that BigCommerce is an open SaaS platform which can be used as a headless CMS. This means that you can build and customize your website on the back end in BigCommerce, and then deliver and display your content across hundreds of channels, including Google, Facebook, Instagram, TikTok, Pinterest, Amazon, eBay, Walmart, and Target.
It also allows you to localize the content, currency, checkout experience, and more of your site so you can meet the needs and expectations of international customers. This makes BigCommerce ideal for growing ecommerce businesses who are looking to have a global footprint.
BigCommerce website example: Even though most of what makes BigCommerce unique is hidden from the front end of the website, Burrow is a great example of how you don't have to sacrifice quality for ease-of-use. A site built on this platform can be beautiful and easy to navigate on the front end, and easy to manage on the back end as well.
8. Webnode for Affordable Plans
Ideal for: Small Businesses
Price: $3.90 - $31.90 / mo
Why use Webnode over Squarespace: Webnode is a low-cost alternative to Squarespace. It offers a range of premium plans, starting at less than four dollars per month.
In addition to its pricing, Webnode appeals to many first-time site owners because its variety of pre-designed pages can take a website live in just minutes. If you have a domain name, you can import it to Webnode, but if you need one, they provide a free one-year voucher when you purchase a premium plan. Affordability is the name of the game with Webnode.
Webnode website example: Lunigiana has a stunning interactive photo slideshow at the top of its homepage that is reminiscent of the sliders you might find in a Squarespace site.
Free Alternatives to Squarespace
If you're just starting out and looking to keep your costs low, Squarespace alternatives can be a great way to stay within budget. In that case, you can check out some of the free options below.
Ideal for: Business Bloggers
Price: Free; however, there are costs associated with domain registration and hosting.
Why use WordPress.org over Squarespace: WordPress was first launched as a blogging platform, so it's ideal for creating feature-rich blogs and online magazines. It offers the standard features that Squarespace offers, including a drag-and-drop block editor, built-in commenting system, and taxonomies, and much more.
In addition to the 3,000+ blogging themes, native content visibility settings, user roles and permissions, and other advanced content and user management features, WordPress also allows you to install a plugin, install a theme, and edit the source code to create a blog that looks and does exactly what you want.
WordPress website example: WordPress powers some of the biggest brand names, including the world's leading fashion and lifestyle magazines Vogue. Take a look at Vogue's site below.
10. Wix for Flexibility
Ideal for: Entrepreneurs
Price: $0 - $49 / month; Contact for enterprise pricing.
Why use Wix over Squarespace: While Squarespace offers a 14-day free trial, Wix offers a free plan for individuals and small businesses to build a site. This plan comes with hosting, a drag-and-drop editor, and over 500 templates. It also allows you to create unlimited pages for your site and drag and drop elements anywhere on the page (not just in columns and rows like Squarespace).
The free plan will require you to use an assigned Wix subdomain and display ads on the front-end of your site. There are several paid plans available so you can start on the free version and then upgrade later on.
Wix website example: Below is a site for the catering service Hanai Poké. Built on Wix, this site features the catering menu and contact information among interactive animations.
11. Weebly for Ecommerce on a Budget
Ideal for: First-time shop owners
Price: $0 - $26 / month (paid annually)
Why use Weebly over Squarespace: Weebly is a great Squarespace alternative for shop owners on a budget. Its free plan comes with unlimited bandwidth and basic ecommerce features, including a shopping cart, inventory management, coupons, and an automatic tax calculator.
Like Wix, Weebly's free plan is ad-supported and does require you to use a Weebly subdomain, but there are upgrade options. That means you can start free and later upgrade to a premium plan to register a custom domain name, deliver an ad-free experience to your customers, and unlock more advanced ecommerce features.
Weebly website example: Taking a look at the online store Douk Snowboards built on Weebly, you can see that a coupon in the banner draws prospects in to learn more about the UK-based company.
Ideal for: Individuals creating one-page sites
Price: $0 - $49 / month (paid annually)
Why use Strikingly over Squarespace: Squarespace offers an intuitive dashboard, but it can seem clunky to site owners who are looking to create one-page sites. Since these users need only the most basic features, they'll be better off using a one-page site builder like Strikingly.
Strikingly offers a drag-and-drop editor, mobile-optimized templates, and basic image editing features to create an unlimited number of sites. However, its free plan is ad-supported, requires a Strikingly subdomain, and does not include an SSL certificate. There are two premium plans available for those looking for an upgrade.
Strikingly website example: Below is Quinnton Harris's personal website. This is a perfect example of how you can leverage a free tool to create a memorable website.
13. SITE123 for Ease of Use
Ideal for: Freelancers
Price: $0 - $12.80 / month
Why use SITE123 over WordPress: It would be difficult to build a Squarespace site in three steps under one hour, but you can do just that with SITE123.
SITE23 only has three steps: First, you'll choose the type of website you want, whether it's ecommerce, a blog site, or another type of website. Then, you'll upload your content. Finally, you'll publish your website and share your business with the web. This process is designed to be so easy that any one can create and launch a site in minutes.
SITE123 website example: Elite Catering's website showcases how well SITE123 can share the story of your brand.
14. Pixpa for Accessibility
Ideal for: Photographers, creative professionals, and business owners
Price: $3 - $16 / month (paid annually)
Why use Pixpa over Squarespace: Pixpa is an all-in-one, DIY website builder which has been designed keeping in mind the needs and requirements of photographers, creators, and business owners. Like Squarespace, Pixpa's no-code platform allows you to build beautiful, professional websites without touching a single line of code.
Pixpa also comes with comprehensive, built-in e-commerce facilities and integrated marketing and SEO tools. For business owners looking to create online stores, Pixpa can be the more cost-effective choice because it charges no commissions on sales made through your website.
Pixpa website example: Pixpa offers features like client galleries and mobile gallery apps for client proofing, seamlessly integrated e-commerce and customer management tools, and photographer-friendly templates.
Creating Your Website With a Squarespace Alternative
Advertisements for Squarespace are everywhere, but rest assured there are alternatives if you need a tool that's more affordable or customizable. Using any of the tools above, you can create a website that meets your unique needs and budgets. Ideally, you'll select a tool that can not only help you get started but can also help you grow over time.
Editor's note: This post was originally published in April 2020 and has been updated for comprehensiveness.