Now that content is such an integral part in online marketing and web optimization, choosing the right platform is critical to your success. Doing so can positively impact user experience, your organic presence, and your bottom line.

Because there are so many great options out there, it can be difficult to know where to start. Below, you'll learn about performance and other factors to help you choose the right CMS.
Fastest CMS
A static content management system would be the fastest, but static sites require a lot of maintenance and technical knowledge. Platforms such as WordPress, Drupal, and Joomla all perform well out of the box. Factors such as scripts, files, caching, your hosting, the complexity of the design, and third-party customization will determine the speed and, consequently, which CMS is better equipped to handle your unique needs.
Since out-of-the-box performance benchmarks will be irrelevant for your situation, speed should not be a factor in choosing which CMS you go with. Instead, you'll want to consider:
Ease of use
Technical resources and support
Security
Features you need and customizability
Regardless of the platform, you can optimize for performance once the site is built.
Read on for more considerations as you choose the right platform for your site.
Drupal vs. WordPress
Released in 2001, Drupal is a content management system that prioritizes flexibility, security, and performance — at the expense of simplicity. While developers appreciate Drupal's extensive functionality, users with less technical knowledge may be frustrated by its steep learning curve. WordPress provides a user-friendly, intuitive alternative for these users.
Launched as a simple blogging system in 2003, WordPress has evolved into a multi-purpose content management system with thousands of plugins, widgets, and themes.
While WordPress' ecosystem of resources enables users at any skill level to build all types of sites — from eCommerce stores to online magazines — the CMS lacks the built-in flexibility required to create more complex sites. That's why site owners with basic knowledge of coding languages or the time to learn them favor Drupal and its virtually limitless customization options. While the set-up process is lengthier and more complicated, Drupal users can create highly customized sites.
Joomla vs. WordPress
Launched in 2005, Joomla is designed to be the middle ground in the CMS marketplace, combining the power and flexibility of Drupal with the user-friendliness of WordPress. However, installing any extensions will prove challenging for non-technical users since they need to be installed via the backend. For those without experience in web development, WordPress provides a simple alternative for building a custom site.
Joomla comes with more out-of-the-box features than WordPress so site owners can spend less time searching for and installing add-ons to create dynamic web projects.
On the other hand, WordPress's dashboard, plugin directory, and theme repository are designed to be intuitive for users at all skill levels. In exchange for this simplicity, you'll forgo some of the flexibility that Joomla offers for creating custom content types.
Joomla vs. Drupal
Drupal assumes users have a familiar understanding of HTML, CSS, and PHP, and, consequently, is more powerful than Joomla. Drupal is often the go-to for large corporations and government agencies with a dedicated team of developers. Other types of businesses and users with less coding knowledge turn to Joomla. Joomla's built-in multilingual support and advanced user and content management options make it ideal for membership, community, and social networking sites.
Where Drupal is a highly secure platform that can handle significant quantities of data and heavy traffic, it comes at a steeper learning curve, and not all sites will need such a heavy-duty CMS.
Before we take a look closer at the differences among these platforms, let's discuss the benefits of building a site with a CMS.
Building a Website with a CMS
If you're building a website for your business, then you may be considering using a content management system (CMS). A CMS platform will allow you to create, manage, and modify a website without coding it from scratch. That's great news for those of us who aren't web developers, designers, or all that tech-savvy.
With approximately 300 platforms on the market today, selecting the right CMS for your business can seem overwhelming. When evaluating different platforms, you'll want to consider their software type, user-friendliness, security, community, documentation and support, customization options, and performance, among other factors.
To help you narrow down your search and decide which CMS best meets your needs, we'll compare the three most popular open-source platforms —WordPress, Joomla, and Drupal — with HubSpot's CMS.
As a proprietary CMS, HubSpot does not release the source code to the public, and you have to pay to use the software. The other three platforms are open-source, which means their software is free to download, use, and modify as you like. However, there are other costs associated with building a site on these platforms, including domain name registration and hosting.
While WordPress, Joomla, and Drupal share these and many more similarities, they take unique approaches to building and maintaining websites and, therefore, attract different kinds of users.
Let's begin exploring those differences by comparing the market share of each of these open-source platforms below. Then we'll compare their features with those of the HubSpot CMS.
HubSpot vs. WordPress vs. Joomla vs. Drupal
WordPress is the most popular open-source content management system in the world. According to a study by W3Techs, it powers 62% of websites with a known CMS and 35% of all websites on the internet, including those without a CMS or with a custom-coded CMS.
While Joomla and Drupal have just a fraction of the market share that WordPress has, they are the second and third most popular open-source CMS platforms. There are approximately 27 million live websites using WordPress, 1.4 million using Joomla, and 500K using Drupal. You can see a side-by-side comparison of the market shares of each CMS below.
Although WordPress dominates the open-source CMS market, it may not be the best option for your website goals. If you'd like to build an online community, for example, you may prefer Joomla for its ease in managing hundreds of users. If you're looking to build a site that requires complex data organization, on the other hand, Drupal may be your best option.
You may even realize that an open-source CMS is not the right solution for your business. Instead, you may need an all-in-one solution like HubSpot's CMS, which offers a website builder, hosting, domain name registration, marketing tools, and more.
Below we'll take a closer look at the features of HubSpot, WordPress, Joomla, and Drupal so you can decide which CMS is right for your site.
Ease of Use
For those of us who aren't web developers or designers, ease of use is among the most important factors to consider when selecting a CMS.
Below we'll compare the ease of use of HubSpot, WordPress, Joomla and Drupal so you can pick the one that best suits your technical experience.
HubSpot Ease of Use
HubSpot's CMS prioritizes flexibility and ease of use.
Since content creation and management is at the core of any CMS, let's start by looking at HubSpot's website building tools. With HubSpot, you can easily create posts and pages by selecting a pre-designed template and then dragging and dropping modules to add images, CTAs, and forms.
If you have experience in web development, you can also create pages from scratch. As far as CMS platforms go, this is pretty standard functionality.
What sets HubSpot apart is its built-in marketing and conversion tools. As the first and only combined CMS and CRM, HubSpot enables you to capture leads, run A/B tests, personalize content based on a contact's information, and more without leaving your HubSpot dashboard.
To help you navigate the dashboard, you can hover over different elements on the page to see tooltips that will walk you through different processes. Below you'll see a tooltip suggestion for running an A/B test.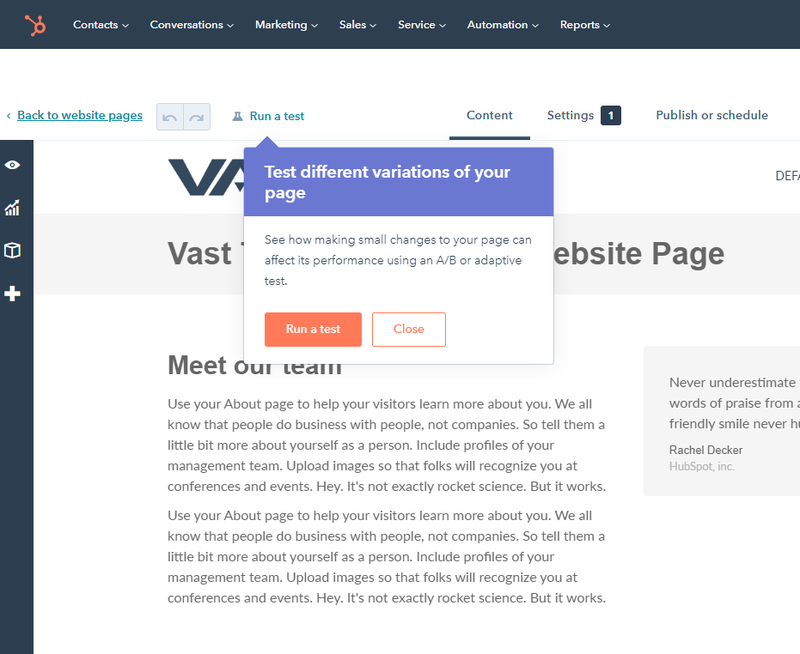 WordPress Ease of Use
WordPress has a reputation for being beginner-friendly. While Joomla and Drupal are targeted at users with some web development experience, WordPress is designed to be easy enough for beginners without coding knowledge. Its dashboard is intuitive so that users at any skill level can tweak the appearance of their site, install a plugin, change its permalink settings, add blog posts, and more.
In your dashboard, you'll find Gutenberg, the new editing interface designed to simplify the process of building pages and posts. With this drag-and-drop content editor, you can use blocks to develop media-rich pages rather than relying on custom code and plugins. Choosing among text, media, layout, and code blocks, you can insert, rearrange, and style multimedia content without touching a single line of code. Below you can see how easy this interface is to use.
While Gutenberg makes it easy for any user to create content in WordPress, its lack of flexibility will frustrate some users and limit their ability to create complex pages.
For those seeking free-form drag-and-drop editing, multi-column support, and advanced styling options, Joomla and Drupal may be more appealing alternatives — despite the steeper learning curve.
Joomla Ease of Use
Looking at the screenshot below, you'll notice Joomla's dashboard is more crowded than that of WordPress.
That's because Joomla has more built-in flexibility than WordPress, which allows you to configure many of your site's settings on the backend. You can modify articles, banners, menus, media, redirects, SEO settings, and more — all without having to install additional plugins.
Just take a look at the dozens of options available in Joomla's content editor below.
While all these extra options will require more time and effort to understand and set up, it will allow you to create a more complex site right out of the box.
Users looking for even more customization options can find them on Drupal.
Drupal Ease of Use
Drupal's dashboard clearly lays out the options that site administrators have for adding content, enabling modules, managing users, and more. As admin users click through each menu tab, however, they may quickly become overwhelmed by the number of options available. You can see how complicated the interface becomes if you click on Configuration, for example.
Many users complain that Drupal's interface is not only overly complex but outdated. To judge for yourself, take a look at Drupal's content editor below.
It's easy to understand why some members of the Drupal community are spearheading an initiative to create a new interface, especially in comparison to WordPress's and Joomla's content editors.
Community Support
Since WordPress, Joomla, and Drupal are open-source platforms, you'll have a community of developers, designers, and users to ask for help and advice. You'll also be able to look through each platform's documentation and find tutorials written by others in the community.
As a proprietary CMS, HubSpot offers a different community support experience. When using HubSpot, you'll have a dedicated customer service team, an ecosystem of app partners, and HubSpot Academy instructors to help you learn and grow with the platform.
Below we'll look at the communities dedicated to HubSpot, WordPress, Joomla, and Drupal.
HubSpot Community
As a HubSpot user, you'll have access to an official learning directory, a dedicated support team, and a unique community of users, developers, and partners.
For most CMS platforms, you can find hundreds of articles, courses, and support forums online to help you create and run a site on their specific platform — you just have to look in a few different places. With HubSpot CMS, you can access these all in one place.
The HubSpot Knowledge Base is home to hundreds of articles, training videos, community discussions, user groups, and more. If you hop over to HubSpot Academy, you can find over 300 free courses designed to educate users not only on the HubSpot software but on important trends and topics in inbound marketing, sales, and customer service.
Let's say you watch a few Academy videos, begin setting up your site, and then run into a problem. The good news is you have access to HubSpot's full support team. You can reach out to customer service by email or live chat with questions at any time.
For more specialized help in redesigning your site or running an inbound marketing campaign, you can select from over 3,000 partners in the HubSpot Partner Directory to find the right fit for your company.
WordPress Community
As the most popular open-source CMS in the world, WordPress has the largest global community with millions of members dedicated to improving the platform. You can reach out to these members through support forums or Slack channels and even meet them in person at WordCamp conferences all over the world.
You may prefer to find your own answers when learning how to use WordPress. In that case, feel free to browse the over two million topics discussed in the official WordPress support forum. Or check out the WordPress Codex, an official online manual from the developers of WordPress that covers everything from installing the WordPress software to creating a custom plugin.
You can also find hundreds of online resources for beginners, including video tutorials, online courses, and ebooks written by other users, developers, and designers in the WordPress community.
Joomla Community
Joomla also has a powerful global community dedicated to supporting the platform, though it's smaller than the WordPress community. According to official Joomla statistics shared at the 2017 Joomla World Conference, 780 core developers have contributed over 370,000 lines of code to improve it since its launch and almost 700,000 members regularly engage with each other in the Joomla support forum to discuss the software. To meet up with fellow users, you can attend the conference or other events like JoomlaDays and JoomlaCamps held all over the world.
To learn more about Joomla, you can check out its online collaborative community manual. This documentation is made up of over 8,000 articles written, maintained, and translated by Joomla community members. If you still haven't found an answer, you can read through more than 300,000 posts in the Joomla support forum.
Drupal Community
Even as the third most popular CMS, Drupal has one of the largest open source communities in the world. With more than one million members working together to build the platform, provide support, create documentation, and more, Drupal has a larger community than Joomla, despite having a smaller market share. You can meet some of these members at DrupalCon or at other events across 200 countries.
Some of these community members are responsible for writing, updating, and translating official user guides. Each of these guides is available on Drupal's site and provide a tutorial-style overview of building and maintaining sites on Drupal. While these guides are subject to a formal editorial process, community documentation is not. These articles can be written and freely edited by any member of the Drupal community. As a result, there's more available but they vary in quality.
If you're still looking for an answer, you can try searching among the support forum threads.
Security
Security is one of the most important factors to consider when choosing a CMS for your site. As a proprietary CMS with built-in security features and a dedicated security team, HubSpot will protect your site for you.
WordPress, Joomla, and Drupal, on the other hand, are open-source CMSs that have been developed over time to be secure. Extensions and add-ons can supplement core code to allow for additional security features, but site owners will have to handle managing and updating them.
Below are each of the CMSs' individual approaches to security.
HubSpot Security
From its global CDN to its Web Application Firewall, HubSpot has a range of built-in security features to keep your site safe from DDoS attacks and hackers. It also has a dedicated security team constantly monitoring the CMS for attacks, potential abuse, or other anomalies.
Furthermore, because HubSpot selectively partners with third-party vendors and apps that can integrate with existing HubSpot portals, you don't have to worry about plugin compatibility or maintenance. As a result, you avoid opening up your website to security vulnerabilities from outdated or incompatible add-ons.
WordPress Security
Powered by the most popular CMS in the world, WordPress sites are a prime target for hackers. In fact, there are approximately 90,000 attacks on WordPress sites every minute.
To ensure that sites hosted on its platform are secure, WordPress is built on a secure code that is constantly being updated and improved by a dedicated security team of 25 experts. To ensure that site owners are regularly updating their software, WordPress has an auto-update mechanism that allows them to schedule automatic updates when there is a new security patch. This is a critical functionality considering that 36.7% of infected WordPress sites in 2018 were running an outdated version of WordPress.
Joomla Security
Joomla offers extensive documentation about securing Joomla sites, in part, because it places much of the responsibility on individual site owners. This makes sense considering Joomla has the smallest security team with just 13 people.
A major disadvantage of the platform is that it lacks the functionality to allow users to schedule automatic updates, which gives attackers more opportunities to target known vulnerabilities. According to a report by Sucuri, the number of infected sites running an outdated version of the Joomla software rose sharply from 69.8% in 2017 to 87.50% in 2018.
According to data from the Common Vulnerabilities and Exposures system comparing WordPress, Joomla, and Drupal, Joomla has had the largest amount of found vulnerabilities since its launch in 2005.
The majority of these vulnerabilities are flaws in its code, which allow attackers to inject shellcode that manipulates the system into granting them administrator privileges. Both WordPress and Drupal are better able to defend themselves against this type of attack, according to the CVE data.
Drupal Security
Of the CMS platforms in this post, Drupal has the highest reputation for security. It has a group of 40 community members dedicated to improving and maintaining the security of the platform. This team follows a set release schedule, generally delivering one bug fix update and one security update a month. Bigger updates generally occur two times a year.
Research shows that these efforts are paying off. According to the CVE data mentioned above, Drupal has the least number of incidents to market-share ratio when compared to WordPress and Joomla.
Customization
Ideally, a CMS will allow you to set up any type of website you want. In reality, this comes down to the level of customizability that your CMS offers. Let's compare the customization options of the four platforms below, paying particular attention to the number of add-ons and themes they offer.
Please note that HubSpot refers to add-ons as "apps," WordPress as "plugins," Joomla as "extensions," and Drupal as "modules."
HubSpot Customization
As a paid CMS, HubSpot provides more out-of-the-box features than the other platforms discussed in this post. For example, Yoast, MailChimp, and Google Analytics are built in to help you optimize your on-page SEO, automate your email marketing efforts, and understand your site's performance and traffic sources.
If you want to extend the functionality of your site further, the HubSpot Marketplace has thousands of pre-made templates and apps available for download.
You can filter by price, category, and purpose to sort through all of these blog templates, email templates, page templates, bundles, and modules. For each product, you can also view a live example and read customer reviews. In the example below, I click on the briX integration to learn more.
WordPress Customization
With the largest collection of plugins and themes available for download, WordPress offers hundreds of possibilities for customizing the design and functionality of a site.
To extend the core functionality of your site, you can install WordPress plugins. There are over 50,000 plugins in the official directory, with new ones being added daily.
To customize the appearance of your site, you can choose from over 5,000 free themes available in the official WordPress directory. Uniquely, WordPress offers direct access to these themes from its dashboard.
If you can't find a free theme that matches your unique needs, then you can check out third-party marketplaces like ThemeForest. There are nearly 10,000 premium themes available in this one marketplace, which far outpaces the number available for Joomla and Drupal. In total, there are approximately 31,000 WordPress themes available for download or purchase.
While WordPress offers the widest selection of plugins and themes, it is not as customizable as Drupal. Think of WordPress like Lego Duplo, developer Rob McBryde says in a Mediacurrent blog post. Lego Duplo provides kids ages 2-5 with preformed shapes that they can use to build playhouses, bakeries, and larger structures. That makes the building process much easier, but limits their ability to, say, build a playhouse with a spiral staircase.
Like Lego Duplo, WordPress offers plugins and pre-designed theme templates that allow beginners to easily create websites — but they may not meet all of these site owners' specific needs.
Joomla Customization
Joomla has a smaller selection of extensions and themes available for users to download and install on their site. However, the platform's customization options still range in the thousands, with over 7,800 extensions available for download in the official directory.
As with WordPress, users can directly access these extensions right from their Joomla dashboard.
You can also customize the appearance of your Joomla site by installing templates, or themes. Unlike the other platforms discussed in this post, however, Joomla does not have an official theme directory. There are hundreds of free and premium themes available for download — you just have to find them for yourself. While you can find over 1,000 premium templates at ThemeForest, a quick search in Google will uncover hundreds of free themes for site owners on a budget.
Drupal Customization
Drupal is a highly flexible platform with virtually infinite customization options. While this gives you complete control over your site, it's also the main reason why the learning curve is so steep for beginners.
You can extend and customize the core functionality of your Drupal site by installing any of the 44,000 modules available in Drupal's directory. Most of these modules are targeted at developers, offering solutions to extend Drupal's core APIs, set up additional tokens, do more advanced user management, and so on. You can take a look at the description of one of the most installed modules in Drupal's directory below.
To change the look and feel of your site, you can choose from close to 3,000 free themes in Drupal's official theme repository. If you don't find one you like, then you can choose from approximately 500 premium themes at ThemeForest.
While you may have noticed this selection of modules and themes is smaller than that of WordPress, each module and theme is highly configurable so you maintain granular control over the functionality and appearance of your site. That's why Drupal actually affords you more customization options than WordPress.
A final note about the process for importing modules and themes on Drupal. It's slightly more complex than on the other two platforms because users cannot access modules from their dashboard. Instead, they have to leave their site, head over to Drupal.org to find the module or theme they want and return to their site to install it.
Picking the Right CMS Platform for Your Site
Rather than trying to figure out whether HubSpot, WordPress, Joomla, or Drupal is the "best" CMS, you want to carefully consider which platform best meets your specific needs. Depending on your technical expertise, the customizability you need, and the security you expect, each of the platforms above can be used to build a successful website for your business.
Originally published Apr 17, 2020 9:00:00 AM, updated April 17 2020
Don't forget to share this post!