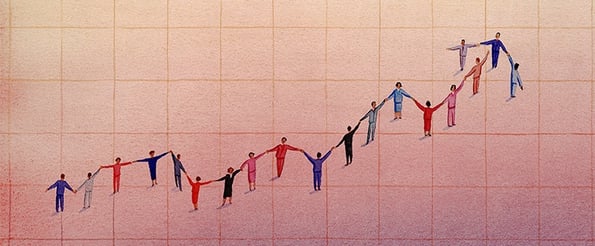 Content can be a great way for your association to engage with constituents. But where to begin? What's the best approach to creating nonprofit content?
By setting goals, getting your team involved, and grounding your writing in a pre-established strategy, you can turn your blog, website and other content channels into a place you get engage with and inform potential customers. Whether you're about to launch a brand new content strategy or want to tweak current efforts to increase member engagement, these 10 tips can help your organization succeed with content.
Content Creation Tips for Associations
1) Know Your Goal
The goal of inbound marketing is to get more people to join or engage with your organization. Your content is an extension of your organization's overall growth and engagement strategy. Set milestones for your content that ladder up to this growth – number of views, clicks, downloads, new contacts, and members that originated from any given piece of content.
2) Find Engaging Topics
Your organization has a wealth of experience and value. Use that knowledge to proactively answer questions that people have about organizations and members. This tactic is called "you ask, we answer." There are so many questions folks have about who you are and what you do that people are search for answers on the web. Think about questions your members might type into goo
3) Care About Keywords
A keyword is simply a word or phrase that people search for online. With over two trillion searches being done this year, ignoring the phrases people search for around your issue can be a huge missed opportunity. You need to do basic research on the keywords people are looking for and the language your ideal constituent uses. Working those words into your content will help your inbound marketing efforts.
4) Get Everyone to Create Content
Most organizations have a lot of people creating a lot of different content across many different departments. There are likely people in membership, policy, communications and beyond who are writing about your organization in compelling ways. You should have one person in charge of overall content, so all of the great work that your team is doing isn't lost or duplicated. That way, everyone else can focus on planning, curating and editing content. Check out our post on why everyone should create content here.
5) Social Is Not Enough
We love social media. It's an easy way to share content and it can increase traffic. But it's important to think beyond a single tweet. You need good content to get customers to click, and more content on your site to keep them there.
6) Conversions Matter More Than Traffic
You can have an impressive amount of people visiting your site, but if those browsers are not taking any action to indicate they're interested or signing up to join your association, it is a waste of a lot of effort. Your goal as an organization is for people to take action. So, your content and website needs to be focused around that. One way to encourage conversions is to think about calls-to-action that matter to you—Donate, get involved, sign up—and then work backward to create content and workflows that drive users toward those actions.
7) Think Quantity and Quality
"How often should we post?" This is a harder question to answer than you might think. There is an ongoing argument around content marketing about quantity vs. quality. Should I have one great 2,000-word post or four 500-word posts?
Our short answer is you need both quantity and quality. Consistency matters a ton. If you can consistently publish once or twice a week and do a big content offering once a quarter, do that. If you can do more than that great, but don't start a blog and then stop six months later. Check out HubSpot's experiment on blog post frequency here.
8) Consider Both Reactive and Evergreen Content
Sometimes, it makes sense for you to create a piece of content that is timely, or reacts to a specific current events. Other times, you should focus on writing something that is just as relevant today as it will be six months from now. A mix of both is important, because it drives different types of people. Some people are looking to solve problems, while others are looking to be entertained or informed on a current issue. Your content should answer all of these questions.
9) Have A Content Mix
Think beyond writing. Video, audio and infographics all have their place mix up the type of content. The goal of trying different approaches (like quizzes, games and paywalls) is to reach and engage folks.
10) Plan Out Your Content
It's important to have a calendar. Since inbound marketing is a cross-department effort, you need to have the content be coordinated across departments. Use a content program like Teamup or the HubSpot content calendar to keep track of posts.
Bonus Tips:
Hold A Blog-A-Thon
Wouldn't it be great to create three times as many blog posts in a single sitting? Get your team around a white board and write 100 questions people would ask about your association. Then write out the answers, and you just created great content, fast.
Create A Video Booth at Events
Have trouble getting video content? A quiet room and a green screen are a way to capture good member video easily and quickly.
Use A Whiteboard Program
Whiteboard videos are easy to make and don't take much time to create. Using a program like VideoScribe, you can take your best written content and turn it into video.
Want more? We delved deep into how inbound marketing can help nonprofits grow membership bases in our new ebook with HubSpot, Sign Me Up! A Guide to Growing and Engaging Your Membership Base.