In the last six years, I've done more than 100 pitches all across this country.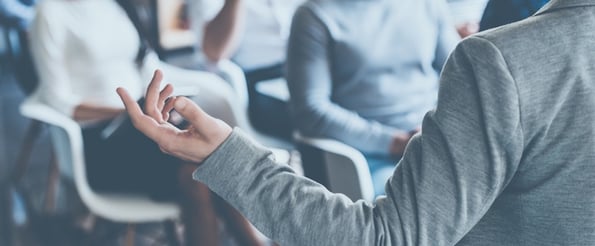 I've enjoyed many victories, including raising $30 million in venture capital from institutional investors. But I've also suffered some defeats -- it would be just awesome if I never see another rejection letter.
Needless to say, my successes and failures have taught me several important lessons that I'd like to share with you. You can use these lessons to help you craft a stronger overall pitch -- whether that means pitching your business idea to a room of investors or simply pitching a blog post idea in a meeting with your coworkers.
Whatever the case may be, here are eight mistakes you'll want to avoid at all costs.
8 Mistakes That'll Totally Derail Your Business Pitch
Mistake #1: Not Doing Your Research
Pitches are won and lost long before the actual pitch even takes place. To avoid wasting your audience's time (and your own), you should spend some time getting to know the people you're pitching to.
If you're pitching to a room of VCs, you'll want to:
Look at their past investments. Do they invest in SMBs? Generally, investors focus on companies of a certain size. Pitching your small or medium-sized business to a VC who only invests in larger companies is a mistake.
Make sure your potential investor isn't investing in one of your competitors. It's unusual for investors to make two bets in the same industry or niche. If they do take a pitch, it might just be they're trying to find out what the competition (you!) are up to. Avoid this huge mistake.
If you're pitching to your coworkers, boss, or a different department at your company, you might:
Customize your presentation. Find out what their goals are. Check out their latest tweets. Pull some information from their social profiles. Finding a way to incorporate some of their interests into your pitch will help you grab their attention and keep it.
Mistake #2: Failing to Address Concerns
If the people you're pitching to address a concern, it's not the end of the world. If they mention it twice, it might just be a coincidence. But hearing about the same issue three times? Uh oh, we have a trend.
If you hear the same objection three (or more) times, stop pitching immediately and address those issues. Continuing to pitch with known issues is just wasting the time and patience of your audience.
Mistake #3: Being Too Defensive
It's important to think of every possible reason that people could reject your pitch. And while stopping to address concerns is important (as I mentioned above), figuring out how to address them in a non-defensive way is also crucial to your success.
When someone disagrees with you, your first reaction might be to say something like, "I don't agree with you." Saying this out loud, however, is one of the worst mistakes you can make when delivering a pitch.
Instead, put some thought into your response. Try to see things from their perspective before you start justifying your perspective.
Mistake #4: Being Boring
Most pitches are super boring and forgettable. That's why for every successful pitch presentation there are probably 50 to 100 that fail to win over a reluctant audience.
When making a pitch, try to be more memorable. Use content marketing tricks to help your pitch be remarkable in some way.
Mistake #5: Projecting the Wrong Image
You can tell people a lot without saying a word. So always be intentional about what you're projecting when you pitch, whether it's through your body language or what you wear.
When I was pitching, my strength was software engineering, so I dressed the part. I didn't want to project, through what I wore, that I was some kind of financial wizard with years of experience.
If you want to sabotage your chances, projecting the wrong image will surely lead to failure.
Mistake #6: Not Reporting on Your Progress
Your pitch failed. Your idea got rejected you. And you kept getting the same type of feedback. Eventually, though, you got past your own ego. You finally understood why you failed, and you decided to do something about it: you acted on their recommendations.
Now it's a year later. Failing to follow up with investors or those you share your idea with to report on your progress is a mistake. Following up tells people two important things:
You're able to listen and valued their recommendations.
You're a dedicated, hard-working person who can get important things done.
Mistake #7: Relying Only on Formal Pitches
Let's say you're pitching an idea to an investor. Believe it or not, not all your funding will come from formal business pitches. In fact, you can raise quite a bit of money by talking to investors informally -- and using just a little bit of reverse psychology.
For example, when meeting with an investor you might say, "Hey, I have this idea. I'm not really looking to raise money, but I need your advice." Or, maybe you could say, "Hey, could you point me in the direction of an investor who likes to make big bets on proven idea with high risk and high returns?"
In both of these cases, the goal is to make the investor think, "Hey, I want to do that! What about me?"
Mistake #8: Not Addressing Deficiencies
Failing to be honest with your audience will only lead to rejection. If you know your idea has obvious deficiencies, be up front about them in your pitch.
By addressing any issues, you'll basically inoculate yourself from any criticism. Or, at the very least, show that you're open and willing to discuss them.
Think Before You Pitch
Now you know the reasons why your pitch will fail, and what it will take to help get it right next time -- whether you're standing in an office with your boss or on a stage before a panel of judges at pitch-off event, like the one taking place at INBOUND this year.
Yup, that's right: Real startups. On stage. At INBOUND.
I'll be there (speaking about content promotion hacks for Facebook and Twitter), and I can't wait to see what the startups bring to their live pitches. I hope to see you up on that stage, or taking notes in the audience. I've got a feeling it's going to be super valuable.
Editor's Note: This post was originally published on Inc.com and has been modified for republishing here.