Email marketing is still one of the best marketing channels for generating a high return on investment (ROI) in 2019.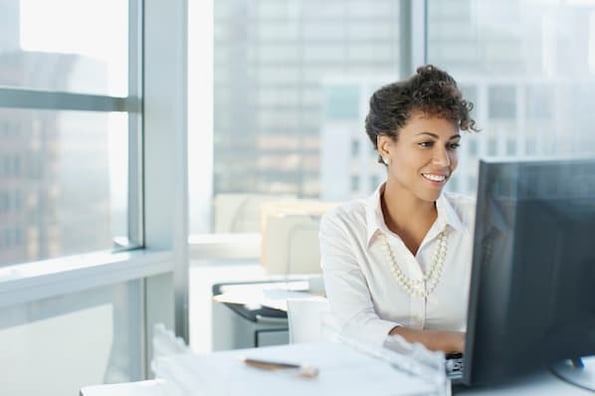 But with an increasing number of brands investing in email marketing, it's harder than ever to capture your contact's attention and engage them in meaningful conversations.
Today, the key to crafting a successful email marketing strategy lies in creating trust with contacts and building genuine, long-lasting relationships with them.
Whether you're a company of one or 50,000 employees, we want to show you how to create an effective email marketing strategy that delivers a high, measurable return on investment for your business.
Let's dive into how to grow, engage and retain your email subscribers over the long-term.
Spoiler alert: The ideas we're covering in this blog post are taken from our Email Marketing Certification Course. For a deeper dive into how to build a successful email marketing strategy that delivers a high ROI, take the free course here.
Email marketing strategy plan
Success starts with an inbound email marketing strategy.
Segment and manage your contact list appropriately.
Ensure you're creating high-performing emails every time.
Optimize your emails to drive conversions.
Choose the right email templates for your campaigns.
1. Success starts with an inbound email marketing strategy.
Email marketing helps you connect with the right people, nurture relationships, and have conversations that help you and your customers grow.
But successful email marketing doesn't happen in a silo. A large part of your business growth will depend on your ability to create a human, helpful, customer-driven email marketing strategy that integrates with your wider inbound strategy.
It helps to understand where exactly email marketing fits into the inbound methodology. Email is the perfect channel for engaging with and delighting the contacts you attract -- and turning them into happy promoters of your product and/or service.
Before you create a new email marketing strategy or optimize your existing one, there are a few fundamentals you'll need to get right from the start:
Implement the right software. Your software should be connected to a contact database that tracks both the qualities and behaviors of your contacts, so you can segment your contacts and send them personalized emails.
Understand your full-funnel conversations. Your contacts are not interacting with your emails in a bubble. They're also reading your blogs, engaging with you on social media, connecting with you via a chatbot, and more. It's important to deliver the right information at the right time on the right channel to engage with your contacts in the way that suits them. So, before you plan an email campaign at all, consider if it's the right channel for your message.
Clearly define the right goals. As Simon Sinek says, "People don't buy what you do but why you do it." Setting goals for your email marketing strategy and for each individual email you send will help you understand how successful your emails are.
2. Segment and manage your contact list appropriately.
According to the DMA, 77% of email marketing ROI comes from segmented, targeted, and triggered campaigns. Segmenting your email list empowers you to send the right message to the right customer at the right time. Plus, the more relevant your message is, the more likely your subscribers are to engage with it.
Segmentation also helps you avoid sending the wrong messages to the wrong people at the wrong time, which is equally important for building trust with your contacts, increasing conversions, and keeping your contacts engaged over the long-term.
However, during this stage you might be tempted to jump straight into segmenting your database or tweaking your existing segments. But creating the right segments for your contextual messages requires laying the right foundations. Here are some tips:
Have a clean and organized database. Any database of value should be able to be broken down into three key pieces of data: the contact, the contact properties, and the companies and their properties.
Collect the right information that will help you create the segments you need for your contextual emails. There are two key pieces of information you need to collect about your contacts: the buyer persona they're associated with (so you know important details about them, like their job title, company, and goals, for example), and where they are in the buyer's journey.
Make sure you can collect the right explicit and implicit data. Explicit data is information that contacts intentionally share with you, like contact information, company information, etc. Implicit data is information you gather from user behavior, like, email engagement, web analytic history, and conversion data. You'll need both implicit and explicit data to have contextual conversations with contacts in your emails.
Note: Make sure you have permission to email contacts in your database.
And don't forget to ensure you're complying with email regulations, like CAN-SPAM and GDPR, when collecting data.
The segments you create have two important jobs -- 1. To send the right message to the right people at the right time and 2. to avoid sending the wrong message to the wrong people at the wrong time. Every business is different so you'll need to tailor your segments to your business goals.
However, there are three types of segments every business can benefit from:
Lifecycle segments. First up, you need to have segments for your subscribers, leads, and customers. These are your lifecycle segments and help you see where your contacts are in your funnel. Your lifecycle segments are valuable not just for deciding who to email but for clarifying who not to email. For example, If you create a lead nurture offer that should only go out to your leads, you'd want to exclude anyone who is a customer.
Buyer persona segments. Another set of segments to create are your buyer personas. These are great foundational segments that you can build upon. Every company is different, so there's a good chance you'll need to build some specific lists. For example, if you work at a larger company, your marketing and sales divisions might be divided by product type, location, company size, or vertical.
'Health of the contact database' segments. Creating these segments will help prevent you from sending emails to the wrong people. For example, you should segment contacts who have unsubscribed, hard bounced, ineligible contacts and contacts who haven't opened your emails in a year.
If you need help defining your specific segments, here are 30 segment ideas for hyper-targeted email marketing.
3. Ensure you're creating high-performing emails every time.
Studies show that for every dollar you spend on email, you'll receive a $38 ROI. Additionally, 59% of marketers say email is their biggest source of ROI. Not bad, right?
But that ROI isn't guaranteed simply by drafting an email and pressing "send". Your contacts need to see genuine value in the conversations they're having with you before they convert to customers, purchase from you, or promote your product or services.
So, how do you and your team consistently create impactful emails? Here are some key principles to guide you:
A) Set a SMART goal.
Define why you're sending each email and set a SMART (specific, measurable, attainable, relevant and timely) goal each time. Then, make sure each piece of the email supports that goal.
Here's an example of a SMART goal: "In six months, we'll increase the number of trial sign-ups from our lead nurture campaigns by 10% by making them more valuable and targeted."
B) Send the right email, to the right person, at the right time.
When you send the most contextual message, you have a better chance of getting your contacts to take action because you're providing them with the most value. Let's examine each of these three components:
The right email: this means delivering the right contextual message to your contacts. Put simply, your content needs to make sense to whoever's reading it.
The right person: this comes down to creating targeted segments, which we talked about earlier.
The right time: Different content will appeal to different buyers at different stages of the buying process. So, to send a perfectly timed email, you'll need to take into consideration where your contacts are in the buyer's journey and pair the right content with that stage.
For example, Casper, a sleep company that sells beds and accessories, sends customers who were about to purchase an item from their store (but have since abandoned their cart) a relevant, fun and contextual re-engagement email.
It's the right email, to the right person, at the right time:
4. Optimize your emails to drive conversions.
Once you've set your goal, you'll want to drive conversions towards it. There are two key areas to optimize -- your email opens, and email clicks. This hinges primarily on your ability to write engaging email copy that creates value for your audience and builds trust.
To write engaging email copy, you can leverage our AI Email Writer. Simply give the software a prompt. You can edit the copy to your liking within the platform.
Increase opens: Crafting an engaging subject line is a key part of getting people to open your emails. Focus on the value you're providing upfront. And where relevant, use personalization tokens -- like name or location -- to create rapport with each recipient.
Increase clicks: Click-bait isn't a good look. So, when a customer opens your email, they'll want to see the value in it right away. Provide a single, compelling call-to-action to encourage customers to click on your link and follow through on the goal.
This re-engagement email from Typeform, below, is the perfect mix of fun, casual, and direct. The call-to-action is clear, compelling, and speaks to the customer's desire for inspiration, with the language "Get Inspired":
5. Choose the right email templates for your campaigns.
Your business will want to send different types of emails to your contacts for different types of jobs. For example, promoting your products and services and sharing your blog updates will require different formats. So define the different email types your business needs to send, then create a set of consistent, on-brand templates.
The best templates are clean and straightforward and create a frictionless experience for your contacts.
Email Marketing Strategy [+Template]
Next, let's dive into a few tactics and best practices you should employ in your email marketing strategy to ensure long-term success.
1. Deepen Relationships with Lead Nurture Campaigns
Lead nurturing helps you build and deepen relationships with your prospects with the goal of earning their business when they're ready. The key is to connect with your prospects in a timely, efficient, and targeted manner.
According to a recent study, 39% of marketers said that "automatically sending emails based on triggers" is the most effective tactic for improving email engagement. One of the most powerful ways to engage your leads is to create automated behavioral emails that send to your prospects based on the interactions they have with your company across all of your channels.
However, it can be tricky to know what types of emails you should send to nurture your leads.
Regardless of your business goals, there are four key types of emails you should send in a lead nurturing campaign.
You'll notice that each of these emails have a clear goal tied directly to the reason you're sending them -- another top tip for impact:
Emails that establish trust. These emails create relevancy and value that will help your contacts trust you and open emails from you in the future. For example, you could create an email that educates leads on a topic they've already shown interest in.
Emails that provide valuable downloads and resources. These emails educate your leads and give you valuable insight into which topics and information resonates with them most. Here, you could create an email that provides a valuable, relevant download (like an e-book or cheatsheet) and share some relevant tips in the body of your email, too.
Call-to-action emails. Call-to-action emails position the goal of your campaign as the next logical step for a prospect to take. It should be direct and to the point. While all emails have call-to-actions, this type of email will be specific to the goal of your workflow. For example, you could encourage your prospect to schedule a demo or chat with a sales rep.
Break-up emails. Break-up emails make it clear this is the last time a lead will hear from you. The goal is to keep these leads engaged or to learn why you missed the mark with your messaging.
2. Make Sure Your Emails Get Delivered
In the past, getting your emails delivered was largely a result of creating valuable, non-spammy content. Today, it's that and so much more. Email providers have gotten a lot smarter and now primarily use engagement factors (like opens, replies, etc.) to determine whether your email makes the inbox or not.
Plus, email marketing regulations (like CAN-SPAM and GDPR) are stricter than ever.
It's never been more important to create an effective email deliverability strategy that focuses on engaging the right customers and providing relevant, genuine value to them. Email marketing is a lot like a funnel -- if you don't make it to the inbox you won't get the open, click, revenue, or customer loyalty.
So, how can you ensure your emails get delivered? Here are some tips:
Collect express consent. The key to being GDPR compliant is to get your contact's express permission to contact them. For example, you can add a permission checkbox on your contact form for them to click. Collecting permission upfront also builds trust, which is a fundamental part of any relationship.
Monitor hard bounces and unsubscribes. If there's an upward trend in your unsubscribes or hard bounces, identifying what that group of contacts have in common will help you make the necessary changes.
Conduct re-engagement campaigns. If a large percentage of your list stops engaging with your emails, you'll run a greater risk of damaging your sender reputation and your email deliverability rates. To re-engage your inactive subscribers, send them targeted re-engagement emails tailored to their interests and needs.
Define a cut-off point. If you can't win your contacts back with your re-engagement campaigns, it's best to call it quits on your email relationship -- at least for the time being. You're not providing value to them anymore and they're not providing value to you. And hey, if they want to re-engage with you in the future they can always re-subscribe. Just give them a heads up before you remove them from your email list.
3. Analyze and Optimize Your Emails
You know how the saying goes -- what gets measured gets improved. Measuring, analyzing and adjusting your emails will help you see what's working and what isn't, so you can make tweaks to optimize your strategy.
Here are the key metrics to pay attention to and how to dig deeper into the data, so you can take actionable steps to improve your strategy:
Delivered. Your 'emails delivered' metric is the number of valid email addresses that accepted your email. If there's some fluctuation in the number of emails that are getting delivered over a specific time period we recommend revisiting your email deliverability strategy (we've outlined some tips on this above).
Opened. Look at the number of emails your contacts 'opened' to assess whether they found your email relevant and valuable enough to open it. If you have a low open rate on a particular email, consider tweaking your subject line and your preview text to better convey the value your contacts will receive from engaging with the email.
Clicked. Sometimes you may see a high open rate on an email, but the clickthrough rate is low. This may be because your email is trying to do too many things at once and isn't clearly communicating your goal to your contacts. Instead, focus on one, clear call-to-action.
Conversion. Your 'conversion' metric helps you see who made it all the way to your goal and engaged at the level you were hoping for. To achieve your goal, contacts need to open your email, click it and then take your desired action. So, you'll need to optimize each of those steps to increase your conversions. Also, make sure the action you're asking your contacts to take is relevant to their interests and needs.
4. Ensure You Have a High Return on Investment (ROI)
Your ROI is hands down one of the most important metrics you can track in your email marketing strategy, since it empowers you to see how profitable your email campaigns are. This is the overall return your email campaigns bring in from your business' initial investment.
Here's a formula you can use for calculating your email marketing ROI:
Step 1: Subtract the money invested in the campaign from the money made in additional sales. For example, $1000 (money you made in additional sales) - $100 (money you invested) = $900
Step 2: Divide that total by the money invested in your campaign. For example, $900 (money you made) ÷ $100 (money you invested) = 9
Step 3: Multiply that result by 100. For the example above, your calculation would be: 9 × 100 = 900%.
Here, your ROI is 900%.
If you want to improve your ROI, simply analyze your individual email metrics, diagnose where the problems and opportunities lie, and then tweak your strategy accordingly.
Lastly, we've included a template that can help you plan, execute, and measure the success of your email marketing campaigns -- here's the preview:
For the full template, download for free here.
An Impactful Email Marketing Strategy Evolves With Your Customers
As your company grows, your prospects' and customers' needs will change, too. Your email marketing strategy and the individual emails you send will need to evolve with them.
One of the best things you can do for the evolution of your email marketing strategy is to keep getting to know your customers and prospects. Regularly talk to your contacts and get their feedback to unlock new insights, test new and fresh ideas to engage them, and then optimize your strategy to focus on what's working.
Even though your email marketing strategy should evolve, one thing will always remain the same -- creating a successful email marketing strategy is about building trust and fostering genuine, long-lasting relationships.
To go deeper on creating a successful email marketing strategy, take our free Email Marketing Certification Course.
Email marketing strategy
Email marketing is still one of the best marketing channels for generating a high ROI. The key to crafting a successful email marketing strategy lies in creating trust with contacts and building genuine, long-lasting relationships with them. It's critical you learn how to send the right email to a segmented group of contacts at the appropriate stage of their buyer's journey.