Most marketers have one goal in common: increasing the amount of traffic to their website. There are various tactics for accomplishing this goal including search engine optimization (SEO), pay per click advertising (PPC), blogging, social media marketing, etc. The problem is that SEO takes times, PPC is expensive, Google is becoming oversaturated with blog content, and social media has always had a problem proving ROI.
One often overlooked tactic that can potentially have the greatest impact is referral traffic. So, what is referral traffic and how can you use it to generate more leads?
What Is Referral Traffic?
Visitors that come to your website from sites other than the major search engines are considered referral traffic. When someone clicks a link on a website or social network and is then taken to another site, tracking software, such as Google Analytics or HubSpot, counts that visitor as referral traffic. The originating website is called the "referrer" since it refers traffic from one website to the other.
Why Is Referral Traffic Important?
Referral traffic is important to inbound marketers because it sends potentially qualified visitors to your website from trusted websites. This in turn gets your content in front of new people, giving your website the opportunity to convert that visitor into a lead and your sales team the opportunity to convert that lead into a new customer.
But that's not all! Referral traffic also has SEO benefits. When someone visits your website from another site they are usually clicking on a link or completing some type of social activity. Google and other search engines consider these links and social signals as positive ranking factors as long as they are coming from trusted websites.
Sounds pretty good, right? Well, let's get started on getting you some juicy referral traffic so you can brag about all the hot leads you have rolling in.
7 Steps To Generate More Referral Traffic
1) Publish Your Website To Online Directories
Submitting your website to online directories is one of the easiest ways to get referral traffic but you don't want to publish your website to every directory out there. Instead, focus on the ones that are most relevant to your industry or generate the most traffic. Whether you're a veterinarian in St. Louis or an assisted living facility in Daytona Beach, Moz has you covered. They offer a free resource for finding the top directories by category and city.
Once you've submitted your website to the top directories for your city and industry, I'd focus on finding directories that can generate some serious traffic. How do you know which directories will accomplish this? It's as simple as performing a Google search. The directories that appear at the top of the search results should, in theory, generate the most traffic. For example, if you do a search for "personal trainer in los angeles" there are 4 directories that show up on the first page of the search results: Yelp, YourTrainer, IdeaFit & Thumbtack.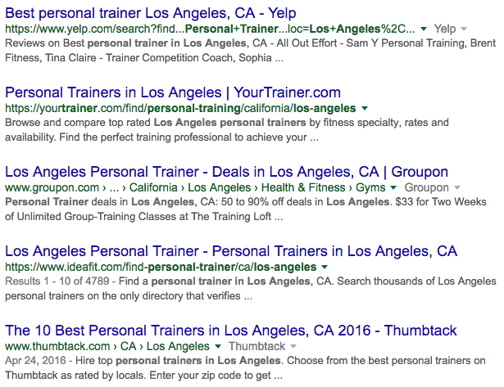 You can't use SEO to pass up these directories in the search results overnight. What you can do, however, is list your website on these directories in order to generate quality traffic and get some free SEO juice. After all, if someone is looking for a personal trainer in Los Angeles and they find your website via Yelp, that referred visitor is just as valuable to you as them landing directly on your website.
2)

Get Published On Review Websites
Review websites are a great source for getting more referral traffic. These visitors have already gone through the awareness and consideration stages of the buyer's journey. They've now reached the decision stage and are comparing vendors or products. What better time to get your product or service in front of them for consideration?
Getting listed on a review website can vary depending on whether you are a B2B or B2C company. If you perform a search for "st louis roofing company reviews" there are 3 websites that you would want to be listed on if you were a roofer: HomeAdvisor, BBB & AngiesList.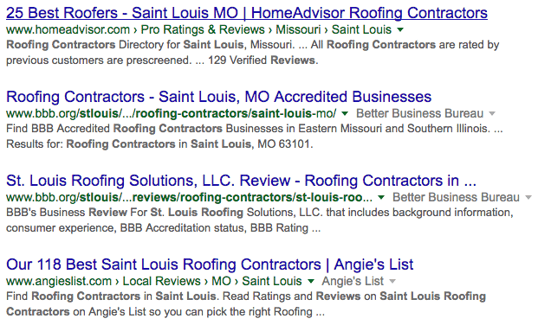 By adding your website to these 3 directories you are increasing the likelihood of your website being found during the decision phase of the buyer's journey. If you are operating a respectable roofing company that treats customers fairly you should have no problem standing out from other roofers that have not so positive reviews.
B2B businesses will find that it is more difficult to get featured on review websites. A lot of times you have to "pay to play," meaning you will basically have to pay to be featured towards the top of the review listings. For example, if you do a Google search for "top mobile app developers" the first search result is Clutch.co. They showcase a list of mobile app development firms with reviews but if you look closely you'll notice that they are "sorted by sponsor." Essentially these companies are paying to have their website and reviews featured first. It's a slick way for Clutch to make money but also maintain it's reputation as a respectable source for reviews.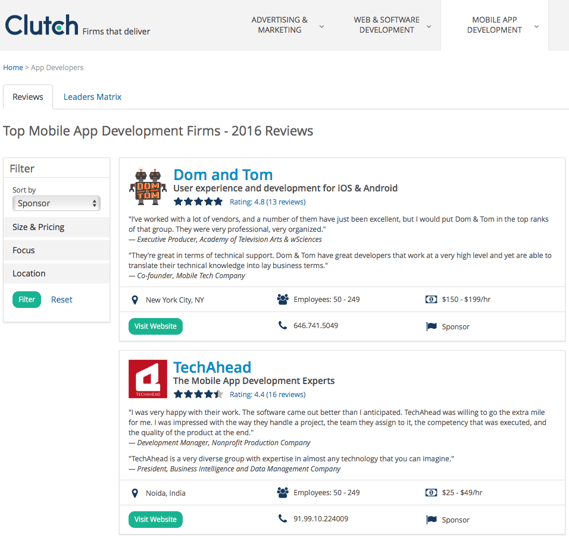 3)

Publish Guest Blog Posts

Guess what? You're currently looking at step 3 of the 7 steps for getting more referral traffic to your website. That's right. You're reading a guest blog post by Leap Clixx, a HubSpot Partner Agency. Guest blog posts create numerous opportunities to get referral traffic to your website. External links (like the two in this paragraph), author bios, and call-to-actions (like the one at the bottom of this post) are typically present on most blogs. If you can get a post featured on a well-know industry website you'll benefit from the referral traffic and links coming to your site. It's best to focus your efforts on websites that are considered thought leaders in your industry. Since we're an Inbound Marketing Agency, HubSpot is the perfect place for us to post a guest blog post. Can you think of a more respected website when it comes to the topic of inbound marketing? I mean, HubSpot literally coined the term inbound marketing.

Here are a couple tips to keep in mind when guest blogging:
Focus on websites related to your industry - No one wants to read about Fall fashion trends on a blog about guns & ammo, unless you're talking about camo.

Keep the target audience in mind while writing - Most blogs have strict guidelines in place for guest bloggers.

Write content under your own name - After all, you don't want someone else getting credit for your work.

Link to influencers - They will notice and might even help promote your guest blog post, which in return will increase the referral traffic it generates.
4)

Leverage Social Media
According to Social Media Examiner, a whopping 89% of marketers indicated that social media generated more exposure for their business. Additionally, 75% found their website traffic increased as a result of their social media efforts. Facebook, Twitter, LinkedIn, YouTube, Google+, Instagram, and Pinterest were the top 7 social media platforms used by marketers. Being active on social media isn't just trendy anymore; it's a tactic most marketers are using to get more traffic, leads, and sales.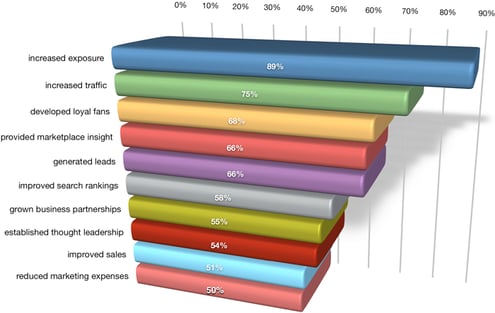 Everytime you tweet, share, like, or pin a piece of content you are creating an opportunity to drive referral traffic to your website. Plus, you're increasing the likelihood of your content showing up at the top of Google. 58% of marketers using social media reported improved search rankings. Like I said before, referral traffic not only brings more potential customers to your website, it also helps with SEO.
5)

Comment On Blogs
A question that comes up a lot is "Does blog commenting help SEO?" It not only can help with SEO but it can also generate more referral traffic for your website. According to Neil Patel, his 240+ comments on blogs have generated close to 4,000 visitors to his website. Commenting on blogs will definitely increase your referral traffic; just make sure you're not filling the interwebs with more spam. Here are a couple tips for the newbie blog commenters out there:

Make sure your comments are valuable - No one likes a complainer or bragger. If your comments are negative or promotional in nature just keep them to yourself.

Focus on blogs that allow links in the comments - Remember, you're trying to get more traffic. In order to do that you need to add a link to your website

If you aren't first, you're last. - Just like search engines, if your link is at the top of the comments list you're more likely to generate more clicks and traffic.
6)

Be Active On Industry Forums
Online forums are a great source of potential leads and customers but are often overlooked as a marketing tactic for generating traffic. Similar to blog comments, you should focus your efforts on forums in your niche and always be trying to add value without sounding too promotional. I've outlined a couple steps and tips below for getting the most out of forum marketing:
Make sure the forum is active - Don't waste your time on a forum that hasn't had a new post for a month.

Register using your brand name - You want to make sure people associate your comments with a memorable brand name.

Create a signature with a call-to-action link - This is how you're going to drive traffic to your website.

It's time to participate - You'll want to participate in the areas of the forum where you have the most expertise.

Use real life examples - Don't just offer your advice. No one likes a know-it-all. Try to provide value using your personal experiences.

Share your resources - Start a new thread with a link to resource you think could benefit the group. If you're proud of a particular piece of content it's likely others will enjoy it too.
7)

Publish Infographics
When asked to select the single most important form of content for their business, 37% of marketers picked visuals. The reason is pretty simple. Humans have attention spans shorter than goldfish and it's easier for the brain to consume an image than a bunch of text. Plus you've probably noticed that an image of a cute puppy gets liked and shared more than a 100+ page industry report.
The great thing about infographics is they can help people understand complex data with simple visuals. The goal is to get your infographic shared, liked, and pinned on social networks and have others embed it in their articles (like I've done above), thus creating links to your website.
In addition to your own website, there are several websites where you can post an infographic. One of my favorites is Pinterest. After all, Pinterest is responsible for around 5% of all referral traffic to websites, second only to Facebook. Pinterest gives you the option to link your infographic to your website and makes it easy for it be shared on other's boards.
Next Steps
Once you start receiving additional referral traffic, you'll want to make sure your website is ready for these new visitors. In this FREE eBook "Turn Your Website Into A Lead Generation Machine," we go over some best practices for ensuring your website is setup to convert visitors into leads for your business. Download it now by clicking on the link above or on the banner below.