Nowadays, customers expect to engage with someone immediately when they are seeking support. Speed and quality are everything for today's consumers. But speed and quality are difficult to achieve in tandem.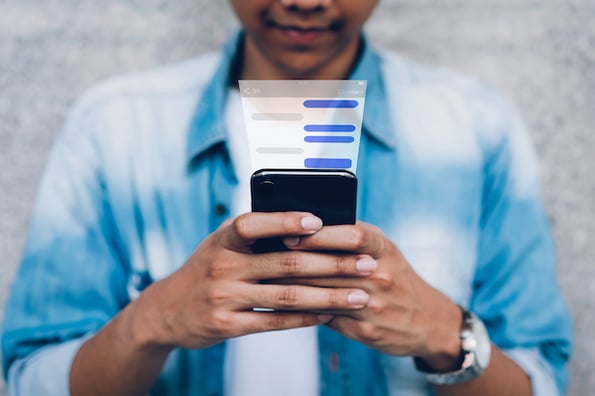 The good news is that you can use web chat tools at almost every stage of the customer lifecycle to help with both the speed and quality of your interactions and support.
What is web chat?
Web chat is a communication tool on your website that allows you to talk to your visitors, leads, and customers in real-time. It helps you answer questions, support challenges that arise, resolve issues, or direct users to the specific solutions they need.
For instance, the chat conversation may guide a visitor to a blog post, a sales rep's contact information (or their calendar so they can set up a meeting), a knowledge base article, a social media post, or a how-to video.
Under the web chat umbrella are live chat and chatbots.
Live chat entails human-to-human interaction — meaning, a human (such as a sales or service rep) speaks with the visitor who's reaching out via live chat software.
Web chat can also include the use of a chatbot. A chatbot helps you manage real-time interactions on your website without the need for a rep to work with the customer. Bots can interpret the needs of a visitor and point them in the direction of the solution as well as answer FAQs and provide basic support (e.g. shipping status).
Web chat tools — both live chat and chatbots — have the power to:
Help marketers nurture leads and obtain information about your audience and their behaviors to more effectively tailor content and campaigns to them.
Allow salespeople to engage with prospects directly and in real-time.
Give customer service reps the ability to respond to questions and resolve their challenges quickly.
So, which web chat app should you choose? Take your pick from some of the best chat tools.
Best Web Chat Apps
HubSpot Live Chat
LiveChat
LiveZilla
LiveAgent
Freechat
Freshdesk
Userlike
Drift
Zendesk Chat
Zoho Desk
Intercom
HelpCrunch
Pure Chat
Smith.ai
MobileMonkey
Podium
Freshchat
Price: Free
HubSpot's Free Live Chat Software helps you easily create a customized, on-brand chatbot so you can connect with your website visitors and start talking in real-time.
Key Features:
Send targeted welcome messages to connect with engaged site visitors, helping you increase your chances of conversion.
Chatbots personalize conversations by pulling information about each contact.
Chat history and contact timeline is saved to your Conversations Inbox so you can refer to each leads journey and history with your business.


Price: $16/mo per seat (Starter), $33/mo per seat (Team), $50/mo per seat (Business), Contact for enterprise pricing.
LiveChat helps you create a customized chat widget to capture new leads and engage with customers and prospects on your site.
Key Features:
Bots send automatic greetings to speed up your response time, and customizable pre-chat surveys help you qualify leads before speaking to a rep.
Send targeted chat messages to customers based on their profile, behavior, and history with your business.
Ticketing system tracks and saves conversation transcripts to ensure you can reference and share conversations when needed.
Integrate LiveChat with HubSpot to attract new leads, identify their needs, and turn them into customers.
Price: Free version or $155 one-time payment for Pro Plan
LiveZilla is a web chat tool with unique features such as multi-website support, screen sharing, real-time translation, and a global knowledge base.
Key Features:
Real-time visitor monitoring tells you where your visitors are from, what site referred them, or the keywords they used to find your site for a complete behavior profile.
Qualify leads based on their activity and reach out with the right messaging relevant to their needs.
Integrate emails and messages from customers on other sites (like Facebook or Twitter) with your tickets to centralize all communications with leads.
Image Source
Price: Free (forever), $15/mo per agent (Ticket), $29/mo per agent (Ticket + Chat), $39/mo per agent (All-Inclusive)
LiveAgent allows your sales or customer service team to work across multiple channels when chatting with customers.
Key Features:
Straightforward copy and paste integration to quickly set up your chat widget and start communicating with leads.
Chats adapt to rep availability and route conversations to the right reps to ensure leads get the right help.
All chats, emails, calls, and social media mentions appear in LiveAgent's universal inbox, helping you keep information about lead behavior.
Image Source
Price: Free (forever)
FreeChat is a live chat popup tool that brings all the popular messaging platforms under one roof, making it easy for you and your business to manage all customer interactions in one place.
Key Features:
Requires no coding for installation and setup

Comes up with fully customizable design options to match your brand and website integration

Secure and compliant with GDPR regulations for website protection

Mobile-friendly and responsive design
Price: Free (up to 10 agents) for getting started, $15/mo per agent (Growth), $49/mo per agent (Pro), $79/mo per agent (Enterprise)
Freshdesk is an omnichannel live chat and self-service software.
Key Features:
Chat campaigns help you engage with leads at the right moment and collect information to qualify them.
Manage all communications with your visitors from all channels in one place to ensure you have a complete history of every interaction and touchpoint a lead has with your business.
Easily collaborate with other reps by inviting them to view chat conversations and tickets.
Canned responses and ticket automation get customers the answers they need faster and save your team's time.
Price: Free
Userlike is a unique all-in-one software that combines live chat, customer messaging, and service automation.
The unified messaging solution offers a central inbox to handle customer messages via website chat, WhatsApp, Instagram, and more. Userlike also comes with powerful automation features such as AI chatbots, smart FAQs, and dynamic contact forms.
Key Features:
Media and file sharing, voice messages, live translations, audio/video calls and more support you in building long-term customer relationships.
Generate leads with an advanced website chat that lets visitors start a chat directly on the website or choose one of their favorite
messaging apps.
Create AI-powered chatbots, smart FAQ pages and interactive contact forms to allow customers to help themselves 24/7.

Price: Contact for pricing
Drift has a high-quality AI chatbot to help you target the right leads and communicate with them based on their buyer behavior.
Key Features:
AI chatbots replicate the behaviors of sales development reps and conduct live chat conversations with your leads to automate and save time.
Build custom bots to pre-qualify leads and send personalized outreach based on the touchpoints people have engaged with.
Drift Prospector automatically prioritizes accounts to help you focus on the most qualified leads.
Continue the conversation with chat-to-call or chat-to-zoom.
Integrate Drift with HubSpot to conduct live conversations on your website and review all chat activity via HubSpot's contact timeline.
Price: $49/ mo per agent (Suite Team), $70/mo per agent (Suite Growth), $99/mo per agent (Suite Professional), contact for enterprise pricing.
Zendesk Chat is a customizable web chat tool that integrates directly with the rest of your Zendesk software and other software, such as Shopify and WordPress.
Key Features:
AI-powered chatbots answer questions and send targeted behavioral triggers to customers via web chat to help you increase your chances of conversion.
Customizable pre-chat forms ask visitors for crucial information to help you qualify leads and get a complete customer profile before rep conversation.
Integrate Zendesk with HubSpot to automatically sync Zendesk tickets with your HubSpot contacts.
Price: $0 for three agents (Free), $14/mo per agent (Standard), $23/mo per agent (Professional), $40/mo per agent (Enterprise)
Zoho Desk has an embeddable chat widget that lets you engage with your contacts wherever they are.
Key Features:
Customized chatbots can engage with visitors, answer qualifying questions, and add them to your CRM.
Bots can transfer prospects to the right sales rep along with all relevant information to give them the history they need to help.
Click to call within live chat windows to communicate with prospects instantly on another channel.
Integrate Zoho with HubSpot to sync all CRM, books, invoices, recruiting, and inventory data.
Price: $74/mo small business solution, contact for other pricing plans.
Intercom offers conversational support, conversational engagement, and conversational marketing solutions.
Key Features:
Create automated web chat campaigns to nurture leads and monitor their behavior throughout each stage of the sales process.
Lead qualification bot does prospecting for you by asking questions to qualify leads and understand how you can best help them.
Create custom messages and segment them to specific audiences based on visitor data.
All communication is stored in one team inbox.
Integrate Intercom with HubSpot to set up real-time, bi-directional sync between the tool and your CRM.
Price: $12/mo per team member (Basic), from $20/mo per team member (Pro), contact for enterprise pricing.
HelpCrunch is a customer communication platform with a web chat app for sales and customer service that you can customize to match your website design and branding.
Key Features:
Chat forms pre-qualify leads and collect information to help you understand who visitors are so you can approach them with the most relevant information.
Create automated email follow-ups when chats end to reach out to leads based on their behavior history and share relevant information.
Reps can manage five separate conversations at once from one tool to increase productivity.
Localization, file sharing, chat transcripts, and multi-channel messaging are also available.
Price: Free 30-day trial, $39/mo (Growth), $70/mo (PRO)
Pure Chat is a live chat software you can use to create a custom web chat widget for desktop and mobile.
Key Features:
Canned responses to quickly answer FAQs
Past conversations are transcribed and saved in your chat history for easy access and reference so you can track leads throughout their entire interaction with your business.
Integrate Pure Chat with HubSpot to conduct live chat conversations on your HubSpot website.
Price: $10/chat (A la carte), $140/mo (20 live chats), $300/mo (50 live chats), $600/mo (120 live chats)
Smith.ai is a virtual receptionist and lead intake software with a web chat feature ideal for capturing, communicating with, and qualifying leads via live chat.
Key Features:
Create custom lead criteria that chatbots use to qualify leads and learn from customer interactions to refine your intake funnel.
Transcripts of conversations are saved in your email and CRM to give you a full history of customer interactions.
The tool can integrate with your CRM to make contact and lead intake easy and to complete your workflows.
If you're an ecommerce business, integrate Smith.ai with your billing software to manage payment collection.
Integrate Smith.ai with HubSpot to ensure all calls and live chat interactions sync with your CRM contacts and activity.
Price: $199/mo (Startup Edition), contact for Growth Edition pricing.
MobileMonkey connects with your customers via web chat, SMS, Messenger, or Instagram.
Key Features:
Maximize reach and place your chat widget across all channels using the multi-platform builder.
Create lead forms with custom criteria to instantly qualify leads in chat conversations
A unified chat inbox helps you view and manage all customer conversations and interactions in one location.
Price: $289/mo (Essentials), $499/mo (Standard), $649/mo (Professional)
Podium is a tool for local businesses with web chat and messaging solutions. You can also personalize your chat widget with brand-related elements like a custom button and avatar.
Key Features:
Bots can collect crucial lead information before the conversation begins to help you qualify leads and understand their needs.
Schedule meetings and appointments with interested leads within your chat widget.
Send warm-lead contact information to your CRM for meaningful record keeping.
Create Smart Responses to quickly answer FAQs and provide information.
Freshchat allows you to communicate with your customers via chat on web, mobile, and various social media messengers (e.g., WhatsApp, Facebook Messenger, etc.).
Key Features:
Customizable web chat forms help you capture visitor information to qualify leads.
Track page visits and behavior on your site to understand visitor intent.
Predictive contact scoring gives rankings to leads based on their level of qualification.
Create proactive campaigns to send your audience targeted, outbound messages.
Web Chat Software
Choosing a web chat software that works best for your sales teams boils down to your desired functionality. Do you want software that will pre-qualify your leads by gathering customer information before speaking to them? Do you want your widget to integrate with your CRM and seamlessly transfer contact information?
Think about your sales team's needs for web chat functionality and a successful sales cycle, and choose the tool that has all the features to help you best communicate with your leads and close more deals.
Editor's note: This post was originally published in May 2019 and has been updated for comprehensiveness.