Before the internet, business-to-customer communication looked something like this.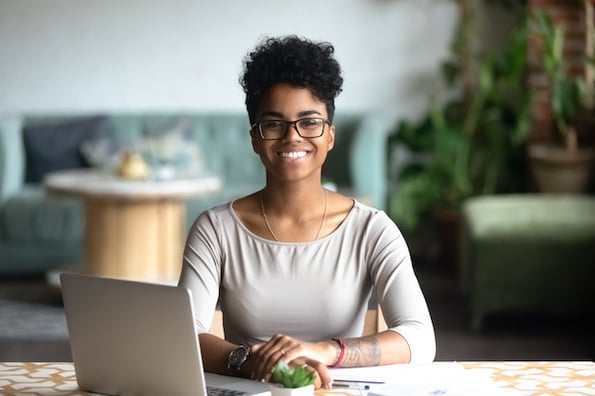 Businesses would release messages, ads, and promotions, and it was up to consumers to determine what was accurate and trustworthy. Customers didn't have digital platforms to share information and businesses controlled all of the power in the relationship.
Nowadays, customer communication looks more like this.
With the rise of customer reviews and digital communication, businesses have no choice but to listen to their customers. Power has shifted, and customers now dictate what they want and need from a company. And, if businesses don't deliver, there's plenty of alternatives that customers can choose from.
This concept is called customer empowerment and it's becoming more popular as consumers get more connected in-person and online. Businesses that lean into this trend have aligned themselves with customer needs, leading to increases in customer satisfaction and improvements in customer retention rates.
In this post, let's discuss what customer empowerment means for your business, then we'll tell you how you can achieve it using your customer service team.
What Is Customer Empowerment?
Customer empowerment is the process of providing customers with the tools and resources needed to be successful. This means giving them information to make well-informed decisions that put them one step closer to achieving their goals.
When businesses help people make smarter choices, they develop a stronger bond with their customer base. In fact, studies show that customers are happier with a brand experience when the company makes efforts to empower them. And, this rapport leads to improvements in customer retention as well as opportunities to encourage customer advocacy.
Customers who feel supported by a business are also more loyal. That's because they feel the organization is aligned with their needs and can trust that their information is relevant to their circumstance. This fosters a level of dependency where the customer relies on your business for decision-making information. They'll keep coming back to your team because they feel you're the best option to help them.
This is where your customer service department comes into play. When someone makes a purchase, it's your support, success, and service teams that are responsible for empowering your customers. They generate additional value that not only helps customers achieve goals but also adds delight to their experience.
If you're not sure how you can leverage your service team for customer empowerment, read on for some strategies your business can use.
Empowerment in Customer Service
1. Customer Self-Service
Self-service tools give customers the power to troubleshoot service inquiries on their own. Instead of reaching out to your support or service team, these resources help customers find solutions independently, which saves them time from having to open a service case.
One common self-service tool that most support teams use is a knowledge base. Knowledge bases contain support articles that describe how to troubleshoot common or simple roadblocks. Before calling your support team, customers can look through your knowledge base to see if it has the answer to their problem. If it does, this saves the customer time and reduces case volume for your support reps.
2. Social Media
Social media has been one of the biggest factors driving the customer empowerment trend. That's because it's connecting customers through a digital platform in a way that's never been done before. Consumers can now create, exchange, and comment on information using a medium that thousands of people can see. If negative buzz starts circling around on social media, it can quickly become a crisis for your business.
To prevent this type of crisis, the first step you can take is adopting social media customer service. Social media is now a common customer service tool, with nearly a third of consumers under the age of 25 using it as their preferred service medium. With younger consumers turning to this channel, it's clear that the future of customer service will play a larger role on social media.
This is particularly true for Facebook. Research shows that 84% of consumers who complained on social media used Facebook to post their comments. Facebook doesn't limit the amount of text you can use and its platform is perfect for sharing experiences. So, if your company isn't sure which social media channel to prioritize, start with Facebook as this has proven to be the most popular channel for customer service activity.
3. Customer Reviews and Testimonials
Aside from social media, another way that customers can voice their opinions is through customer review sites. Third-party sites like Google and Yelp give customers power because they're unbiased platforms for sharing reviews. If your business has a poor reputation on these sites, it can significantly hurt your brand's image.
While most third-party sites won't give you the option to delete or edit reviews, you can still engage with customers to ensure you maintain a positive reputation. If you see a negative review, reply to it and see if you can remedy the situation. If your team is can delight the customer and change their perspective, ask them if they'd be willing to update their review. Even if they don't, other leads will see that your company cares about customer opinion and are willing to correct your mistakes.
4. Customer Feedback Collection
One way that your business can proactively empower customers is through feedback collection. Send customers surveys and ask them to describe their experience and whether they'd recommend it to their peers. You can use tools like NPS and Customer Effort Score to see how satisfied customers are with your company.
For positive feedback, follow up with participants to see if they'd be willing to provide a testimonial. You can then post that review to your website for potential leads to see.
For negative feedback, this is an opportunity for your business to prevent customer churn. Reach out to these participants and ask them to provide more details about their experience. Try to solve their issue if possible, and offer some type of added value to show your condolences. This could be a special discount or even reassurance that you'll forward their review to your management team.
5. Customer Onboarding
Customer onboarding is a post-purchase service that empowers customers to use your products. If your product is complex or takes time to master, onboarding teaches new customers how to use it. This saves them time and reduces friction that occurs early on in the customer journey.
Customer onboarding is an empowerment tool because it shows how useful your product or service is to an individual customer. By assigning an employee to their account, customers quickly learn about your company and can determine if they made the right choice by working with your business.
If you operate a subscription-based company, a poor onboarding process can result in early cancellations and refunds. But, if executed successfully, an effective onboarding process can significantly reduce churn early on in the customer experience.
For more ways to empower customers, read about customer experience management.