Picture a barbershop. What do you think of?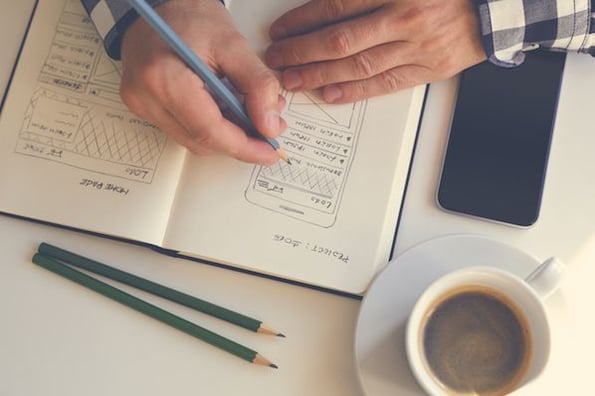 If I think of my current place, I think of antique barber chairs (and how you have to sit without putting weight on the footrest because they're not bolted down), blue-stained wood paneling, neat shelves of potted succulents and hair products, and my usual barber with his signature cowboy hat and full beard.
But then, if I think of my previous spot before I moved, I think of skateboarding and punk paraphernalia, throwback 90s music, and young barbers joking around with one another as they cut clients' hair. And if I think of the one back in my hometown, I think about stacks of newspapers and a pot of coffee and signed baseball posters from the years the local team went to the World Series.
A barbershop isn't just a business. It's a totally unique -- and designed -- experience.
There's an experience of going to the barber. From the way you book your appointment, to the way the shop looks, smells, and sounds inside, to your relationship with your barber, the conversations that unfold, and how you look when you leave -- it's about much more than just the haircut.
Perhaps no other kind of small business is so heavily based on creating an enjoyable and curated end-to-end customer experience.
Despite the big differences between a barbershop and a digital product business, there's a lot to learn from the strategies that good barbershops use to attract and retain customers. In this blog post, I'll outline five customer experience principles -- inspired by my barbershop -- and how you can use them to succeed in your own business.
5 Customer Experience Design Principles to Follow
1. Develop a strong and consistent brand identity.
Every barbershop has its own unique identity. The best ones are consistent and coherent across all facets: the sights, sounds, textures, and smells of the space all work together to define the character of the business.
My old barbershop, for example, had a "retro California urban" style that permeated every detail. The colorful, brashly painted skateboards racked on the wall, and the punk stickers plastering the spaces in between, looked exactly how the easy-going old-school hip-hop on the stereo sounded. The barbers all dressed to match -- and of course, that's no coincidence, because the personality and identity of the shop flowed directly from the people working there.
That unique brand identity also recognized the preferences of the target customer: trendy, nostalgia-loving millennials of the California urban sprawl willing to spend a little more for a good cut. By designing an experience that was fun and familiar for this audience, my old barbershop capitalized on the likes of their customers to increase their market appeal and drive business (and it worked -- they always had a two-week wait for an appointment).
The brand identity of your business should be just as unique and consistent -- no matter what the product. Choose who you are and design every part of the customer experience to match.
Like a barbershop, that identity should flow naturally from the personality and culture of your company, its leaders, and its employees. Don't pretend to be something you're not -- because copying your competitors too heavily is just as likely to harm you as to help you. Instead, authenticity should define the way you present your brand to customers.
Once you've found your brand voice, be consistent about it in every aspect of the customer experience. Design the way you communicate across mediums and platforms. The diction and tone of your social media accounts, your advertisements, your blog, your microcopy, the visuals and graphics of your website, web app, mobile app, the way you train sales and service reps to speak to customers -- should all be consistent, coherent, and designed.
When your brand identity and voice are consistent, show who you are, and are designed with your target audience in mind, customers have a better experience. If you can make your customers feel at home with your brand, they'll keep coming back for a long time.
2. Enable your customers to act.
How do you schedule your haircut appointment? In general, barbershops aren't the most technologically up-to-date businesses, but some are innovating to make scheduling easier.
For many popular, in-demand shops, the traditional walk-in or call-ahead methods aren't sufficient and can cause problems for customers.
My old barbershop with the two-week wait took appointments over the phone. Once, they accidentally double-booked me for a weekday morning cut. When I came in after sitting through rush hour traffic, they told me I wouldn't be able to reschedule for two more weeks. I never went back.
My current barbershop has an app. I can see their calendar and select an open appointment slot with the barber of my choice, or with any available barber. It's extremely easy, I can do it any time of the day or night, and it's much less vulnerable to human error.
Not only is it easier for me, it's better for the business. With so few barriers to scheduling an appointment, they can count on a full calendar, and none of their employees have to spend their time answering the phone instead of cutting hair.
You should be embracing the same kinds of forward-looking tools and processes for your business. Every company has legacy technology and procedures, and they are probably holding you back. Are you holding onto obstacles that make it harder for users to convert? Are your user flows and sales funnels vulnerable to friction or error? Or are you maximizing your customers' ability to choose and to act?
When you give customers agency, you enable them to reach the conversion goals you've set for your business on their own terms -- with less time and effort expended by your team. And when they do convert, they'll feel better about their choice and about your brand, because 1) you've provided a frictionless experience, and 2) you made them feel in control.
The logic same applies after the sales funnel, during customer service interactions. Research shows that the most valuable, and satisfying, thing customer service can offer is not understanding and apologies, but options. A successful customer service interaction restores a sense of control to the concerned customer by enabling them to choose how to proceed.
Rethink and let go of inefficient processes, and embrace a customer experience design approach that puts customers in control of their experience whenever possible. Recently, we added links to book a demo at key points in our user flow. Now, our customers can take the initiative and schedule demos at their own convenience, without going through email back-and-forth with our reps or phone calls thwarted by time zone differences. Not only has this decreased the time and steps required for customers to learn about the products they need, it has hugely increased our total demos.
By creating a customer experience that enables customers to act, you help them achieve their goals quickly and positively while also maximizing opportunities for your business.
3. Build relationships with customers.
Interacting with your barber isn't a mere business transaction. A haircut is also a social experience, a conversation with a person you've decided to trust with your hair.
Some people have been going to the same barber for months or years. We develop relationships with our barbers through the chit-chat of a barbershop experience. You start to know things about them, and they start to know things about you (and your hair). That turns into loyalty, because you know you'll have a good experience, and get a good haircut, from them.
Every business has some of this element. Building a relationship with the people you do business with enhances their experience and makes it more valuable for both parties.
When you build relationships with customers, it increases trust, and trust is critical -- people have to decide whether to put their credit card or personal information into your website or app. When there's no relationship, there's little basis for that decision. When the customer knows who you are, though, they can feel comfortable performing transactions in your system.
Relationship-building also enhances the level of service you provide to your customers. The more you get to know them, the better you are able to tailor their experience to meet their specific needs. Whether that means customizing the products they see or the marketing materials they receive, or building new features that fill unmet gaps in their experience, every business can better serve customers by having a relationship with them.
Lastly, building relationships with your customers increases loyalty. It's very easy to jump ship for another website or app -- just like it's very easy to go to a different barber. The competition is high and the barriers are low. But once a customer has a relationship with a business they know and trust, they're much less likely to go anywhere else.
What relationship-building means for your context will vary based on your business and even on the individual customer. For some businesses, an intimate and ongoing conversation with most customers is not necessary or relevant; for others such interactions are important. Know the level that is appropriate for your own customer experience. The right relationship might just be providing personalized marketing, or supplying useful informational content like blog articles and how-to videos.
The bottom line is, your customer experience should be designed as an experience for humans, not just customers.
4. Provide a superior product.
The most important part of a haircut, of course, is the haircut. A friendly, personable barber in a cozy, enjoyable atmosphere who gives bad haircuts won't be earning any return business.
A good barber is always checking as they go to make sure they're doing a good job. It's typical to hear a barber ask questions throughout your haircut, like "How's this looking?" "Is this length about right?" "What do you want to do with your sideburns?"
Even though they're trained and experienced in what they do, providing a superior product in a barber's case means providing the haircut that the customer wants. To do that, even the best barbers make sure to get plenty of feedback and customer input throughout the process.
Your business should do the same. The product is the reason your customers have come to you, and providing a product that helps them achieve their goals is the lynchpin to good CX design.
To make sure your product is meeting customers' needs, collect feedback at all times. Continuously check in with them to see how they're doing and gauge their attitudes and perceptions, in as many ways as possible: surveys, customer conversations, usability testing. Learn what you're doing well, and figure out where you can improve.
Designing a customer experience that satisfies means designing a product that delivers and is easy to use. This is where UX meets CX. User experience is the portion of the customer experience related specifically to the customer's interaction with the product. UX design depends heavily on doing your research and collecting feedback to optimize the product for customers' needs.
When you design the UX, you're also designing perhaps the most important piece of the customer experience.
5. Leave customers feeling awesome.
Good customer experience design leaves customers feeling awesome about themselves.
Think about how your haircut ends. Once the barber has done all their trimming and shaving and sculpting, they do something a little extra. They ask if you want any product in your hair, and then they style it with anything you want -- gels, pomades, sprays, aftershave.
The result of this is that you leave the shop looking and feeling good. It makes your day that much better, and you go about your day with the confidence of a fresh cut. These little "extras" may not be the main attraction, but they create disproportionate satisfaction. In UX design, people often talk about creating "delight" through design as an end goal. In customer experience design, customer delight is created through unexpected little extras like these.
Find your "something extra" that's unexpected and will make your customers feel awesome. That additional amount of effort to delight your customers can turn a likable brand into a lovable one.
Not only that, but many of those customers will become brand advocates who will spread word-of-mouth about your business. By designing a delightful customer experience, you make existing customers happy, and open the door to many more new ones.
Every barbershop I've mentioned in this article was unique and memorable in some way. They aren't the only barbershops I've ever been to, but they were the ones that stuck vividly in my mind, even years later. Don't be one of the forgotten barbershops. Provide a customer experience that is designed, consistent, and innovative, and both your customers and your business will benefit.
To learn more about customer experience design, learn about customer experience trends next.